ALL ISRAEL NEWS exclusive stories on Rush Limbaugh's faith in Christ and love for Israel draw enormous interest
Record traffic after our stories were covered by Daily Wire and David Brody, retweeted by Sean Spicer, Eric Metaxas – even Yair Netanyahu
First Lady Melania Trump presents the Presidential Medal of Freedom to gallery guest Rush Limbaugh during President Donald J. Trump's State of the Union address Tuesday, Feb. 4, 2020, in the House chamber at the U.S. Capitol in Washington, D.C. (Official White House Photo by Andrea Hanks)
JERUSALEM – Following the sad passing of Rush Limbaugh, the American radio legend, ALL ISRAEL NEWS published two exclusive stories examining his life and career.
Both have attracted enormous interest, far beyond anything that our news site has experienced before.
To say that our traffic exploded would be putting it mildly.
In the last three days, we've seen more traffic than we saw in our first four months of operations after our Sept. 1 launch – combined.
We had readers streaming in from 129 countries around the world, though certainly the bulk of the traffic came from North America where Limbaugh was so popular and so controversial.
The first story we published looked at Limbaugh's deep love for Israel and his fascination with rapidly moving events and trends in the Arab and Muslim world.
The second looked at Limbaugh's phenomenal professional success, combined with some very hard personal battles, and the spiritual journey that eventually led him to a personal faith in Jesus Christ in 2019.
Both were written by Joel C. Rosenberg, founder and editor-in-chief of ALL ISRAEL NEWS who worked for Limbaugh as research director and writer in the early 1990s.
"I've known Rush and had been his friend for 28 years, and I got to see firsthand how brilliant he was, and how beloved he was by so many Americans from all walks of life," Rosenberg said. "But I have to say I was blown away by the tremendous interest in these two articles I wrote."
"Nothing we have published for ALL ISRAEL NEWS since we launched last fall has come remotely close to this," Rosenberg noted. "I think there are probably several reasons for this. First, Rush was listened to and deeply valued by millions of people. He was also hated – viciously and unfairly – by many. So anything about Rush would draw interest, especially in the week of his death."
"But I think Rush was also a very private person, despite being a huge public figure," Rosenberg added. "He rarely, if ever, spoke about personal matters – I mean deeply personal matters – and he avoided most talk of religion, until the last year of his life. As he gave his life to Christ, and could see that he was leaving this earth for heaven soon, he became more willing to talk about 'the things that matter most,' to quote the title of one of his monster bestselling books from the 90s."
"So many Christians were praying for Rush over the years, and they loved him so much they wanted to know where he was in his relationship with God. I wanted to know that myself. Fortunately, I got the answer when I went to go see him last year in Palm Beach, when he was first diagnosed, and it was a wonderful answer. I didn't feel it was my place to share then. But now it should be told, and it is striking a chord with so many who look forward to meeting Rush in person one day in heaven and wanted him to be safe and free and with the Lord forever."
On Friday, David Brody interviewed Rosenberg for his new program, "The Water Cooler," part of the new JustTheNews media platform created by John Solomon.
On Saturday morning and for much of the day, the lead story on Ben Shapiro's Daily Wire website was based on our report of Limbaugh's decision to follow Christ, with extensive quotes from our story.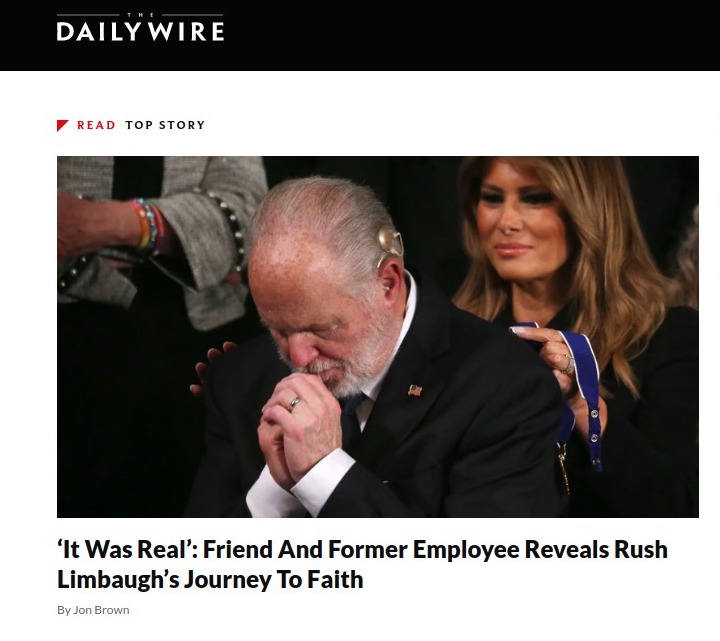 Screenshot of The Daily Wire homepage on Feb. 20, 2021
Both stories were shared by thousands on Facebook, and Tweeted by many more, including a fascinating range of notable figures, including:
Sean Spicer, Newsmax TV anchor and former White House press secretary

Rick Santorum, CNN analyst and former US Senator

Eric Metaxas, radio talk show host and bestselling author

Penny Nance, president of Concerned Women for America

And Yair Netanyahu, son of the Israeli prime minister
 Here is the full interview that Rosenberg did with David Brody.
They focused first on Rosenberg's relationship with Limbaugh and the radio broadcaster's journey to faith.
Brody also asked Rosenberg to analyze the phone call last week between President Joe Biden and Israeli Prime Minister Benjamin Netanyahu, and why Biden waited for nearly a month to make a call that most American presidents made in the first few days after taking office.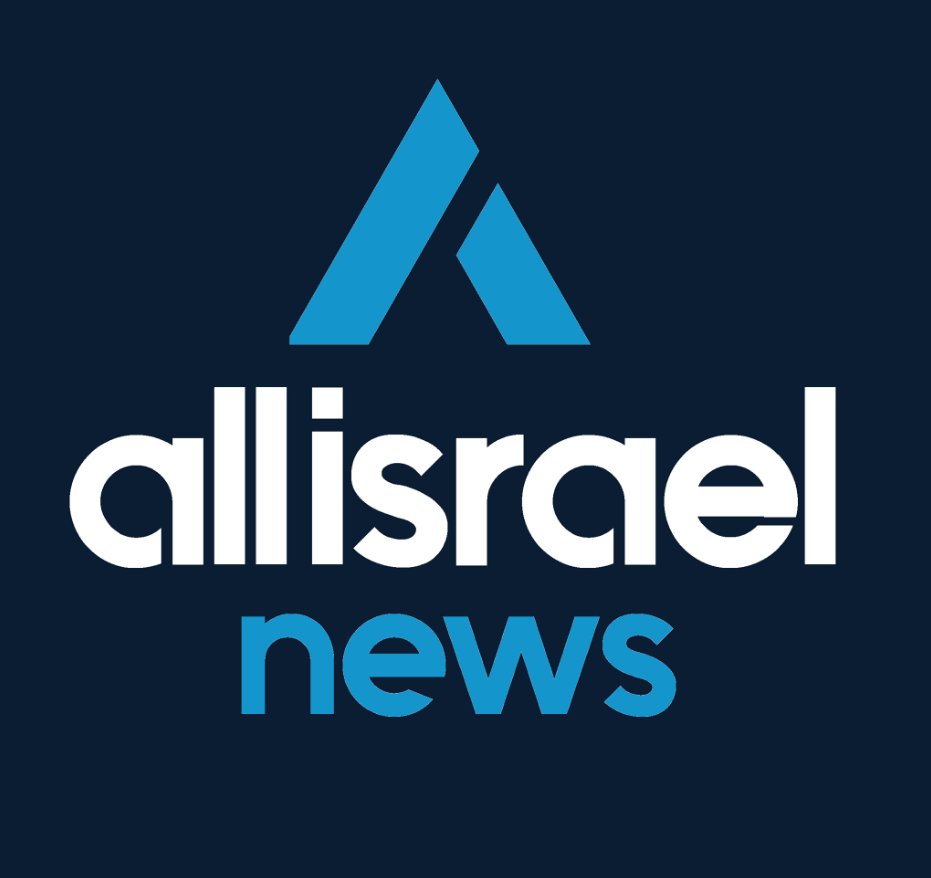 The All Israel News Staff is a team of journalists in Israel.
A message from All Israel News
Help us educate Christians on a daily basis about what is happening in Israel & the Middle East and why it matters.
For as little as $5, you can support ALL ISRAEL NEWS, a non-profit media organization that is supported by readers like you.
Donate to ALL ISRAEL NEWS
Current Top Stories
Comments