Opinion Blog / Guest Columnist
ALL ISRAEL NEWS is committed to fair and balanced coverage and analysis, and honored to publish a wide-range of opinions. That said, views expressed by guest columnists may not necessarily reflect the views of our staff.
All hostages lives matter
Sign in Jerusalem with the faces of captives held by Hamas (Photo: Jonathan Feldstein)
240. 239. 240. 239. 238. 
These are the recent estimates as to how many hostages are currently being held in Gaza by Hamas and other Islamic terrorists since Oct. 7. They include babies, young children, women, men and civilians from more than two dozen countries. 
Why is the number of hostages unclear, or changing at all? Part of the reason is that Hamas has never provided a list of the people, or accounted for the well being of the hostages they have kidnapped. 
Perhaps not all of the hostages are under the control of Hamas but other Islamic terrorists. Israel still has listed any number of people as "missing," whether kidnapped, dead and not found, or those whose bodies have been burned beyond recognition that even DNA cannot be extracted. 
And part of the reason is that since Hamas released four hostages, then Israel rescued another, the body of another hostage was found littered in Gaza. That reduced the number to 239. Then, a woman hostage gave birth, in captivity. The youngest Israeli hostage had been nine months until this point. Now, it's a newborn. 240. Then the body of another Israeli hostage was found. 239. And the body of a Tanzanian man was found. 238. 
Exactly how many hostages there are, or how many of them are dead and alive, may never be known. But we must rescue them all.  
Israel's military campaign has multiple goals. First, to defeat Hamas and remove it from any control in Gaza or threat to Israel. Second, to restore deterrence so that Hezbollah in Lebanon, the Houthis in Yemen, Turkey, the Islamic regime in Iran, or anyone else will think long and hard before any attempted attack on Israel. Third, is to bring ALL the hostages home.  
Bringing ALL the hostages home hit home the other day. 
I was driving south of Jerusalem where tens of thousands of people were marching together with the families of the hostages on a multi-day trek from Tel Aviv to Jerusalem to press the case to bring all the hostages home. Along the highway, I saw two trucks, the complete side panels of which were emblazoned with the pictures of ALL the hostages. I don't believe these trucks were specifically part of the demonstration. They just happened to be in the right place at the right time. 
Something profound struck me. 
Israel is under mounting pressure from around the world to have a ceasefire in Gaza with Hamas. There are many reasons why that's not a good idea, and many considerations as to if and when that will ever happen. Or if it should. But there is a strong consensus that to do so without ALL the hostages being released will be disastrous.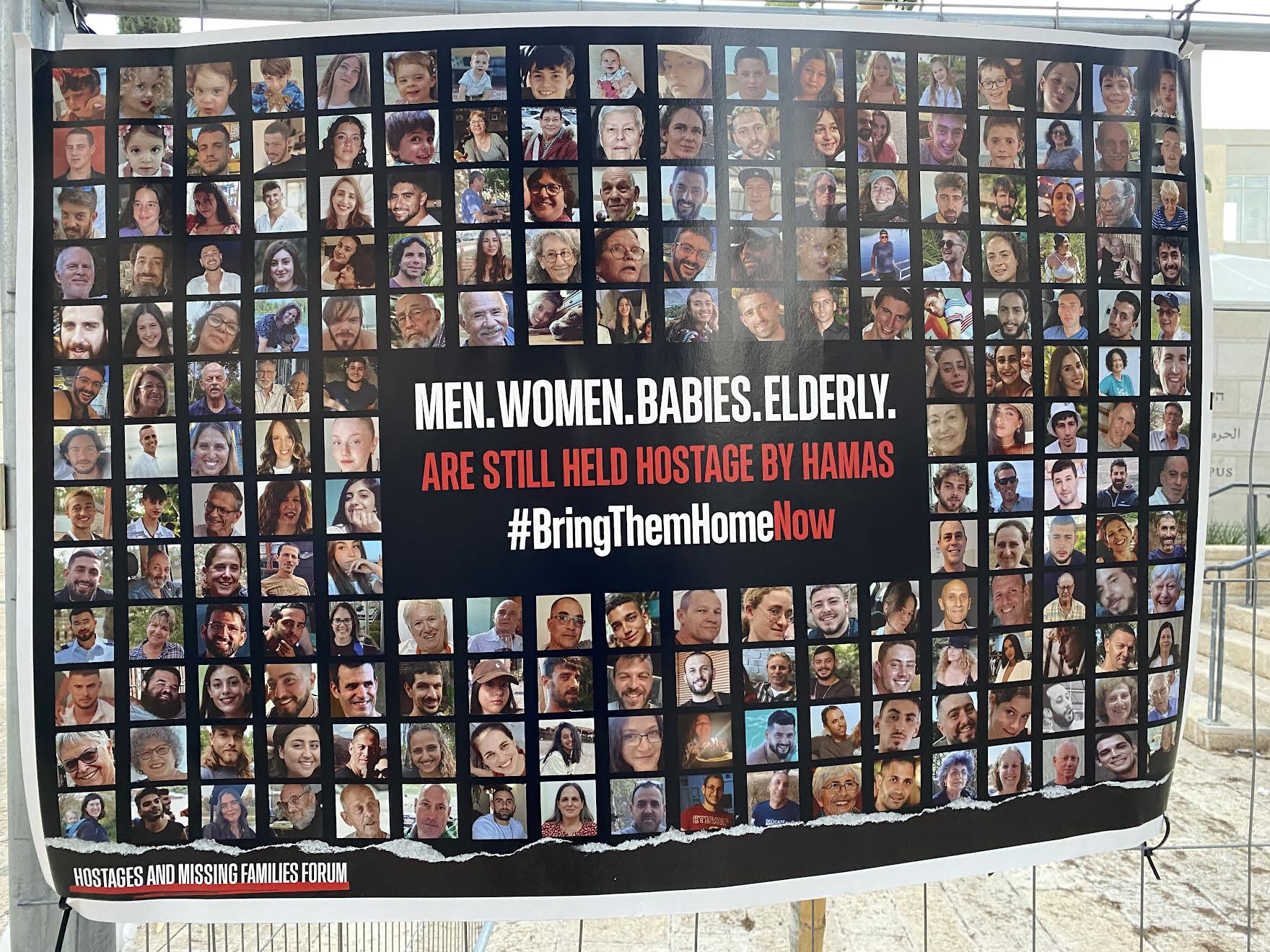 Sign in Jerusalem with the faces of captives held by Hamas (Photo: Jonathan Feldstein)
Presumably, in any deal to release any of the hostages in exchange for a ceasefire of some sort, the hostages left behind will be Israelis. Jews. Citizens of other countries would likely be the first to be released in order to diminish the pressure on Hamas from these countries; to give Iran, Qatar, Turkey and other bad actors opportunities to capitalize on this all; and to increase pressure on Israel to have a wider ceasefire, or complete cessation of its military campaign. 
That was my epiphany after seeing those two trucks. In Israel, throughout the country, there are countless displays of ALL the photos and names of ALL the hostages. Not just the Israelis. Not Just the Jews. Every one of them. 
I suspect that as soon as all the countries of the world get their hostages back from Gaza, they are not going to have any interest in promoting the cause of any of the hostages. For them, the hostage situation will be over.  
Why do I think that? When I look at the list of the countries whose citizens are held captive today, I see countries that may be allies with Israel and have diplomatic relations, but whose record in supporting Israel in the United Nations and other world bodies is not so stellar. 
Many vote alongside Israel's enemies in any number of instances, and endorse anti-Israel declarations. Others abstain or are not present to voice their support out of fear for the repercussions that will bring. Or, maybe they don't care. Only a few really stand with Israel and are clear in their support. Even now after 10/7. Especially now. But there's no room for equivocating. 
Tanzania is a great example. I have dear friends there. They love Israel and the Jewish people. Sadly, one of the hostages who was a Tanzanian agriculture student was found dead. Among other things, this means that, while fighting the terrorists and risking their own lives, Israeli soldiers are making painstaking efforts to find every hostage, even to identify those who have been killed and whose bodies are disposed of as litter by the terrorists.
Israeli soldiers are taking the time and care in the midst of a war to find ALL the hostages, and treat them with dignity and respect. Certainly more dignity and respect than they saw when evil Islamic terrorists kidnapped them and stole them back to Gaza with promises of $10,000 and an apartment for each hostage, much less the indignity of how and where they lived their final days and minutes in captivity. 
But Tanzania does not always support Israel. Its president is a Muslim. Now, what reason would Tanzania have to support Israel, to get ALL the rest of the hostages freed, whether Israeli or others? 
How many other countries trying to make deals to get their own nationals out of Gaza would follow suit, abandoning Israel and ALL its hostages once all their respective citizens are free, even if found dead? 
Realistically, what other countries will advocate for the return of ALL the hostages once they have no personal interest? 
It's morally indefensible to leave just the Israeli and Jewish hostages behind in captivity, closest to home but furthest from freedom. Who decides who would remain in captivity? The terrorists? But that's what may happen if Israel continues to be pressured. 
An international petition with signatories from over 70 nations so far has been launched to push back on pressure that Israel is under for a ceasefire until ALL the hostages are released. You can sign here. 
The Genesis 123 Foundation will also be hosting a webinar on Thursday, Nov. 23 at 12 p.m. EST time with family members of hostages in Gaza. Advance registration is required.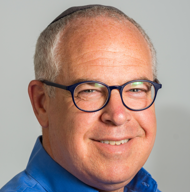 Jonathan Feldstein was born and educated in the U.S. and immigrated to Israel in 2004. He is married and the father of six. Throughout his life and career, he has become a respected bridge between Jews and Christians and serves as president of the Genesis 123 Foundation. He writes regularly on major Christian websites about Israel and shares experiences of living as an Orthodox Jew in Israel. He is host of the popular Inspiration from Zion podcast. He can be reached at [email protected].
Popular Articles
A message from All Israel News
Help us educate Christians on a daily basis about what is happening in Israel & the Middle East and why it matters.
For as little as $5, you can support ALL ISRAEL NEWS, a non-profit media organization that is supported by readers like you.
Donate to ALL ISRAEL NEWS
Latest Stories
Comments