After raising nuclear alert, Putin spoke to Israeli PM Naftali Bennett on Sunday, who offered to mediate in Ukraine – Is Putin looking for a way out of Ukraine war, or doubling down?
Pompeo tells ALL ISRAEL NEWS that "Putin is ruthless" and "we should take his threat seriously"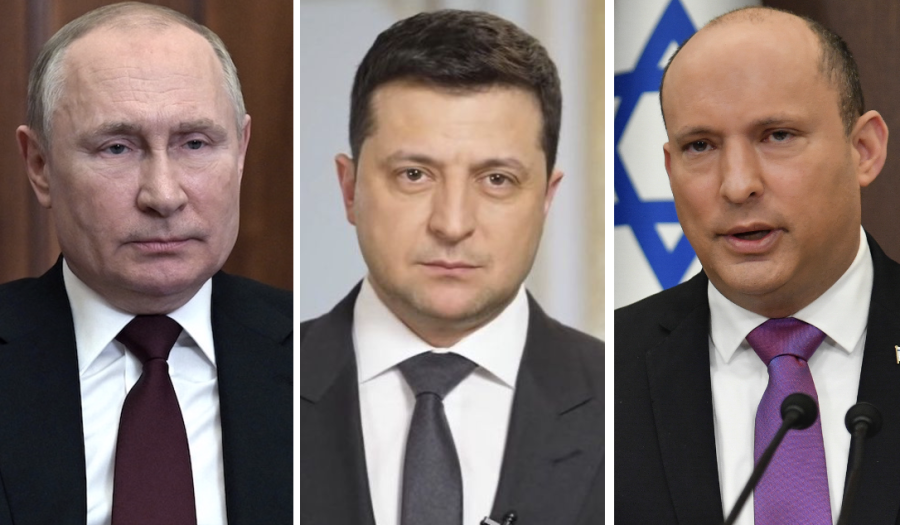 Russian President Vladimir Putin, Ukrainian President Volodymyr Zelenskyy, Israeli Prime Minister Naftali Bennett (Composite photo by ALL ISRAEL NEWS)
Like pages in a fast-moving novel, the crisis in Ukraine keeps taking one twist and turn after another.
On Sunday afternoon, Russian President Vladimir Putin spoke with Israeli Prime Minister Naftali Bennett by telephone.
Bennett reportedly offered to serve as a mediator in the war in Ukraine to de-escalate tensions and bring fighting to an end.
The Kremlin has not commented on whether Putin accepted Bennett's offer.
The call took place shortly after Putin ordered Russian nuclear forces on high alert.
Given the humiliation that Russian forces have experienced over the last four days of fighting in Ukraine, this move immediately raised new questions.
Is Putin simply trying to rattle the Ukrainian people and their rising star, President Volodymyr Zelenskyy?
Or might Putin actually use tactical battlefield nuclear weapons to decimate Ukraine and strike fear in the hearts of all of his enemies in Europe and around the world?
The call with Bennett then raised yet more questions.
Might Putin be looking for a diplomatic way out of the war in Ukraine, and thus might be inclined to accept Bennett's offer?
Or is Putin actually doubling down in Ukraine, confusing his enemies by simultaneously showing some openness to diplomacy while also threatening the use of nuclear weapons?
Russian forces have reportedly already lost about 4,300 servicemen during their invasion of Ukraine and the war has already created 368,000 refugees, according to the United Nations.
Shortly after both the call and Putin's threat, I asked former U.S. Secretary of State and CIA director Mike Pompeo for his reaction to unfolding events.
"Putin is ruthless," Pompeo told ALL ISRAEL NEWS.
"This is not the first time he has threatened the world with the use of nuclear weapons," he said.
"We should take this threat seriously and we must remain focused on denying him the space and resources he needs to continue his horrific aggression against the Ukrainian people."
The call underscored the tight rope that Bennett and the Israeli government is walking.
Every indicator is that Bennett's heart is with the Ukrainian people and their Jewish president, Zelenskyy, who reportedly asked Bennett on Friday if Israel could serve as a mediator between Russia and Ukraine and host talks in Jerusalem.
But Israel is a small country that has a long and complicated and fragile relationship with Moscow.
Plus, the Russian military forces control Syria, just on Israel's northern border.
And Russia is Iran's closest ally.
Bennett clearly doesn't want to infuriate Putin – and lose access to the Kremlin on critical matters of Israeli national security like Syria and Iran – by taking a clear stand with Ukraine.
The role of mediator between Moscow and Kyiv apparently, is the role Bennett would prefer.
Whether it's the right role – and whether he is up for such high stakes diplomacy – remains to be seen.
Bottom line: keep praying for peace.
This war could yet get much uglier.

Joel C. Rosenberg is the editor-in-chief of ALL ISRAEL NEWS and ALL ARAB NEWS and the President and CEO of Near East Media. A New York Times best-selling author, Middle East analyst, and Evangelical leader, he lives in Jerusalem with his wife and sons.
A message from All Israel News
Help us educate Christians on a daily basis about what is happening in Israel & the Middle East and why it matters.
For as little as $5, you can support ALL ISRAEL NEWS, a non-profit media organization that is supported by readers like you.
Donate to ALL ISRAEL NEWS
Current Top Stories
Comments