A top Senate Democrat just urged Biden to return to 'maximum pressure' campaign against Iran – will other Democrats follow?
One Middle East analyst quips that Sen. Ben Cardin has rejected Biden's 'maximum carrot strategy'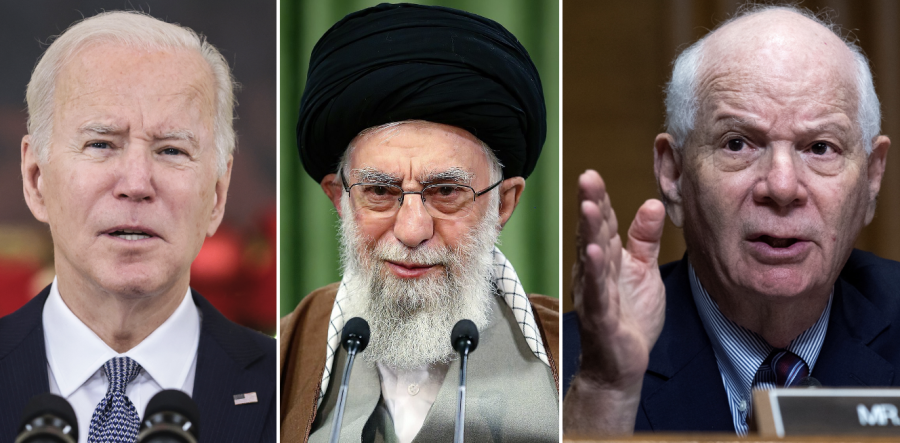 U.S. President Joe Biden (Photo: Oliver Contreras/Sipa USA), Iranian Ayatollah Ali Khamenei (Photo: khamenei.ir), U.S. Senator Ben Cardin (Photo: Tom Williams/Pool via Reuters)
SAN DIEGO, CALIFORNIA—Are Democrats on Capitol Hill about to turn on U.S. President Joe Biden's Iran strategy for being too weak and ineffective? 
Fears are certainly growing rapidly in Washington that the Biden administration is not doing nearly enough to prevent Iran from building the bomb.
Republicans have been united in blistering Biden's "weakness" and "appeasement" when it comes to Iran.
But now a prominent and highly-respected Democratic senator is signaling that he, too, is increasingly unhappy with the Biden policy.
Sen. Ben Cardin is the second highest-ranking Democrat on the Senate Foreign Relations Committee.
This week he began telling reporters that a "maximum pressure" policy against Tehran is the only way to get a real, effective and lasting nuclear deal.
"The only way to permanently deal with [Iran's nuclear program] is an agreement," Cardin said. "The only way you can get there is through maximum pressure on Iran –maximum pressure on Iran."
Cardin thus effectively dismissed the Biden approach of offering Iran enormous economic sanctions relief and other sweeping concessions.
What's more, Cardin just embraced the get-tough-on-Tehran approach pursued by the Trump-Pence-Pompeo team over the last four years.
CARDIN INTRODUCES NEW BIPARTISAN SANCTIONS BILL TARGETING IRAN
Cardin is more than mere talk. 
On Thursday, the Maryland Democrat held a press conference with Sen. Pat Toomey, the Pennsylvania Republican, to introduce new legislation to impose new sanctions on Tehran.
The Masih Alinejad Harassment and Unlawful Targeting (HUNT) Act is bipartisan legislation "aimed at holding the Iranian regime responsible for its ongoing efforts to silence dissidents by imposing new mandatory sanctions," noted the Senators' press release.
"During the press conference, the senators were joined by Iranian American journalist and human rights activist Masih Alinejad, who inspired the senators' legislation. In July 2021, Federal prosecutors charged Iranian agents with conspiring to kidnap Ms. Alinejad from her home in Brooklyn."
"The brazen attempt by the Iranian regime to kidnap Masih Alinejad on American soil cannot go unchallenged," Cardin stated at the press conference.
"The U.S. must exercise leadership against authoritarian regimes attempting to silence dissidents beyond their borders," added Cardin,  who is also the author of the Global Magnitsky Human Rights Accountability Act. "Today, we send a clear message not only to the Iranian regime, but to all authoritarian regimes that if you engage in transnational repression and target dissidents on U.S. soil, there will be dire consequences."
WILL OTHER DEMOCRATS FOLLOW CARDIN?
Last month, Cardin spoke at a conference organized by "United Against Nuclear Iran," a bipartisan organization headed up by former Democratic Senator Joe Lieberman. 
There, Cardin "lamented the 'tunnel vision' that he characterized as plaguing the [Biden] State Department bureaucracy, which he said has led officials to exclude other important issues, such as human rights, in negotiations with Iran," the Jewish Insider reported.
"They [Biden officials] look for an avenue to complete their assignment as quickly as possible," Cardin warned. "They want to simplify the issues. They want to make these issues as simple as possible."
But it's not working, Cardin warned, adding that "he has told State Department officials that any deal with Tehran should have no sunsets on provisions relating to Iran's nuclear program and should also address non-nuclear malign activities," the Jewish Insider report noted.
The key question now is this: Is Cardin simply an outlier, or will other Democrats on the Hill start following his lead in criticizing Biden and pushing the White House to abandon talks on Vienna that are going nowhere and get far tougher with Tehran?
"MAXIMUM CARROTS STRATEGY" HAS FAILED
Mark Dubin, a leading Middle East analyst in Washington, has taken to Twitter to praise Cardin and blast Rob Malley, Biden's Iran point man.
"Cardin rejects the @Rob_Malley maximum carrots strategy that has failed over 10 months,"
Dubin tweeted on Friday. "Most of Iran's nuclear expansion has occurred since Biden election. Time for a change."
"Maximum carrots" is a clever quip, and could catch on as the way that critics will seek define the Biden approach. 
THE NUCLEAR TALKS HAVE STALLED
Let's be clear: a diplomatic solution would be the best outcome to resolve the Iran nuclear crisis. 
We want to avoid war if at all possible.
But the prospects for any deal at all – much less an effective one – are diminishing by the day.
Nuclear talks in Vienna have stalled.
U.S. Secretary of State Tony Blinken is finally beginning to admit that Iranian negotiators are not negotiating in good faith.
"What we've seen in the last couple of days is that Iran right now does not seem to be serious about doing what's necessary to return to compliance, which is why we ended this round of talks in Vienna," Blinken said Friday.
Tehran is acting emboldened.
As I reported yesterday, a chilling new report shows that Iranian physicists now have enough enriched uranium to start building its first nuclear bomb in just three weeks, if and when the Supreme Leader were to authorize such a break out.
POMPEO, HOUSE REPUBLICANS PUSH "MAX PRESSURE" LEGISLATION
Republicans on Capitol Hill are deeply worried about the growing Iran threat, many of whom are sharply criticizing the White House and State Department. 
In April, former U.S. Secretary of State Mike Pompeo endorsed the "Max Pressure Act," legislation introduced by Rep. Jim Banks of Indiana. Banks is also the chairman of the Republican Study Committee, which The Hill newspaper has noted is "the largest Republican caucus in the House with 154 conservative GOP members."
The goal of the Max Pressure Act is "to codify the Trump administration's maximum pressure campaign of sanctions against Iran."
At the time, the bill had 83 co-sponsors.
Today, the bill has 109 co-sponsors in the House, all of whom are Republicans – none, so far, are Democrats.

Joel C. Rosenberg is the editor-in-chief of ALL ISRAEL NEWS and ALL ARAB NEWS and the President and CEO of Near East Media. A New York Times best-selling author, Middle East analyst, and Evangelical leader, he lives in Jerusalem with his wife and sons.
A message from All Israel News
Help us educate Christians on a daily basis about what is happening in Israel & the Middle East and why it matters.
For as little as $5, you can support ALL ISRAEL NEWS, a non-profit media organization that is supported by readers like you.
Donate to ALL ISRAEL NEWS
Current Top Stories
Comments