WZO report shows anti-Semitism still cause for concern, despite fewer anti-Semitic incidents reported worldwide
Russia's invasion of Ukraine in February 2022 was identified as a significant factor in the rise of anti-Jewish propaganda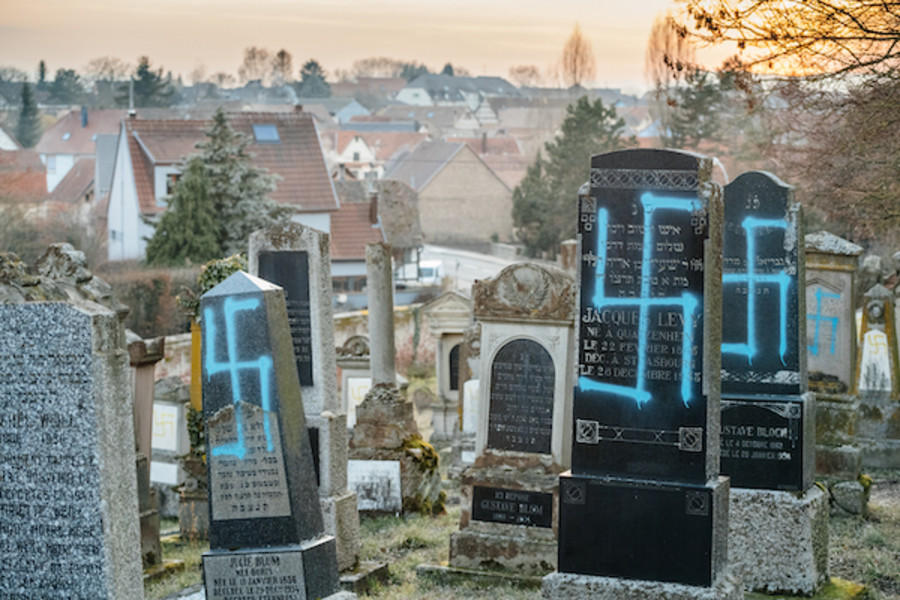 Illustrative - Vandalized graves in with Nazi Swastikas in a Jewish cemetery in Quatzenheim, France, Feb. 20, 2019 (Photo: Shutterstock)
The Department for Combatting Antisemitism, a World Zionist Organization (WZO) initiative, last week released its annual report for 2022, which showed that the increase in the number of anti-Semitic incidents was curbed compared to the last decade, while the situation remains cause for alarm. According to the data presented, more than 10 anti-Semitic incidents are reported each day worldwide.
The WZO report, released prior to International Holocaust Remembrance Day this week on Jan. 27, summarized current trends in global anti-Semitism based on local and international reports, data from research bodies, local police and Jewish communities.
The report showed a marked increase in media coverage of anti-Semitic incidents, with a particular emphasis on social networks and a rise in the intensity of media coverage when compared to previous years.
Most of the anti-Semitic incidents seen in 2022 fell under the category of propaganda (39%, which represented a 15% increase over 2021). Acts of vandalism came in second at 28%, with physical violence (14%), verbal (11%) and de-legitimacy (7%) being the top forms of anti-Jewish activity.
Russia's invasion of Ukraine in February 2022 was identified as a significant factor in the rise of anti-Jewish propaganda and conspiracy theories against Jews (39%). There was an increase in while 10 anti-Semitic incidents are reported worldwide on a daily basis, many incidents are still not officially reported nor documented.
The report also shows that boycott movements and Boycott, Divestment, Sanctions (BDS) organizations continue to be a significant factor in the spread of anti-Semitism around the world.
During 2022, anti-Semitic incidents originating in Europe (46%) and the United States (39%) represented a significant increase when compared to 2021 at 47.7% and 33%, respectively.
One top conclusion of the report showed "an alarming increase in the phenomenon of anti-Semitism" observed in the United States which was manifested by "disturbing trends in view of the strengthening of White supremacist organizations, alongside the increase of anti-Semitic statements from the American progressive left."
According to the data, there was a 61% jump in the number of cases of violence or planning of violence against Jewish institutions in the U.S., with New York state leading the trend with a 125% increase in hate crimes against Jews. There was about a 20% increase in hate crimes throughout major cities, such as Chicago, New York and Los Angeles during the first six months of 2022.
BDS activities on U.S. campuses continued to increase in 2022, with 1 out of 3 students confirming they experienced some form of anti-Semitism during the school year, and nearly 80% of students said at least twice. Some 350 anti-Semitic incidents were reported nationwide, with many Jewish students feeling the need either to hide their identity or their support for Israel. In addition, approximately 165 anti-Jewish demonstrations took place at university and college campuses in the U.S.
Anti-Semitism in European countries remains prevalent, however, there was a marked decrease in the percentage of incidents across the United Kingdom (a total of 786 cases in the first half of 2022, representing 43% less than the first half of 2021). The decrease is attributed, in part, to the recent election of Great Britain's new Prime Minister Rishi Sunak, a recognized supporter of Israel.
However, there was an increase of anti-Semitism in the British education system, according to the reported data, which has led to a 173% increase in the number of anti-Semitic incidents in schools over the past 5 years, with a 30% jump in cases during 2021-2022.
In Germany, 555 anti-Semitic incidents were reported to police during the first 9 months of 2022, an average of five cases a day across the country. This is a significant decrease in the trend of anti-Semitism compared to previous years, particularly as was seen during the outbreak of COVID pandemic and Operation "Guardian of the Walls" in Israel. The year 2021 saw approximately 2,738 incidents of anti-Semitism in Germany and 1,957 cases in 2020.
Incidents of violence against Jews in Italy, alongside reports of an increase in the amount of anti-Semitic incidents in 2022, were highlighted in the WZO report which also showed anti-Semitism present in the high school curriculum. According to a sample of high schools in Rome, 64% of the students believe that anti-Semitism exists in Italy and 90% of respondents voted that it is very important to continue commemorating the Holocaust and raising awareness of anti-Semitism.
With the election of French President Emmanuel Macron for a second term, there was a rise of extreme factions encouraging anti-Semitism throughout France. The trends revealed "a grim picture" that some 74% of French Jews were victims of anti-Semitic acts during their life, which included derogatory comments (68%), threats on social networks (28%), verbal threats (20%) and physical violence (20%).
At the same time, 37% of French Jews responded that they feel threatened because of religious affiliation, with 41% admitting that they avoid displaying religious Jewish symbols and about 35% claiming they refrain from wearing clothing identified  as Jewish in nature. About 85% of French Jews believe that anti-Semitism is currently a widespread phenomenon in France, with 73% claiming that it has increased in the last decade. Furthermore, most respondents – Jews (77%) and non-Jews (73%) – believe anti-Semitism is problematic not only for the Jews living in France, but for French society as a whole.
The ongoing Russia-Ukraine war has influenced anti-Semitic rhetoric in both countries, along with conspiracies on social networks regarding Israel's involvement in the war, claims that Jews are plotting to take over the world and the Jewish connection behind the fighting.
A consistent decrease in the number of anti-semitic incidents has been recorded in Russia, however, it appears anti-Semitism still has roots in the Federation, with 13% of those surveyed saying they do not want to see Jews at all. In Ukraine, a decrease in anti-Semitic incidents has been since the outbreak of the war with Russia, however, the accuracy of this particular data cannot be confirmed, as the Jewish community in Ukraine claims that anti-Semitism is still prevalent.
In Australia, considered to be a relatively inclusive and pluralistic country, the government has been actively opposed to anti-Semitism in recent years, however, in 2021 there was a 35% increase in anti-Semitic incidents down under, including 272 cases of vandalism, and physical and verbal attacks (175 threats directed at Jews via phones, email and other forms of messaging were reported in 2022.
In Latin America, anti-American elements have been strengthening ties with Iran, an activity which poses a threat to the Jewish community in South America. Cells of the Hezbollah terrorist organization are scattered across the continent, along with arms smuggling in Argentina, Brazil and Paraguay. The Department for Combatting Antisemitism stating that such activity requires "constant monitoring and follow-up along with the construction of an ongoing political and organizational response."
"Antisemitism on social media is increasing at an alarming rate and unfortunately, as history has taught us, it will also lead to physical acts," said World Zionist Organization Chairman Ya'akov Hagoel. "We raise a clear black flag in view of the increase in incitement on the networks and call on the heads of state to raise the fight against anti-Semitism to the top of the list of priorities."
Raheli Baratz Rix, head of the Department for Combatting Antisemitism, called for vigilance and cooperation regarding global anti-Semitism.
"The constant increase in Antisemitic trends in the last decade is a matter of concern, while the significant reduction in the number of incidents this year is not a sigh of relief either. Antisemitism is everywhere, at any point in time and space, and we must not be silent  and indifferent about this phenomenon. I call for a joint integration of efforts to deal with areas of awareness and information in order to provide a broad response to this disturbing trend," she said.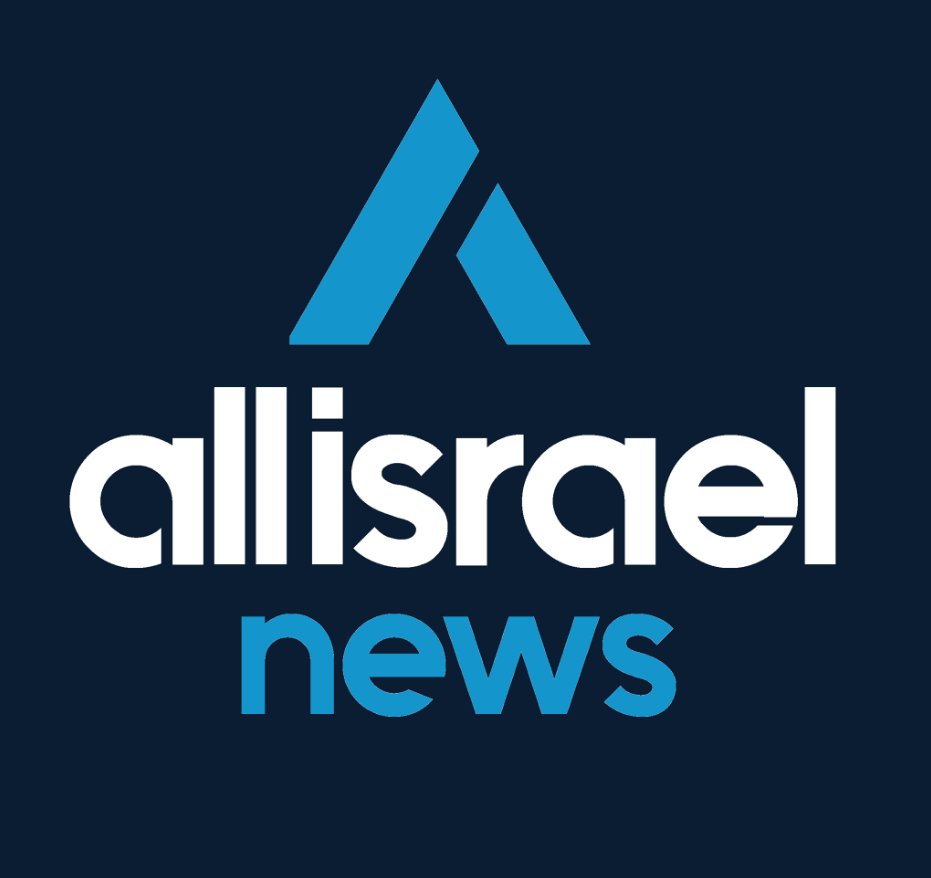 The All Israel News Staff is a team of journalists in Israel.
A message from All Israel News
Help us educate Christians on a daily basis about what is happening in Israel & the Middle East and why it matters.
For as little as $5, you can support ALL ISRAEL NEWS, a non-profit media organization that is supported by readers like you.
Donate to ALL ISRAEL NEWS
Current Top Stories
Comments