With peace process stuck in the mud, why is the EU's special representative visiting Israel, Palestinians this month?
Amb. Susanna Terstal spoke to ALL ISRAEL NEWS on why she remains hopeful for a breakthrough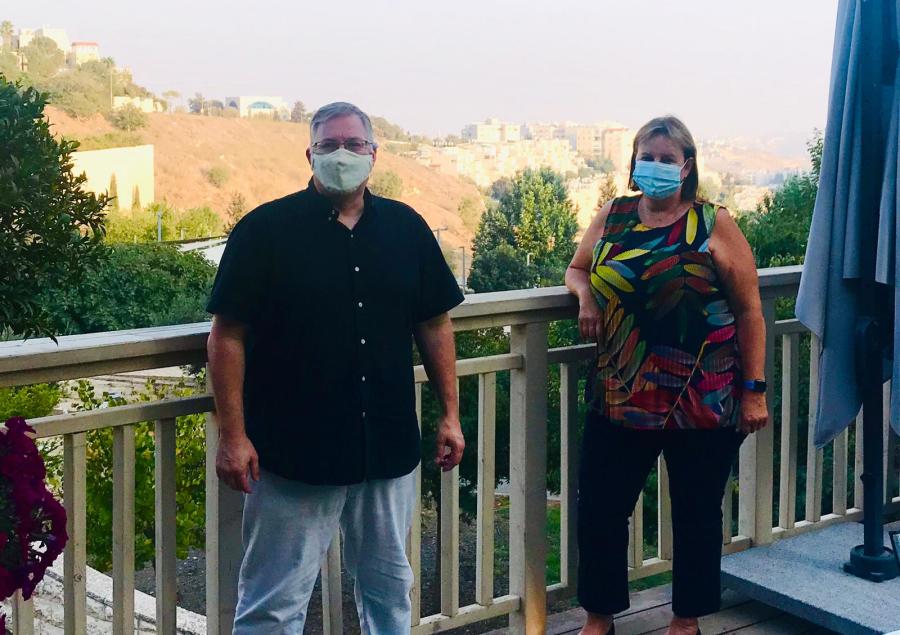 Amb. Susanna Terstal, the EU's Special Representative for Middle East Peace, meets with ALL ISRAEL NEWS founder Joel C. Rosenberg in Jerusalem (Photo: All Israel News Staff)
JERUSALEM – Despite the flurry of excitement over the Abraham Accords – three historic Arab-Israeli peace deals in the past three months – there is, sadly, no prospect of such a deal between Israelis and Palestinians any time soon.
Nor is there a "peace process" to speak of.
Israeli Prime Minister Benjamin Netanyahu has enthusiastically embraced President Donald Trump's "Deal of the Century" proposal, unveiled in January.
Palestinian Authority President Mahmoud Abbas has angrily rejected it out of hand.
No peace talks are underway.
None are planned.
None are even being seriously discussed.
Why, then, is Ambassador Susanna Terstal – the European Union's Special Representative for the Middle East Peace Process – visiting Israel and the West Bank this month?
That is exactly what I asked her over lunch in Jerusalem.
"Before COVID-19, I used to come to the region almost every month," Terstal, a Dutch diplomat whose previous assignment was serving as Holland's Ambassador to Iran, told me. "It is key for me to have direct and regular contacts with our Israeli and Palestinian partners and friends. This is also at the core of my mandate decided by the EU Member States. This mandate is very clear – to find a comprehensive, just and lasting peace on the basis of a negotiated solution agreed by both parties."
Fair enough, I said, but nothing is happening. Doesn't she find that frustrating?
"People often ask me if I become tired or cynical in this job," Terstal said. "The conflict has been going on for so long and has affected the lives of so many Israeli and Palestinian civilians that it may appear to be hopeless."
"Yet for me, coming to Israel, the West Bank and even Gaza always fills me with hope, despite the difficult circumstances on the ground," she insisted. "Whenever I meet with people from both sides and all backgrounds, I see the desire they have to raise their children in peace."
Does she and her counterparts in Brussels see the Nov. 3 elections in the U.S. as a possible turning point in the peace process?
Could a breakthrough happen after U.S. election results are known? I asked.
On this, she had no comment.
As a shrewd diplomat, she had no interest in commenting on the U.S. elections.
As a shrewd European diplomat, she might not even believe the outcome of the American elections will materially affect the future of the Israeli-Palestinian peace process. On this, again, she would not comment.
She preferred, instead, to give me examples of why she remains hopeful that peace is possible, and why citizens on both sides of the Israeli security wall may be getting tired of the seemingly never-ending fight.
Last week, Terstal visited a Palestinian olive farmer near a monastery in Bethlehem.
"We spoke about how he will lose access to his land and the olive trees his family has cared for already for generations if the remaining part of the separation barrier will be constructed and closes the road to his land," she said.
"Yet while the olive harvest has become tense this year due to attacks on the farmers by [Israeli] settlers," she added, "this farmer only had one wish: to live in peace."
Likewise, Terstal noted that when she visited Kibbutz Nerim on the Gaza border last year, the Israeli farmers there "live in constant fear of attacks from terrorist organisations in Gaza."
Yet, again, she said, "like the Palestinian farmer I met in Bethlehem, they do not want this conflict and violence – they desire to live in peace."
"That is why I am here now," Terstal told me. "To underline to both parties the need to work together during this difficult pandemic, to rebuild trust and dialogue to move forward to a better future for the generations to come."
"The EU has strong relations with Israel, in trade, tourism, science and much more," she explained. "We also have strong relations with the Palestinians. Peace can never be imposed but will have to be negotiated. The EU remains ready to support and assist both parties in these efforts."
"I am here because it was important for me to come back after several months of travel restrictions," she told me. "During the two weeks I will be staying here, I'll meet not only official representatives from both sides, but also have discussions with think tanks, analysts, civil society representatives as well as international partners."
Indeed, this was reason that she reached out to meet with me and talk to ALL ISRAEL NEWS, she said – to get all perspectives on the conflict.
Terstal said she is interested in better understanding how the world's 600 million Evangelical Christians – including the 60 million Evangelicals in the United States – see the Israeli-Palestinian conflict and the possible roads to peace.
A good deal of our conversation was off the record.
I did share with Terstal, however, that many Evangelicals have a negative perception of the European Union, believing the EU does not strongly support Israel but far too often unfairly sides with the Palestinians.
Right or wrong, this is the view of many Evangelicals, in the U.S. at least, I explained.
What's more, I encouraged her and senior EU officials to begin a specific, intentional, consistent outreach to Evangelical leaders and the rank-and-file to explain the EU's perspective, to listen to Evangelical views, and find ways to work together, if possible.
Sunni Arab leaders in Saudi Arabia, the United Arab Emirates, Bahrain, Egypt and Jordan are reaching out to Evangelicals, I noted.
So should the EU.

Joel C. Rosenberg is the editor-in-chief of ALL ISRAEL NEWS and ALL ARAB NEWS and the President and CEO of Near East Media. A New York Times best-selling author, Middle East analyst, and Evangelical leader, he lives in Jerusalem with his wife and sons.
A message from All Israel News
Help us educate Christians on a daily basis about what is happening in Israel & the Middle East and why it matters.
For as little as $5, you can support ALL ISRAEL NEWS, a non-profit media organization that is supported by readers like you.
Donate to ALL ISRAEL NEWS
Current Top Stories
Comments