Winter is coming...
And with it we expect foul weather and possibly a bit of rebellion as well as we watch a game of thrones unfold in the coming days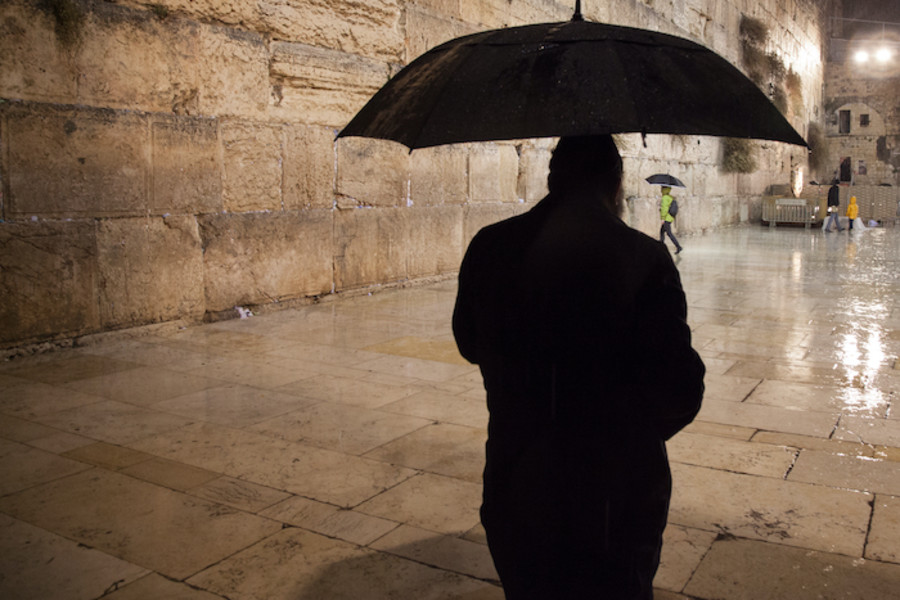 Man with umbrella opened looking at the Western Wall in Jerusalem (credit: Shutterstock)
Israel is in a waiting pattern.
We are waiting for winter and the rainy season, which we got a taste of as storms and floods pummelled the country on Sunday night.
We are waiting to see how clashing politicians resolve tense arguments over reopening the Israeli economy.
And we are awaiting the results of the U.S. elections which could determine the trajectory of Middle East peace.
The Rainy Season
Last year was a record year for rain. After long, dry summers, Israel always depends on the rainy season to bring much needed reviving to the land and to top off its natural water sources. The rains usually begin around this time of year, after Sukkot (the Feast of Tabernacles) and last on and off through Passover in the spring.
We always pray for a good supply of rain as it helps Israelis, the Palestinians and Jordanians alike in the immediate region.
Political Woes
Much like the rest of the world, Israelis have been living in a suspended reality brought on by the coronavirus pandemic. Some Israelis have not worked since the first lockdown in March especially those whose livelihoods are tied to the tourism industry or large events such as weddings — and they are getting restless.
The Finance Ministry estimated that the price of these restrictions on the economy is $673 million a week. Many small business owners and merchants are tired of not working, while anxiety and rumblings of anarchy are running high. This week, with their stores still required to be shut, many shop owners planned to open anyway.
This has pit Finance Minister Israel Katz against Health Minister Yuli Edelstein — both of the Likud party.
Katz argued: "The insistence of (continued closures by) the Health Ministry is unnecessary and lacks a factual basis and leads to anarchy and a lack of supervision that will only increase morbidity... The centers of infection must be located and enforced elsewhere."
Edelstein countered, "Whoever demands to lead today… to a reckless opening of the economy, leads us with open eyes to further closure and economic, social and health disaster."
The rebellion is expected to spread faster than the virus itself and we are keeping a close watch on these events.
The Trajectory of the Middle East after Nov. 3
Both Israelis and Palestinians are watching the U.S. elections very closely this week. Thanks to U.S.-brokered deals, Israel is on a path to peace with three Arab nations in just the past two months. And if Donald Trump remains president, up to 10 more Arab nations are on their way to the negotiating table with the Jewish State.
Up until last week, the Trump administration rolled out decisions that further cemented American recognition of Jerusalem as Israel's capital.
Palestinians, on the other hand, are hoping for a Joe Biden victory. They feel Trump's policies have favored Israel and fail to consider Palestinian aspirations in a peace deal and have cut off all ties with America and more recently with Israel.
This week, East-West angst came to a head on the highly charged Temple Mount.
More than 12,000 Muslims packed onto Temple Mount for Friday prayers at a time when COVID restrictions limit public gatherings and require masks. Worshippers converged for the birthdate of the prophet Muhammed (which was on Thursday) in addition to global Muslim protests against French President Emmanuel Macron who said France is under attack from Islamist terror.
Aside from heightening tensions, the contagious virus is also cause for concern after Friday's gathering.
"In the midst of severe restrictions aimed at cutting the chain of infection, particularly in the Arab community, we are puzzled by the decision to allow thousands of people to gather at the Temple Mount. This is very irresponsible," the Jerusalem municipality said in a statement.
But perhaps more worrying than the virus, is the spreading hate that we saw so clearly in France last week with a series of attacks on Christians.
The protesters in Jerusalem on Friday chanted, "With our souls and with our blood, we sacrifice for our prophet, Muhammad."
Coincidentally, our top story on Saturday featured Yehuda Glick, the famed Temple Mount activist (who was reading our story while giving a tour of the site on Sunday) who has been challenging the status quo and fighting for religious equality there for decades.
With peace agreements in place with the United Arab Emirates and Bahrain, Muslims from around the world will be able to pray there, he noted. "Why should people who are non-Muslim not be included? The Temple Mount is holy for Jews. It's holy for Christians."
This is definitely a week to be watching and praying.

Joel C. Rosenberg is the editor-in-chief of ALL ISRAEL NEWS and ALL ARAB NEWS and the President and CEO of Near East Media. A New York Times best-selling author, Middle East analyst, and Evangelical leader, he lives in Jerusalem with his wife and sons.
A message from All Israel News
Help us educate Christians on a daily basis about what is happening in Israel & the Middle East and why it matters.
For as little as $5, you can support ALL ISRAEL NEWS, a non-profit media organization that is supported by readers like you.
Donate to ALL ISRAEL NEWS
Current Top Stories
Comments