Will Naftali Bennett return to talks with Yair Lapid to form new government and serve as prime minister? He hasn't yet
Negotiations are not underway, and time is running out – Lapid's mandate to form government ends June 2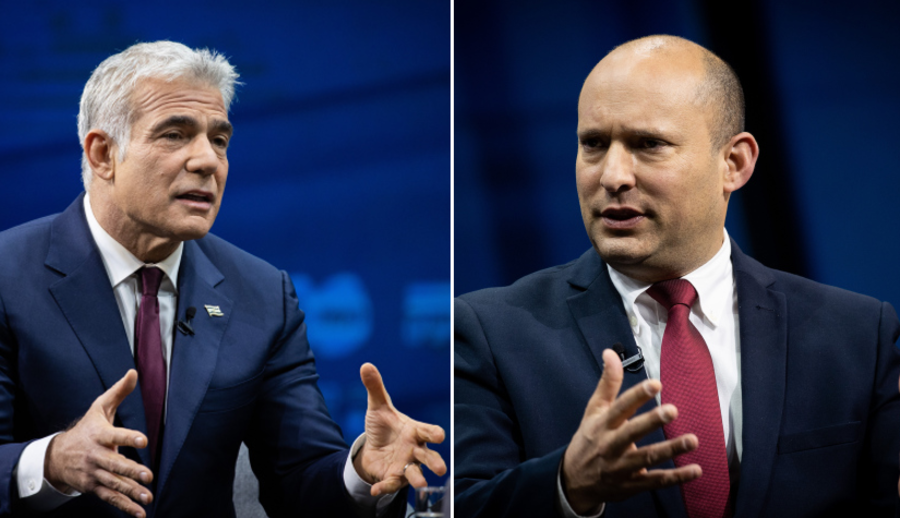 (L) Head of the Yesh Atid party MK Yair Lapid, (R) Yamina leader MK Naftali Bennett attend a conference of the Israeli Television News Company in Jerusalem on March 7, 2021. (Photos: Yonatan Sindel/Flash90)
JERUSALEM – With the ceasefire in Gaza holding, attention in Israel is rapidly shifting back to politics.
The big question now: Will Yamina party leader Naftali Bennett return to talks with opposition leader Yair Lapid and nail down a deal to form a "change government" before Lapid's mandate to do so runs out on June 2?
There is a great deal of speculation in the Israeli media in recent days that talks between Bennett and Lapid are well underway and could be wrapped up by the end of the week.
But sources close to Lapid tell ALL ISRAEL NEWS that this is "all rumors and spin."
Bennett "needs to come to the table first" and start negotiating again, but he hasn't yet, I was told.
Will Bennett return, or has he burned his bridges with the "change" camp?
"We don't know," one source told me. "He doesn't have many other options."
If Bennett does reengage in talks with Lapid and the other potential members of a change government, it is not entirely clear that the same offer will be on the table.
"Bennett walked away from being prime minister" when he shut down negotiations on May 13.
Some centrist and left-wing members of the Knesset no longer trust Bennett, I was told.
If he returns, Bennett may not be offered the opportunity to serve as prime minister in the first rotation, but might have to wait until Lapid serves as premier for the first two years. 
Still, all this is speculation for the moment.
Lapid does not appear to have a serious option to form a government without Bennett.
But Bennett has to come back to the table and negotiate seriously – and soon.
On May 13, during the fighting with Hamas, sources close to Bennett said the former defense minister was breaking off negotiations with opposition leader Lapid and would not help form a "change government."
This was a shock since Bennett and Lapid were reportedly ready to sign on the dotted line on a deal that would make Bennett the prime minister for the first two years, while Lapid served as foreign minister, after which the two would rotate roles.
Over the weekend, however, speculation began mounting that Bennett is, in fact, interested in finalizing a deal with Lapid.
Channel 13 and the Times of Israel are reporting "Yamina is signaling that a coalition deal with Yesh Atid is not fully off the table."
The Jerusalem Post is reporting this morning that Lapid's offer to Bennett "to go first in a rotation replacing Benjamin Netanyahu as prime minister returned to the forefront on Sunday, as sources in the two parties said they expected an agreement to be finalized by the end of the week."
The Israeli TV network, i24 News, is also reporting that Lapid is actively working to build a government before his mandate expires on June 2, and that a deal with Bennett may still be possible given the Yamina leader's sharp criticism of Netanyahu over the weekend.
"Bennett took to Facebook to hit out at Netanyahu," i24 News reported, quoting Bennett as writing, "I cannot recall another such a period defined by weakness, dysfunction and national embarrassment. Whoever drags the country to a fifth election, to more hatred and toxicity, to another year of dysfunction and huge waste of money, is playing into the hands of those who want to harm us."

Joel C. Rosenberg is the editor-in-chief of ALL ISRAEL NEWS and ALL ARAB NEWS and the President and CEO of Near East Media. A New York Times best-selling author, Middle East analyst, and Evangelical leader, he lives in Jerusalem with his wife and sons.
A message from All Israel News
Help us educate Christians on a daily basis about what is happening in Israel & the Middle East and why it matters.
For as little as $5, you can support ALL ISRAEL NEWS, a non-profit media organization that is supported by readers like you.
Donate to ALL ISRAEL NEWS
Current Top Stories
Comments