Will Israel become the first country to make the anti-COVID vaccine mandatory?
Human rights lawyer tells ALL ISRAEL NEWS nation is headed for "a bad situation" as the government unveils a litany of threats - and sanctions - for those who have not gotten their shots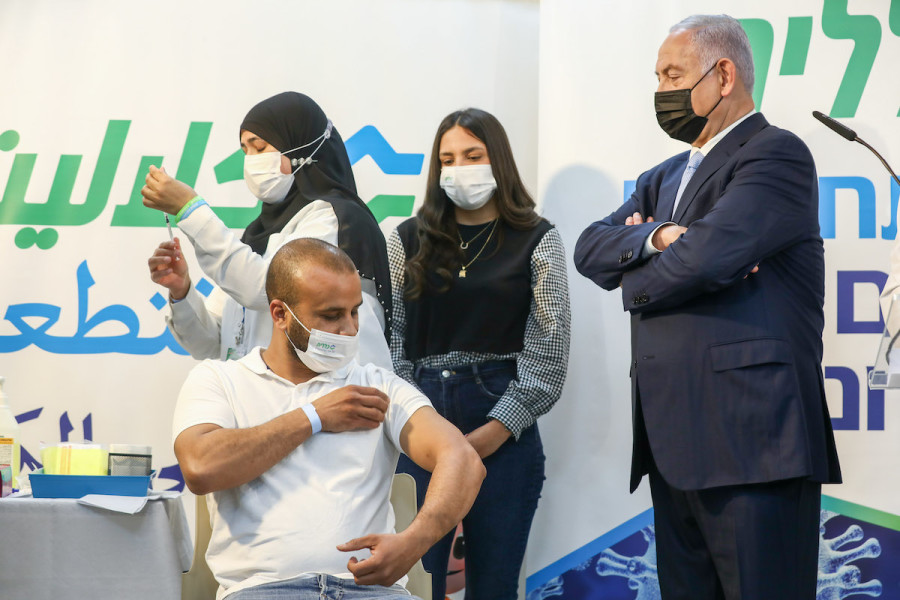 Israeli Prime Minister Benjamin Netanyahu seen during a visit at Covid-19 vaccination center in Zarzir, northern Israel, Feb. 9, 2021. (Photo: David Cohen/Flash90)
JERUSALEM — With a recent dive in what has been the fastest rate of vaccination in the world, Israel has taken new approach to the vaccine campaign that falls just short of mandating inoculation: severely restricting access to normal life and services for those who are not vaccinated when the country begins reopening.
At the same time, the government will limit access to testing so as to make it more difficult for a person to enter any venues without a "green passport" that will be used to prove vaccination. At the moment, 2 million Israelis are eligible for the green pass, as it has been renamed.
That means no entry to malls, cafes, restaurants, gyms, theaters, sports games and cultural events when the economy begins to open up, possibly on Feb. 23.
And that is just the beginning.
Lawmakers have been floating the idea of sanctions for those who are not vaccinated, including creating new laws including one that would enable employers to bar or fire unvaccinated workers and another law requiring all Israelis to be forced to vaccinate.
Here are just some examples:
Health Minister Yuli Edelstein is pushing legislation "which will allow employers to prevent the unvaccinated from coming in to work." This is after he backed off from a bill to force every citizen to get the COVID vaccine — an idea now being picked up by Energy Minister Yuval Steinitz.

Ayelet Shaked, the No. 2 in Yamina, told an interviewer that her party's plans to deal with COVID include designating cities according to infection rates, sealing off "red" cities with police or military and "throwing into jail" anyone who tried to leave.

Aryeh Deri, of the ultra-Orthodox Shas party, suggested compiling the names of the unvaccinated and going door to door to inoculate them.  

Betzalel Smotrich of the Religious Zionist party said the government should pass a law that "those who do not get vaccinated will bear the costs of medical treatment if they fall ill with coronavirus…. Life should be returned to routine only for the vaccinated."

Mayor of Lod, Yair Revivo, said that children of unvaccinated cannot attend school in his city or access municipal services. He later retracted this threat.

The mayor of Rishon Letzion told Channel 12, "I know how to get them to come running for a vaccine" — by blocking entry to malls and restaurants, he said. 

Ra'anana Mayor Haim Broide told Channel 13 his city would prevent non-vaccinated workers from coming into contact with vaccinated ones and that municipal workers that haven't been vaccinated will need to come to work in a full protective suit.

Jerusalem Mayor Moshe Lion said unvaccinated Muslims will be barred from mosques and all residents who don't get the COVID shot will not be able to attend school.
The Ministry of Health is also checking into whether it can force teachers to be vaccinated.
The law, meanwhile, is not clear on whether companies can require workers to be vaccinated. Some companies have offered incentives such as bonuses or vacation days at the company's expense as a way to encourage workers to get their shots before coming to the office.
"The issue has not yet stood the test of the Labor Court or the High Court, but in my opinion, an employer who asks an employee to get vaccinated and the employee refuses to do so or refuses to perform tests every 48 hours as a condition of coming to work, can even invite the employee to a hearing," said attorney Shimon Tzur, according to Channel 12.
Israeli lawyer, Tamir Turgal, has recently been busy handling these cases that potentially violate civil rights and medical privacy. He told ALL ISRAEL NEWS that these actions being considered, such as terminating employees and barring them from services, run the risk of marginalizing entire groups of people and are reminiscent of darker times in history.
"All these people with good intentions are trying to get us back to before World War II," he said. "We were raised on the history of the Holocaust and we never thought we'd be in a time of 1933 — not in the war, but in the time before it."
"I'm not a prophet and I cannot predict the future, but this will lead us to a very, very bad situation on a massive scale," Tamir said. "We're already heading there." 
But despite potential lawsuits and the risk of violating the rights of people who opt not to be vaccinated, little to no opposition - let alone outrage - exists at the highest levels of government to some of the suggestions mentioned above on how to encourage more people to get vaccinated.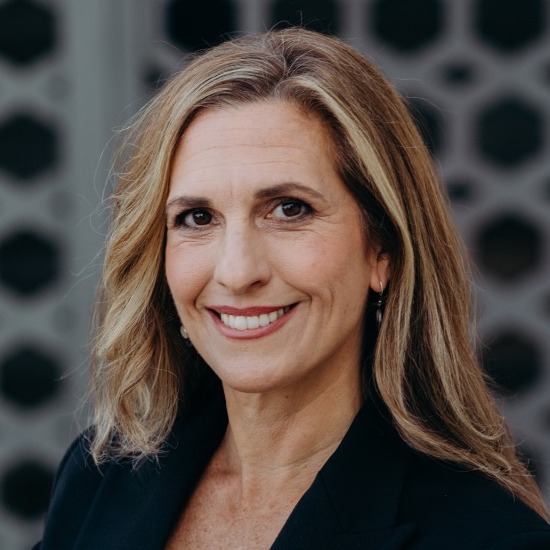 Nicole Jansezian is the news editor for both ALL ISRAEL NEWS and ALL ARAB NEWS and senior correspondent for ALL ISRAEL NEWS
A message from All Israel News
Help us educate Christians on a daily basis about what is happening in Israel & the Middle East and why it matters.
For as little as $5, you can support ALL ISRAEL NEWS, a non-profit media organization that is supported by readers like you.
Donate to ALL ISRAEL NEWS
Current Top Stories
Comments