2024 U.S. PRESIDENTIAL CAMPAIGN
Will Biden really be Democratic nominee? CNN says 66% of Americans see 'disaster' if he is re-elected
'Horrible, horrible news for Joe Biden,' says Jake Tapper of new CNN poll
U.S. President Joe Biden delivers remarks on the state of the coronavirus disease (COVID-19) vaccinations from the State Dining Room at the White House in Washington, D.C., U.S., April 6, 2021.
JERUSALEM, ISRAEL – CNN is in trouble.
It keeps firing its top executives and on-air anchors, it's credibility is slipping, and it's ratings are plunging.
But every now and then the network gets something right.
Yesterday, the original cable news network stumbled on an inconvenient truth: the American people think the re-election of President Joe Biden would be a "disaster" for the country.
It fell to one of CNN's biggest stars, Jake Tapper, to go on the air to explain just how much trouble Biden is in.
"Horrible news, horrible for Joe Biden in our new CNN poll," Tapper said yesterday on the air.
"While the president leads his Democratic competitors by a huge margin, two-thirds of all of the American people surveyed, 66% of the public say that a Biden victory would either be a setback or a disaster for the United States."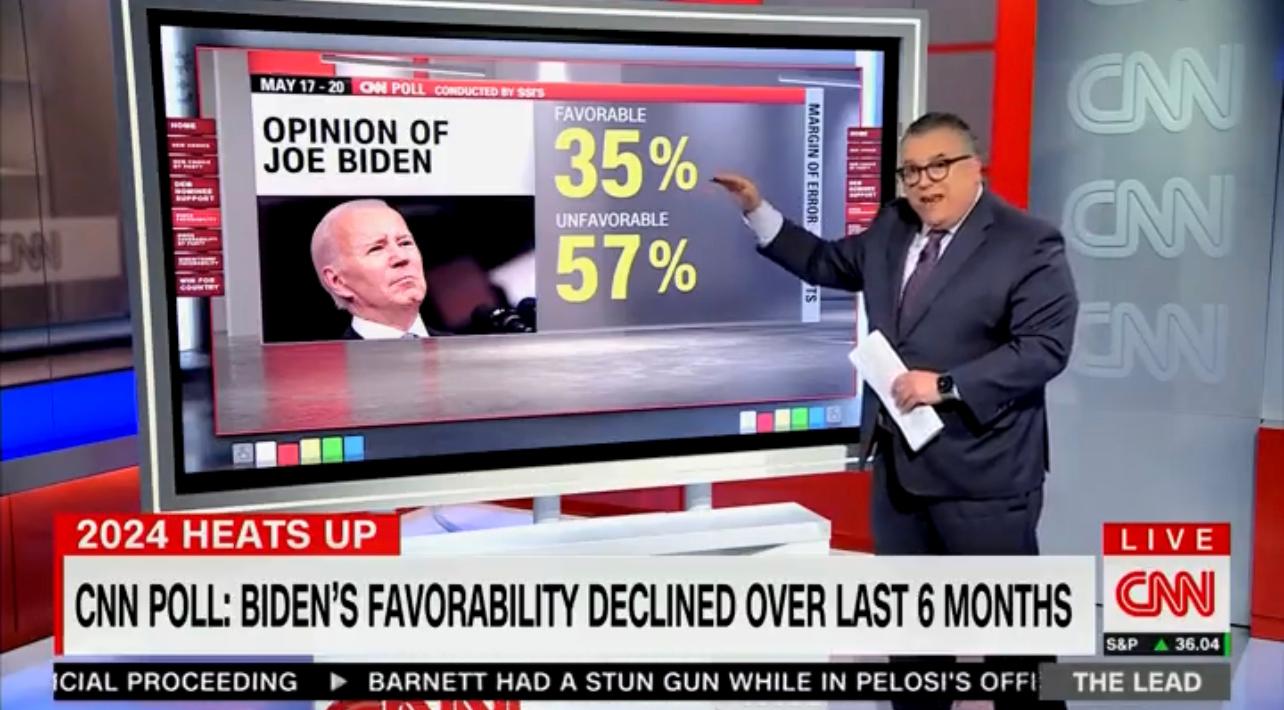 "When it comes to how voters see Joe Biden and another presidential term, I mean those are some bad numbers," Tapper added.
Tapper also raised the critical question: Is the Democratic party really going to nominate Biden when so many Americans are worried about where Biden is taking the country, or should it look elsewhere?
Last month, an NBC News poll found that 70% of Americans don't want Biden to run.
The latest CNN poll didn't ask that precise question.
Still, in its formulation, CNN found that "two-thirds (66%) of all Americans say a Biden victory would either be a setback or a disaster for the country."
WHY IT MATTERS
Biden is arguably the most pro-Israel figure in the modern Democratic party.
Most Evangelicals oppose his re-election.
But few Evangelicals want to see the Democratic nomination go to Senator Bernie Sanders or anyone like him.
Not only is Sanders an avowed socialist, he is also the most anti-Israel member of the Senate.
Even though he is Jewish, Sanders is constantly voting against – and publicly speaking out against – the Jewish state.
A robust primary battle on the Democratic side could be healthy for the party and the country.
But it also runs the risk of elevating someone who, for Evangelicals, would be seen as even worse than Biden on economic and national security issues like Israel and the Iran threat.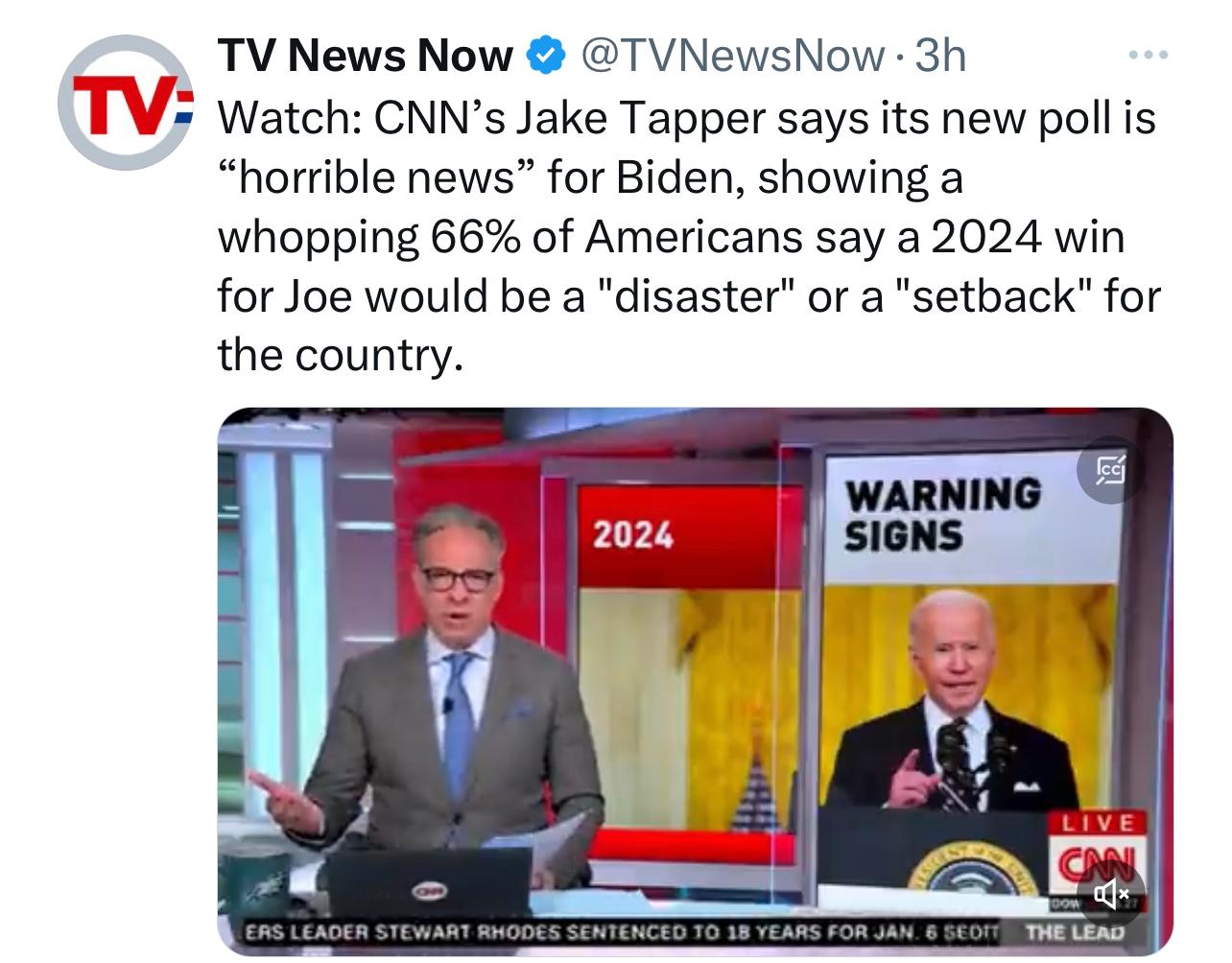 WHO ELSE MIGHT RUN?
Biden "faces headwinds among the overall public from declining favor and a widespread view that his re-election would be more negative than positive for the country," according to a new CNN poll conducted by SSRS. 
"The survey finds a decline in favorable views of Biden over the past six months, from 42% in December to 35% now," CNN reported.
"And results from the same poll released earlier this week showed Biden's approval rating for handling the presidency at 40%, among the lowest for any first-term president since Dwight Eisenhower at this point in their term."
At the moment, "60% of Democratic and Democratic-leaning voters say they back Biden for the top of next year's Democratic ticket, 20% favor activist and lawyer Robert F. Kennedy, Jr., and 8% back author Marianne Williamson," the network reported.
"Another 8% say they would support an unnamed 'someone else."
Will Kennedy be the only serious Democrat to challenge Biden?
Or are the numbers getting so bad for the White House that other serious and viable candidates will jump in?
Might California Governor Gavin Newsom throw his hat in the ring?
What about former First Lady Michelle Obama?
We'll be watching closely.

Joel C. Rosenberg is the editor-in-chief of ALL ISRAEL NEWS and ALL ARAB NEWS and the President and CEO of Near East Media. A New York Times best-selling author, Middle East analyst, and Evangelical leader, he lives in Jerusalem with his wife and sons.
Popular Articles
A message from All Israel News
Help us educate Christians on a daily basis about what is happening in Israel & the Middle East and why it matters.
For as little as $5, you can support ALL ISRAEL NEWS, a non-profit media organization that is supported by readers like you.
Donate to ALL ISRAEL NEWS
Latest Stories
Comments