Why is Kathie Lee Gifford so effervescently passionate about Israel, Jews, the Bible and Jesus – and why is she on a one-woman mission to share her passion with you?
In this exclusive interview with ALL ISRAEL NEWS, I talk to the iconic entertainer about her faith, her Jewish roots, her first trip to Israel and her forthcoming new book
I have literally never met anyone as passionate about Israel, the Jewish people, the Bible or Jesus as Kathie Lee Gifford.
And not just passionate.
Effervescently passionate.
What's more, Kathie Lee is on a one-woman mission to share her passion with you.
With me.
With everyone.
Why?
You're about to find out.
In this exclusive interview with ALL ISRAEL NEWS, I talk to the iconic actress, singer, TV host and bestselling author about her first trip to Israel, about her Evangelical faith, about her Jewish roots and about several of her books, including the new one coming out in November.

I interviewed her by Zoom in May, in the middle of the rocket war between Israel and Hamas.
But there has been so much news since then – war, rumors of war, a new government, a resurgence of COVID cases in Israel and more – that we have held the interview until now.
The full transcript is below, but I highly encourage you to watch the full video.
It's not the only way but I think it's the best way to see and feel her heart, the depth of her convictions and her zest for life.
That said, before you watch, let me give you some context.
WHO IS THE INCOMPARABLE KATHIE LEE?
At just 17, Kathie Lee Gifford landed in Israel for the first time in her life – and she immediately thought, "I'm home."
"I knew the minute my feet landed in Tel Aviv at the airport and I first put my feet on the ground in Israel…and I went, 'Oh my God, I'm home, I'm home,'" she told me in an exclusive interview for ALL ISRAEL NEWS.
Since then, Gifford – a passionate Evangelical Christian from a Jewish background on her father's side – has returned to Israel countless times to visit, tour, meet with friends, learn about the country's biblical and cultural history, write books and produce videos and films. 
After that first trip to Israel, Gifford went on to become arguably America's most famous TV co-host.
She also embarked upon a storied career as an author, playwright, producer, singer, songwriter and actress.
From "Live with Regis and Kathie Lee" – the #1 rated morning show for years – to the TODAY Show with Hoda Kotb, many Americans grew up with Gifford.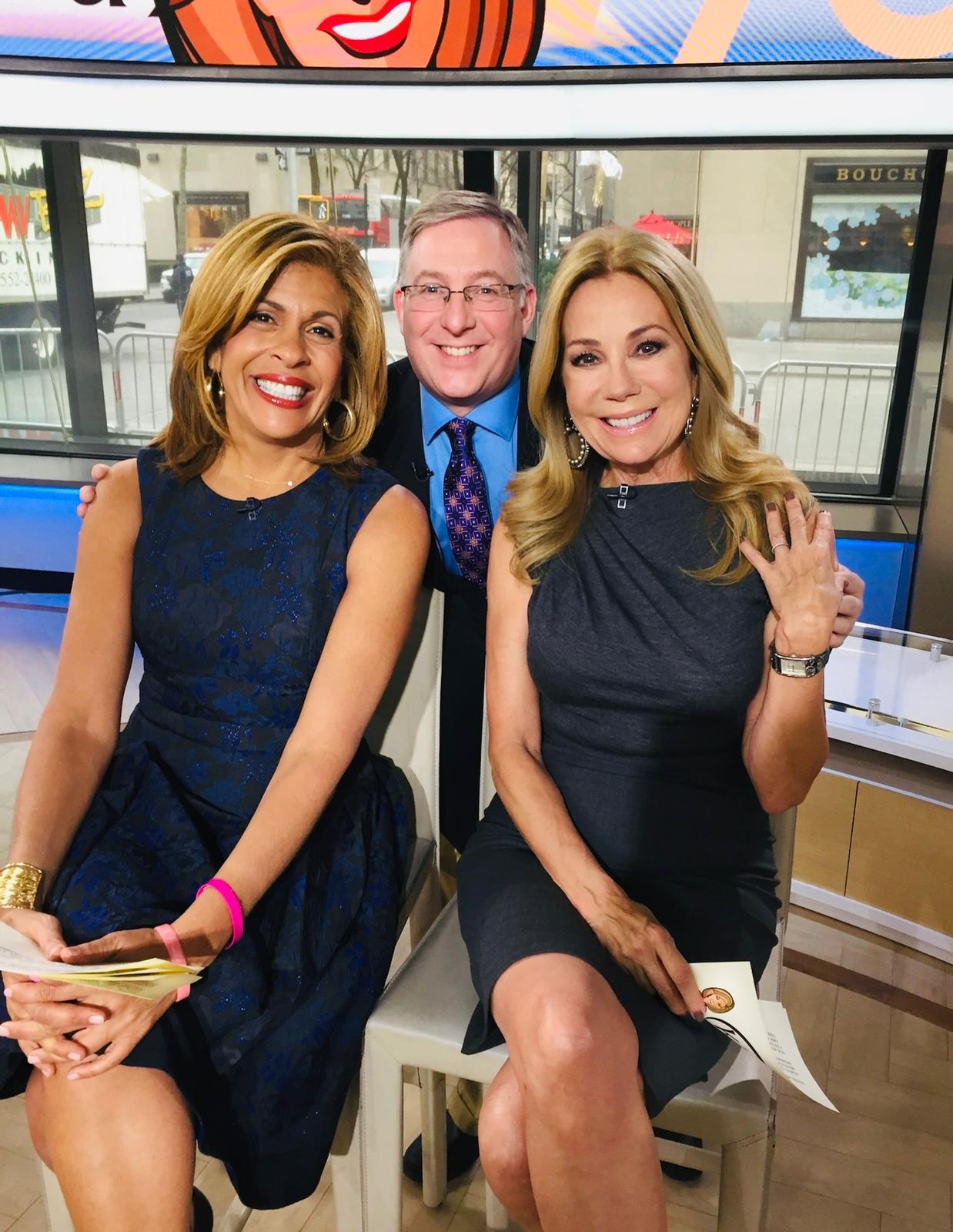 Kathie Lee Gifford, Joel C. Rosenberg and Hoda Kotb on the set of the TODAY Show in January 2015
I first met Kathie Lee when I learned that she was a reader of my books, particularly my novels, and she invited me to be on the TODAY Show to discuss one of them.
That first appearance set into motion a wonderful friendship that my wife, Lynn, and I cherish.
Years ago, Kathie Lee invited us to her lovely home in Connecticut (now she lives in Nashville). We, in turn, have welcomed her and her family and colleagues to Israel numerous times, and these dinner parties have been filled with laughter and her amazing stories of doors God has opened for her, people she has met, and truly extraordinary experiences she retells in vivid color.
She has won four Emmy Awards.
She was inducted into the Broadcast & Cable Hall of Fame.
Gifford has five New York Times bestselling books including her most recent, 'It's Never Too Late: Make The Next Act of Your Life the Best Act of Your Life,' and 'The Rock, the Road, and the Rabbi: My Journey into the Heart of Scriptural Faith and the Land Where It All Began,' which she discusses at length in this interview.
Her new book – which I am especially looking forward to reading – is, "The Jesus I Know: Honest Conversations and Diverse Opinions about Who He Is."
It releases in November and is now available for pre-orders.
Indeed, she has become part of the fabric of American culture, being quoted or mentioned in countless books and movies ("While You Were Sleeping" comes to mind) and making guest appearances on iconic TV shows like "Seinfeld" (in an episode where Kramer publishes a book about coffee tables and has a disastrous appearance on "Regis & Kathie Lee.")
HER EVANGELICAL FAITH, AND HER JEWISH ROOTS
That said, while "Kathie Lee" is a household name all across America, few people may realize just how much her love of Israel has informed her faith, and how much her Evangelical faith and love of the Bible informs her love of Israel.
Gifford truly lights up when she talks about Israel and is passionate in sharing her love for the land and for the Bible with others.
"There's never been a trip that I've taken that was not absolutely life transforming," she told me. "My favorite trip of all is recounted in the new book that I just turned in, which will come at the end of November. It's called the 'The Jesus I Know.'"
Gifford connected even more deeply to Israel after her first tour with a group of Messianic rabbis who teach the Bible from a Jewish perspective.
"Jesus spoke in all the different synagogues all around the countryside," she said. "And He spoke everywhere. He shared God's love with everyone. But He was known even by nonbelievers for His parables. And where was He telling those parables? In the land. In the land."
"He appealed to all of their senses. Whenever He said, 'Behold the lilies of the field,' there were lilies of the field there. And they look like red poppies to us, but they're called the lilies of the field. He would talk about the mustard seed – and there it is. And He would point to things that they could see." 
Her enthusiasm for Israel and the Bible is absolutely contagious.
You can watch the full interview here. 
Rosenberg: Hi, this is Joel Rosenberg, founder and editor-in-chief of ALL ISRAEL NEWS and our sister site, ALL ARAB NEWS. And I'm coming to you from Jerusalem and very excited to continue this series of conversations with prominent Christian and Jewish personalities, leaders, entertainers. Actually, our next guest is all of those things – and a dear friend. Kathie Lee Gifford is a huge star in the United States and has been for a long time. We won't get into how long…
Gifford: 120 years, okay?
Rosenberg: And, of course, you guys know her from so many things. "Regis and Kathie Lee" was one of the biggest "things," but she's done so many things throughout the course of her life. And in the article [above], we will mention a number of those. But we're doing this series now on "Why I Love Israel," talking with a whole range of people on where does their love for Israel come from? What was their first trip? What are their first memories here of Israel and other memories along the way?
Kathie Lee, you've been a friend. You had me on the Today Show. You were on the Today Show, of course, as our co-host for many, many years. What a joy to spend some time with you today.
Gifford: So great to see you, too, Joel. The only thing that would be better would be to be in Israel with you. This has been hard – COVID has been hard on everybody in different ways. One of the hardest ways was for me not to get my annual trips in to Israel because they have come to mean so much to me. And I shoot, I direct films in Israel as well. And I had to find some places in America that could fill in for Israel and they were beautiful places. But there's no place like Israel. So I've got some time to make up. I got to come soon.
Rosenberg: Well, we look forward to welcoming you back. And I think that's one of the parts of this conversation I look forward to is – you've been also maybe an unofficial, semi-official ambassador for the nation of Israel with Evangelicals all over the United States, all over the world, because your love is so deep and you have truly an unconditional love for Israel and the Jewish people.
Let's dial back, let's start with: Where does your love for Israel come from, Kathie Lee?
Gifford: Well, I think it's first and foremost, that it's in my blood. My father was Jewish. His father was an immigrant to America at the turn of the century. And he was escaping the pogroms in Russia. And I knew my family history that way. And he was not a practicing Jew in the sense that he was not a temple-goer. But my daddy was raised by his mother, who was a Gentile. My father was the greatest man I've ever known in my whole life, the greatest single human being – there's my daddy and then Billy Graham. That's how I feel about my dad. He was the most amazing father.
But his father, the man who emigrated, his name was Samuel Meyer Epstein, he was not a good man. He was not a faithful man. He was an addicted man. And he abandoned his family, his wife and five children. And so that's the man I never met but heard about. But let me tell you about my father and then you'll understand my love for Israel.
When my grandfather, whom I had never met, was dying, I heard my parents whispering, as all children do, and talking about a trip they needed to make and how his father was very, very ill in Baltimore . I grew up in Annapolis, Maryland then. And he was calling for all of his children to come to his side. And this will make me cry because this so exemplifies my daddy. My daddy went with my mom and sat next to his dying father, by his bed. And my grandfather said to my dad, "Forgive me, son." And my daddy took his hand and looked at him and said, "I forgive you, Pa." And I truly believe with all my heart that was the reason that God blessed my daddy and his marriage and his three children – every one of us have been in service to the Lord in our own ways, all of our lives. My brother was a Baptist pastor – Pastor David of Calvary Baptist Church in New York City. Every time I pass that sign, I laugh and say, "Tell me God does not have a sense of humor." Pastor Dave Epstein of Calvary?
So, anyway, I was very aware of my Jewishness, and even though we weren't a churchgoing family so much, I was always in love with Jesus. I didn't even know why. I didn't even know his name then, Yeshua. But I love to call him Yeshua now that I study rabbinically. I just loved the Bible. I was a Bible nerd when I was a kid. When I was a senior in high school, my daddy …
ROSENBERG: Kathie Lee, just one quick question. So, your mom was a Gentile, but was your mom also a practicing Christian?
GIFFORD: Not until I was 12 years old. I came home one night and I saw through my door that my sister and my mother were crying in front of something on the television. And I thought maybe the president had died, or something like that. And I walked through the door and noticed that they were both receiving Christ into their hearts from that Billy Graham crusade. One of the great joys of my life later was, in my early 20s, I met Billy and he became one of my dearest friends for the rest of his life. And what a privilege that was and is. But when I was 12 years old, I went to a Billy Graham movie in a movie theater in Annapolis, Maryland, called "The Restless Minds." And at the end there was an altar call. I received Yeshua into my heart. I went running down to receive Him, which is so interesting to me because [back then people thought], "Christians aren't supposed to go to movies, just like I was supposed to be in show business and all that."
ROSENBERG: And Broadway and musicals and TV – music – you did the whole thing!
GIFFORD: Because that was my mission field and millions of people heard the Gospel because of it. And thousands of people came to know Jesus because of it, many of whom I was privileged to be able to lead personally into a relationship with Jesus. So, I mean, we better be very, very careful who we say to what kind of a message we send to our people. How about, "Just go where God leads you – go where God dreamed you to be and put those dreams"? I wanted to be an actress and a singer and a performer my whole life. I was not going to end up in Nigeria as a missionary. That was not going to happen to me, you know. And so, I just remember when I was a senior in high school getting ready to graduate, there was a trip – the first Jerusalem conference on biblical prophecy was held in 1971. I missed my high school graduation [and] my daddy gave me that as my graduation gift.
ROSENBERG: Wow, I didn't know this. I'm not just asking this because I want other people to know. I actually, genuinely, didn't know this.
GIFFORD: Yeah well, you don't read my books. Gotcha! Busted! 
ROSENBERG: Ouch!
GIFFORD: Well, anyway, its fine – I do read yours – they're good. You know I do. Anyway, so long story short: God used that hugely in my life to change the trajectory of my life. And I knew the minute my feet landed in Tel Aviv at the airport and I first put my feet on the ground in Israel and breathed and I went, I'm 17, and I went, "Oh my God, I'm home, I'm home." I felt ancient. Most 17 year olds don't feel ancient. I really feel ancient now, huh? But yeah, and so the next year, I went back again, and the next year after that I went again. And then I started doing television shows there.
ROSENBERG: Do you know how many times you've actually been here?
GIFFORD: I guess I could count them. I could look at my passport, but yeah, it's not as many as I wish because there was a 30-year period then that I didn't go because I was working so hard doing my career and married and it wasn't something my husband wanted to do until he went with me in 2012. That was when I first started studying rabbinically, because a lot of people go to Israel as a tourist and I encourage anybody to go to Israel because you're never the same after you visited. But Frank's life – and mine too – completely changed and was transformed when we went on our first rabbinical trip, meaning we went with people that know the Old Testament in the rabbinical way. They're rabbis, but they're Messianic rabbis. They understand the Torah. That is what rabbis are supposed to do – teach you ten levels down what you think the Word is saying. And then you're supposed to ask them questions and wait till you're exhausted because a good rabbi will want you to do that. I learned that a good rabbi, you never ask them, "Where are you going?" and "What are we going to learn? What are we going to study?" You just follow in the footsteps of the rabbi, wherever it takes you. So, that particular first trip was because of my dear friends, Emily and Craig – and they are now actually real family to me now because their son just married my daughter this past year….
ROSENBERG: Oh, my goodness. Wow! Congratulations.
GIFFORD: They've known each other since they were 11 and 14 and just got married. So, Emily and Craig had started studying because of a man named Ray Vander Laan, who started an amazing organization called, "That The World May Know." Emily's father, Edgar Prince, the Prince family of Michigan, he underwrote the first videos and now they're seen all over the world – just teaching videos. And I was blown away by his teaching. And he had a bad back, yet he was a mountain goat getting up the mountain. He had back surgery the minute he got home. But he was on fire to teach the Word of God and I was right behind him. I was so starved by this time from the Western churches – starved. My faith was lukewarm because I wasn't being taught the Word. But when I go to Israel and I study with these rabbis and some of them are Christian but they have rabbinical training and they teach the same things, my faith just absolutely came alive. I had a fire in my gut and that has continued until today. I wrote a book called The Rock, the Road, the Rabbi about my trips there with Rabbi Jason Sobol, who is an absolutely brilliant teacher. I'm working on a second one in that series right now, The Rock, the Road and the Rabbi, called, The Journey Continues, with one of Ray Vander Laan's best students.
You know what is exciting, Joel, we hear so much bad news in our world. And I know and I'm praying for Israel and all the people who live there, whatever faith they are there, God loves all He creates. But, I don't know what I was going to say, I was just thinking about the rockets that are coming down. Let's just pray. "Oh, Lord, we pray for peace. We pray for peace in the hearts of all who live there. We pray for peace, shalom, your shalom to reign supreme. And so you are sovereign God, Lord. You know what's going on in every heart. We just give it to you and we trust you, Lord. Help us to trust more every day because it's our faith that pleases you. And we pray for protection, protection, Lord by the power of the Holy Spirit."
So anyway, I don't know what I was going to tell you except for that the book is – oh, I know – the good news of it: I thought maybe that book, The Rock, the Road and the Rabbi would sell maybe 10 copies because it goes deep, way deeper than anything you learned in Sunday school. And it's an entertaining book, I think, but is more academic than most of my books are. I've written 22 books now, I think, I just passed in my 23rd the other day, I think. I've lost count.
ROSENBERG: Congratulations. The writing of many books, the Bible says, is wearying to the body, but good for you to keep going. You've got a lot of energy.
GIFFORD: Well, I have more to say now that I've ever had, especially about faith, because I walked with Jesus since I was 12 years old and stumbled many times with Him as well, been lifted up and carried forward by Him. But the good news is that that book has sold about 600,000 copies now. And right before COVID, that was everyone who was flying to Israel, that was the book – The Rock, the Road and the Rabbi – the No. 1 travel book for tourism, for people going to Israel. And all of my profits go to my foundation, The Rock, the Road and the Rabbi Foundation. But the fact that that many people are hungry for the Word of God is the good news. And especially now that was pre-COVID.
God doesn't want us to fear. You know that, Joel. But he will use our fear, the fear that a lot of people had during COVID – it's terrifying to some people. Many people. I know God uses that fear to drive them to their knees, drive them to their knees and seek – seek Him and you will find Him. Seek His face, it says in Jeremiah, and I will meet you. And His promises are true. So, I'm excited about that. 
I've just finished an oratorio, the last bit, directing – I've directed it all. But that's where I had to go to other places in America to find a places to fill in for Israel. There was no telling when things were going to open up [in Israel] and I had to finish. And it's four oratorios put together all about the Bible, all about the people in the Bible, their stories, but told symphonically in a narrative. So, that's called an oratorio. And if people are interested, they can go to our first one that came out two years ago when I left the TODAY show. It's called "The God who Sees." And it recounts the story of Hagar... and the story of Ruth and it's the story of David and all of their desperate experiences centuries apart. And then it's the story of Mary Magdalene and Jesus, crucifixion and his tomb. And it ends on a glorious, redemptive note of resurrection. 
But I wrote it with a magnificent artist named Nicole C. Mullen, and then we recorded it with the Nashville Symphony Orchestra and the players there. And then it was so glorious and so anointed of the Lord, I said, "I'm taking the $500,000 I've got in profits from The Rock, the Road and the Rabbi and this Jewish girl is going to shoot that in the Holy Land, baby!" So, when you watch "The God Who Sees," it's all shot right there in this. We did it over four days.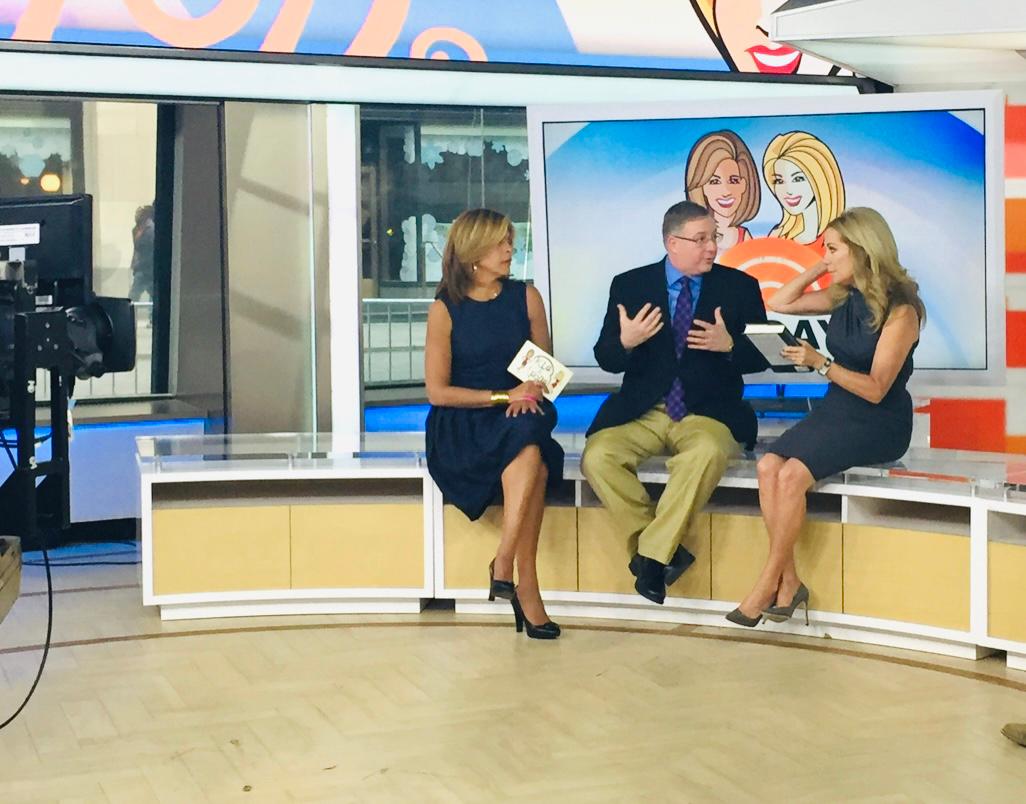 Kathie Lee Gifford, Joel C. Rosenberg and Hoda Kotb on the set of the TODAY Show in January 2015
ROSENBERG: I remember. It might have been the last time that Lynn and I had dinner with you here…with Cody and Cassidy and some of your other friends. But that time I think we were at the American Colony Hotel and you were scouting locations and you were a little sick at that time, too. So, you were trying to get all this stuff done and…
GIFFORD: Oh, yeah, yeah, I was very sick – I almost died on the Temple Mount.
ROSENBERG: Well, that would be a good place to go, but I'm glad you made it.
GIFFORD: I'd rather die on the Mount of Olives the day Jesus comes back – if I had a choice. Anyway, it's all been thrilling. There's never been a trip that I've taken that was not absolutely life transforming. My favorite trip of all is recounted in the new book that I just turned in, which will come at the end of November. It's called the The Jesus I Know. But it's 25 interviews with people, many of whom have been on these rabbinical trips with me. They're Hindu or they're Sikh or they're Scientologists, atheists, heartbroken Catholics because of the pedophilia – they've left the church because of that – or very confused Baptists who don't think that Jesus drank wine. I want to go, "What Bible do you read?" At any rate, it's all recounting all these different attitudes of people that I took there, not because they believe like I believe, that they study like I do, that they worship the way I do. No. Because I knew when I got there – with the Rock, meaning learning about Jesus; the Road, meaning in the Holy Land itself, where all these stories actually took place; and the rabbi, not meeting a particular rabbi, but rabbinical teaching – there's no way that that perfect storm is not going to affect them. And to a one, many of them ended up in the Jordan River getting baptized,  and most of them took communion – only two did not take communion – at the Garden of Gethsemane on our last day. So, I just love to watch people under the power of the Holy Spirit teaching, watch how God transforms their hearts. And many of them give their testimonies in this new book about how they went in….
 ...Israel has basically given me every award that they can give a non-Israeli. And so I'm always embarrassed when they give me awards. I was the Grand Marshal in the big Israel Day Parade right up Fifth Avenue. And I'm honored that they've given all of these awards. My reward is that I walk in the footsteps of the Rabbi, who is also King of Kings and Lord of Lords, who came to save me from my sins, and my children's sins, my parents' sins and the sins of my father's father, who broke everybody's hearts.
But, look at how God used my daddy. He lived his faith. When I tell the story about my daddy, my little Jewish boy, at the age of eight years old, who his mother says –  all the kids are just really, really noisy and it's summertime and it's hot. She wanted to get them out of here, "Get out of this yard, get out of this house – quit making noise. That black little church down the road has a vacation Bible school. You're all going down there right now. Get out of my sight!"
ROSENBERG: So, the Epstein family is going to the black church?
GIFFORD: So, the whole family, all the five little Epstein children went into this little black church. You probably had, maybe, 15 members, I don't know. But my daddy asked Jesus into his heart at that little church. Now fast forward – he's 12 years old now and he's walking around the capitol there in beautiful little Annapolis, Maryland. And all of a sudden people are throwing rocks and stones and calling him a "Christ-killer" because his name was Aaron Leon Epstein and they just all assume that every Jew is a "Christ-killer." That exists til this day, that kind of anti-Semitism all over the world. And I'm determined with the rest of my life to tear down the barriers between Christians and Jews, Christians and Muslims, Christians and anybody. Jesus is the Prince of Peace. And He didn't ask anybody what religion they were before He healed them, before He touched them or He spoke with them. In fact, He went out of his way to meet with them. He went to Samaria, on purpose.
ROSENBERG: He crossed the Jordan River into [what is the modern day Kingdom of] Jordan. Yeah, it's really a powerful story.
I wish we had an hour because I always love sitting with you. I love talking to you. Lynn does as well, because you are effervescent. Now, part of that's your personality. But I think it's really because the Lord has lit you up. And you're excited about life. You've gone through a lot of hardships. You've had a lot of pain. But you have been embraced by a God that loves you deeply and you love to talk about it. You love to talk about it on television. You love to talk about in music. You love to talk about it in interviews, in print, in your books. And it's one of the things I love about you, because I think that in many ways, as important as classical teaching is, for many people their imaginations are lit up – whether it's about God or it's about Israel or anything that's important – by story, by music, by art, broadly spoken, not always in the classroom where it's like "this is the thing we're doing."
Fiction, or storytelling, in all its forms, has a way of just capturing people's imagination and opening their hearts in ways that sometimes just classic regular teaching, which has its place, but it doesn't do it all the time. And I think that's where, you talked about earlier in the interview, that's where God has put you. That's where you just have this longing to [teach], and your success that God has given you has really – rather than it causing you to think, "Oh, I really shouldn't talk about this, otherwise it will risk things," it seems to have liberated you.
GIFFORD: Well, I've always, always been honest about my faith, The Bible says, "Always give an account of the hope that is within you, but do it with gentleness and kindness." (I Peter 3:15) And, "Speak the truth in a spirit of love." (Ephesians 4:15) And I knew that if I wanted to live a blessed, beautiful life, I had to stand up for my Lord as He stood, and actually as He hung on a cross for me. The least I can do is stand for Him and proclaim Him. And I've never understood – I can't tell you how many times on the TODAY Show or on "Regis and Kathie Lee" people would be, I'd do an interview with them, and they'd get up and lean and tell me, "I'm praying for your sister." They were Christians, but I never knew it. They didn't say it. And I just believe that I was blessed as I am because I've always proclaimed him. He honors it. He honors it. I mean, I could just shout it from the rooftops. And now I [get to] record with the finest musicians in the world. I get to write songs with the greatest musicians in the world. I have the greatest performers in my Broadway show, which is about one of the great church leaders in America in the 1920s. I mean, God has given me big platform after platform, but not because I was keeping him a secret. Good. I would encourage every Christian – somebody once said, "Preach the Gospel at all times, but when necessary use words."….
ROSENBERG: You've done that. You've done that in lots of ways. Thank you for taking the time. This interview is exactly what we're trying to do with this series of, "Why I Love Israel," with a range of different people. Because I think that, yes, there are rocket wars we have to cover, and there are elections we need to cover, and there's the Iran threat. Look, we're covering it all. But one of the things I think Christians love is to hear other people's stories of what God is doing in them, how their faith informs their worldview. And you do it so well. And I think this is a story that I didn't want to just write down….People need to watch the interview because you get so much more than if you just read a transcript. So, thank you so much for being part of this. I really appreciate it enormously.
GIFFORD: Well, you know how I feel about you and always have, Joel. And I thought the one ["Why I Love Israel" interview] with Shannon [Bream] was fantastic. And how about her having the No. 1 book on The New York Times? They don't like to put those kinds of books at No. 1 – but for three weeks in a row! I mean, is there a dearer person [than Shannon]? She just is so beautiful, so kind and good.
But I think, one last thought about it is, Jesus – He spoke in all the different synagogues all around the countryside. And He spoke everywhere, He shared God's love with everyone. But He was known even by nonbelievers for His parables, the parables. And where was he telling those parables? In the land. In the land. Then I learned from studying rabbinically, whenever He said, "Behold the lilies of the field," there were lilies of the field there. He appealed to all of their senses. And they look like red poppies to us, but they're called the lilies of the field. He would talk about the mustard seed and there it is. And He would point to things that they could see.
They weren't learned people. They weren't educated. They weren't in that class of society like the Pharisees and the Sadducees. But they had a heart and a hunger to know God in their lives, you know. And I believe every single person has a hole in their soul that is just made for Yeshua to fill. And that's what drives me every every moment of my life is "Lord, I don't want have a tombstone because I don't want to take up space. People need it." But if anybody said anything like what would your gravestone say, it would say, "She told everybody that God loves them." That's all. "She told every human being that God loved them. He didn't ask what religion they were. He didn't ask what sex they were or who they loved. He just loved them." And if we could just start living out our Christian, our Judeo-Christian faith that way, the rockets would end.
ROSENBERG: May your tribe increase, Kathie Lee Gifford Epstein.
GIFFORD: Epstein is Jeffrey, I meant STEIN. [note: pronounced "ep-STINE"]. Don't get me confused.
ROSENBERG: Sorry, sorry about the pronunciation. That's true. My mistake! Well, listen, Lynn and I look forward to in the months ahead, when the country reopens, we would love to have you come. As you know, we bought a lovely home here in Jerusalem. We'd love to welcome you here. And we just miss you. But we're so glad we have this technology to talk, and I look forward to posting this interview and encouraging people all over the world – with those who share your faith, but also with people who do not. I think they'll be fascinated by your story.
GIFFORD: Yes. Well, bless you. I'm planning on trying to come in September, but hopefully sooner. Will you do me a favor on a personal note? You'll note before anybody else does when things are opening up, you know, people, baby, give me a quick text to let me know. "Kathie, pack your bags!" Okay?
ROSENBERG: I will. It's looking, I think, like early June. They said May 23. But I think it's going to be a little bit longer. But I think late summer, early Fall, will be good. I will urge you, though, don't come in September, but only because I'm going to be in the States on a book tour and I want to come see you there. But anyway, we'll figure it out.
GIFFORD: We'll figure it out, my friend. Much love, shalom, shalom.
ROSENBERG: Shalom, shalom. I'm Joel Rosenberg for All Israel News. I'm thanking Kathie Lee Gifford for being on this program today. Thank you. And continue to follow our videos on YouTube and of course, the website allisrael.com. God bless you.

Joel C. Rosenberg is the editor-in-chief of ALL ISRAEL NEWS and ALL ARAB NEWS and the President and CEO of Near East Media. A New York Times best-selling author, Middle East analyst, and Evangelical leader, he lives in Jerusalem with his wife and sons.
A message from All Israel News
Help us educate Christians on a daily basis about what is happening in Israel & the Middle East and why it matters.
For as little as $5, you can support ALL ISRAEL NEWS, a non-profit media organization that is supported by readers like you.
Donate to ALL ISRAEL NEWS
Current Top Stories
Comments