Who will be next to make peace with Israel?
The leading contenders are Saudi Arabia, Oman, Bahrain, Sudan, and Morocco. But the tea leaves seem to be pointing to Bahrain.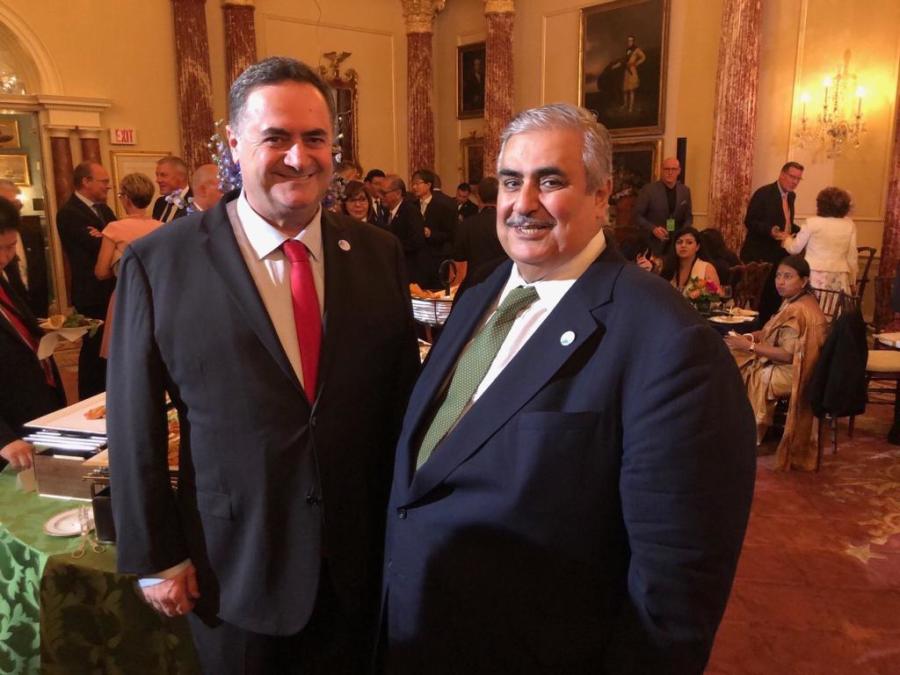 Then-Israeli Foreign Minister Israel Katz poses for first-ever picture with then-Bahraini Foreign Minister Khalid Al Khalifa at the U.S. State Department in 2019 (Photo credit: Israel Katz/Twitter.)
The Aug. 13 announcement that the United Arab Emirates and Israel reached a historic decision to normalize relations was accompanied by assurances from political leaders that this agreement would be the first of several.
Sadly, there seems to be no prospect of the current Palestinian leadership wanting to make peace with Israel. They have made this crystal clear.
Yet in my travels throughout the region -- and from meeting with senior Arab officials -- I would say that the leading contenders at the moment are Saudi Arabia, Oman, Bahrain, Sudan and Morocco.
When President Trump was asked in a White House press conference whether he expected the Kingdom of Saudi Arabia to make peace with Israel, he said, "I do."
Jared Kushner, the architect of President Trump's Middle East peace strategy, told Newsweek that when it comes to Saudi Arabia, Bahrain and other Arab states making peace with Israel, "I think it's all an inevitability, the question is the time frame."
On his Aug. 24 visit to Jerusalem, en route to various Arab capitals, U.S. Secretary of State Mike Pompeo said, "I am very hopeful we will see other Arab nations join in this….To recognize the State of Israel and to work alongside them will not only increase Middle East stability but improve the lives for the people of their own countries as well."
Israeli Prime Minister Benjamin Netanyahu told reporters this week that he has had "many more unpublicized meetings with Arab and Muslim leaders to normalize relations with the state of Israel" and expects more peace deals are coming.
This has created a palpable buzz among journalists and Middle East analysts over who exactly will be next, and how soon.
A few thoughts.
First, yes, I am convinced more Arab-Israeli peace deals are coming.
Second, I'm not convinced they will happen in 2020, though I would not rule out an "October Surprise."
Third, the Arab leaders who are, in fact, truly keen on normalizing relations with Israel are going to carefully watch the process that the UAE and Israel go through. They don't want to simply jump on a band wagon. They don't want to look or feel pushed – or pulled – into such a monumental decision. What's more, they want significant concessions from the Israelis that they believe will make peace with the Palestinians more likely, not less. And they will want something tangible from Washington. More advanced military hardware to protect themselves from Iran. Trade deals. Foreign aid, perhaps, for the poorer Arab states. Sudan wants to be taken off the U.S. list of terrorist nations. Morocco wants the U.S. to recognize their sovereignty over the disputed Western Sahara region. The Arab states are going to leverage this moment to maximize their relations with the U.S. –  just like Egypt and Jordan did in 1979 and 1994, respectively.
Fourth, the Arab leaders ready to make peace also want to watch how their own citizens react to the UAE deal. They will do extensive (if secret) polling. They will closely monitor social media. They are looking to see if their people see the positives, the benefits, of normalization – or whether enemies like Iran, the Muslim Brotherhood, Al Jazeera and so forth are able to foment a populist backlash against the UAE.
Fifth, keep your eye on the Kingdom of Bahrain -- I believe they are the most likely to go next. Here's why.
Manama, capital of Bahrain (Photo: Wikimedia Commons)
In June 2019, Bahrain hosted a critically important meeting to help the White House unveil the economic strategy of its Israeli-Palestinian peace plan. Held in its capital of Manama, the "Peace To Prosperity" workshop was led by Jared Kushner, and included senior diplomats and financial experts from most of the Gulf countries. They laid out a plan to invest $50 billion in the Palestinian economy to build factories, infrastructure, water desalinization plants and so forth in order to create 1 million new jobs and dramatically lower Palestinian unemployment.
In January 2020, when President Trump formally unveiled his full "Vision For Peace" document with Netanyahu, the Bahraini ambassador to the U.S. was in attendance, along with the ambassadors from the UAE and Oman.
Not surprisingly, then, the Bahraini leadership was quick to heap effusive praise on the United Arab Emirates for their historic decision to make peace and full diplomatic relations with the Jewish state, even though the Palestinian leadership still refuses to do so.
In late August, Secretary Pompeo held closed-door meetings with Bahrain's royal family, including King Hamad bin Isa Al Khalifa and his son, Crown Prince Salman bin Hamad Al Khalifa. Pompeo left, however, without an announcement of another peace deal.
Just this week, immediately after leaving the UAE, Jared Kushner and his team flew to Bahrain for high-level meetings. (Kushner also went to Saudi Arabia to meet with Crown Prince Mohammed bin Salman.)
Such moves add to my sense that Bahrain is actively considering a big decision. And, I also have been in direct and regular contact with the Bahrainis over the past year and am encouraged by what I see.
His Excellency Khalid Al Khalifa and Rosenberg (Photo credit: All Israel News)
Last August (2019), I met with Bahrain's then-Foreign Minister Khalid bin Ahmed Al Khalifa at the Four Seasons Hotel in the Georgetown section of Washington. He knew that I was a dual U.S.-Israeli citizen and author, with sons in the Israeli army, and that I live in Jerusalem, where we have bought an apartment.
We had extensive conversations on a number of topics, including the advance of religious freedom in the kingdom, and about the road toward a full peace agreement between Bahrain and Israel. I came away sensing that it was not only a matter of timing, but of making certain that Israel takes more concrete steps to make peace with the Palestinians.
Later that week at a State Department conference on religious freedom, the Bahraini foreign minister met briefly – for just a few minutes, really – with Israel Katz, then Israel's foreign minister. They snapped a picture together and tweeted it out and this created a bit of a sensation and raised expectations of steadily warming relations.
Khalid Al Khalifa now serves as King Hamad's Advisor for Diplomatic Affairs. Upon hearing the breaking news in August of Abu Dhabi's decision, he tweeted in Arabic to his 530,000 followers, warmly praising the peace deal: "We commend the #UAE for its position which upholds the rights of all without compromise, and its serious steps towards establishing peace and laying the foundation for common prosperity for the peoples of the region."
Bahraini Ambassador to the U.S. meets with Rosenberg in Washington in July 2020 (Photo credit: All Israel News)
I can also report that I had lunch in Washington in July with Bahrain's Ambassador to the United States Abdullah bin Rashid al-Khalifa.
We have been in regular contact since we first met in Washington in March 2019 when the UAE Ambassador Yousef al-Otaiba first graciously introduced us and took us to lunch together.
The two of us even decided to tour the Museum of the Bible together when I was back in Washington last December, my first time there and the ambassador's first official visit, though he had been there previously with friends.
During our July luncheon, I pressed the ambassador to urge his government to become the first Arab state to make peace with Israel.
"Whichever Arab country makes peace with Israel next," I argued, "is not only doing the right thing but is going to benefit from a windfall of enthusiastic public support from Americans generally, and Evangelicals in particular. The Bible commands us to pray for the peace of Jerusalem. The last Arab-Israeli peace treaty was 25 years ago. It's time for another. Why not Bahrain?"
I'm not at liberty at the moment to quote his response, but it was not hostile. Note that this was several weeks before the UAE move.
Upon hearing the news of Abu Dhabi's decision, the ambassador re-tweeted Khalid Al Khalifa's statement, translating it into English.
The ambassador then tweeted his own statement: "Congratulations to the #UAE and its leadership for reaching an agreement with #Israel, and for its efforts to strengthen stability and peace in the region; recognizing the instrumental role of the #UnitedStates of #America in reaching this historic agreement."
Bahrain highlighted on a map of the Middle East (Image: Wikimedia Commons)
At the same time, Bahrain's Foreign Ministry tweeted that: "#Bahrain congratulates #UAE, commends suspension of Palestinian territories annexation as a step towards peace in the Middle East."
The foreign minister also sent out a link to the following statement:
The Kingdom of Bahrain expresses its sincere congratulations to the sisterly State of the United Arab Emirates and its wise leadership for announcing with the United States of America and Israel an agreement halting the annexation of the Palestinian territories, as step towards the achievement of peace in the Middle East.
The Kingdom of Bahrain commends the sincere diplomatic efforts made by the UAE and stresses that this historic step will contribute to the consolidation of stability and peace in the region.
It hails, at the same time, the great efforts made by the United States of America to reach this deal, in continuation of US efforts to strengthen the foundations of world security, stability and peace and looks forward to more efforts to reach a just, comprehensive and lasting solution to the Palestinian-Israeli conflict.
So, who exactly is next in line to make peace with Israel? Will it Bahrain, or one of the others?
Stay tuned.

Joel C. Rosenberg is the editor-in-chief of ALL ISRAEL NEWS and ALL ARAB NEWS and the President and CEO of Near East Media. A New York Times best-selling author, Middle East analyst, and Evangelical leader, he lives in Jerusalem with his wife and sons.
A message from All Israel News
Help us educate Christians on a daily basis about what is happening in Israel & the Middle East and why it matters.
For as little as $5, you can support ALL ISRAEL NEWS, a non-profit media organization that is supported by readers like you.
Donate to ALL ISRAEL NEWS
Current Top Stories
Comments