Opinion Blog / Guest Columnist
What's happening with Hispanics and Israel
Author notes that positive developments are afoot between Israel and Spanish-speaking nations as support for Israel appears feels much more expansive per capita among Hispanics
Illustrative - A conference hosted by the Hispanic Israel Leadership Coalition (Photo: HILC/Facebook)
I was driving in Jerusalem back in May when I saw a colorful flag flying with horizontal bars of yellow, blue and red with a coat of arms in the middle.
I was not familiar with the country it represented, but what I did know was that there was a visiting head of state in town, and flying that country's flag was a way to show honor and respect. 
A few days later, I read that Ecuadorian President Guillermo Lasso was visiting and announced Ecuador's opening of an Innovation Center in Jerusalem and that the country would take a more balanced approach toward Israel at the United Nations. 
Both were welcome announcements, particularly given that, in the past, Ecuador was among the countries that frequently voted against Israel at the U.N. Lasso's visit marked the first time an Ecuadorian president has come to Israel since the two countries established diplomatic relations in 1949. 
Celebratory statements and tweets came from both Israeli and Ecuadorian leaders. When I read that the Innovation Center will be located in the trade office that the country of Colombia opened last year, I recognized that something big and good is afoot between Israel and Latin America – and the Hispanic community, in general. 
A week later, I read about Israel's embassy in Mexico opening an Israel-Mexico acceleration program, designed to connect innovative enterprises in Israel and Mexico for high-level high-tech collaboration. The binational announcement is part of the countries' celebration of 70 years of diplomatic relations this July. 
An earlier collaboration effort occurred in 2017, with the Mexico-Israel program for Industrial Research and Development and Innovation, entrusted with a budget of $4 million.
The new program will connect Mexican and Israeli entrepreneurs who are working on solutions to respective local challenges and needs, including in areas of health, communication and the very important issue of water management.
Israel's agreement with Mexico follows on the tail of two other central American countries, Guatemala and Honduras, moving their embassies to Jerusalem. All these efforts demonstrate ways to increase cooperation and build binational ties. 
Given these news items and my growing relationships with Hispanics, it's clear I made a mistake studying French in high school. Nevertheless, entrepreneurship is a common language, which can overcome linguistic barriers and build warm, ongoing and mutually beneficial relationships. 
When I think about recent developments, I am pleased but not surprised. The truth is that they are all part of a trend in Latin America, and among Hispanics in general, to seek out deeper connections with Israel. 
Many countries understand that close relations with Israel can bring many benefits and blessings to the table. Individually, with strong roots in Christianity, Hispanics all over the world look at Israel as the fulfillment of biblical prophecy. 
Biblical principles, such as blessing Israel, praying for the peace of Jerusalem, serving as "watchmen on the wall," are not mere concepts, but, rather, God's playbook. 
It seems this was why Guatemala and Honduras quickly followed the U.S. to recognize Jerusalem as Israel's capital and to move their embassies there. 
As these diplomatic pillars have strengthened, it is no surprise that, last year, six Central American countries took part in establishing the Central America Forum for Israel. In doing so, Guatemala, Panama, Honduras, El Salvador, the Dominican Republic and Nicaragua signed a declaration of support for the Jewish people and the State of Israel. 
This initiative included a commitment to educate future generations about the Holocaust and to fight anti-Semitism. As a group, these countries adopted the International Holocaust Remembrance Alliance definition of anti-Semitism. 
"We stand against anti-Semitism and hatred of all kinds," they stated. "We support the IHRA, as countries and institutions around the world do, to simplify law enforcement and deal with the consequences of anti-Semitism in a correct and just way."
All this activity is especially noteworthy, not just for the strengthening of diplomatic and trade relations with Israel, but as a way to take the war on terror to another front. 
Iran has long sought to increase its reach to, and presence in, Latin America; and indeed has established itself in places like Cuba, Venezuela and others. Iran's presence in Argentina has been the most damaging, as there, the Islamic regime was responsible for two major terror attacks on the Israeli embassy (on March 17, 1992, killing 29 and injuring more than 250) and on the Argentine Israeli Mutual Association Jewish community center (on July 18, 1994, killing 85 and injuring more than 300).
Iran's terrorist activity is not limited to major bombings. On Jan. 18, 2015, Argentinian prosecutor Natalio Alberto Nisman was found dead in his Buenos Aires apartment. 
"Coincidentally," days earlier, he had filed a report implicating former President Cristina Fernández de Kirchner and other officials in covering up Iran's involvement in the 1994 Jewish community center bombing. 
More recently, a Venezuelan cargo plane with "car parts," previously owned by Iran, arrived in Argentina, rousing suspicion for having a larger than necessary crew, including several Iranians. 
The growing relations between Israel and a number of Latin American countries are important, embodying the Biblical model of Israel as a blessing to the families of the world. 
But more than on the national level, religious support for Israel among Hispanics worldwide is a cornerstone of support for the Jewish state within their nations. This includes communities in Latin America, but also throughout the U.S. 
While Christian support for Israel appears to be expansive and increasing, in general, it feels much more expansive per capita among Hispanics. 
There are many ways in which support for Israel is expressed, but one of the most unique, dynamic and impressive ways I have seen was in Nashville this year, where I had the privilege of attending services and speaking at Casa de Dios USA. 
I am accustomed to an Israeli flag flying in the parking lot of churches or a number of ministries. However, Casa de Dios raises the bar: Before each of their services every Sunday, they sing Israel's national anthem, Hatikvah. I was moved beyond words. 
Something big is happening among Hispanics in relation to Israel. To explore this, I hosted two back-to-back conversations to discuss a range of potential reasons why that's happening and the significance of Hispanics awakening to their deep Jewish roots. 
I pray this will continue and be a blessing to us all. 
If nothing else, I hope that Central American pineapples will begin to flood the Israeli market, bringing down the price and bringing up the quality. 
ALL ISRAEL NEWS is committed to fair and balanced coverage and analysis, and honored to publish a wide-range of opinions. That said, views expressed by guest columnists may not necessarily reflect the views of our staff.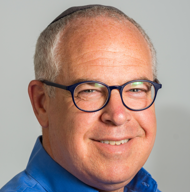 Jonathan Feldstein was born and educated in the U.S. and immigrated to Israel in 2004. He is married and the father of six. Throughout his life and career, he has become a respected bridge between Jews and Christians and serves as president of the Genesis 123 Foundation. He writes regularly on major Christian websites about Israel and shares experiences of living as an Orthodox Jew in Israel. He is host of the popular Inspiration from Zion podcast. He can be reached at firstpersonisrael@gmail.com.
Popular Articles
A message from All Israel News
Help us educate Christians on a daily basis about what is happening in Israel & the Middle East and why it matters.
For as little as $5, you can support ALL ISRAEL NEWS, a non-profit media organization that is supported by readers like you.
Donate to ALL ISRAEL NEWS
Latest Stories
Comments