What message will Prime Minister Bennett deliver to Evangelicals tonight as he addresses Israeli government's annual Christian Media Summit for the first time?
Despite strategic importance of the world's 600 million Evangelicals to Israel, Bennett hasn't done an interview with a Christian TV network or news site since taking office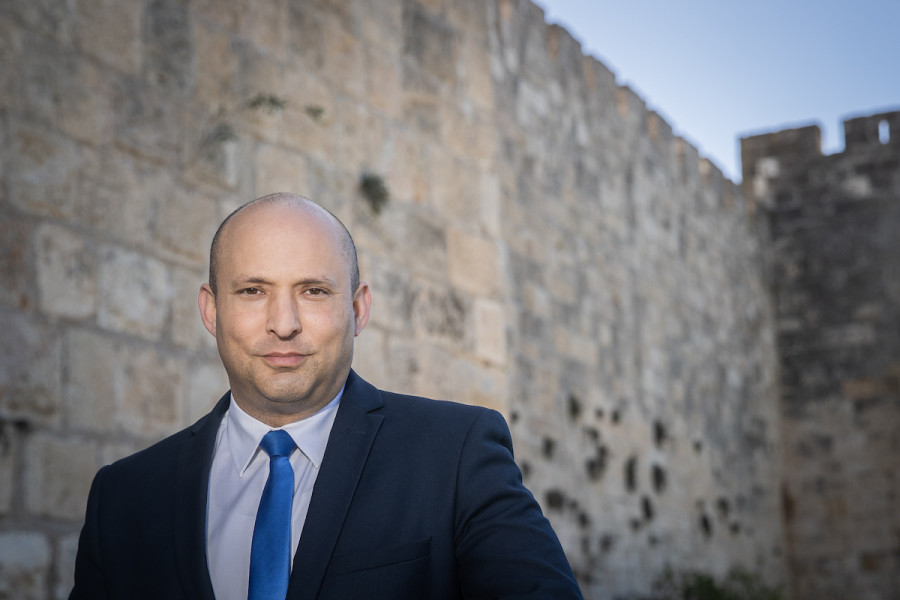 Prime Minister Naftali Bennett outside the Old City of Jerusalem (Photo: Yonatan Sindel/Flash90)
JERUSALEM—Since being sworn in as prime minister of Israel on June 13, Naftali Bennett has not yet done a major interview with a Christian TV network, newspaper, magazine or news site.
Nor has Bennett met with prominent and influential Evangelical leaders.
His predecessor, Benjamin Netanyahu, aggressively and consistently did both, recognizing the immense strategic importance of the world's 600 million Evangelical Christians to the security and prosperity of Israel.
To some degree, of course, it is understandable that Bennett has not made Christians one of his top priorities – yet.
The 49-year-old first-time premier has been laser-focused on keeping his razor-thin government coalition together, battling COVID, jump-starting the Israeli economy, commencing relations with President Joe Biden, strengthening the Abraham Accords and passing two state budgets.
Yet with a growing track record of initial successes – and Israel finally beginning to re-open to foreign visitors – it is time for Bennett and his government to make outreach to Evangelicals a major priority.
Reinvigorating Holy Land tours by hundreds of thousands of Evangelical tourists and pilgrims from the U.S. and all over the world will significantly boost Israel's devastated tourism sector, as will hosting Christian conferences and concert in Israel.
Tonight, Bennett will take his first step in this direction.
At 6 p.m. Israel time, the Christian Media Summit begins and the prime minister will make his first address at this annual event held by Israel's Government Press Office.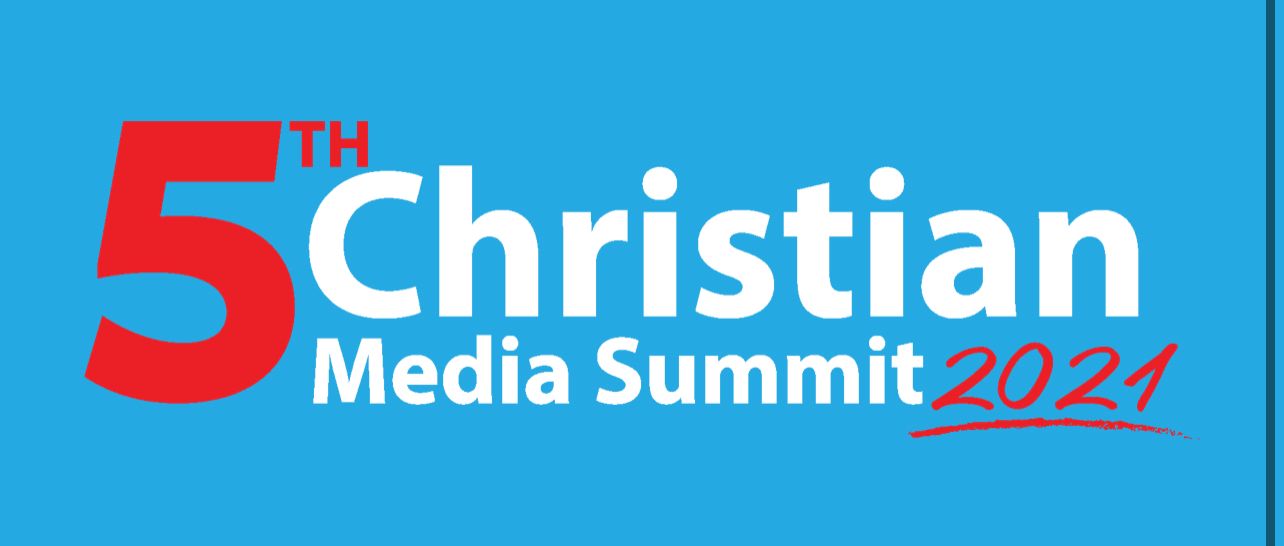 [Please click here to watch the summit live on the ALL ISRAEL NEWS Facebook page.]
Unfortunately, due to COVID restrictions, this year's summit – the fifth ever – will be held virtually.
However, this is a good opportunity for Bennett to introduce himself to Christian journalists, pastors, ministry leaders and lay people all over the world.
And make his case for what his government is doing right and well.
But will Bennett go further?
Will he make news?
Will he unveil some new initiative that will light up Evangelicals and excite them about returning to Israel despite vaccine requirements?
Will he promise to appoint an ambassador to the Christian world, something I have been advocating for several years?
Might he announce the formation of a Christian Advisory Council, made of prominent and influential Christian leaders who can help him and his inner circle develop long-term strategies to strengthen and deepen relations with Israel?
I hope so, and ALL ISRAEL NEWS will certainly report on the summit.
Still, Bennett's remarks tonight should merely be a kick-off of a much longer and more carefully thought through game.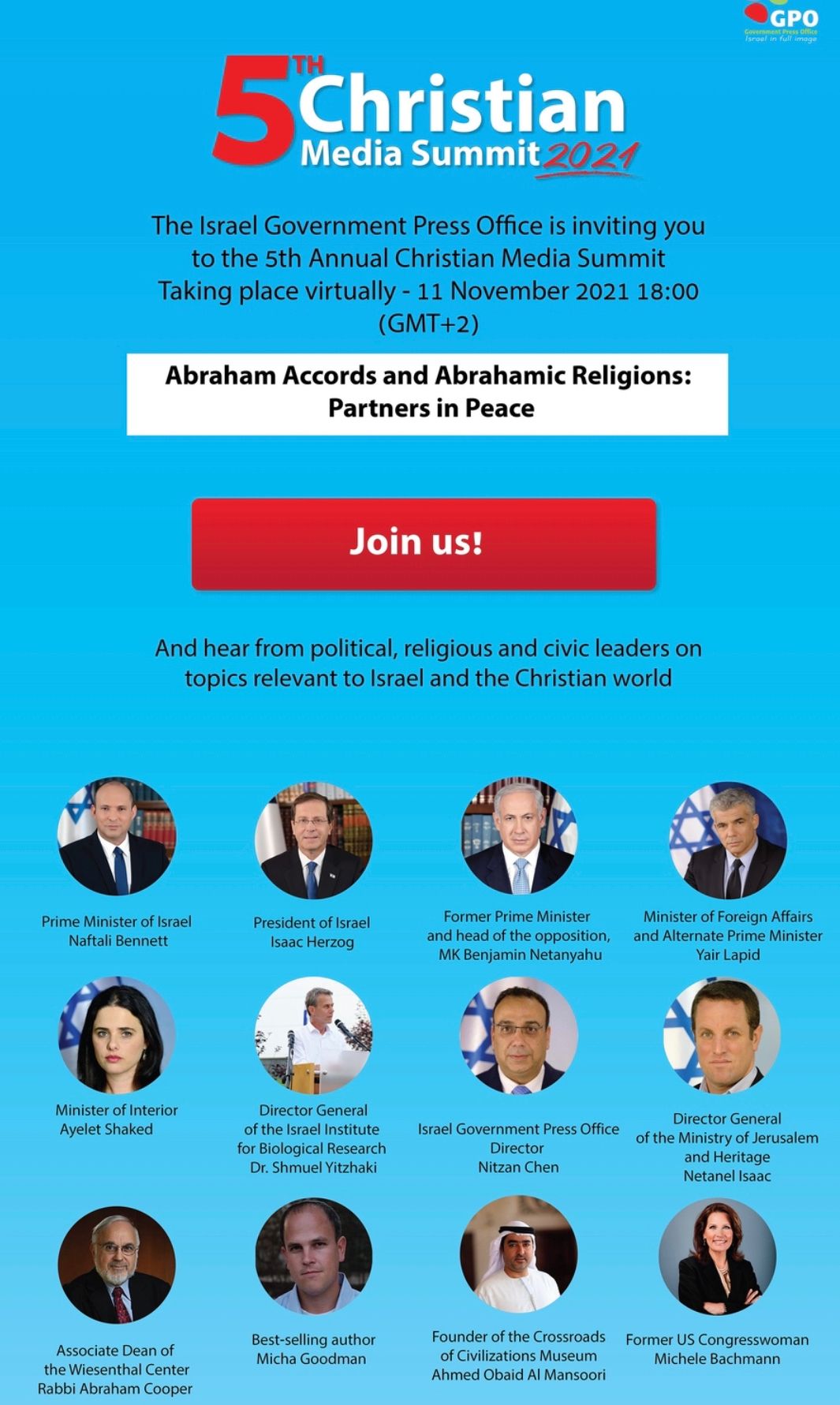 The good news is that other senior Israeli officials will be speaking tonight, as well, and ALL ISRAEL NEWS will be covering their remarks as well.
Among them:
Isaac Herzog, president of Israel

Naftali Bennett, prime minister of Israel

Yair Lapid, minister of Foreign Affairs and alternate-prime minister

Benjamin Netanyahu, former prime minister of Israel, MK and head of the opposition

Ayelet Shaked, minister of Interior

Nitzan Chen, director, Israel's Government Press Office

Netanel Isaac, director general of the Ministry of Jerusalem and Heritage

Nachman Ash, director general of the Ministry of Health
A number of Christian leaders will be speaking briefly as well.
Among them:
Bishop Glenn Plummer, a prominent African American Evangelical who I'm thrilled to announce has just joined the Advisory Board of ALL ISRAEL NEWS

Rev. Johnnie Moore, the president of the Congress of Christian Leaders who has participated in the Evangelical Delegations I have led to numerous Arab countries and serves on the Advisory Board of ALL ARAB NEWS

Ward Simpson, president of GOD TV
Various Arab officials and executives will also speak.
Several Israeli officials issued statements leading up to the Christian Media Summit:
"We know that we can count on you, dear friends and allies in the Christian world, to stand with us in the fight against terror and to be our partners in the efforts to counter the lies and spread the truth about Israel, as well as to be our partners in promoting the spirit of peace in the Abraham Accords." – Isaac Herzog, president of Israel

"In the Middle East, there is only one place that fully protects Christian life, where the Christian community is growing, thriving and prospering, and that's in the State of Israel…. And today more than ever, Israel stands united with Christians, we are brothers and sisters, we are united, and we won't let anyone extinguish our light." – Naftali Bennett, prime minister of Israel

"So, more than ever, Israel is thankful for your friendship, for the friendship of the millions of Christians who stand shoulder to shoulder with us. For your fighting the wave of antisemitism…We thank you for making the true voice of Israel heard whenever lies are spread about us."  – Yair Lapid, minister of Foreign Affairs and alternate-prime minister
Nitzan Chen, director of the GPO, said in a statement: "The goal of the summit is to foster better understanding and strengthen the friendship between Christians around the world and the State of Israel. The purpose of this joint gathering is to yield cooperation with the Christian community and strengthen the alliance between Christians and the State of Israel. The government of Israel views the Christian media as a vital and professional channel of information to Christian viewers, readers and internet users across the globe. The summit features an in-depth encounter with Israel's political, civic, cultural and religious leadership."

Joel C. Rosenberg is the editor-in-chief of ALL ISRAEL NEWS and ALL ARAB NEWS and the President and CEO of Near East Media. A New York Times best-selling author, Middle East analyst, and Evangelical leader, he lives in Jerusalem with his wife and sons.
A message from All Israel News
Help us educate Christians on a daily basis about what is happening in Israel & the Middle East and why it matters.
For as little as $5, you can support ALL ISRAEL NEWS, a non-profit media organization that is supported by readers like you.
Donate to ALL ISRAEL NEWS
Current Top Stories
Comments