ISRAELI ELECTIONS – ANALYSIS
WATCH TBN SPECIAL: How did Netanyahu engineer his historic victory? Can he make peace with Saudis? Will he attack Iran?
As he returns as prime minister, Bibi is going to need the wisdom of Solomon, the courage of David, the statesmanship of Moses, and all of our prayers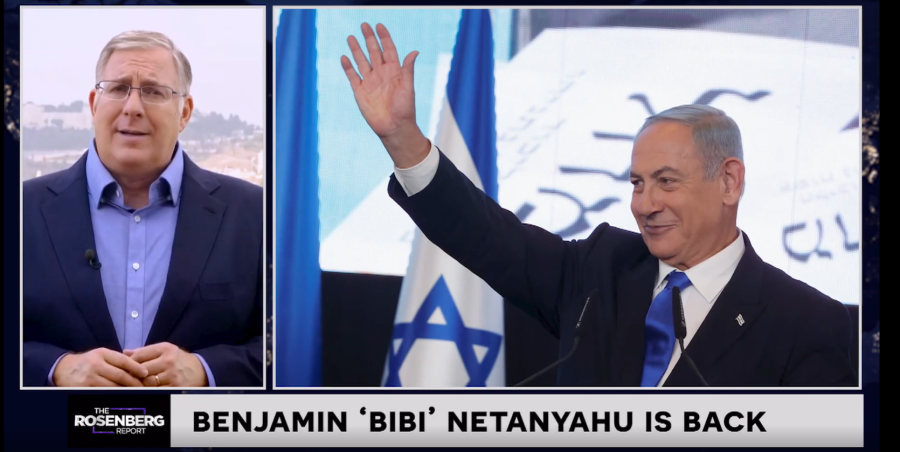 Opposition leader Benjamin Netanyahu celebrates after the 2022 Knesset election results are announced (Photo: Screenshot/TBN/The Rosenberg Report)
JERUSALEM—His enemies declared him politically dead and buried.
But as Israelis went to the polls last Tuesday, they didn't say, "Bye, bye, Bibi."
To the contrary, they emphatically declared Benjamin "Bibi" Netanyahu, "The Comeback Kid."
After being driven out of office just last year, Netanyahu has just won an astonishing, decisive and historic victory.
WHAT WERE THE FINAL RESULTS?
With 100% of the vote counted, here are the final results:
Likud (Netanyahu): 32 seats (+2 seats from last election)

Yesh Atid (Yair Lapid): 24 seats (+7 seats)

Religious Zionist (Bezalel Smotrich and Itamar Ben-Gvir): 14 seats (+8)

National Unity (Benny Gantz, Gideon Sa'ar, Gadi Eisenkot): 12 seats (-2 seats)

Shas: 11 seats (no change)

United Torah Judaism: 7 seats (no change)

Yisrael Beytenu (Avigdor Liberman): 6 seats (-1)

Ra'am (Mansour Abbas, Arab party): 5 seats (+1) 

Hadash-Ta'al (Arab parties): 5 seats (-1)

Labor (Merav Michaeli): 4 seats (-3)

Meretz: 0 seats (-6)
To the shock and horror of many political pundits and media analysts who don't hide their hatred for him, Israelis made it clear they don't want a centrist government.
Nor do they want any left-wing parties ruling them.
They want a truly right-wing government led by none other than Netanyahu.
Indeed, the "pro-Bibi" block has secured a total of 64 seats – that's three more than necessary to secure a majority of the 120-seat Israeli parliament known as the Knesset.
Now, Netanyahu is set to begin negotiating with his right-wing allies to form the next government.
MK Itamar Ben Gvir celebrates the success of his political party in the 2022 Knesset election (Photo: Screenshot/TBN/The Rosenberg Report)
HUGE CHALLENGES FACING NETANYAHU: ANALYZING THE ISRAEL ELECTION RESULTS
Many Evangelical Christians in the U.S. and around the world are celebrating Netanyahu's comeback, believing he's best-suited to keep Israel safe from the forces of radical and apocalyptic Islam, and best-suited to negotiate still more Arab-Israeli peace deals.
But the road ahead for Netanyahu is not going to be easy.
On THE ROSENBERG REPORT, I took a careful look at a series of critical questions:
How did Bibi do it?

What are his goals?

Who are his allies?

Why did the highly-controversial and extreme far-right "Religious Zionist" party surge to 14 seats?

How will the rise of far-right leader Itamar Ben Gvir complicate Netanyahu's game plan – and potentially damage U.S.-Israeli relations?

And can Netanyahu keep his top two promises – make peace with Saudi Arabia and decisively stop Iran from getting The Bomb?
Joining me were three of our most experienced reporters for ALL ISRAEL NEWS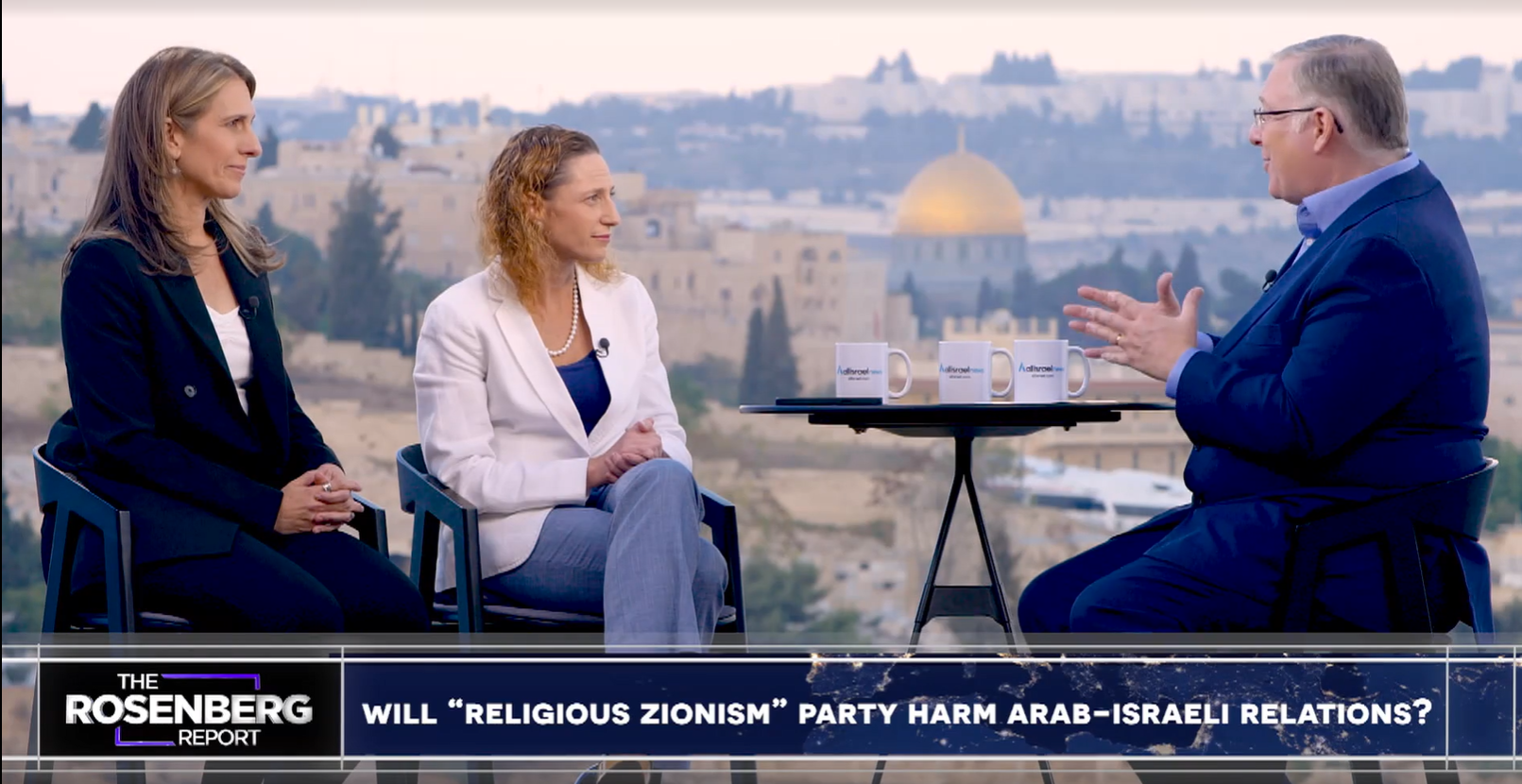 Nicole Jansezian - News Editor and Maayan Hoffman - Senior Correspondent from ALL ISRAEL NEWS with Joel C. Rosenberg (Photo: Screenshot/TBN/The Rosenberg Report)
Nicole Jansezian is our news editor and senior correspondent, based in Jerusalem

Maayan Hoffman – the former news editor for The Jerusalem Post – is another one of our senior correspondents based here in Israel's capital

Tal Heinrich – a former anchor of i24 News, Israel's main English-language TV news network – is another one of our senior correspondents; she's based in New York City, where she also serves as the producer of THE ROSENBERG REPORT
To watch the full episode of this week's "Israeli Elections Special," please click here – you need to create an account on TBN's video-on-demand system, but it's easy and free.
To watch the "Extended Edition" of THE ROSENBERG REPORT – my continuing conversation with Nicole, Maayan, and Tal, lasting another 15 minutes and going into more detail – on ALL ISRAEL NEWS' YouTube channel, please click here.
WHAT'S NEXT FOR OUTGOING PRIME MINISTER YAIR LAPID?
To his credit, Lapid's "Yesh Atid" party gained seven seats in the Knesset.
Last election, they gained four.
That's a net of 11 seats in just one year.
But it wasn't enough to hold on to power.
Lapid is now set to return to the role of opposition leader.
And already he is drawing the battle lines for the next election.
"I came here tonight in order to say thank you wholeheartedly to you," he told supporters on election night. "Yesh Atid made a great achievement today. Almost a million Israeli citizens voted Yesh Atid. We have an unprecedented number of seats. Yesh Atid grew and prospered and became stronger while showing responsibility and keeps the partnership, a million Israeli citizens came to the ballot pole and said, 'I can be both Jewish and Israeli. I can be national as well as liberal. I can be secular who is connected to the Bible and the tradition, and I can be a religious guy who knows English and math.'"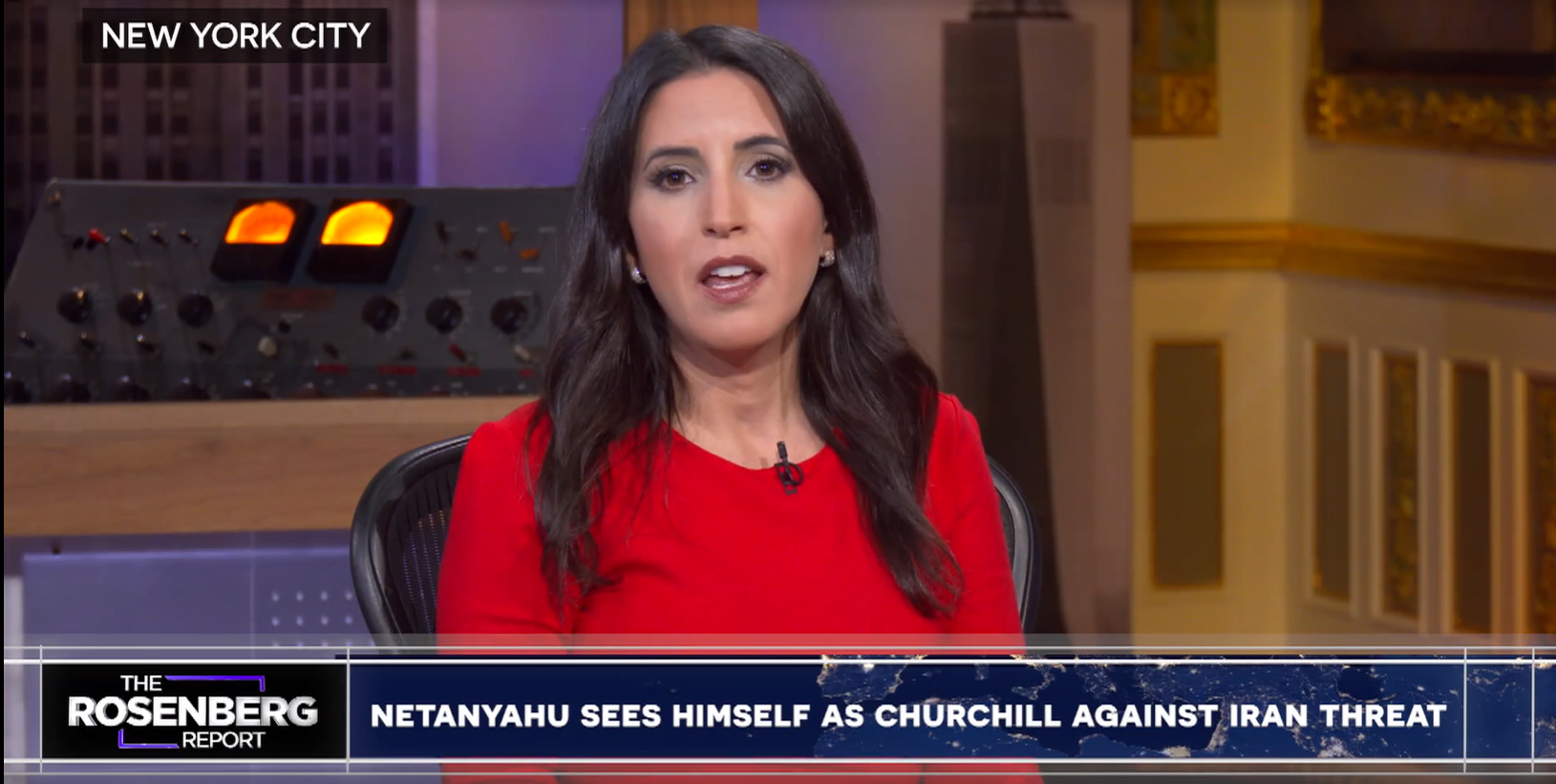 Tal Heinrich, Senior Correspondent - ALL ISRAEL NEWS (Photo: Screenshot/TBN/The Rosenberg Report)
"A million citizens in Jerusalem, Tiberias, Tel Aviv, in remote places and the Golan Heights went to the ballot poll and said that they believe in the future and the strength of change," Lapid insisted. "They want politics that is not based on hate and incitement. They want to know that the government does not represent a sector or a group, but democratic and liberal values of freedom and equality and the idea that you do not leave anyone behind."
HOW SHOULD CHRISTIANS PRAY?
For Evangelicals who love Israel and care deeply about its future, we need to be on our knees.
The Iran threat is becoming exceedingly dangerous.
U.S. President Joe Biden demonstrates little evidence that he knows how to block Iran from getting The Bomb.
That suggests the very real risk that Netanyahu and Biden are on a collision course.
One thing is clear: As Benjamin Netanyahu returns to the Balfour Street Residence as prime minister, he is going to need the wisdom of Solomon, the courage of David, the statesmanship of Moses, and all of our prayers.

Joel C. Rosenberg is the editor-in-chief of ALL ISRAEL NEWS and ALL ARAB NEWS and the President and CEO of Near East Media. A New York Times best-selling author, Middle East analyst, and Evangelical leader, he lives in Jerusalem with his wife and sons.
A message from All Israel News
Help us educate Christians on a daily basis about what is happening in Israel & the Middle East and why it matters.
For as little as $5, you can support ALL ISRAEL NEWS, a non-profit media organization that is supported by readers like you.
Donate to ALL ISRAEL NEWS
Current Top Stories
Comments