WATCH FULL INTERVIEW: Netanyahu's judicial reforms dangerous, must be modified, Alan Dershowitz tells THE ROSENBERG REPORT
Leading American constitutional scholar explains why he flew to Jerusalem to tell Netanyahu that he's wrong, needs to change course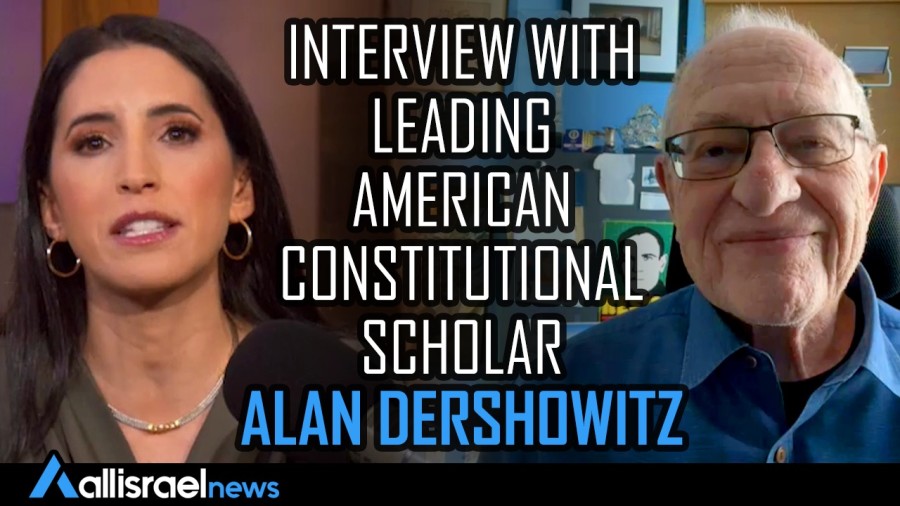 NEW YORK CITY – Alan Dershowitz, a professor emeritus at Harvard Law School and widely renowned constitutional expert, flew to Israel earlier this month to meet privately with Israeli Prime Minister Benjamin Netanyahu.
The topic of their conversation: Netanyahu's proposed legislation to bring about sweeping reforms to Israel's legal and judicial system.
Dershowitz's message: Bibi, your reforms aren't just flawed, they're dangerous.
With the Jewish state currently embroiled in a fierce political debate over a "judicial revolution," the Israeli media was hungry to hear a respected outsider's opinion, especially the views of someone with Dershowitz's impressive credentials.
In a blitz of interviews with Hebrew media following his meeting with Netanyahu, Dershowitz called Bibi's proposed reforms as a "grave mistake."
Though the reforms have created a firestorm of controversy in Israel, they have received very little attention in American or global media.
But ALL ISRAEL NEWS is covering the story from all angles.
We asked Dershowitz to sit down with us and explain his concerns, and he graciously agreed.
Part of that interview aired on the most recent episode of THE ROSENBERG REPORT, the prime time TV show on TBN, the world's most watched Christian TV network, hosted by ALL ISRAEL NEWS founder and editor-in-chief, Joel C. Rosenberg.
To watch the full interview on the ALL ISRAEL NEWS YouTube channel, please click below.
Indeed, it's watching in full as Dershowitz makes the case against Netanyahu's reforms, along with our full interview with Israeli Prof. Gadi Taub, who argues in favor of Netanyahu's reforms.
Dershowitz counts Netanyahu as a friend.
He's also a staunch supporter of the Jewish state, which has used his public profile to come to Israel's defense on many occasions.
Yet he warns that, if passed, Bibi's reforms would make it much harder for people like himself to defend Israel in international courts.
"In the International Court of Justice, the Supreme Court has really been Israel's legal iron dome," Dershowitz said.
"It has prevented attacks that have been made, imposing a double standard on Israel," he added, warning that ,"I think in the end, it will hurt Israel to have a weakened Supreme Court."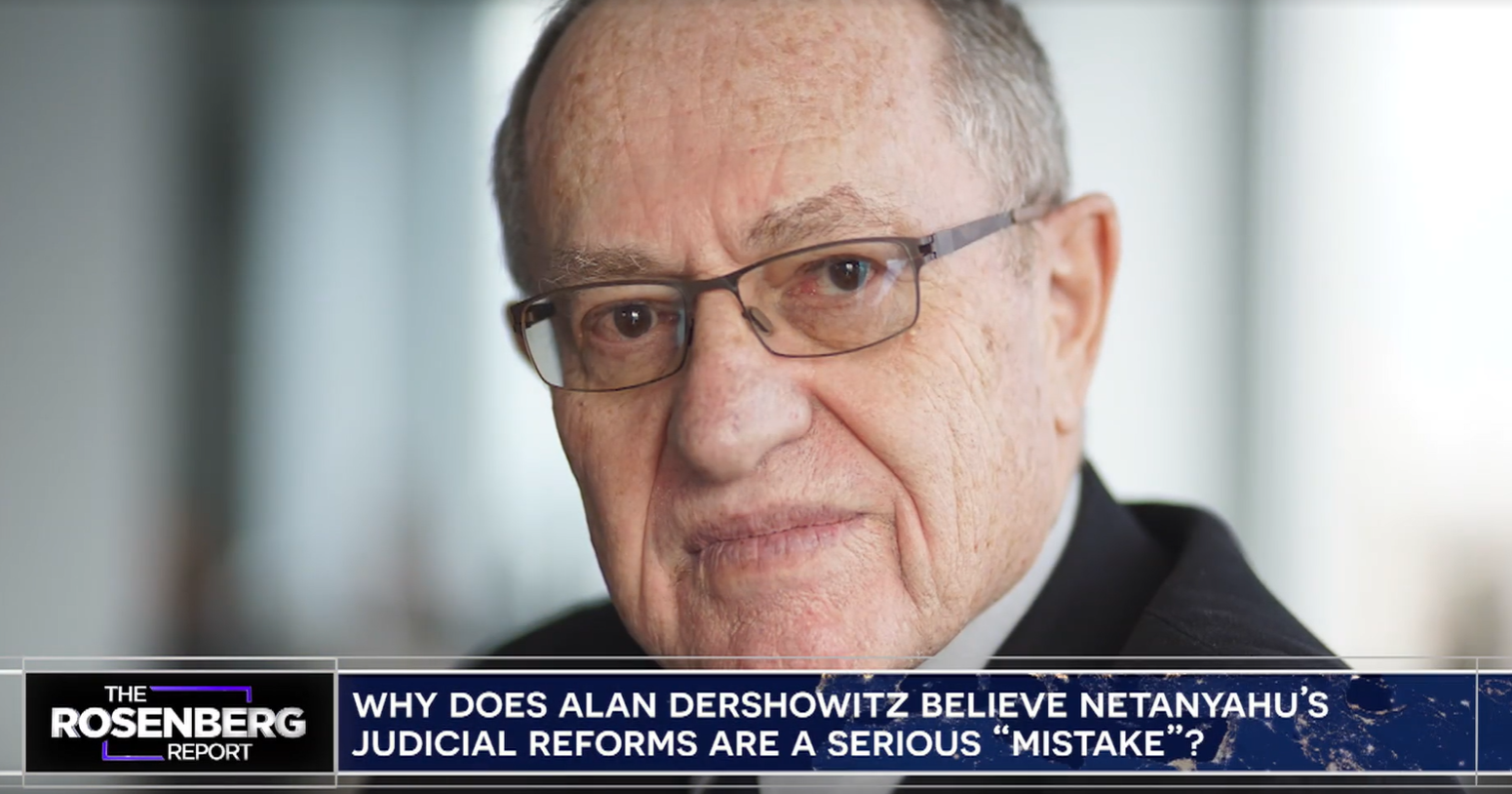 Professor Alan Dershowitz (Photo: Screenshot/The Rosenberg Report)
The issue that concerns Dershowitz the most is the fate of the rights of minorities in Israel, if they don't have robust legal protections that can be defended by the High Court.
"I think that this series of reforms would strike the balance very much against human rights, civil liberties and minority rights, which are essential to having a country like Israel, which is a democracy and a democracy that believes in liberty and equality," he explained.
The legal reform legislative introduced into the Knesset in January by Israeli Justice Minister Yariv Levin offers a dramatic change known as "override clause" to the system.
The bill would allow the Knesset to re-enact any law that was disqualified by the Supreme Court.
Dershowitz is not a fan.  
"When it comes to basic issues of equality, of due process, of free speech, those should not be able to be overridden," he stressed. "Those are fundamental rights. And 51 votes today in the Knesset…shouldn't be enough to overturn the most fundamental basic rights that a democracy has due process, equality and fairness."
In Dershowitz's opinion, the judiciary branch should not be subject to the will of the majority, even though elite courts are a source of conflict in almost every democratic country.
"Courts are not supposed to be reflective of the popular will. There's supposed to be checks on democracy, not part of democracy," he said.
Israel's right-wing majority considers the Supreme Court's authority as "overreaching" and "disproportionate."
They criticize its judges for taking an "activist" approach, providing the rulings based on their own political ideology.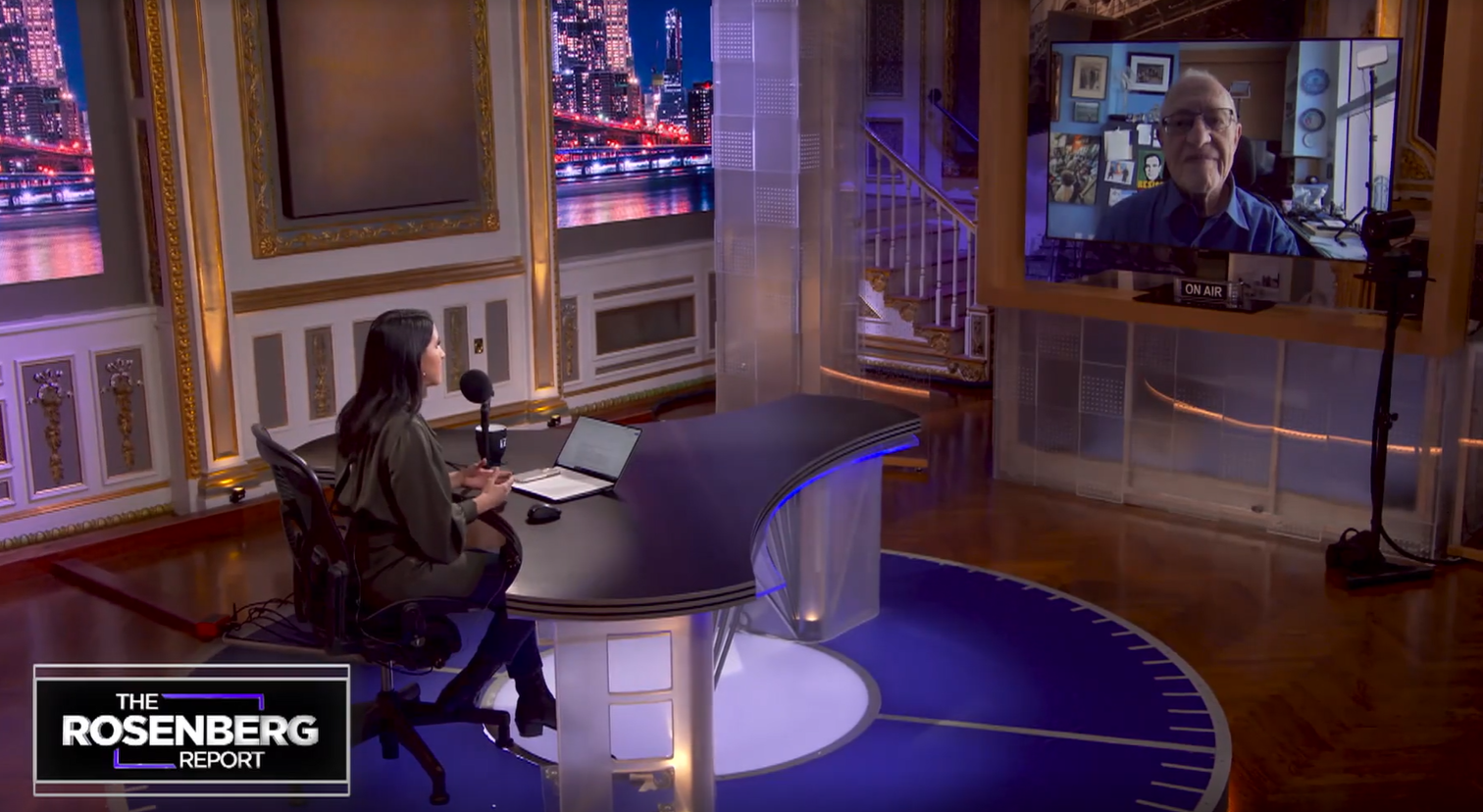 Tal Heinrich interviews Professor Alan Dershowitz on The Rosenberg Report (Photo: Screenshot)
Since Israel does not have a written constitution, its Supreme Court judges can basically make up the rules as they go along, critics argue.
The court currently bases its rulings on what's known as the country's "Basic Laws," legislation passed at the outset of the establishment of the Jewish State.
If the court believes a decision taken by state authorities is incompatible with a Basic Law, they declare it "unconstitutional" or "unreasonable."
Dershowitz partially acknowledges that this constitutes a problem.
"I think the Israeli Supreme Court has too much power over purely political and economic decisions, and I would have no objection to constraining that power," he said.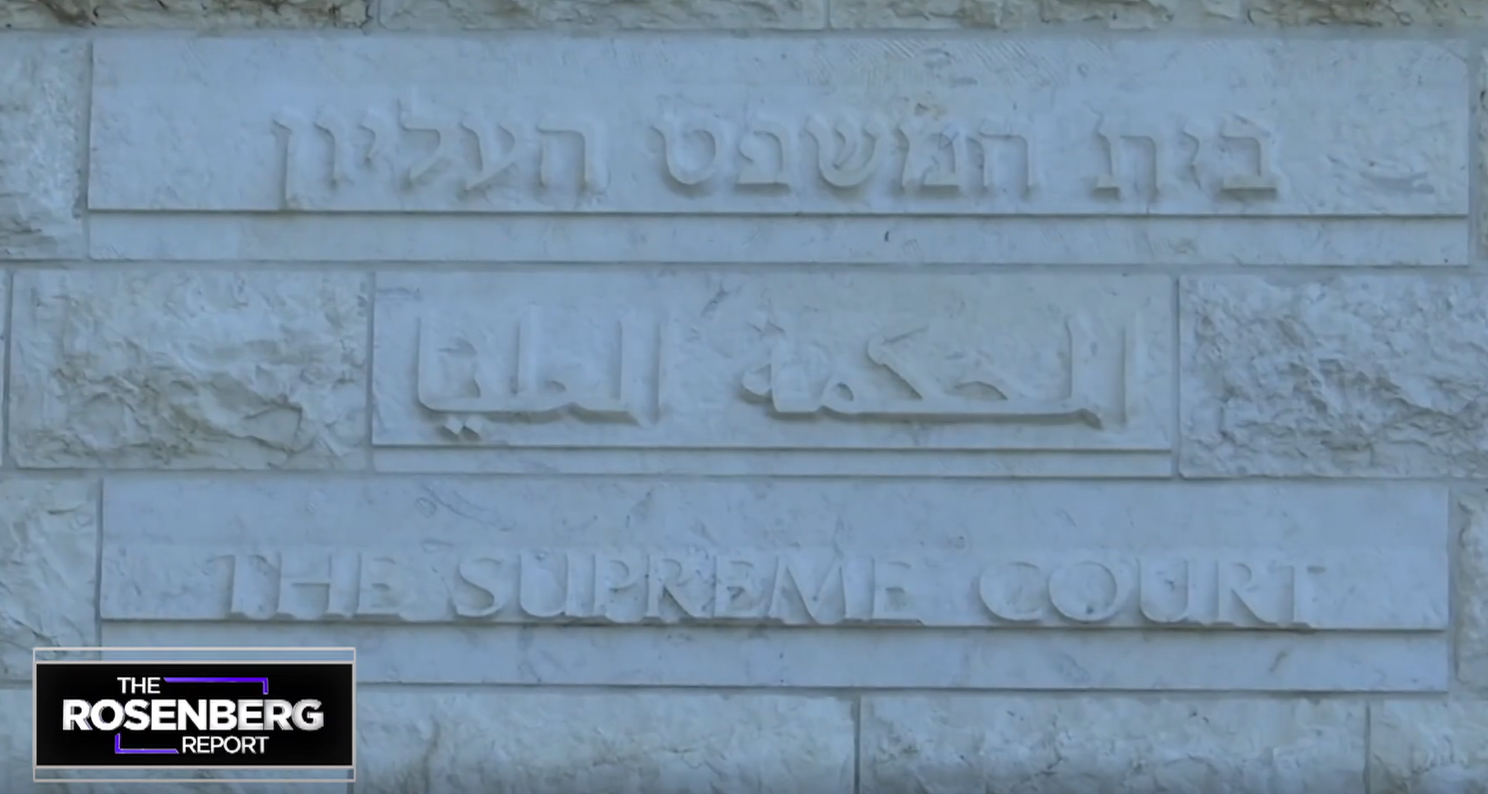 Sign on the outside of the Israeli Supreme Court in Jerusalem (Photo: Screenshot/The Rosenberg Report)
While Dershowitz recognizes there is a need for change in the Israeli judicial system, he does not agree with the one currently on the table.
That is precisely what he told the prime minister.
"I suggested some compromises to my friend Benjamin Netanyahu when I met with him," Dershowitz revealed. "And that is cutting the jurisdiction of the Supreme Court over political, economic issues, but maintaining its ability to have the last word on fundamental issues of equality and justice and due process."
In Israel, people who oppose Netanyahu's judicial reforms mostly come from the political left.
They also believe that Netanyahu – who is currently on trial on charges of bribery, fraud and breach of trust charges – is in no moral position to change how the legal system works.
Indeed, they wanted Bibi to be convicted and sent to prison by the courts.
Israelis on the political right, however, believe that the trial reveals the corruption of the legal system and not of the accused.
But Dershowitz does not fit either profile.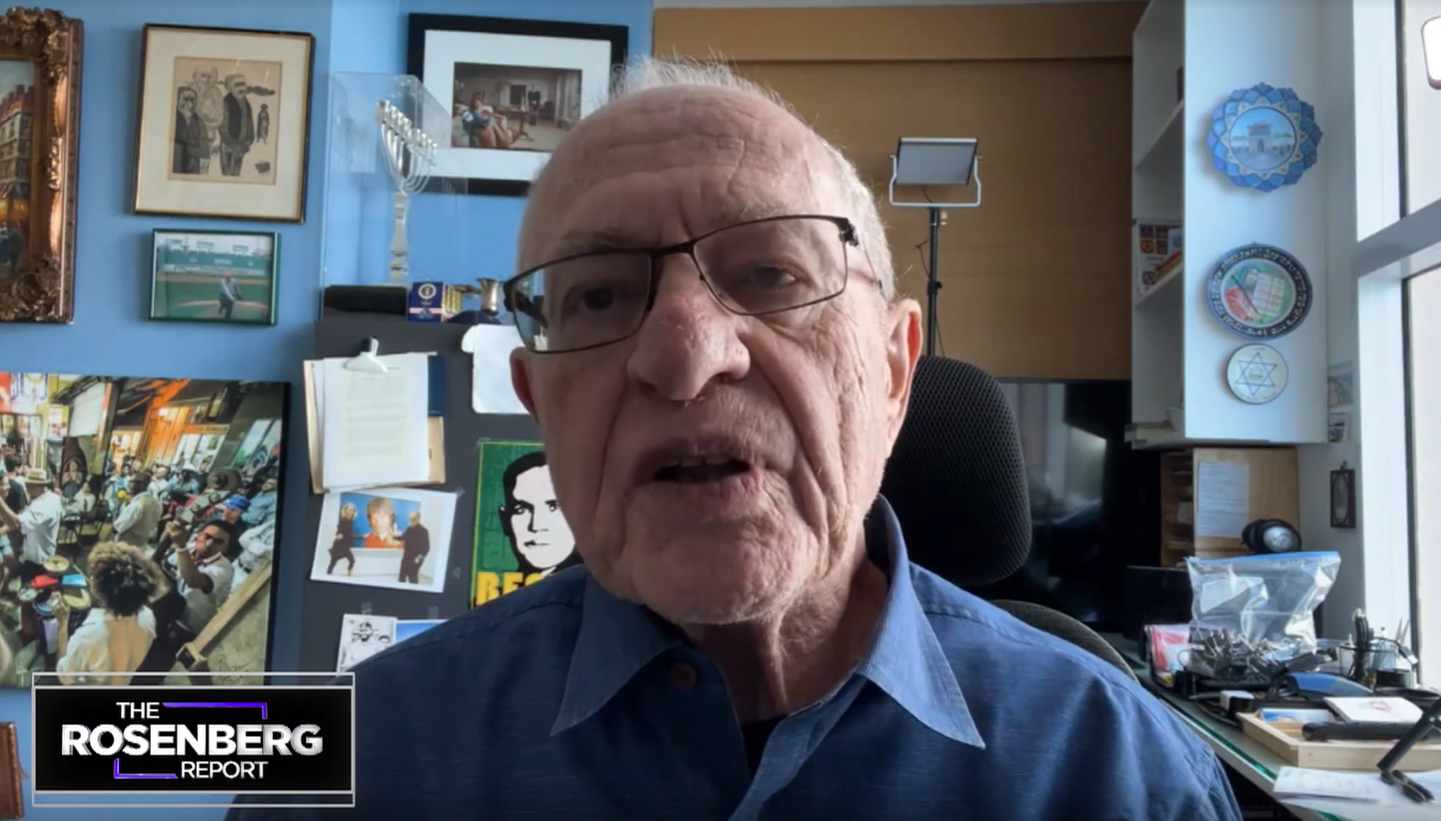 Professor Alan Dershowitz on The Rosenberg Report (Photo: Screenshot)
On one hand, he objects the reform.
On the other, he thinks that Netanyahu's trial "raises grave dangers to democracy and the rule of law."
When asked to explain his non-standard position, Dershowitz told ALL ISRAEL NEWS and THE ROSENBERG REPORT, "I'm a principled person rather than a partisan person. I have the same thing in the United States. I vote against Trump, and I defend his right. I'm constantly being perceived as being on different sides of the same issue. I'm not. It's always a principled argument."
"I agree that Netanyahu has been improperly charged and should be acquitted. In fact, I think the charges should be dropped on the one hand. On the other hand, I disagree with my friend Bibi about the direction in which the judiciary should go. And I don't see any inconsistency or conflict between those positions," he added.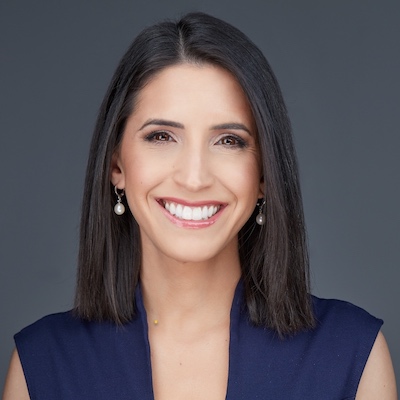 Tal Heinrich is a senior correspondent for both ALL ISRAEL NEWS and ALL ARAB NEWS. She is currently based in New York City. Tal also provides reports and analysis for Israeli Hebrew media Channel 14 News.
A message from All Israel News
Help us educate Christians on a daily basis about what is happening in Israel & the Middle East and why it matters.
For as little as $5, you can support ALL ISRAEL NEWS, a non-profit media organization that is supported by readers like you.
Donate to ALL ISRAEL NEWS
Current Top Stories
Comments