Waiting for Biden: Aside from traffic, what can we expect from Joe Biden's long-awaited visit to the Middle East this week?
In Israel, Biden will make first visit by a sitting U.S. president to East Jerusalem (not counting the Old City); In Saudi Arabia, focus expected on Iran, oil production and possibly the Abraham Accords. Here's his general schedule...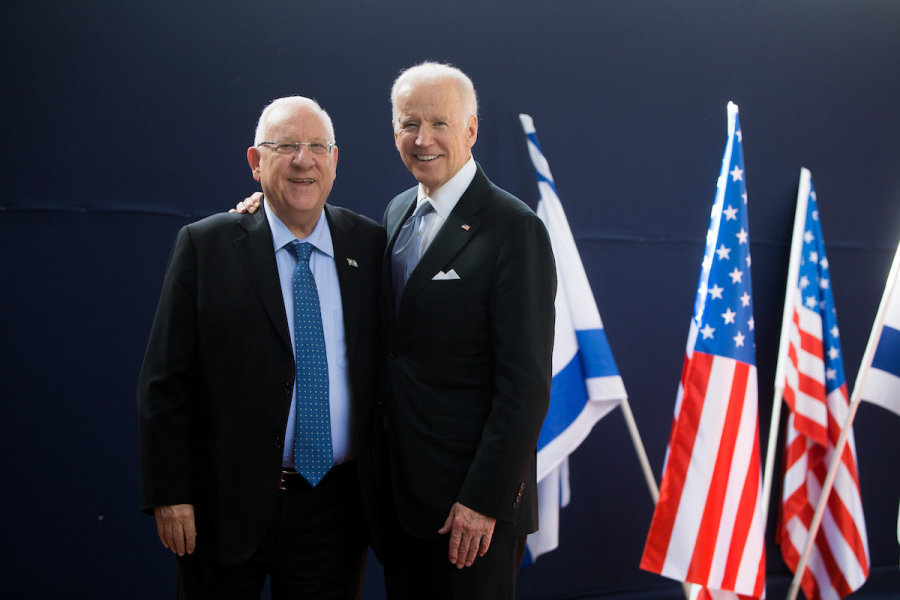 Then-Israeli President Reuven Rivlin (L) poses for a picture with then-U.S. Vice President Joe Biden in Jerusalem, March 9, 2016. (Photo: Yonatan Sindel/Flash90)
The Middle East is getting ready for U.S. President Joe Biden's long awaited visit to the region.
American helicopters and armored vehicles – part of Biden's security entourage – have already been unloaded at Ben-Gurion International Airport. Israel's Public Diplomacy Directorate produced a logo of Biden's upcoming visit to Israel.
And Israeli Prime Minister Yair Lapid made his first call to Palestinian President Mahmoud Abbas, on the occasion of the Muslim holiday Eid al-Adha, to talk about continued cooperation and "the need to ensure quiet and calm."
Israelis and Palestinians – and Jerusalemites in particular – are gearing up for three days of official visits and heavy road closures that will ensnare the nation before Biden heads to Saudi Arabia, where talk is expected to turn to oil, the ceasefire with Houthi rebels in Yemen and, possibly, an expansion of the Abraham Accords.
This is the 12th visit by a U.S. president to Israel – the first by Richard Nixon in 1974 and the most recent by Donald Trump in 2017.
WEDNESDAY
When Biden arrives on Wednesday at 5 p.m., he will be welcomed by both Lapid and Israeli President Isaac Herzog in an official ceremony. From there he will head straight to Palmachim, an Israeli Air Force base, where he will view Israel's partially-American funded defense systems, including the famous Iron Dome and the Iron Beam, a laser rocket defense system.
Biden will then travel to the iconic King David Hotel in Jerusalem, which has been cleared of guests in order to accommodate the American delegation. 
THURSDAY
The president will begin Thursday with a visit to Yad Vashem Holocaust Memorial Center followed by several meetings, including with Lapid, alternate-Prime Minister Naftali Bennett, opposition leader Benjamin Netanyahu and a virtual meeting with Lapid, Indian Prime Minister Narendra Modi and United Arab Emirates President Mohamed bin Zayed to discuss "the food security crisis and other areas of cooperation across hemispheres where the UAE and Israel serve as important innovation hubs."
Later, he will join Herzog at the opening ceremony of the Maccabiah Jewish Olympic games.
Herzog will also award Biden the Israeli Presidential Medal of Honor. The Israeli President's office said in a statement that, "For half a century, the president has stood by the State of Israel, has given his unconditional support to its right to exist, and has fought with determination to expand U.S. assistance to Israel."
Former U.S. President Barack Obama is a prior recipient. 
FRIDAY
Friday will be dedicated to the Palestinians. The president is expected to visit a hospital in East Jerusalem. First Lady Jill Biden visited Augusta Victoria in 2010 when Biden was vice president, and announced a donation of new equipment for the oncology ward. Augusta Victoria – the tower which dominates the Mount of Olives skyline – is a Lutheran facility founded in the1948 war to care for Palestinian refugees.
Afterwards, Biden will head to Bethlehem to meet with Abbas. Ever since Trump's meeting with Abbas in 2017, also held in Bethlehem, the PA cut off talks with the U.S.
This week, Biden is expected to announce an aid package for Palestinians. He will then head to the airport where he will fly directly to Saudi Arabia.
The president's visit comes at a time of very low enthusiasm for the prospects of peace between Israelis and Palestinians. Among Israelis, a recent poll showed that 87% think "there is little or no chance of signing a peace agreement with the Palestinians in the foreseeable future." 
What's more, 57% of Jewish Israelis and 44% of Arab Israelis think that without an agreement in the foreseeable future, a third Intifada will break out in Palestinian areas, according to the Israeli Voice Index for June 2022 prepared by the Viterbi Center for Public Opinion and Policy Research of the Israel Democracy Institute.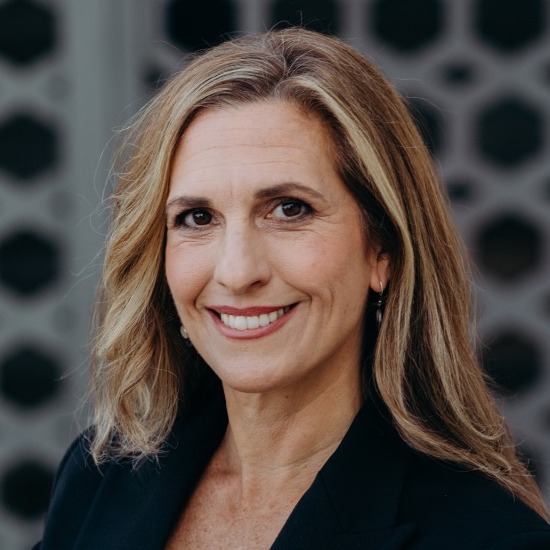 Nicole Jansezian was the news editor and senior correspondent for ALL ISRAEL NEWS.
A message from All Israel News
Help us educate Christians on a daily basis about what is happening in Israel & the Middle East and why it matters.
For as little as $5, you can support ALL ISRAEL NEWS, a non-profit media organization that is supported by readers like you.
Donate to ALL ISRAEL NEWS
Current Top Stories
Comments