New poll: Vast majority of Americans fear Big Tech wants to take away free speech rights
74% believe if they can take away Trump's free speech, "they can take away the right to free speech for any American"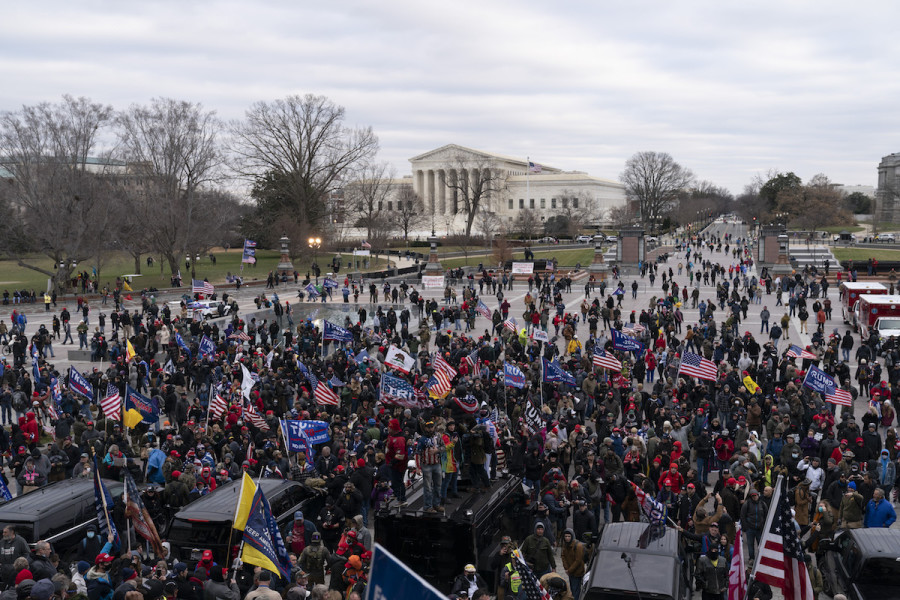 Trump supporters demonstrate during a Joint Session of Congress in which members were to certify the 2020 Presidential election at the Capitol in Washington, DC on Jan. 6, 2021. (Photo: Chris Kleponis/Sipa USA)
A massive public backlash is building in the United States against "Big Tech" media companies after Facebook, Twitter, YouTube and other social media platforms banned President Donald Trump from using them.
Some of the bans are permanent.
At least 7-in-10 Americans are worried that their freedom of speech and privacy are increasingly at risk, according to a new poll by McLaughlin & Associates, a nationally respected firm that has conducted surveys for U.S. and foreign businesses and political leaders, including Trump and Israeli Prime Minister Benjamin Netanyahu.
74% of Americans agree that "if Facebook, Twitter and Google can censor and take away the President's right to free speech, they can take away the right to free speech for any American." Only 26% disagree.

70% of all voters believe that "Big Tech companies like including Twitter, Facebook, Amazon, Google, and Apple, have too much power and need to be regulated to protect the freedoms and privacy of Americans." Only 30% disagree.
The numbers were cited in a memo from John McLaughlin, one of the firm's partners, and Jason Miller, a senior Republican political strategist and campaign advisor to Trump.
The poll of 800 voters in the recent campaign's 17 battlegrounds states was conducted Jan. 10 and 11. The accuracy is +/- 3.4%, with a 95% confidence interval.
The data were first reported by Paul Bedard, the "Washington Secrets" columnist for The Washington Examiner.
The massive overreach of Big Tech is an issue that deeply concerns my colleagues and I, and one that we plan to devote more attention to, especially given its chilling freedom of speech implications not only for Americans but for Israel, other countries in the Middle East, as well as its equally disturbing implications for religious freedom and particularly the right of Christians to teach the Bible and preach the Gospel.
In one of the most read articles ever published by ALL ISRAEL NEWS, our managing editor, Joseph Magen, noted on Jan. 12 that "the Jan. 6 storming of the United States Capitol Building by activists and rioters is being used as a justification by Big-Tech companies to declares themselves the sole arbiters of truth, to unilaterally decide what news and opinions are worth of distribution and what are not, and to constrain the ability of other voices – particularly conservative voices – to make their case."
"This is wrong and is a dangerous overreach by the leading Big-Tech companies," Magen argued. "This overreach by Big-Tech is a dangerous and hypocritical precedent, not just for the U.S., but for all countries, including Israel." 
Many Israeli politicians including Prime Minister Benjamin Netanyahu and opposition leader Yair Lapid communicate in Hebrew to the Israeli public through Facebook posts, Magen explained.
"Will Facebook executives suddenly decide one day soon to ban Israeli politicians from speaking to their people on their platform if they don't like what Israeli leaders have to say?"
Magen also rightly raised religious freedom concerns.
"What if the leaders in Silicon Valley decide one day that they don't want to let Evangelical Christians quote the Bible on their platforms, or share the Gospel of Jesus, or encourage prayer, or webcast sermons and church services?" he asked.
"What if they decide that biblical Christianity is 'dangerous' and a 'threat' to society and therefore decide to impose a ban on Christian pastors and teachers?" he further asked. "What if they decide to impose the same ban on Jewish or other religious teachers? What kind of recourse would we have?"
Note: ALL ISRAEL NEWS and ALL ARAB NEWS retained McLaughlin & Associates in 2020 to do several polls on Israel and Middle East issues, but was not involved in funding this new survey.

Joel C. Rosenberg is the editor-in-chief of ALL ISRAEL NEWS and ALL ARAB NEWS and the President and CEO of Near East Media. A New York Times best-selling author, Middle East analyst, and Evangelical leader, he lives in Jerusalem with his wife and sons.
A message from All Israel News
Help us educate Christians on a daily basis about what is happening in Israel & the Middle East and why it matters.
For as little as $5, you can support ALL ISRAEL NEWS, a non-profit media organization that is supported by readers like you.
Donate to ALL ISRAEL NEWS
Current Top Stories
Comments