US secretary of state condemns Palestinian terror attack in Jerusalem, conveys US support for Israel
Blinken alludes to judicial reforms, remarks on consensus as 'the most effective way to ensure proposals endure'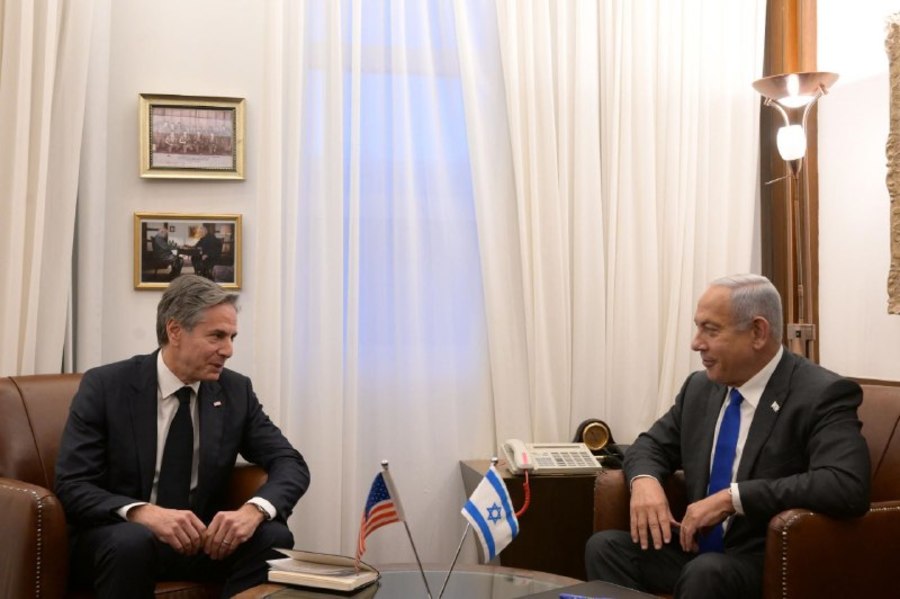 Israeli Prime Minister Benjamin Netanyahu meets with US Secretary of State Antony Blinken, Jan. 30, 2023 (Photo: Amos Ben-Gershom/GPO)
U.S. Secretary of State Antony Blinken condemned Friday's terror attack in Jerusalem "in the strongest terms" upon his arrival at Israel's Ben-Gurion International Airport on Monday. 
The top Biden administration official said the rampage which saw seven Israelis killed by a 21-year-old Palestinian gunman outside a Jerusalem synagogue "was more than an attack on individuals. It was also an attack on the universal act of practicing one's faith."  
As videos and photos following the mass shooting showed Palestinians and Arabs celebrating the Friday murders of six Israelis and one Ukrainian woman, the secretary of state said, "We condemn all those who celebrate these and any other acts of terrorism that take innocent lives, no matter who the victim is or what they believe. Calls for vengeance against more innocent victims are not the answer."
Despite the Hamas terror group stating on Saturday that "resisting occupation is a right guaranteed by all international conventions and laws," Blinken reiterated the U.S. State Department's sweeping call "to everyone" in the region to de-escalate tensions.
"It is the responsibility of everyone to take steps to calm tensions rather than inflame them," the top U.S. envoy said. "That is the only way to halt the rising tide of violence that has taken too many lives – too many Israelis, too many Palestinians."
During his Israel visit, Blinken held a meeting with Israeli Prime Minister Benjamin Netanyahu, which local media reported went "longer than expected. "Following their private conversation, Blinken and Netanyahu delivered a joint press conference. 
Blinken used the opportunity to express his condolences to the families of the Israelis who were murdered in Jerusalem on Friday. He said that U.S. President Joe Biden immediately called Netanyahu after the attack to "underscore the United States' steadfast support to Israel and its people." 
"Your visit is another expression, a continual expression, of the unbreakable bond between Israel and the United States," Netanyahu told Blinken. "It's one of the great alliances of modern history.  We share common interests, which are growing by the day."
The Israeli premier added that the secretary of state's visit came at an important time, when most of the international community have seen the true face of Iran.
"They've seen the barbarism of this regime against its own people. They've seen how it exports aggression beyond its border and beyond the Middle East, and I think there is a common consensus that this regime must not acquire nuclear weapons," Netanyahu said. 
Blinken emphasized in his remarks that "Iran must never be allowed to acquire a nuclear weapon." 
He stressed that one of the most effective ways to make Israel more secure against the Iranian threat is to "continue to build bridges in the region and even well beyond the region."
Nevertheless, Blinken said that efforts to normalize ties between Israel and Muslim nations in the region "are not a substitute for progress between Israelis and Palestinians."
"As we advance Israel's integration, we can do so in ways that improve the daily lives of Palestinians in the West Bank and Gaza," Blinken said. He underscored the U.S. position that the best way to achieve peace between Israel and the Palestinians is "through preserving and then realizing the vision of two states."
"As I said to the prime minister, anything that moves us away from that vision is, in our judgment, detrimental to Israel's long-term security and its long-term identity as a Jewish and democratic state," he said. 
Blinken's visit is taking place not only after a flare-up of violence in Israel with multiple terror attacks and attempted attacks since Friday, but also as a fierce public debate unfolds over the Netanyahu-led government's attempt to pass a reform to overhaul the nation's justice system. 
The judicial reform proposal, to cap the powers of the country's High Court, prompted mass demonstrations in recent weeks. 
"The vibrancy of Israel's civil society has been on full display of late," Blinken said. "The commitment of people in both our countries to make their voices heard, to defend their rights, is one of the unique strengths of our democracies. Another is a recognition that building consensus for new proposals is the most effective way to ensure they're embraced and that they endure."
Although the secretary did not address the proposed reform explicitly in his public remarks, he noted that the U.S.-Israel relationship is rooted in shared interests and values, such as support for core democratic principles and institutions, respect for human rights, equal administration of justice for all, equal rights of minority groups, the rule of law, free press and a robust civil society.
Blinken met with Israeli President Isaac Herzog and Foreign Minister Eli Cohen the same day. Ahead of their meeting, Cohen wrote on social media that Israel has gotten closer to joining the U.S. Visa Waiver Program. The visa-exemption for Israeli passport holders has become more feasible after Israel officially reached a new milestone, a 3% maximum rate of visa rejections.  
On Sunday, the U.S. top diplomat stopped in Cairo to meet with Egyptian President Abdel Fattah el-Sisi and is expected to go to Ramallah today to meet with Palestinian Authority President Mahmoud Abbas. 
In a statement, the U.S. State Department said: "The Secretary commended El-Sisi for Egypt's important role in promoting stability in the region, discussed ongoing efforts to de-escalate tensions between Israelis and Palestinians, noted the importance of unified international support for holding elections in Libya, and underscored the importance of the Framework Political Agreement to the democratic aspirations of the Sudanese people."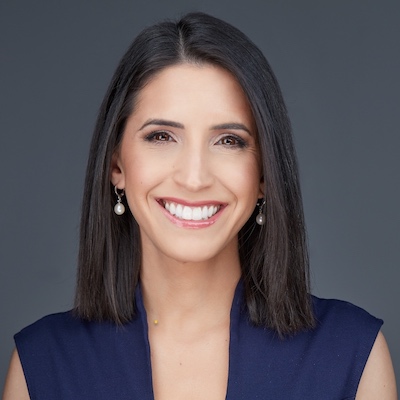 Tal Heinrich is a senior correspondent for both ALL ISRAEL NEWS and ALL ARAB NEWS. She is currently based in New York City. Tal also provides reports and analysis for Israeli Hebrew media Channel 14 News.
A message from All Israel News
Help us educate Christians on a daily basis about what is happening in Israel & the Middle East and why it matters.
For as little as $5, you can support ALL ISRAEL NEWS, a non-profit media organization that is supported by readers like you.
Donate to ALL ISRAEL NEWS
Current Top Stories
Comments