UNCONSCIONABLE: By letting 5.7 million illegals enter US, Biden has opened floodgates to terrorists, drug-runners, human traffickers
Just this year, 82 people on the terror watchlist have been apprehended on US-Mexican border – but how many were missed?
(Photo: Screenshot/Fox News)
JERUSALEM, ISRAEL – To misunderstand the nature and threat of evil is to risk being blindsided by it.
Next week, I'll release a new political thriller in which a radical Islamist terrorist leader sends teams of operatives armed with nuclear "dirty" bombs into the United States via the border with Mexico to unleash mass terror attacks designed to make 9/11 pale by comparison.
For now, The Libyan Diversion is merely a novel, an entertaining work of fiction based on a "worst case scenario" that I pray never comes to pass.
Unfortunately, the premise is not far-fetched.
Not everyone in Washington gets how chilling and serious this threat is, but Mike Pompeo does.
In September 2021, I was interviewing the former director of the Central Intelligence Agency and former U.S. Secretary of State on the 20th anniversary of Osama bin Laden's horrific 9/11 attacks on New York and Washington.
While we discussed threats posed by a range of actors including Russian President Vladimir Putin, Chinese President Xi Jinping, Iranian Supreme Leader Ali Khamenei, and others, I asked Pompeo what we hadn't covered yet.
"What keeps you up at night?" I asked America's former top spy. "What do you worry about that maybe the rest of us aren't focused on?"
Pompeo replied that "ungoverned spaces" in northern Mexico worry him a great deal.
The Mexican government, he noted, has essentially surrendered much of the territory along its border with the United States to criminals, drug traffickers, human smugglers, gangs, and organized crime.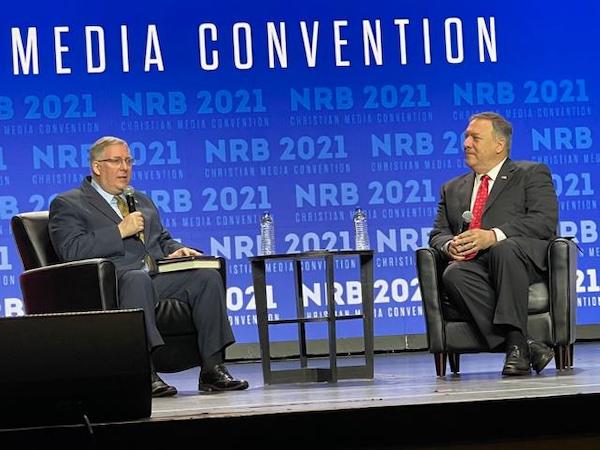 Joel C. Rosenberg interviews former US Secretary of State Mike Pompeo at the National Religious Broadcasters 2021 conference (Photo: ALL ISRAEL NEWS)
It's also creating an opportunity for terrorists from the Middle East and elsewhere to exploit.
Pompeo has been a friend and a reader of my novels for a number of years.
And the more I thought about what he'd said, the more terrified I became.
Two decades after 9/11, terrorists – hell-bent on inflicting mass death and destruction on the American people – can't use an airplane, ship or truck to enter the United States, thank God.
But they can just walk across the U.S.-Mexican border – and bring all kinds of terrible weapons with them.
The more research I did, the more convinced I became that I should write my next political thriller about just such a scenario.
Consider the facts for yourself.
ILLEGAL IMMIGRATION SURGING SINCE BIDEN TOOK OFFICE
Just since President Joe Biden took office, more than 5.7 million people have crossed illegally into the United States, according to the House Committee on U.S. Homeland Security.
This includes more than 4.5 million people crossing the U.S.-Mexican border that were intercepted and stopped by federal agents, and an additional 1.2 million people whom federal authorities call "gotaways," people who evaded Customs and Border Patrol (CPB) agents and are now living and operating inside the United States.
That's a population larger than Los Angeles, the second largest city in the U.S., notes the House Committee.
And we have absolutely no idea who they are.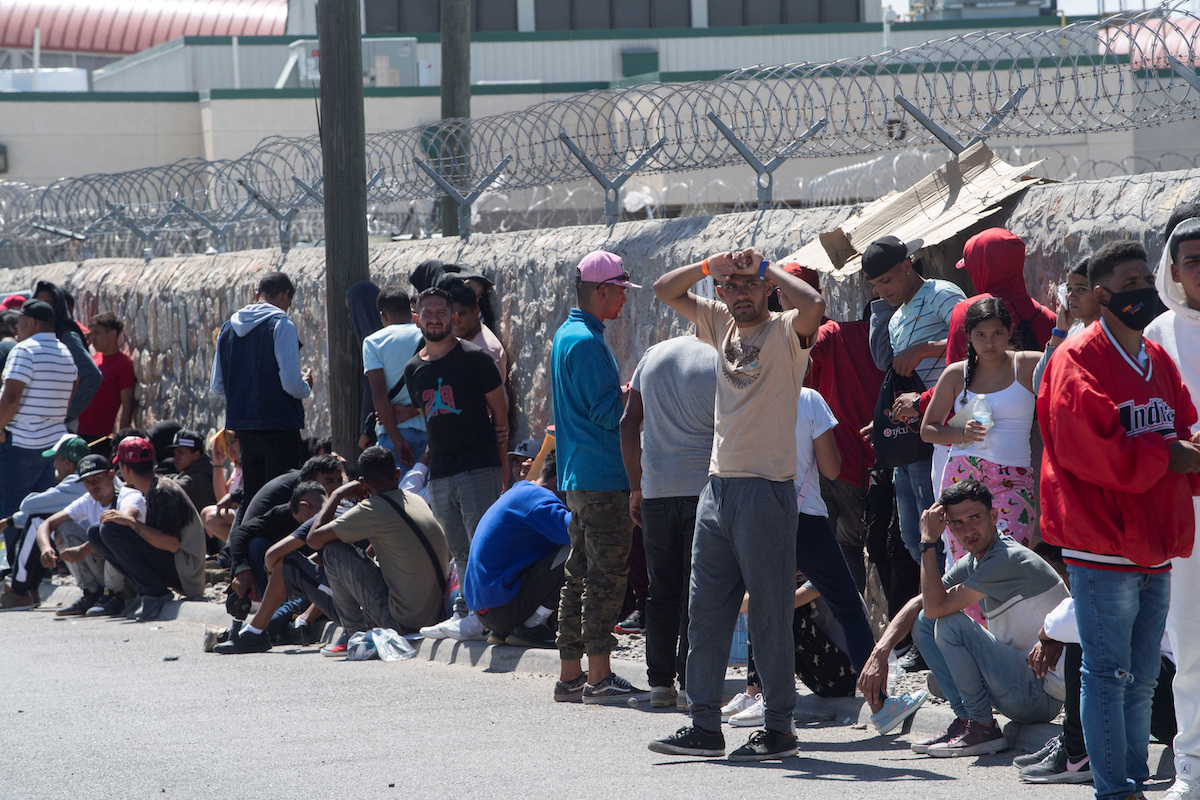 Immigrants wait to be processed by U.S. Customs and Border Protection (CPB) officers outside the gates of a CPB office near El Paso, Texas, May 9, 2023. (Photo: REUTERS/Roberto Schmidt)
These numbers are similar to a report issued by the Federation for American Immigration Reform (FAIR), which estimates that more than 5.5 million people have crossed illegally into the United States, mostly across the U.S.-Mexican border.
"FAIR's figure contains the 4.4 million nationwide total reported by U.S. Customs and Border Protection (CBP) – which includes around 3.9 million at our southwest border – as well as approximately 1.1 million 'gotaways' who have entered the country undetected per agency sources," the organization notes.
"Based on publicly available CBP data, court filings, and 'gotaways,' FAIR estimates that 2.4 million were either released by federal authorities or entered the country's interior undetected," the group adds.
The result is "a crisis of epic proportions," FAIR argues.
I couldn't agree more.
I'm not trying to make a partisan point here – it just has to be said.
What President Biden is doing is unconscionable.
Clearly, he does not understand the nature and threat of evil and he risks being blindsided as a result.
His border policies are already leading to a wave of crime, death and human misery.
But it could get much, much worse.
UNDER TRUMP, ILLEGAL IMMIGRATION PLUNGED
Say what you will about former U.S. President Donald J. Trump, he did everything humanly possible to stop the flood of people, drugs, and terrorists trying to get into the States via Mexico, warning that the U.S. was facing a dangerous "invasion" from the South.
Democrats in Congress did everything they could to stop him.
Still, Trump ordered his team to work tirelessly to build a wall (they did – completing 452 miles before he left office), dramatically increase the number of CBP agents by 15,000, and negotiate a "Remain In Mexico" policy to keep migrants applying for a visa to enter the U.S. in Mexico until their applications were fully processed.
He was right to do so – and his approach showed real results.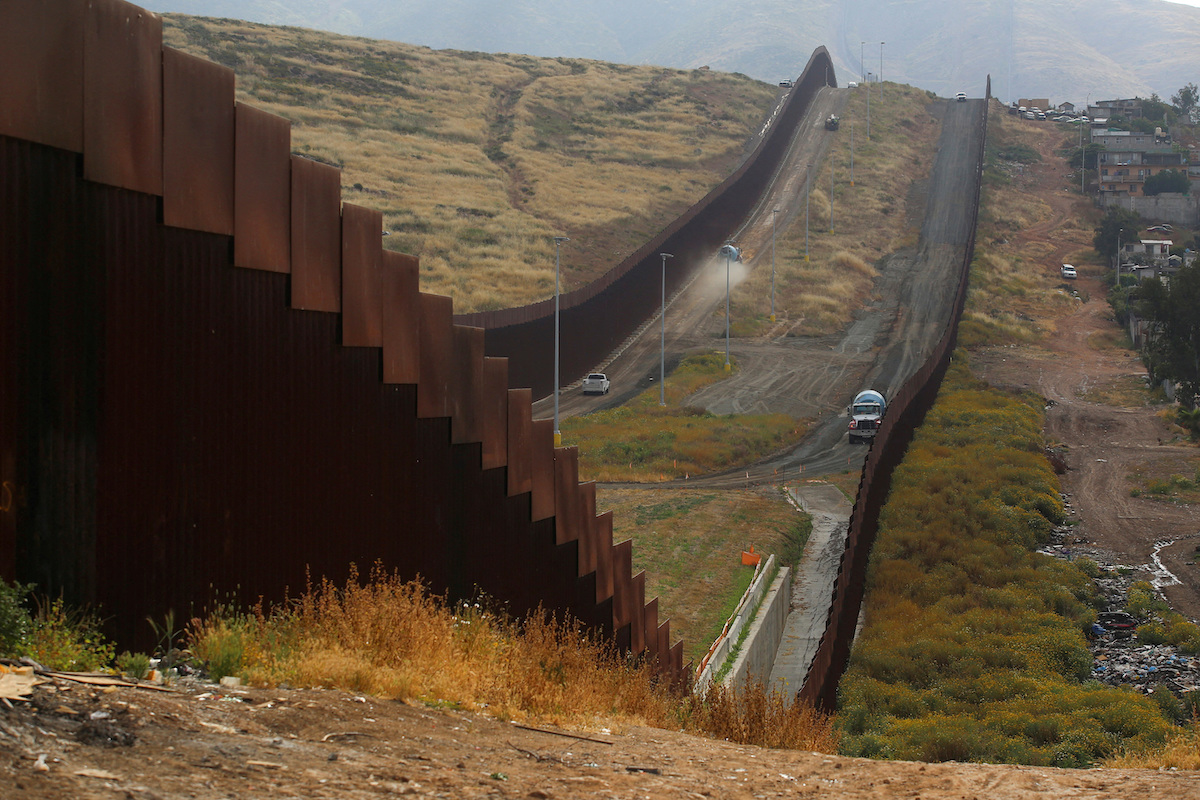 A general view shows the primary and secondary border walls that have blocked migrants at the U.S.- Mexico border from seeking asylum since 2020, in Tijuana, Mexico, May 9, 2023. (Photo: REUTERS/Jorge Duenes)
In Trump's first year in office alone, the number of people trying to illegally enter the U.S. through Mexico plunged to a 46-year low and the arrest of illegals inside the U.S. surged by 25%.
In Trump's first two years in office, CBP officers made 266,000 arrests of criminal aliens, including those "charged or convicted of approximately 100,000 assaults, 30,000 sex crimes, and 4,000 killings," according to the White House.
But President Biden has completely reversed course.
He stopped building the wall, ended the "Remain In Mexico" policy, and has signaled to the world that he's not serious about protecting the border.
Not surprisingly, illegal immigration is skyrocketing – and it's about to get significantly worse as Title 42 ends on May 11.
GROWING THREAT OF TERRORISM
By refusing to secure America's borders, President Biden has opened the floodgates to terrorists, drug-runners, and human traffickers, thus putting the lives and well-being of the American people in grave danger.
In 2022 alone, federal authorities apprehended 98 individuals on the "terror watchlist" trying to slip into the U.S.
All of them were trying to enter through Mexico.
Worse, just in the first few months of 2023, 82 individuals on the terror watchlist have been caught trying to enter the U.S., all but two of them via Mexico.
This means the number of terrorists that federal agents are stopping on the borders is rising rapidly.
This raises several sobering questions. 
How many people on the terror watch list are getting into the U.S. undetected?

What kinds of weapons are they smuggling into the country and how many?

What are the plans and intentions of these terrorists?

And how will authorities identify and stop such threats before new mass casualty attacks occur?
GROWING THREAT OF DEADLY DRUGS
In 2022, the Drug Enforcement Agency "seized enough fentanyl to kill every American — more than 50 million fentanyl-laced pills and over 10,000 pounds of fentanyl powder," CBS News reported in February.
Those seizures "represent more than 379 million potentially deadly doses of fentanyl," enough to kill every single American, notes the DEA. "Fentanyl is the deadliest drug threat facing this country. It is a highly addictive man-made opioid that is 50 times more potent than heroin. Just two milligrams of fentanyl, the small amount that fits on the tip of a pencil, is considered a potentially deadly dose."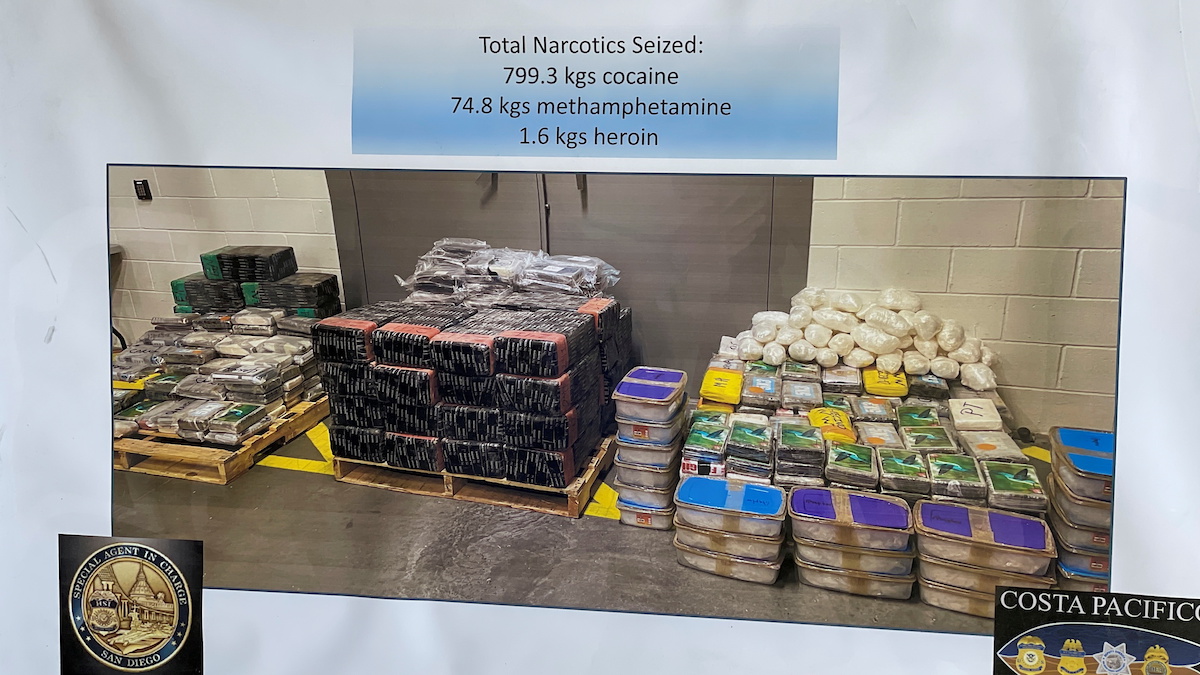 A photograph shows drugs seized after the discovery of a cross-border tunnel inside a warehouse in San Diego, California, May 16, 2022. (Photo: Department of Homeland Security)
"The spike in fentanyl-related overdose deaths in the U.S. has fueled a national conversation and a redoubling of the government's efforts to curb its smuggling," reported CBS correspondents Nicole Sganga and Camilo Montoya-Galvez. "In 2021, 90% of some 80,000 opioid-related deaths involved fentanyl, federal statistics show.
"Most fentanyl is being smuggled into the U.S. along the southern border, often in vehicles driven by American citizens, as cartels and other criminal groups in Mexico have turned the production of the synthetic opioid into a clandestine industry that has become the primary source of fentanyl in the U.S., according to the Drug Enforcement Agency (DEA)," the CBS report added.
"In fiscal year 2022, 84% of the 14,104 pounds of fentanyl seized along the Mexican border were detected by officers at ports of entry overseen by the Office of Field Operations, a CBP branch, according to government data."
What's more, the "Border Patrol, which apprehends migrants who enter the U.S. illegally, seized 2,200 pounds of fentanyl, or 16% of all fentanyl seized along the southern border, in fiscal year 2022."
GROWING THREAT OF HUMAN TRAFFICKING
With Biden refuses to protect America's borders, and millions of people surge into the country illegally, human traffickers have more and more opportunities to seize and exploit vulnerable women and children.
"Slavery is alive and well today all across the world, and it comes in the form of human trafficking," notes Selene Rodriguez of the Texas Public Policy Foundation. "Every form of human trafficking is an atrocity, and every victim deserves to be rescued, rehabilitated, and cared for. One way in which the United States can help curb human trafficking is improving border security. In the U.S., immigrants, especially immigrant women, make up the largest portion of trafficking victims."
Rodriguez notes that "studies done by the Latin American branch of the Coalition Against Trafficking In Women estimate that 60% of Latin American children who set out to cross the border alone or with smugglers have been caught by the cartels and are being abused in child pornography or drug trafficking.
In June 2022, Congressman Michael McCaul, the Texas Republican, spoke out when 48 migrants who had entered the U.S. illegally were found dead in an abandoned tractor trailer in San Antonio, two more migrants died later at the hospital, and 14 more were hospitalized for heat stroke and exhaustion.
"Our porous southern border combined with limited resources for proper border security enforcement has created the perfect cocktail for illegal human trafficking – and resulted in this senseless loss of human life," McCaul said. "I have been fighting to secure our border and stop the scourge of human trafficking since coming to Congress, but the Biden administration's policies are wreaking havoc. What will it take – how many more deaths like this – before President Biden and his so-called border czar, Vice President Harris, finally take substantive action to secure our border?"
McCaul has written and passed several pieces of legislation to fight human trafficking.
He now serves as chair of the House Foreign Affairs Committee.
WHERE DO WE GO FROM HERE?
After nearly 3,000 Americans were murdered by radical Islamist terrorists on 9/11, Democrats and Republicans came together to say, "Never again."
We saw a serious bipartisan effort to protect homeland security and close gaps that terrorists could use to enter the U.S. and hit us even harder.
It cost a lot of money but Washington made travel by land, sea and air safer from those here in the Middle East and elsewhere who mean to do us harm.
But what will Biden and his fellow Democrats say if and when new terror attacks come by jihadists and other maniacs who just walk into the U.S. across the Mexican border?
How will they say they couldn't see what was coming?
What will they say to the families of victims when they did little or nothing to fulfill their constitutional duty to preserve, protect and defend the American people from all threats, foreign and domestic?
The Libyan Diversion is a fictional war-game, a look at what could happen if idiots in Washington don't take border security seriously.
Let's pray it remains fiction.
Let's pray, too, that President Biden and his team wakes up fast, changes course, and sends far more than 1,500 active-duty soldiers to the Mexican border.

Joel C. Rosenberg is the editor-in-chief of ALL ISRAEL NEWS and ALL ARAB NEWS and the President and CEO of Near East Media. A New York Times best-selling author, Middle East analyst, and Evangelical leader, he lives in Jerusalem with his wife and sons.
Popular Articles
A message from All Israel News
Help us educate Christians on a daily basis about what is happening in Israel & the Middle East and why it matters.
For as little as $5, you can support ALL ISRAEL NEWS, a non-profit media organization that is supported by readers like you.
Donate to ALL ISRAEL NEWS
Latest Stories
Comments