U.S. media underreports hate crimes against Jews, new study shows
Honest Reporting research discovers that mainstream media dedicates minimal coverage of anti-Jewish hate crimes, while Muslim hate crimes receive the most exposure
Pro-Israel rally at Times Square in New York City, U.S., May 12, 2021. (Photo: Reuters/David Delgado)
FBI data shows that Jews are victims of more hate crimes per capita than all other groups in the United States. However, a new study by Honest Reporting found that anti-Jewish hate crimes receive disproportionately little news coverage, by a disturbingly large margin. 
Hate crimes against Asian-Americans, Americans with disabilities and members of the LGBTQ community are similarly underreported by mainstream media outlets. By contrast, hate crimes against Muslims received the most news coverage of any minority group by a large margin. 
Anti-Muslim crimes have begun to decline in recent years, indicating a possible correlation between adequate news coverage and increased safety for vulnerable populations. While further research is needed, the data seems to indicate that media outlets have an important role to play in reducing hate crimes against vulnerable groups, according to Honest Reporting CEO Daniel Pomerantz. 
"Media coverage makes a real world difference on the safety of vulnerable groups," Pomerantz told ALL ISRAEL NEWS. "We've long known that Jews are, per capita, the most targeted group for hate crimes in the United States, but no one has ever before compared this against the amount of media coverage per incident for different groups. This was certainly new and illuminating." 
"We always knew that the news reporting in this area was fundamentally unjust, but we were surprised to learn just how much real impact the news reporting can make on the safety of America's most vulnerable groups. Of course, correlation does not prove causation, as statisticians like to say, and more research needs to be done to confirm whether other factors are at play, but the patterns we see are repeating so many times among so many different data sets, that it already seems very likely that this pattern is an accurate reflection of reality," Pomerantz added. 
Honest Reporting is an NGO that monitors and analyzes stories, articles, opinion pieces and images that appear in international media coverage of Israel. It exposes and responds to inaccuracies or bias in the depiction of the Jewish state. The organization was founded in 2000 during the second intifada, in response to a particularly egregious photo in The New York Times and Associated Press which mischaracterized the Jewish victim of a lynch mob as being a Palestinian victim of the Israeli police. 
The research was carried out using professional media intelligence tracking software and the FBI Hate Crime Statistics database. Honest Reporting compared the incidence of hate crimes against specific groups in the U.S., and then reviewed the ensuing number of news reports produced about such attacks. The scope of the research covers the period from 2018 to 2020, with the latter year providing the most current comprehensive data available.
The study compared "anti-Jewish" hate crimes to discriminatory acts classified as "anti-Islamic (Muslim)," "anti-Black/African American," "anti-Hispanic/Latino," "anti-Asian," as well as hate crimes against "persons with disabilities" and those targeting Americans because of their "sexual orientation"/"gender identity." The information was analyzed based on the FBI's Crime Data Explorer.
While Jews are one of the smallest minority groups in the U.S., they have been the targets of the most hate crimes per capita between 2018 and 2020. At the same time, the research shows that, on average, anti-Jewish hatred produced minimal media coverage.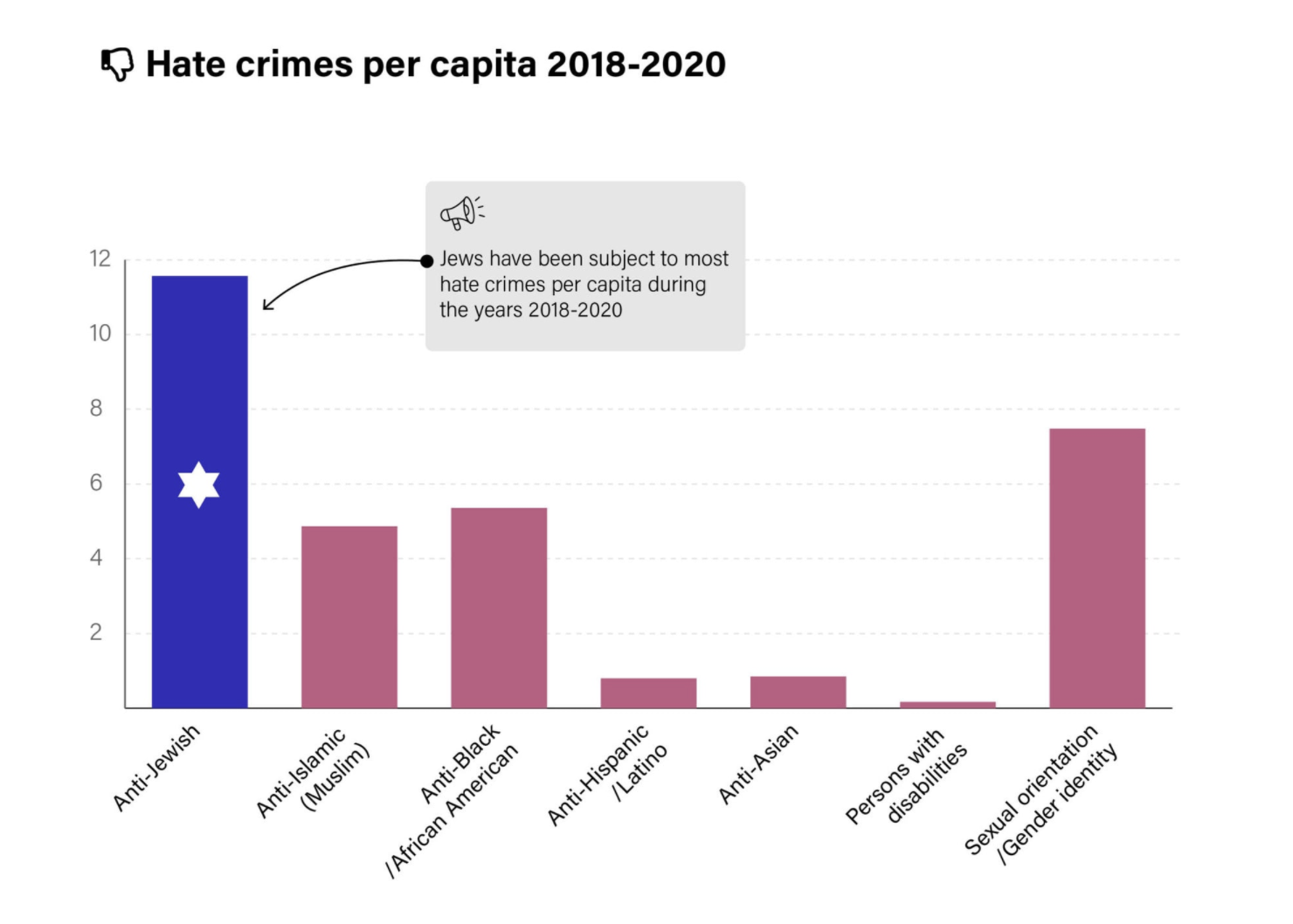 Image: Honest Reporting
Honest Reporting found that in 2020, for every anti-Semitic incident reported, 1.71 articles were published in the media. However, every anti-Black/African-American hate crime received 6.39 articles, and every anti-Muslim act received 6.23 articles. 
The study focused on 18 top-tier mainstream media outlets and news wire services, such as The New York Times, the Associated Press, CNN, The Washington Post, ABC News, Agence France-Presse, CBS News, Foreign Policy, Fox News, HuffPost, The LA Times, MSNBC, NBC News, NPR, Reuters, Vice, Vox and The Wall Street Journal.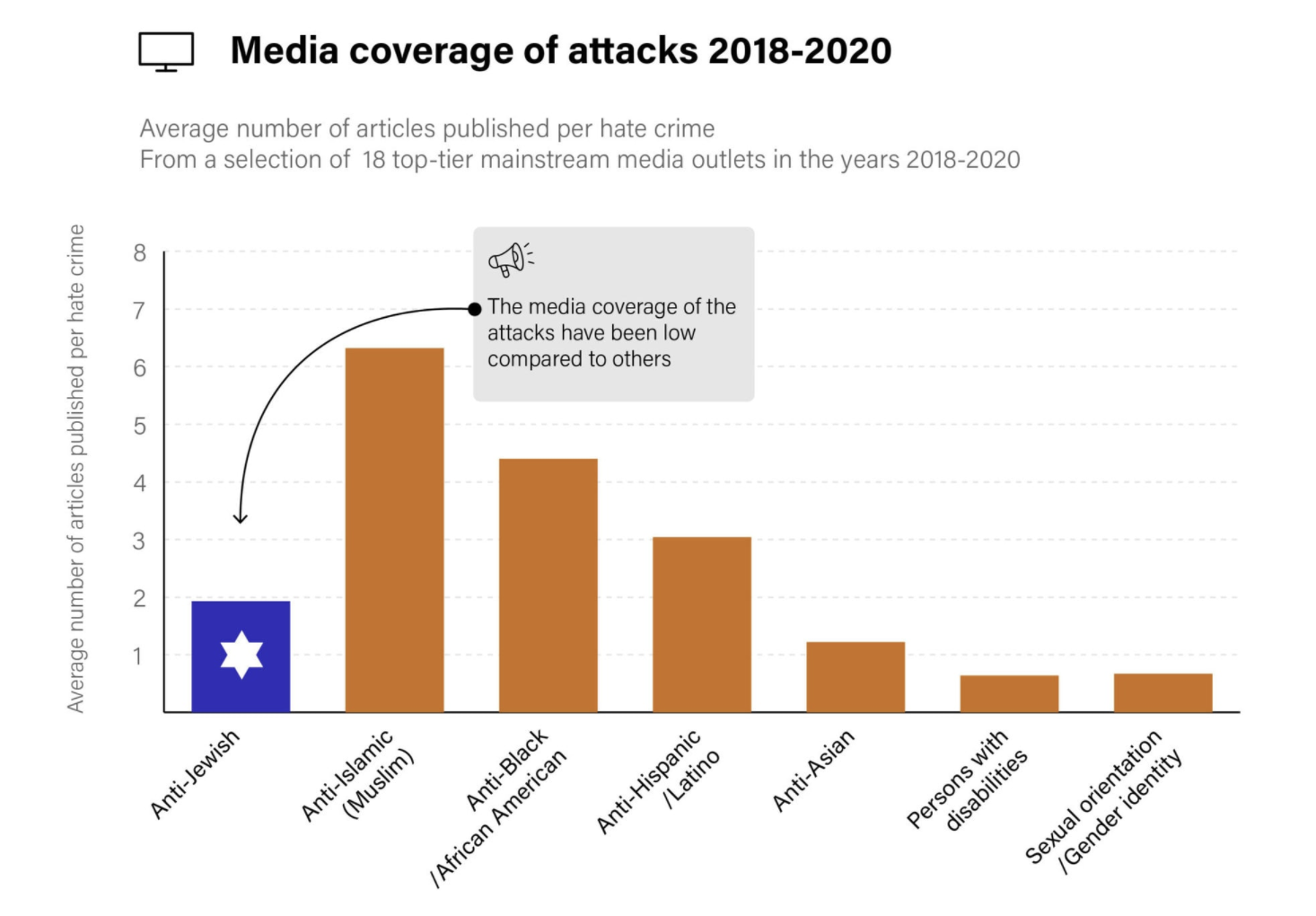 Image: Honest Reporting
Pomerantz recently returned to Israel from a series of interviews and lectures in the United States, where he presented the results of the research.
"Another thing I found surprising, and also encouraging, was how much the media cared and took this seriously," he shared. "For example, when I appeared on CBS News, off-camera the hosts and producers were speaking to me about how important the story is and, of course, they kept my segment even though the news about Ukraine was breaking right at that time. I found similar experiences with Fox News and Newsweek."
"This gives me optimism about the future, and about the partners we may find in surprising places, including within the media itself. I've already been contacted by UNESCO with interest in this project, and plan to sit with them soon as well," Pomerantz said.  
When asked what he would consider ideal coverage of anti-Jewish hate crimes, Pomerantz replied: "There are two critical components: the amount of coverage and its context."
"Currently hate crimes against Jews receive on average 1.9 articles per incident, and at that level, hate crimes tend to increase rather than decrease. Hate crimes against Asian Americans receive even less coverage and have almost doubled in the last three years. LGBTQ communities and Americans with disabilities are facing similar problems. So, ideally anti-Semitism (and for that matter all hate crimes) should receive greater than, on average, six articles per incident," he explained.
"The second issue is context and framing. For example, during the Gaza conflict last May, many American Jews were subject to assault, both physical and verbal, under the guise of 'criticism of Israeli policies.' Of course, assault is not criticism of anything, it is just attacking American people. It's important that these sort of hate crimes not be mis-contextualized: the situation in Israel should never be an excuse for anti-Semitism."
Pomeranz stressed that while Israel is able to stand up to the same legitimate criticism as any modern western democracy, anti-Semitism should never be a motivator for statements about Israel that are improper, unfair or simply false. He says that the first step in reducing dangers to Israel and the Jewish people is to "make sure that we speak about them adequately and correctly: among ourselves, on social media, and in the mainstream media as well."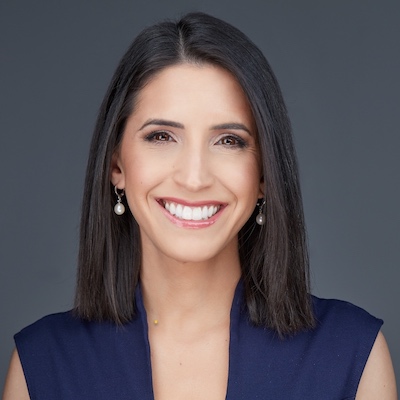 Tal Heinrich is a senior correspondent for both ALL ISRAEL NEWS and ALL ARAB NEWS. She is currently based in New York City. Tal also provides reports and analysis for Israeli Hebrew media Channel 14 News.
A message from All Israel News
Help us educate Christians on a daily basis about what is happening in Israel & the Middle East and why it matters.
For as little as $5, you can support ALL ISRAEL NEWS, a non-profit media organization that is supported by readers like you.
Donate to ALL ISRAEL NEWS
Current Top Stories
Comments