Turkish president calls for improved ties with Israel, appoints new ambassador
Are Erdogan's overtures a genuine hint at normalization or political posturing for something more?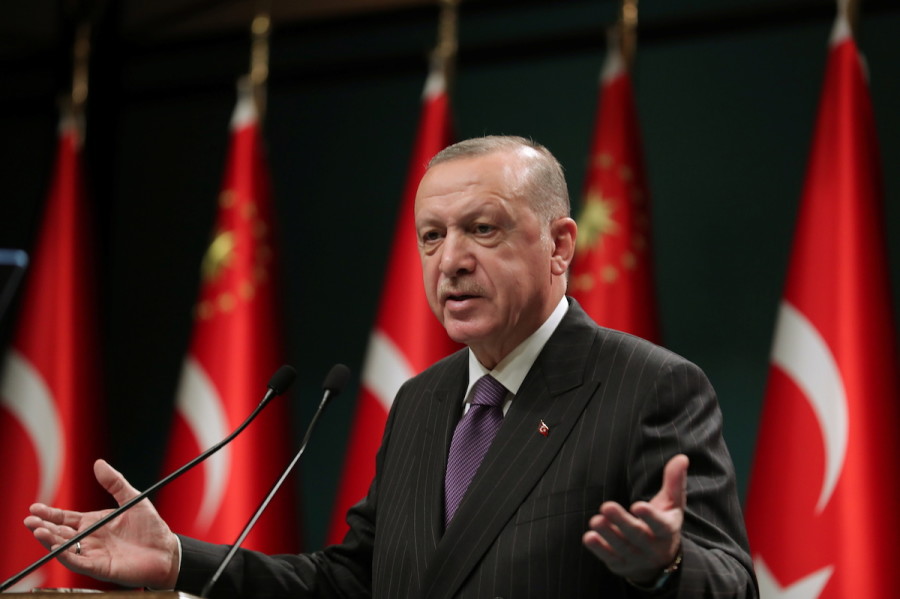 Turkish President Tayyip Erdogan speaks during a news conference following a cabinet meeting in Ankara, Turkey, Dec. 14, 2020. (Photo: Presidential Press Office/Handout via REUTERS)
Turkish President Recep Tayyip Erdogan is making overtures to the very Jewish state he has been hostile toward over the past several years raising speculation as to why now and what is in it for Turkey.
Earlier this month, he ended a two-year standoff with Israel, appointing a new ambassador to the Jewish state. 
And then on Friday, he told reporters in Ankara that he hopes the two countries can improve ties.
"Our heart desires that we can move our relations with them to a better point," Erdogan said last week.
To be clear, Erdogan — who has positioned himself as a defender of the Palestinian cause among worldwide Muslim leadership — insisted that "the Palestine policy is our redline." 
"It is impossible for us to accept Israel's Palestine policies; their merciless acts there are unacceptable," he told reporters after Friday prayers.
But he added that despite "difficulties with some people at the top" in Israel — perhaps hinting at Prime Minister Benjamin Netanyahu — the two countries continue to share intelligence and work together. 
Both his statements on Friday and the appointment of a new ambassador were unexpected.
As recently as September, Erdogan caused a ruckus in the United Nations in a speech accusing Israel increasing its "dirty hand that reaches the privacy of Jerusalem, where the sacred places of the three great religions coexist."
And, despite having its own agreement with the Jewish state, Turkey condemned the countries who normalized relations with Israel in the past four months calling these treaties a blow to the Palestinian cause. 
For its part, Israel has accused Erdogan of supporting Hamas and the Muslim Brotherhood, contending that Hamas has plotted attacks from Istanbul and that Turkey has granted citizenship to at least 12 of its members.
Turkey has also long pursued a strategy called a "quiet jihad" in Jerusalem, including investing in local Palestinians, promoting Muslim tourism to the Jerusalem and buying real estate with a goal to gain control over the Temple Mount. The Turks opened a cultural center in the Old City and have been providing charity to the Arab population in the city.
So what prompted the sudden change of heart?
One possibility is that Ankara fears that the U.S. under Joe Biden will be less favorable to Turkey and that perhaps currying good will with Israel will improve Turkey's relationship with Washington. Turkey's aggression in northern Syria, against the Kurds, and its involvement against Armenians, Syrians and Libyans, has not gone unnoticed by the U.S. or its allies in the region.
Turkey may also be looking to get in on the gas pipeline deal signed by Greece, Cyprus and Israel — or at least drive a wedge between Israel and its better allies. The agreement to build the sub-Mediterranean pipeline was opposed by Turkey which claims Turkish Cypriots were wrongfully excluded from the agreement.
The recent falling out between Turkey and Israel began in May 2018 when Erdogan expelled Israel's ambassador to Turkey, Eitan Na'eh, over escalating attacks and deadly clashes with Palestinians in Gaza. More than 60 Palestinians, including members of Hamas and other terror groups, were killed during violent protests. Erdogan blamed Israel, calling it a "terrorist state" that commits "genocide." 
Upon leaving Na'eh underwent a security screening at Istanbul's airport that required him to take off his shoes. Turkish press filmed the humiliating spectacle and in retaliation just hours later, Israel's Foreign Ministry summoned Turkey's ambassador to Israel, Kemal Okem, to return to Turkey for consultations. There has not been an exchange of ambassadors in either country since.
On Dec. 9, Turkish President Recep Tayyip Erdogan appointed Ufuk Ulutas, according to al-Monitor. Whether Israel will send its own ambassador to Ankara is unclear. Such a move could jeopardize its relationship with the United Arab Emirates, which has also had hostile relations with Turkey lately.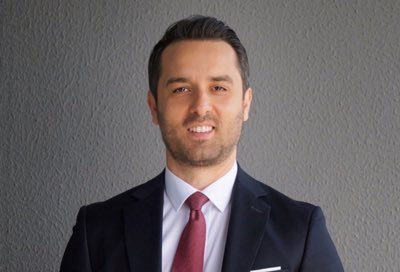 Turkey's new Ambassador to Israel Ufuk Ulutas (Photo: Ufuk Ulutaş/Twitter)
Ulutas, 40, is not exactly pro-Israel by any stretch. Currently serving as chairman for the Center of Strategic Research (SAM) at the Turkish Ministry of Foreign Affairs, Ulutas attended and graduated from the Hebrew University of Jerusalem where he studied the Hebrew language and Middle East policy. He is described by peers as very polished, clever and pro-Palestinian. 
Between 2013 to 2018, Ulutas worked as a foreign policy director at the SETA Foundation in Washington, D.C., an independent nonpartisan think tank for political, economic and social research.
He believes in a two-state solution.
One obstacle to reconciliation between Israelis and Palestinians has been the Middle East foreign policy under the Trump administration, he has said.
"The U.S. unilateralism is one of the problems we've had so far in the Arab-Israeli conflict," Ulutas stated, referring to Trump moving the U.S. Embassy to Jerusalem and recognition of the occupied Golan Heights as Israeli. "With these steps, the U.S. chose to be a part of the problem instead of the solution." 
Ulutas said another obstacle to peace is divisions in Middle East politics, which have made the Palestinians "even more vulnerable" to outside influences. He also blamed the lack of participation from international community.
"It's as if the whole fight of peacemaking in the Israel-Palestinian conflict has been given to the Americans, the U.S." he said. "The other international institutions, the European Union for example, have been quite passive about finding a solution to the Israel-Palestine conflict."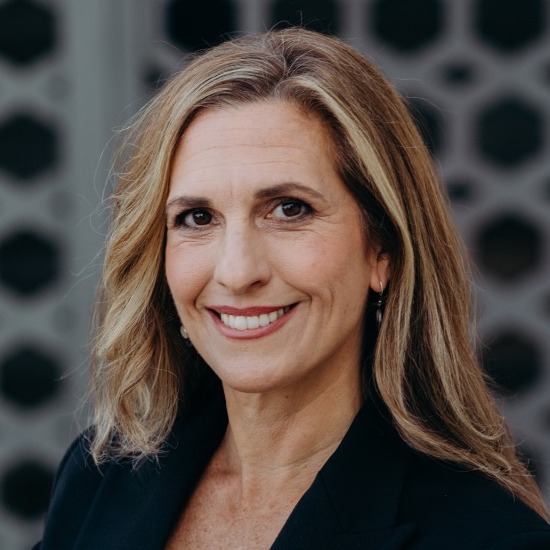 Nicole Jansezian is the news editor for both ALL ISRAEL NEWS and ALL ARAB NEWS and senior correspondent for ALL ISRAEL NEWS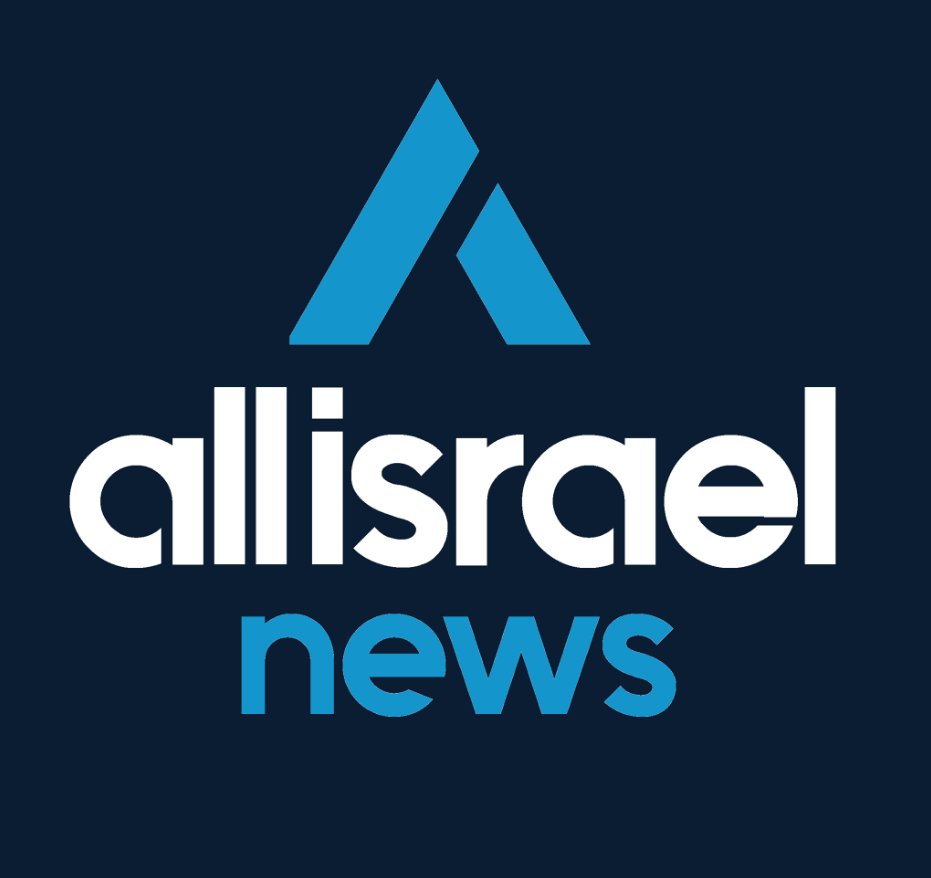 The All Israel News Staff is a team of journalists in Israel.
A message from All Israel News
Help us educate Christians on a daily basis about what is happening in Israel & the Middle East and why it matters.
For as little as $5, you can support ALL ISRAEL NEWS, a non-profit media organization that is supported by readers like you.
Donate to ALL ISRAEL NEWS
Current Top Stories
Comments