Tourism finally picking up in Eilat, Israel's Red Sea resort city – and government working to draw more foreign tourists, boost economy
New initiatives includes partnerships with Aqaba, Jordan's southern resort city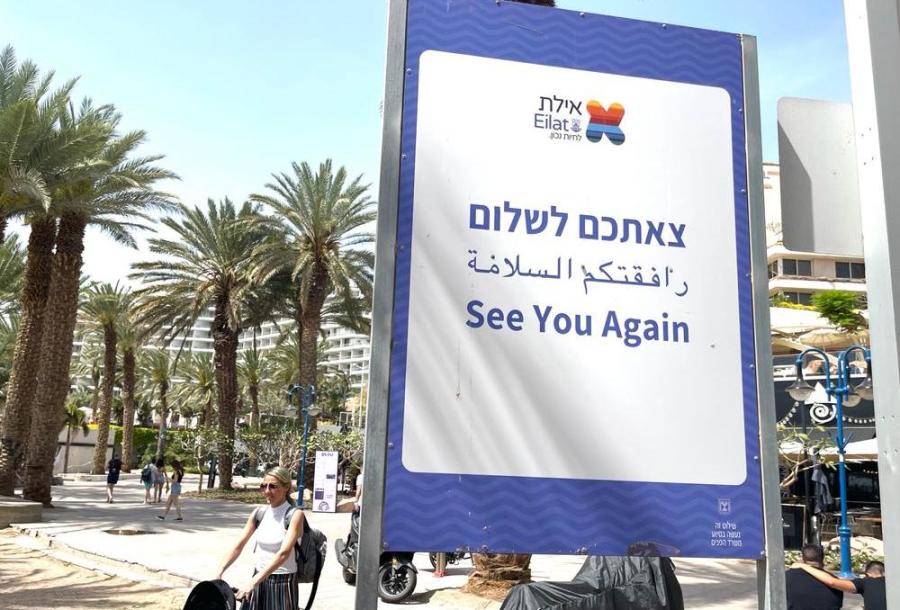 A sign at the entrance to Eilat (Photo: ALL ISRAEL NEWS)
EILAT, Israel—After two disastrous years for Israel's tourism industry due to the COVID pandemic, there is finally good news to report.
With winter rains over, the sun out and temperatures climbing, the beaches and pools are filling up, and so are the hotels, all throughout the country.
This is especially true in Eilat, Israel's southernmost resort city, located on the Red Sea. 
Though only 52,000 Israelis live here, some 200,000 tourists visited Eilat in 2019, according to government statistics. Tourism – and duty free shopping – is essential to the local economy and the source of most jobs.
For most of 2020 and 2021, however, foreign tourists were not allowed into Israel at all.
With Israelis severely restricted by lockdowns and mask mandates, few came to Eilat. At one point, entry into the city was limited to those with a Green Passport, meaning a certificate of vaccination, recovery from COVID or a negative PCR test.
The economy here nearly shut down and many Israelis were laid off from their jobs.
But finally – thank God – the lockdowns are over.
Starting March 1, foreign tourists have been allowed back in Israel, even if they are not vaccinated.
Masks are still required inside hotels and shops, but not when people are eating and drinking at bars and restaurants, when lounging by pools, or out on the beaches.
So, both Israelis and foreigners are once again flocking here – and to the southern Negev desert region – to take advantage of the gorgeous weather and spectacular scenery.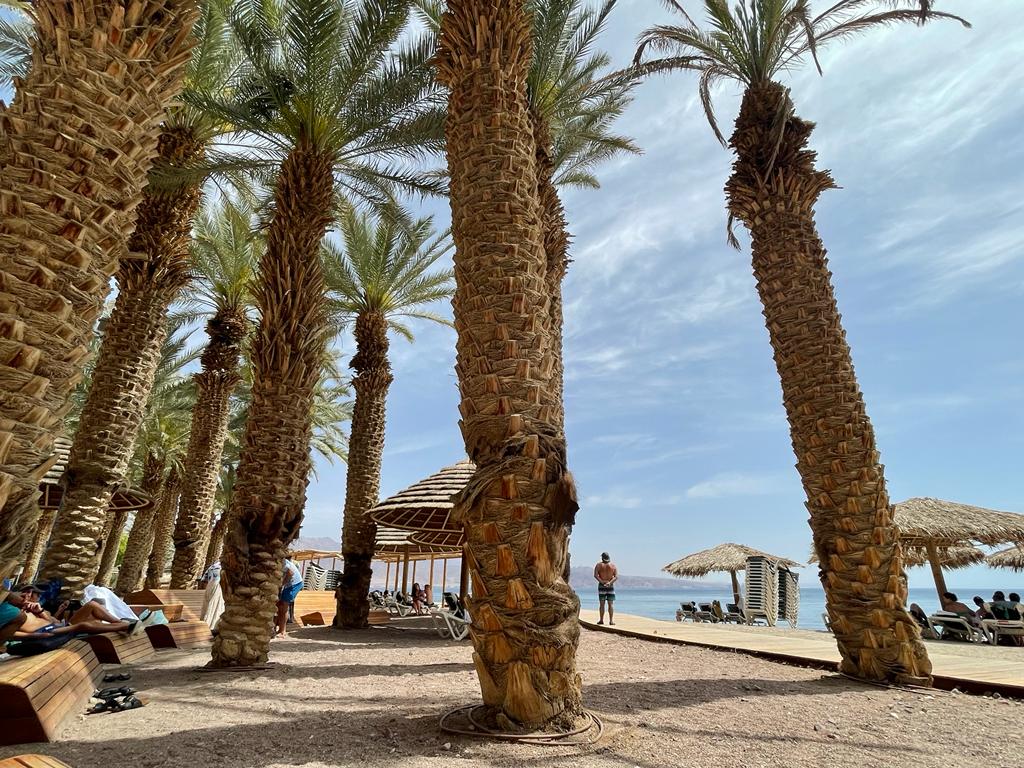 Beach resort in Eilat (Photo: ALL ISRAEL NEWS)
HOTEL PRICES SOARING AHEAD OF HOLIDAYS
With the Passover and Easter holidays fast approaching, most of Eilat's 50 hotels and 11,000 hotel rooms are booked solid.
Prices for the rooms that remain during the holidays are skyrocketing.
So are prices for the rapidly dwindling number of Airbnb rooms.
But that's not enough – the Israeli government has launched a series of new initiatives to draw more foreign tourists and boost economic growth and job creation. 
ISRAELI TOURISM MINISTRY TO PARTIALLY SUBSIDIZE  FOREIGN FLIGHTS TO EILAT
"Eilat's economy relies heavily on tourism," said Dani Shahar, Director-General of Israel's Ministry of Tourism. "Therefore, the Ministry is interested in promoting direct flights from other countries to Eilat, in order to increase the number of foreign tourists arriving in the city."
"For this purpose, the Ministry will participate in the costs of operating direct flights to Eilat, as detailed in the following Directive," Shahar announced on April 6.
The Tourism Ministry will partially subsidize the cost of these foreign flights operating from Sept. 1 until May 31, 2023, with the exception of the fall and spring high holiday weeks. 
"As a part of our efforts in promoting the Negev brand, the Ministry of Tourism has been investing in actions to improve infrastructure in the region and assisted in building new accommodation facilities from high-end hotels to campsites and caravan parks," he added. "This investment strategy in infrastructure and accommodation in the desert continues to expand today and is planned to continue in the future."
In January 2019, Israel inaugurated its beautiful new airport Ilan Ramon International Airport, just 11 miles north of Eilat.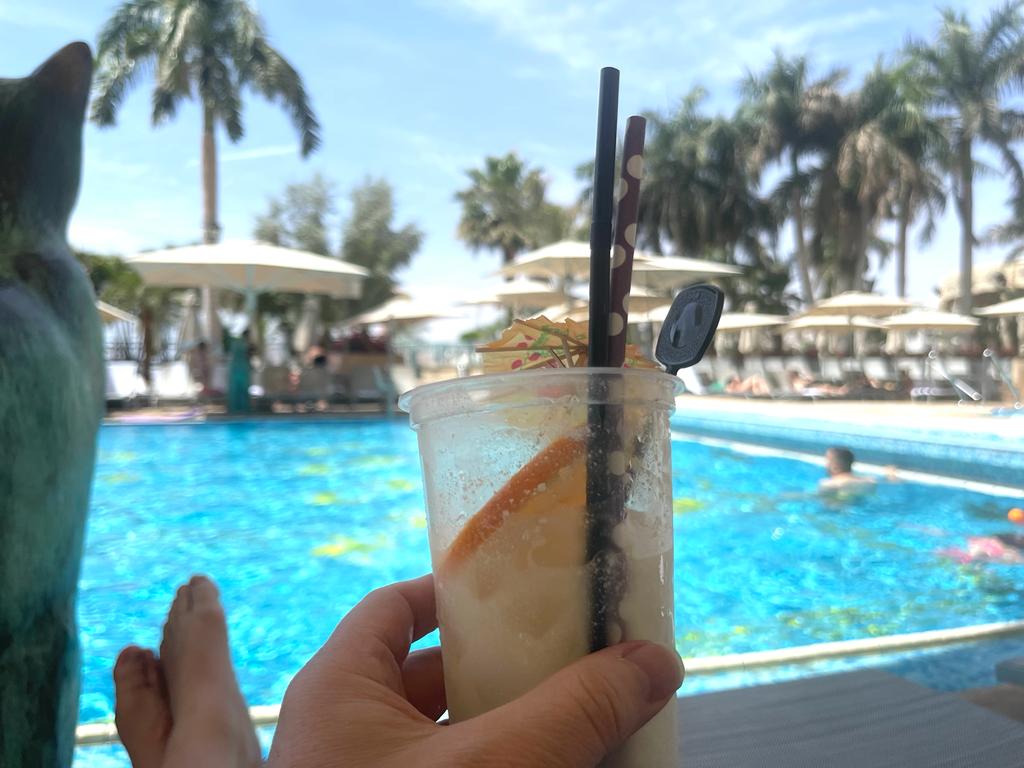 Beach resort in Eilat (Photo: ALL ISRAEL NEWS)
EILAT AND AQABA LEADERS WORKING TO CREATE MORE JOBS
In February, Eilat Mayor Eli Lankri and Nayef al-Bakhit, who oversees the Special Economic Zone Authority in Aqaba – Jordan's southernmost resort city next door to Eilat – met together to explore new ways to cooperate on tourism and job creation initiatives.
The move comes after significant efforts by Prime Minister Naftali Bennett, Foreign Minister Yair Lapid and Defense Minister Benny Gantz to strengthen and improve relations with Jordan's King Abdullah II in recent months. 
"The strengthening of ties constitutes an important means of deepening peace relations in the region," Lankri told reporters.
"Other projects presented during the summit were the possibility of establishing a joint industrial plant, establishing a 'peace terminal' – a joint Israel-Jordanian area at the border crossing to be used for meetings between service providers or merchants – and a 'Peace Park' – an underwater diving site established with European Union backing," reported the Times of Israel. 
"Beyond the local cooperation, and the strengthening of close neighborly relations between Eilat and Aqaba, we view the summit that took place yesterday as another step in promoting and expanding political relations between Israel and Jordan," said Foreign Ministry Deputy Director General of the Middle East and the Peace Process unit Oded Yosef, referring to the recent Negev Summit of Arab-Israeli peace partners, even though Jordan's foreign minister did not attend. 

Joel C. Rosenberg is the editor-in-chief of ALL ISRAEL NEWS and ALL ARAB NEWS and the President and CEO of Near East Media. A New York Times best-selling author, Middle East analyst, and Evangelical leader, he lives in Jerusalem with his wife and sons.
A message from All Israel News
Help us educate Christians on a daily basis about what is happening in Israel & the Middle East and why it matters.
For as little as $5, you can support ALL ISRAEL NEWS, a non-profit media organization that is supported by readers like you.
Donate to ALL ISRAEL NEWS
Current Top Stories
Comments