Tonight on THE ROSENBERG REPORT, former VP Mike Pence says America needs revival, warns of another 9/11, discusses controversial new book, 'SO HELP ME GOD'
Pence's surprisingly feisty and fascinating memoir named the ALL ISRAEL NEWS recommendation for March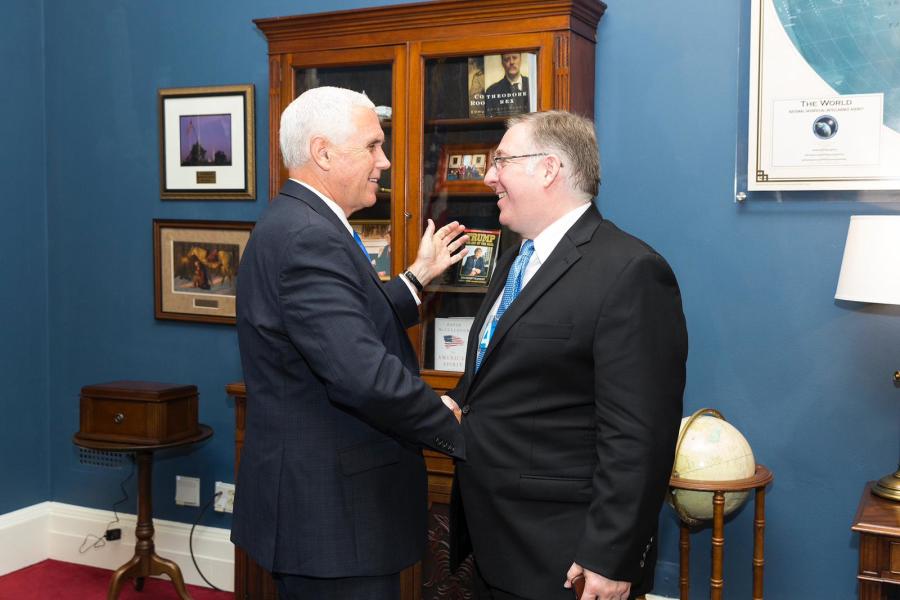 U.S. Vice President and Joel C. Rosenberg (Photo: ALL ISRAEL NEWS)
JERUSALEM, ISRAEL – In April 2021, former Vice President Mike Pence signed a huge book deal with Simon & Schuster, worth between $3 million and $4 million, according to media reports.  
But the whole project became instantly controversial inside the publishing house.
"A petition soon followed, signed by more than 200 staff members – or 14% of the staff, plus about 3,500 outside supporters, including Simon & Schuster authors,  demanding that the company scrap the Pence memoir, part of a two-book deal, and refrain from making any deals with members of the Trump administration," reported the Wall Street Journal the following month.
The petition argued that "Mr. Pence advocated for policies that were racist, sexist and discriminatory, and that publishing the book would be 'legitimizing bigotry.'"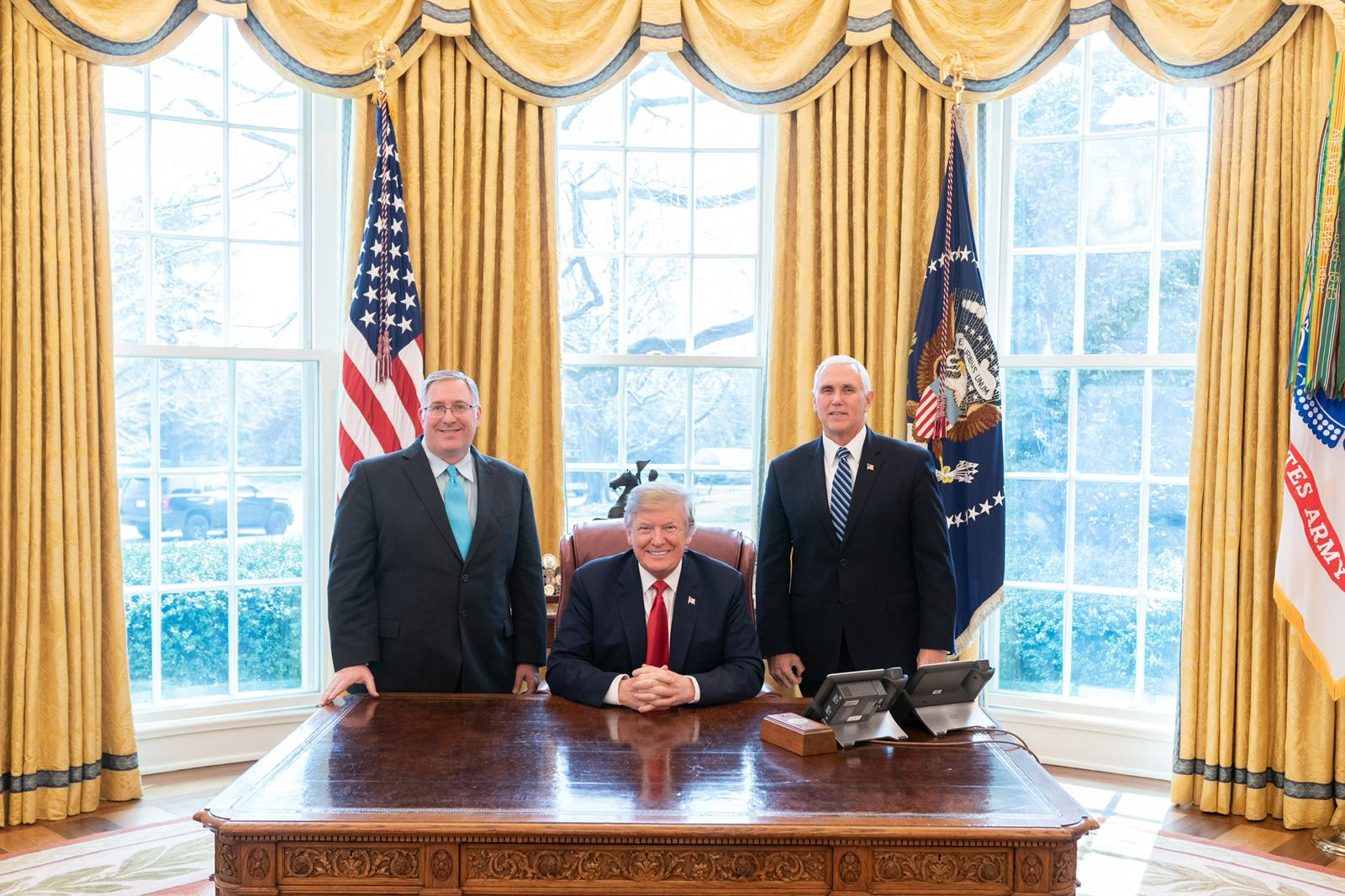 Joel C. Rosenberg meets U.S. President Donald Trump and Vice President Mike Pence (Photo: ALL ISRAEL NEWS)
When SO HELP ME GOD was finally released last November, the book became even more controversial.
Many die-hard supporters of former U.S. President Donald Trump hate the book and its author with real venom.
Why?
Because Pence refused to go along with Trump's insistence that a sitting vice president could single-handedly overturn the election results and give Trump another four years in office.
Progressives and other lefties hated the book because Pence is so open about his faith in Jesus Christ and how his faith drives his life and policies, not to mention his conservative values and free-market policies.
Despite all the controversy – or maybe because of it – SO HELP ME GOD became an instant New York Times best-seller.
It reached as high as #2, just behind Michelle Obama's memoir.
I finished reading it a few weeks ago and absolutely loved it.
It was far more feisty than I imagined.
Pence pulls no punches on the biggest controversies of the day, including what happened in the 2020 elections and on Jan. 6.  
That's why I've named SO HELP ME GOD our book recommendation for March.
Tonight on THE ROSENBERG REPORT, I sit down with the former vice president for Part One of a two-part exclusive interview.
The program airs at 9 p.m. EST.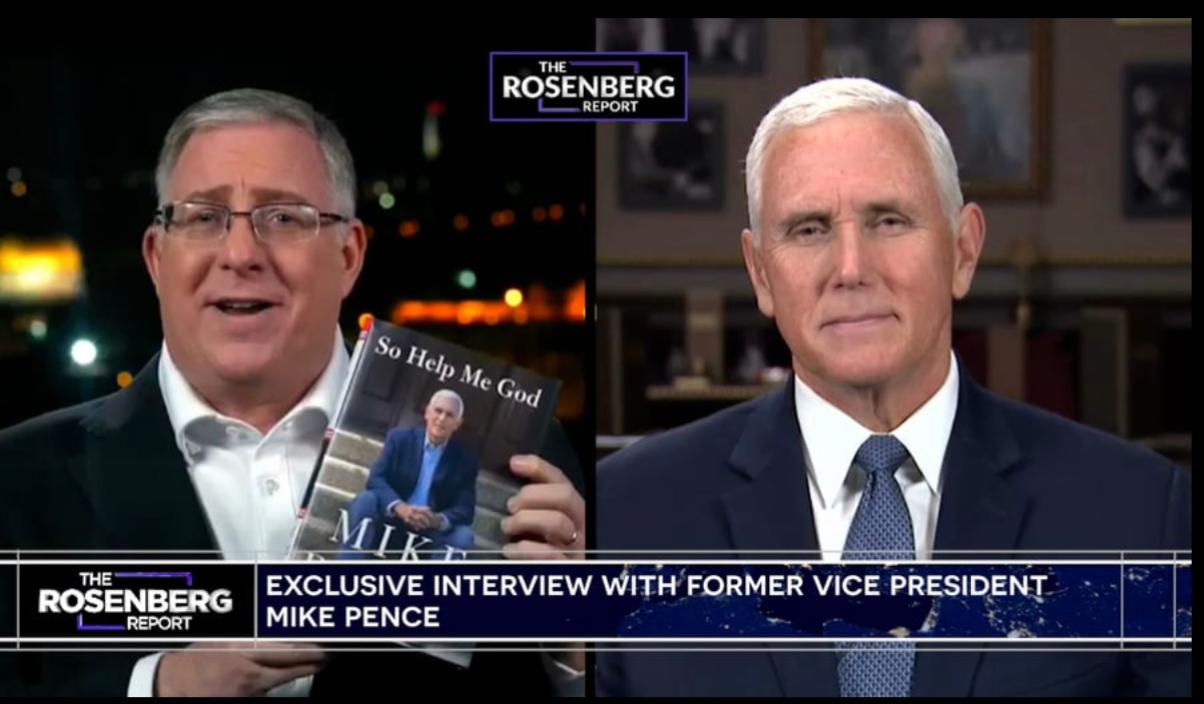 Joel C. Rosenberg interviews former Vice President Mike Pence (Photo: Screenshot/The Rosenberg Report/TBN)
[To learn more about the show, visit www.RosenbergReport.TV.]
Don't miss either episode, because we will cover a lot of ground.
How close did Pence and his wife and daughter come to being lynched at the U.S. Capitol on Jan. 6?

What really happened in the incredibly tense final meetings between Pence and Trump?

Does Pence even have a relationship with Trump anymore?

Why does Pence fear that U.S. President Joe Biden's policies are driving America off a cliff?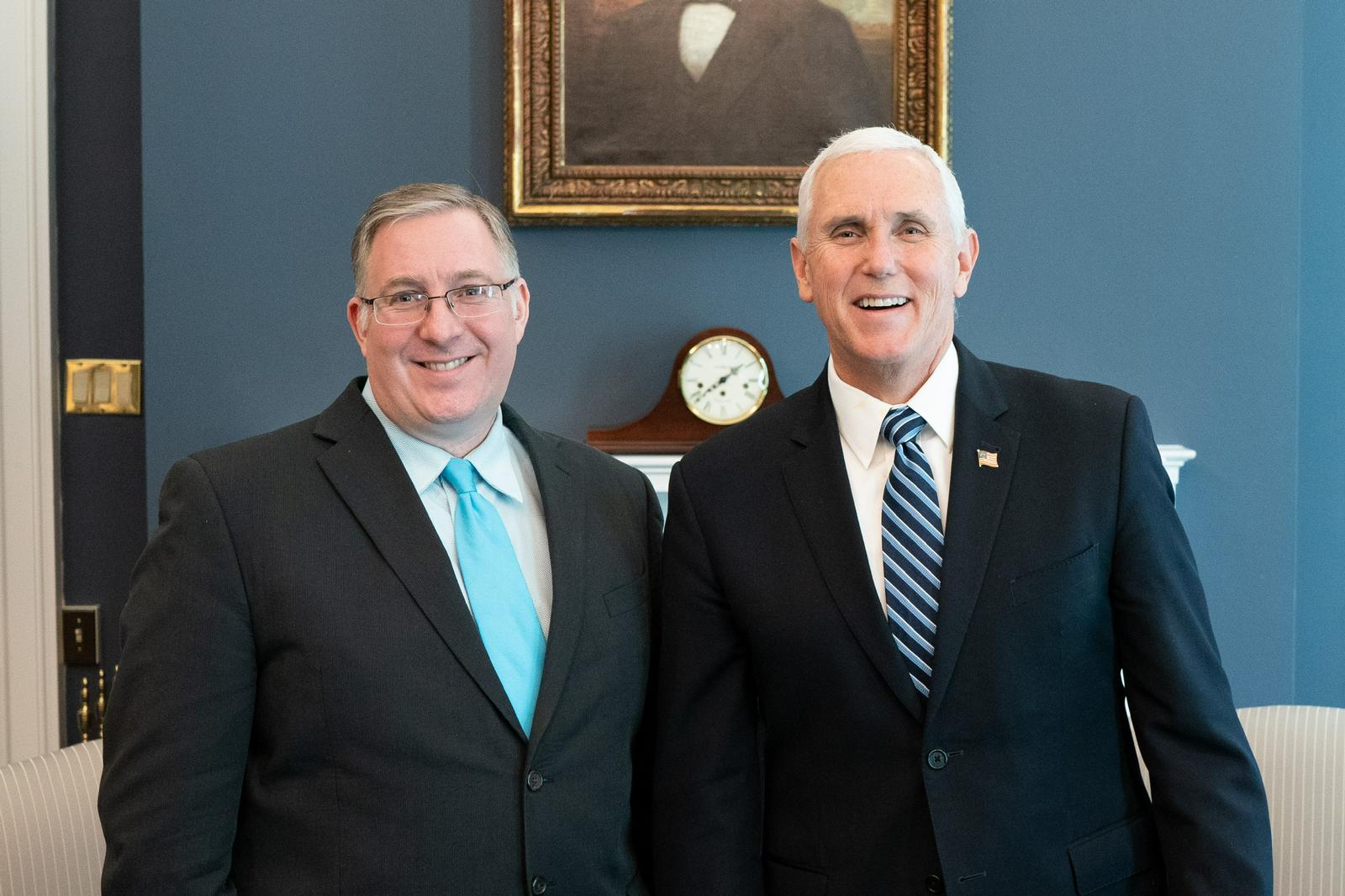 U.S. Vice President Mike Pence and Joel C. Rosenberg (Photo: ALL ISRAEL NEWS)
Why does he fear that Biden's border policies could lead to a massive terror attack – or series of attacks – that could dwarf those of 9/11?

How did Pence, who was raised a nominal Catholic from an Irish heritage, come to faith in Jesus Christ on the campus of Asbury University, the very place where the new "Asbury Revival" has broken out?

Does Pence believe America is heading for implosion or another Great Awakening?

Why did so many Trump advisors try to persuade the president not to move the U.S. embassy from Tel Aviv to Jerusalem, and why did Pence help persuade Trump to do it anyway?

Why does Pence believe we're seeing Bible prophecy come true before our very eyes?

And is Pence really going to challenge Trump for the 2024 GOP nomination, a move that would be unprecedented in American political history?
This is one of the most interesting interviews I've conducted so far for THE ROSENBERG REPORT.
And I think you may be surprised by what this former congressman, governor and vice president has to say.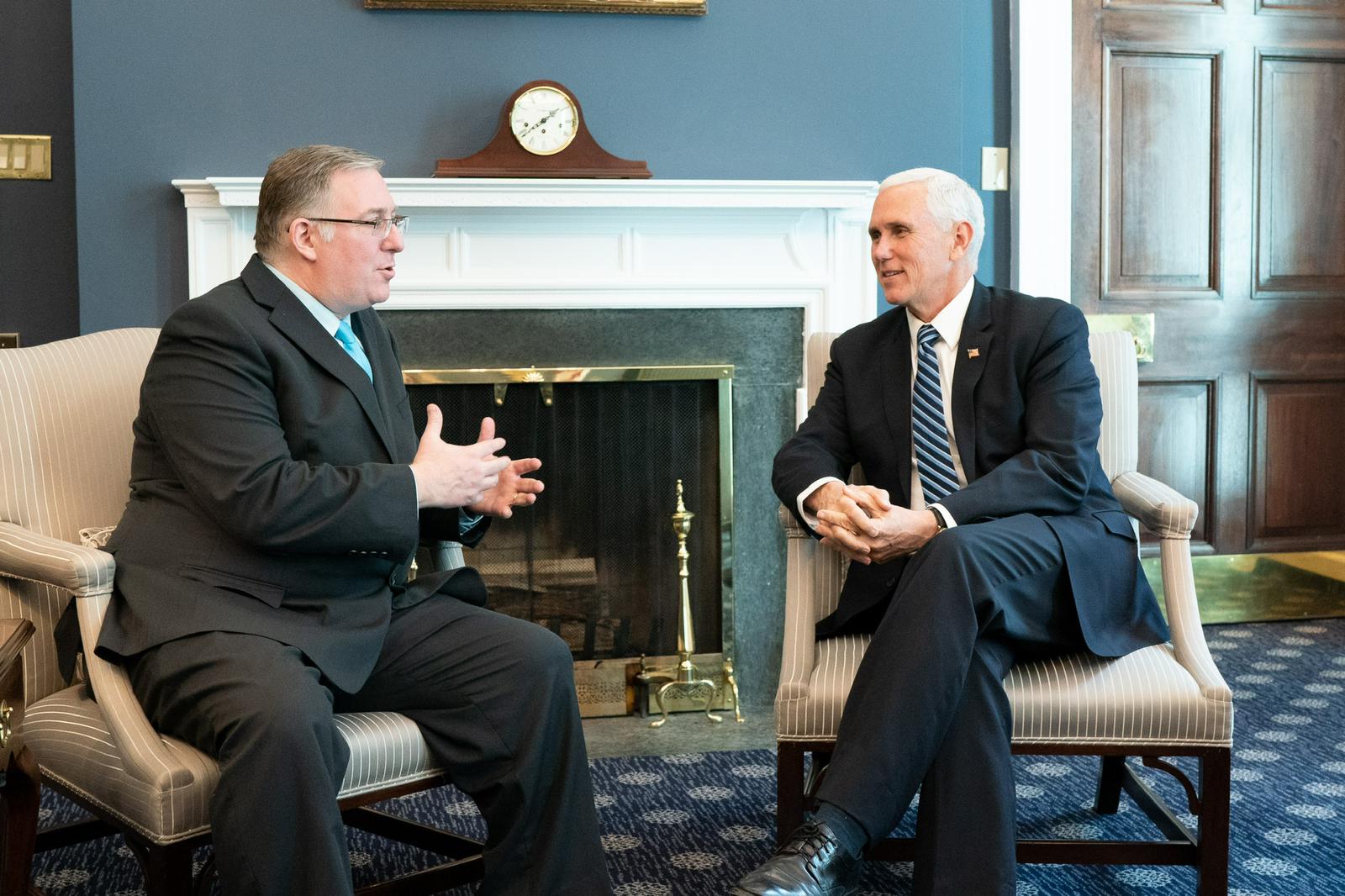 Joel C. Rosenberg meets U.S. Vice President Mike Pence (Photo: ALL ISRAEL NEWS)

Joel C. Rosenberg is the editor-in-chief of ALL ISRAEL NEWS and ALL ARAB NEWS and the President and CEO of Near East Media. A New York Times best-selling author, Middle East analyst, and Evangelical leader, he lives in Jerusalem with his wife and sons.
A message from All Israel News
Help us educate Christians on a daily basis about what is happening in Israel & the Middle East and why it matters.
For as little as $5, you can support ALL ISRAEL NEWS, a non-profit media organization that is supported by readers like you.
Donate to ALL ISRAEL NEWS
Current Top Stories
Comments