Tonight on THE ROSENBERG REPORT, former US VP Pence takes me inside Jan. 6 chaos, says it's 'un-American' to think he could have unilaterally decided 2020 election
Don't miss Part 2 of our explosive conversation
Joel C. Rosenberg interviews former U.S. Vice President Mike Pence on The Rosenberg Report (Photo: Screenshot)
JERUSALEM, ISRAEL – Don't miss tonight's episode of THE ROSENBERG REPORT, especially in light of the argument that Tucker Carlson is making on Fox News in recent days that the events of Jan. 6, 2021 weren't really so chaotic an violent.
Indeed, whatever you think about the incident on Jan. 6 – and whomever you hold responsible – you'll want to see my exclusive and explosive interview with former Vice President Mike Pence.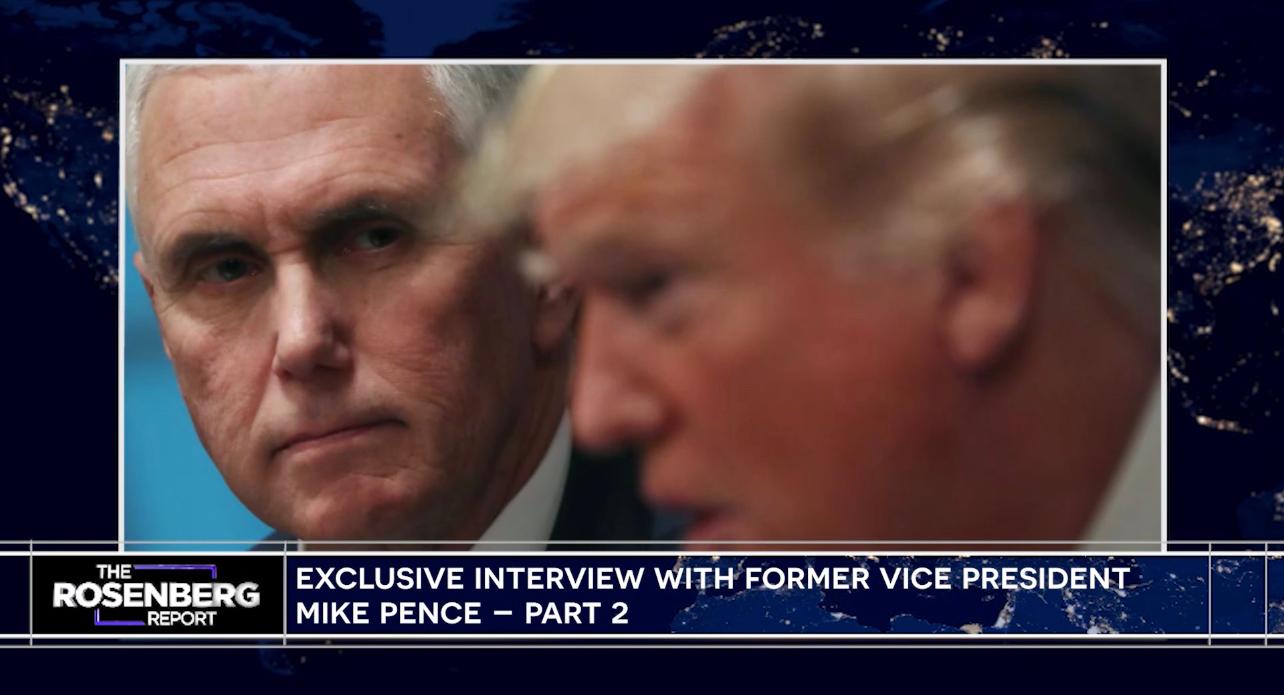 (Photo: Screenshot/The Rosenberg Report)
I press him on the questions we all want answers to:
How close did Pence and his wife, Karen, and daughter, Charlotte, come to being lynched at the U.S. Capitol during the violent and chaotic events of Jan. 6?

What really happened during the incredibly tense final meetings between Pence and Trump?

Is it really true that when Pence told Trump that he would be praying for him that the president snapped back, "Don't bother"?

Does Pence even have a relationship with Trump anymore?

And is Pence actually going to challenge Trump for the 2024 GOP nomination, a move that would be unprecedented in American political history?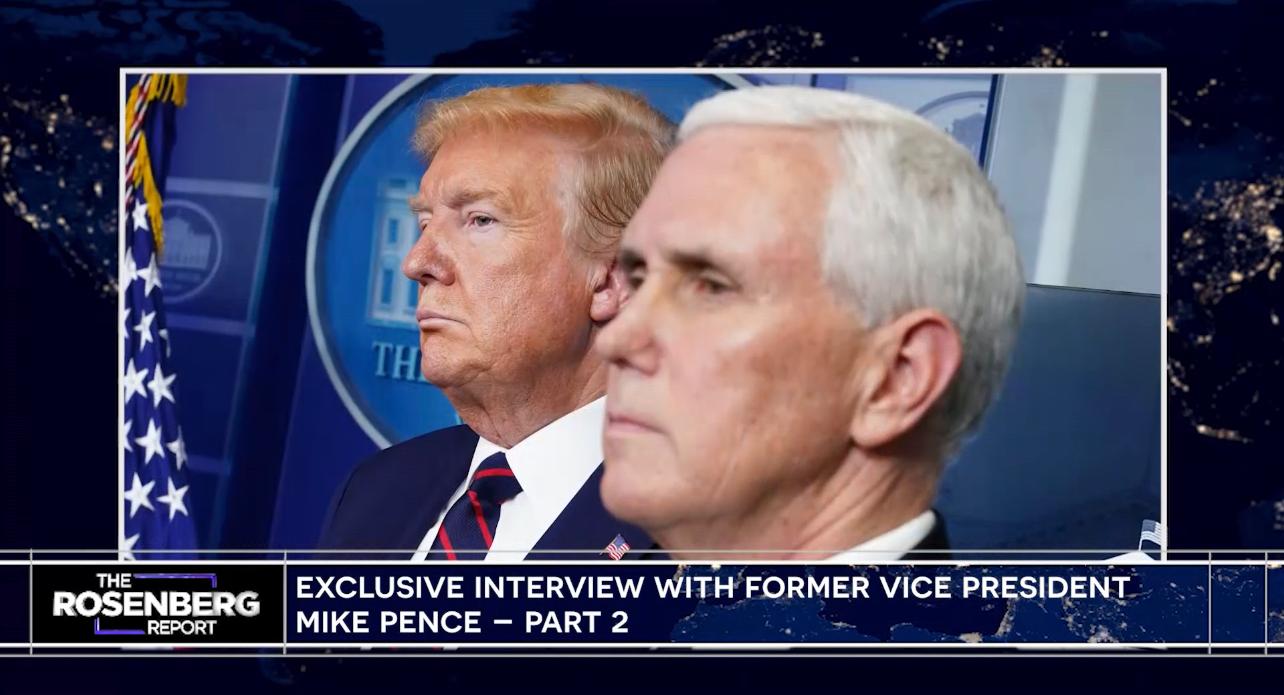 (Photo: Screenshot/The Rosenberg Report)
As you'll see tonight, Pence remains true to his Evangelical faith and "Midwestern nice" values.
But he doesn't pull any punches.
When I asked him why he rejected Trump's argument that the Constitution allowed him as vice president to unilaterally change the outcome of the 2020 election, Pence called such a notion "un-American."
Pence also tells me how he told Trump to his face how "angry" he was about the president's conduct leading lead up to Jan. 6 and on that fateful and tragic day.
We'll show you video you may not have seen before from inside the Capitol and audio recordings of the United States Secret Service trying to get Pence to a secure location while rioters storm into the Capitol and shout, "Hang Mike Pence!"
THE ROSENBERG REPORT airs tonight at 9 p.m. EST on TBN.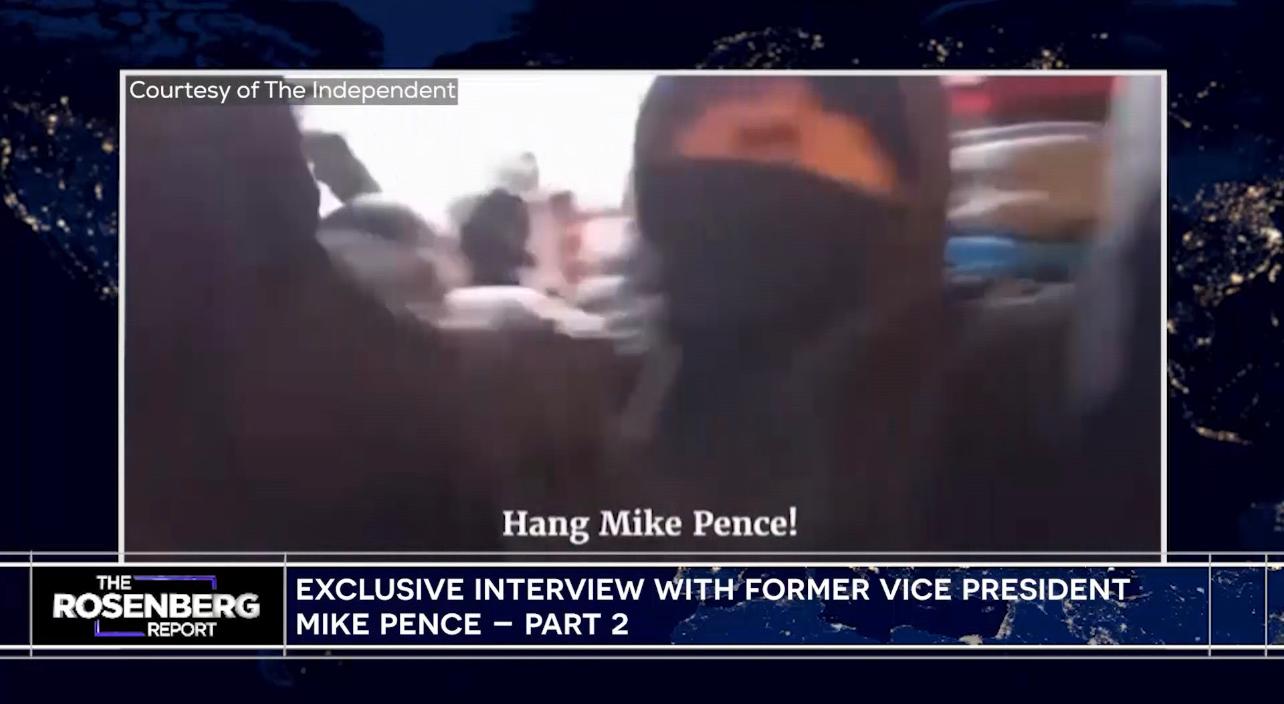 (Photo: Screenshot/The Rosenberg Report)
MEET THE PRESIDENTIAL CANDIDATES
As the 2024 presidential race begins to intensify, I'm conducting a series of interviews with potential contenders.
We're airing these interviews on THE ROSENBERG REPORT, my primetime show on TBN, the world's foremost Christian TV network.
Last week, we ran Part 1 of my two-part series of interviews with former Vice President Mike Pence.
We discussed his feisty and fascinating new book, SO HELP ME GOD, which ALL ISRAEL NEWS recently named our Book Club's "top recommendation" for March. (Click here to watch Part 1 of our conversation)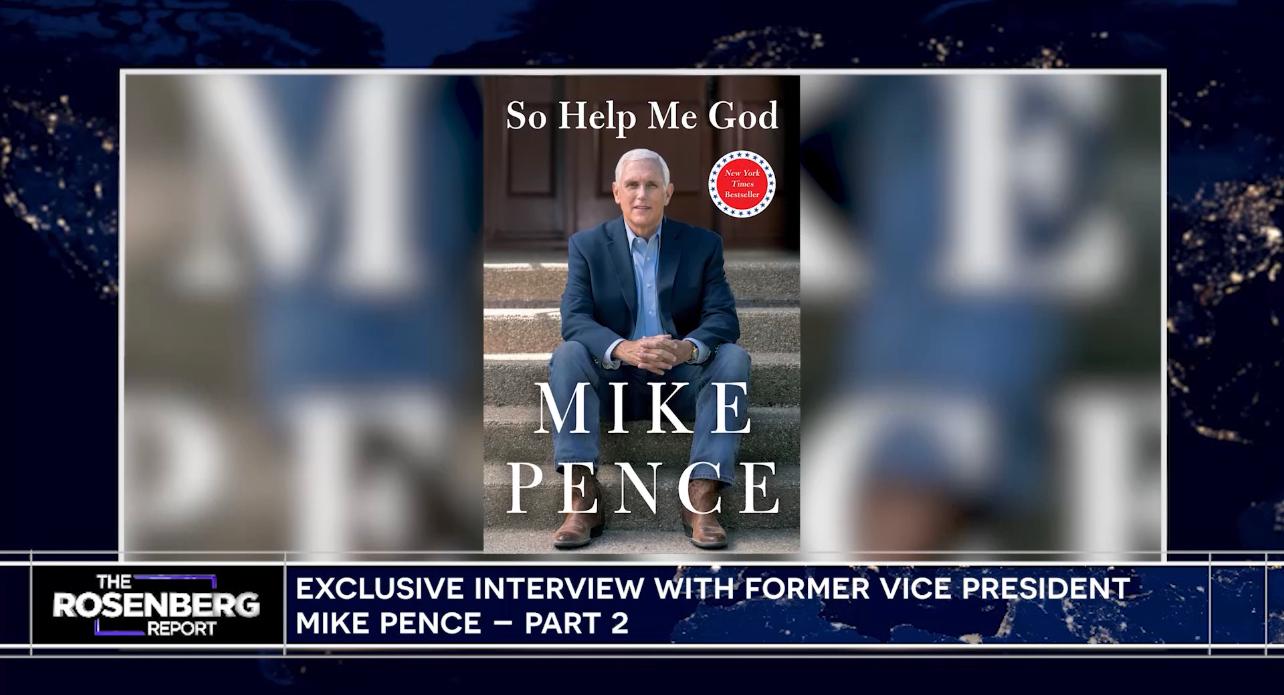 (Photo: Screenshot/The Rosenberg Report)
Other topics we discussed in that episode:
Why does Pence fear that U.S. President Joe Biden's policies are driving America off a cliff?

Why does he fear that Biden's border policies could lead to a massive terror attack – or series of attacks – that could dwarf those of 9/11?

How did Pence, who was raised a nominal Catholic from an Irish heritage, come to faith in Jesus Christ on the campus of Asbury University, the very place where the new "Asbury Revival" broke out? 

Does Pence believe America is heading for implosion or another Great Awakening?

Why did so many Trump advisors try to discourage the president from moving the U.S. embassy from Tel Aviv to Jerusalem, and why did Pence help persuade Trump to do it anyway?

Why does Pence believe we're seeing Bible prophecy come true before our very eyes?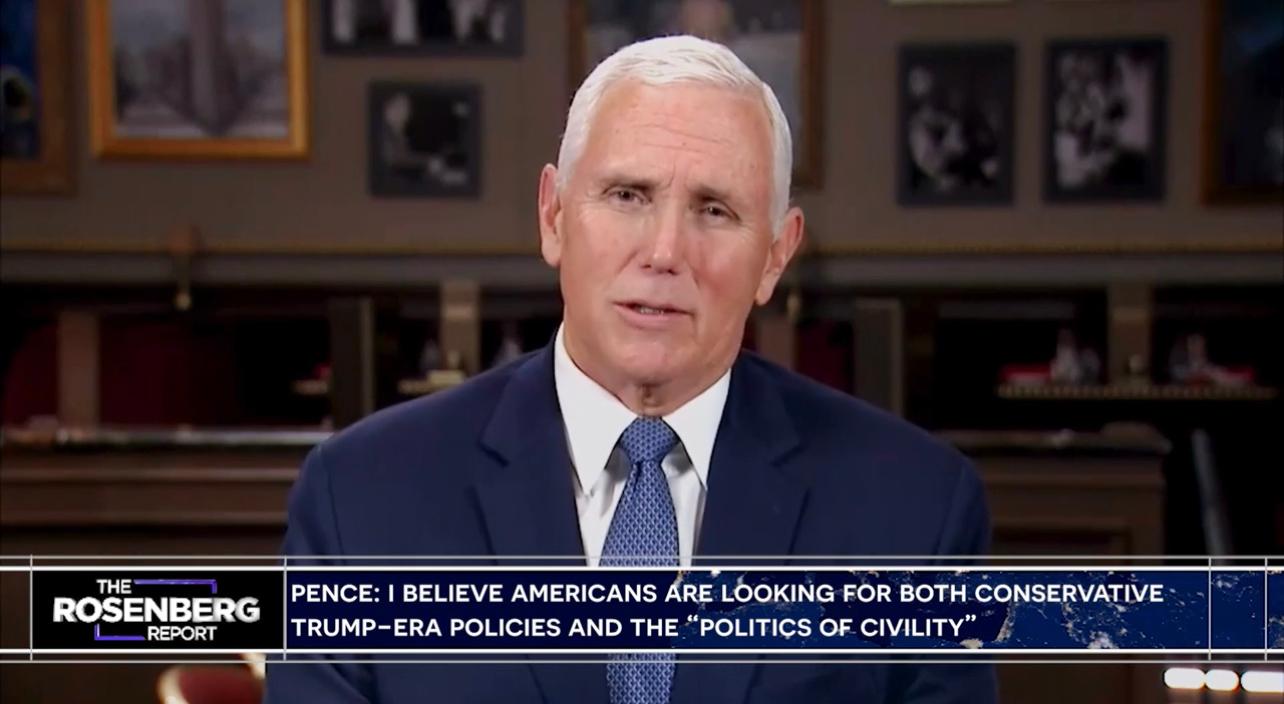 (Photo: Screenshot/The Rosenberg Report)
Several weeks ago, I did a two-part series of interviews with former Secretary of State and CIA Director Mike Pompeo. (Click here and here to watch).
We've also received requests to talk to:
Former U.S. President Donald Trump, to get his side of the story and discuss his vision for 2024 and beyond.

Florida Governor Ron DeSantis, to discuss his new book, why he believes his policies in the Sunshine State are a blueprint for American revival and why he thinks his national poll numbers are rising so rapidly. 

Former South Carolina Governor – and U.S. Ambassador to the United Nations – Nikki Haley on why she's running and believes she has a real shot at becoming the first woman in American history to be elected President of the United States.
It's all part of my commitment to make sure readers of ALL ISRAEL NEWS and viewers of THE ROSENBERG REPORT are the best-informed and most-prayerful people in the world when it comes to matters regarding Israel, the Arab/Muslim world, U.S.-Israel relations, and what God is doing in this chaotic and crazy world of ours.
So, please join us tonight at 9 p.m. EST.
And for past episodes of THE ROSENBERG REPORT, please go to www.RosenbergReport.TV.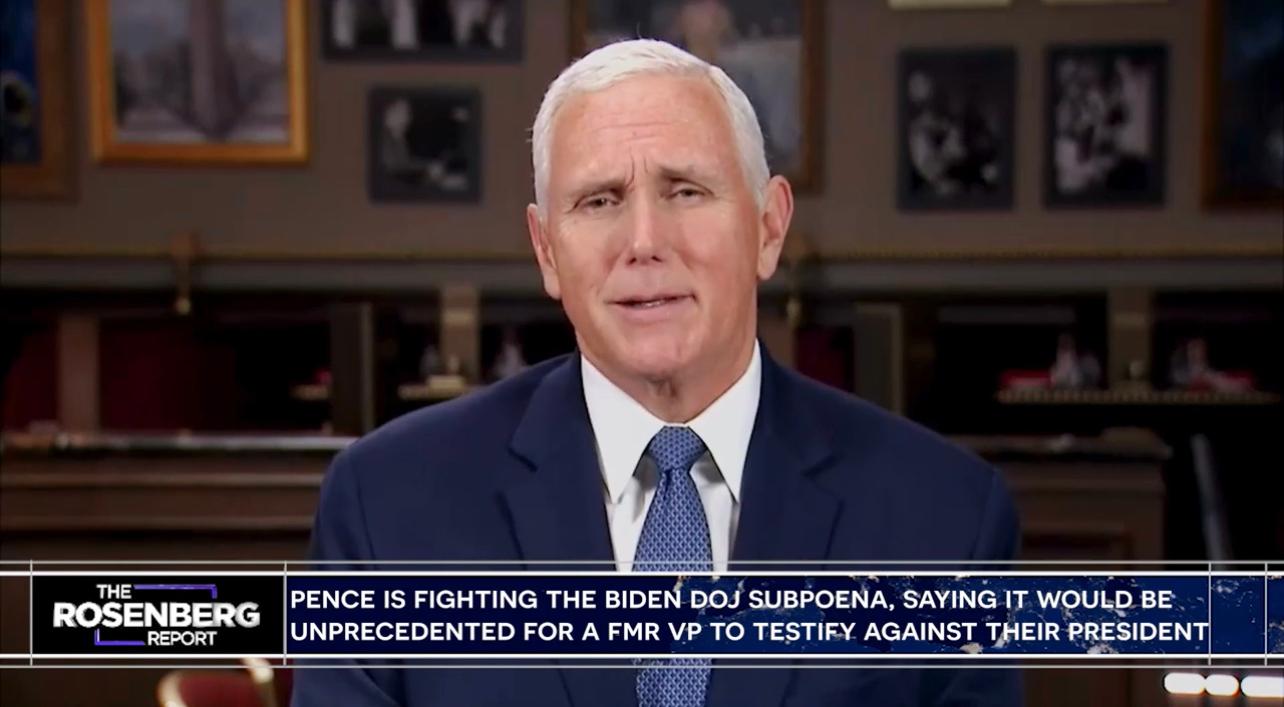 (Photo: Screenshot/The Rosenberg Report)

Joel C. Rosenberg is the editor-in-chief of ALL ISRAEL NEWS and ALL ARAB NEWS and the President and CEO of Near East Media. A New York Times best-selling author, Middle East analyst, and Evangelical leader, he lives in Jerusalem with his wife and sons.
Popular Articles
A message from All Israel News
Help us educate Christians on a daily basis about what is happening in Israel & the Middle East and why it matters.
For as little as $5, you can support ALL ISRAEL NEWS, a non-profit media organization that is supported by readers like you.
Donate to ALL ISRAEL NEWS
Latest Stories
Comments