The American Jewish vote and how it differs in Israel and the U.S.
Also: Details for Americans living in Israel looking to vote in upcoming election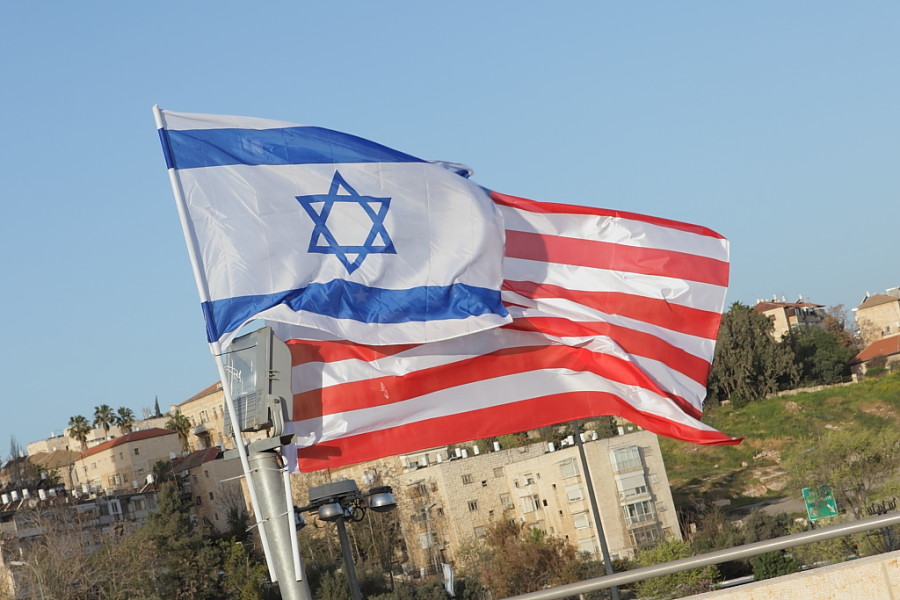 Israeli and American flags flying together in Jerusalem (Photo: Zeevveez/Wikimedia Commons)
With the presidential debate coming up on Tuesday, national survey results show that 70 percent of Jewish American voters view Democrat candidate Joe Biden in more favorable terms than the incumbent Donald Trump.
That 70 percent figure is more than 20 percent higher than the American electorate in general.
American Jewish voters traditionally vote Democrat, with 71 percent of Jewish voters choosing Democrat candidates and only 25 percent choosing Republicans since 1968. They also tend to prioritize domestic issues over Israel related issues.
Halie Soifer, executive director of the Jewish Democratic Council of America, has said American Jews blame Trump for an increase in anti-semitism and poor management of COVID-19.
However, American Jews who reside in Israel tend to vote largely Republican and vote on issues related to Israel.
In 2012, an exit poll of Americans who voted in Israel showed that  85 percent opted for Republican candidate Mitt Romney and only 14 percent for incumbent President Barack Obama.
And in 2008, "about 30,000 Americans in Israel voted absentee, of which a significant majority selected McCain (76 percent, compared with 78 percent for Obama in the U.S.)," according to report by Mairav Zonszein.
In 2016, Republican nominee Trump walked away with a far less impressive win over Democrat candidate Hilary Clinton - 49 to 44 percent - among Israeli-American voters, according to The Jerusalem Post.
Since his election, Trump's administration has made significant decisions that have benefitted Israel and broader peace in the Middle East, including the recognition of Jerusalem as Israel's capital, the relocation of the U.S. Embassy to Jerusalem, the recognition of Israeli sovereignty over the Golan Heights and the Abraham Accords peace treaty between Israel and the U.A.E. and Bahrain.
Democrat candidate Joe Biden, elected to the U.S. Senate in 1972 and vice president during the Obama Administration, also claims to be a staunch Israel supporter. He advanced assistance for Iron Dome development, the sale of F-35s to Israel and the $38 billion Memorandum of Understanding that locked in U.S. military aid to Israel for a decade.
"Biden is unwavering in his support for Israel's self defense and sovereignty," said Soifer. "The Jewish community support Biden in every issue, including Israel."
It remains to be seen how American-Israelis will vote on Nov. 3, but all eyes will be on Tuesday's debate and performances of the two candidates leading up to the election.
The Jewish vote, though only making up of 2 percent of the population, comprises 3 percent of the electorate vote. While there is no exact figure, the number of Americans living in Israel who are eligible to vote is believed to be, on the lower estimate, 160,000.
How Americans in Israel can vote from abroad
Absentee ballot voting depends on individual state requirements. Some require Faxed ballots, some email, and some mailed-in. Visit this link to register for your absentee ballot, or contact the U.S. Embassy Jerusalem Voting Assistance Officer at Jerusalemvote@state.gov or the U.S. Embassy Jerusalem, Branch Office Tel Aviv Voting Assistance Officer at VoteTelAviv@state.gov
A message from All Israel News
Help us educate Christians on a daily basis about what is happening in Israel & the Middle East and why it matters.
For as little as $5, you can support ALL ISRAEL NEWS, a non-profit media organization that is supported by readers like you.
Donate to ALL ISRAEL NEWS
Current Top Stories
Comments