Senior Trump advisor, fresh back from Riyadh, tells ALL ISRAEL NEWS he has 'high hopes' Saudis will make peace with Israel
In exclusive interview, Jason Greenblatt shares backstory to how Abraham Accords came about, and why a new "gold rush" is underway in Mideast
Jason Greenblatt, assistant to the President, Special Representative for International Negotiations meets with Israeli Prime Minister Benjamin Netanyahu in Jerusalem. June 20, 2017. (Photo: Haim Zach/GPO)
JERUSALEM – One of the architects of U.S. President Donald Trump's Middle East peace strategy says he has "high hopes" the Kingdom of Saudi Arabia will make peace with Israel.
He is also excited about the surge of business deals underway between Israel and Gulf Arab states and is seeing firsthand mounting evidence that a "gold rush" is underway in the Middle East. 
Jason Greenblatt, who served as a senior White House advisor for international negotiations – and is now an advisor to Middle East business and financial executives – made no predictions about when the Saudis would make their move with Israel, but his optimism was clear.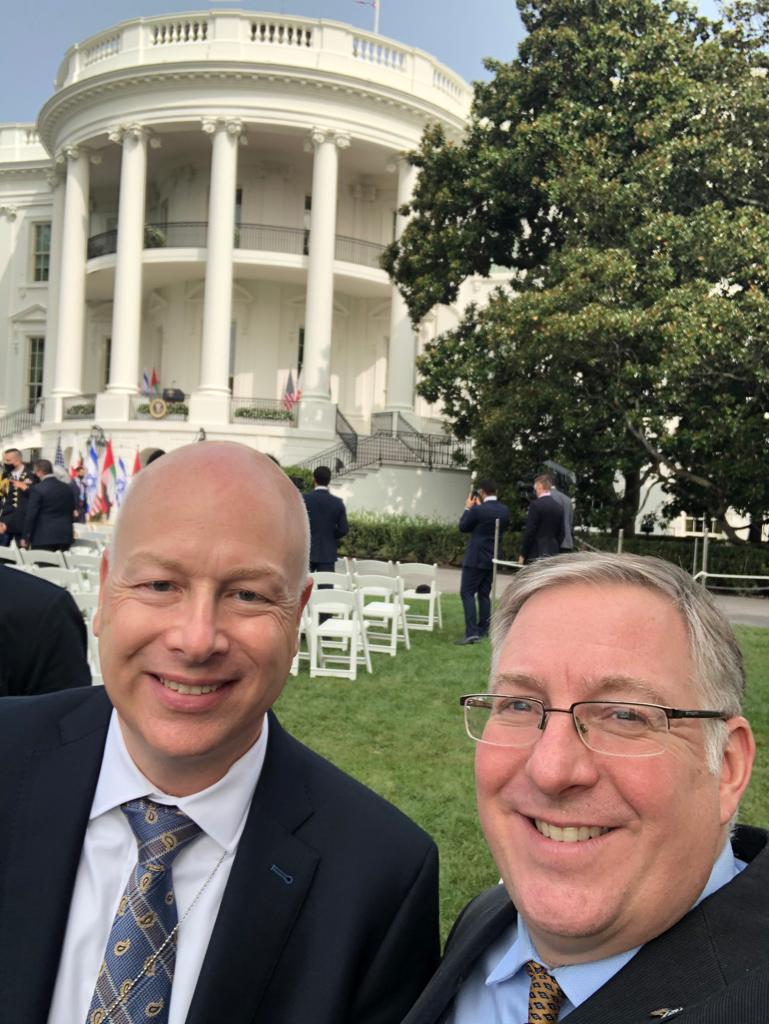 Jason Greenblatt and Joel C. Rosenberg at the signing of the Abraham Accords at the White House, Sep. 15, 2020 (Photo: All Israel News)
I interviewed him via Zoom last week, when we believed Israeli Prime Minister Benjamin Netanyahu was going to make his first state visit to the United Arab Emirates, and possibly to Bahrain. Unfortunately, Netanyahu postponed the trip – for the third time.
Still, Greenblatt's preview of what he expect from a Netanyahu meeting with UAE Crown Prince Mohammed bin Zayed is worth noting.
So were his insights from his time in Saudi Arabia at a conference of venture capitalists.
What's more, I asked Greenblatt to take me behind the scenes in the negotiations he was deeply immersed in that eventually led to the historic Abraham Accords. 
Here are a few excerpts from our conversation – but I encourage you to watch all 24 minutes: 
"Saudi Arabia…is not yet a partner in the Abraham Accords, but I have high hopes that eventually it will happen," Greenblatt told me. 

"I think that they [the Saudis] are going to realize just how much they have [in common] – just how much they are alike and how much they share the same vision [with Israel] for a proactive future of prosperity, stability and peace."

"What I'm trying to do now is create what I call a Middle East 2.0. I think that peace and stability and connections are heavily tied to building business ties. I've spent the better part of the last year, even through COVID, creating those ties. I represent a variety of companies, some of the hospitality and tourism sector, some of the security space, others in the product space."

"What I found at the beginning was – way before the Abraham Accords were announced – was that there was strong interest [among Gulf and Saudi businessmen in doing deals with Israel], but a slight trepidation."

"However, as soon as the Abraham Accords were announced, it really did become a gold rush."

"And I could tell you, even as of last week, I spent most of the week in Saudi Arabia at the FII [Future Investment Initiative] conference, you know, the the sovereign wealth funds, who hosted that conference. And I would say that my time not just at the conference itself, but visiting with friends in restaurants at their homes and just talking to them about the Abraham Accords, about Israel, about the region, the excitement is deeply palpable. And I would not have said that several months ago when I used to be on Zoom calls. You know, let's say just before the Abraham Accords, people were a little bit concerned about talking about Israel and not necessarily speaking about doing business with Israel….[But] today, even in Saudi, people are excited about the possibilities." 

"In particular, they're excited about His Royal Highness, the Crown Prince MBS' vision – and not just Vision 2030, but he just unveiled some great plans on the coast of the Red Sea, and his plans for Riyadh. People are excited about the region. I think that filters through everywhere – the United Arab Emirates, Bahrain, Qatar, certainly Morocco. I think we are about to see sort of a dawn of a new economic powerhouse among this group of countries. And, where possible, in partnership with Israel. And where not possible, at least not in the spotlight, in partnership with Israel or directly or indirectly in many ways."

"I do agree that [the Neom project hold great promise], having heard about the project so many times from His Royal Highness, the Crown Prince, and many of his advisors – and the proximity to where it is next to four different countries – I think it is a sign of what we hope will be a continued path from the Abraham Accords. I think there can be so much in that region. There's so much undeveloped land in Saudi Arabia. This is a particularly pristine and beautiful area of land. He's ready to pump a real fortune in there. And I think we should all watch it, because how often do you get to see something like that created out of nothing? And with the power of Saudi Arabia, I think that to create something just quite incredible."

Joel C. Rosenberg is the editor-in-chief of ALL ISRAEL NEWS and ALL ARAB NEWS and the President and CEO of Near East Media. A New York Times best-selling author, Middle East analyst, and Evangelical leader, he lives in Jerusalem with his wife and sons.
Popular Articles
A message from All Israel News
Help us educate Christians on a daily basis about what is happening in Israel & the Middle East and why it matters.
For as little as $5, you can support ALL ISRAEL NEWS, a non-profit media organization that is supported by readers like you.
Donate to ALL ISRAEL NEWS
Latest Stories
Comments