ROCKETS, RIOTS AND RAGE: More than 300 rockets fired at Israel so far – more than 700 wounded on Temple Mount and in West Bank
UPDATED 2 p.m. Israel time: Israel calls up 5,000 troops. Amid risk of new regional war, Netanyahu orders retaliatory strikes, warns terrorists will "pay a heavy price" – pray for calm to be restored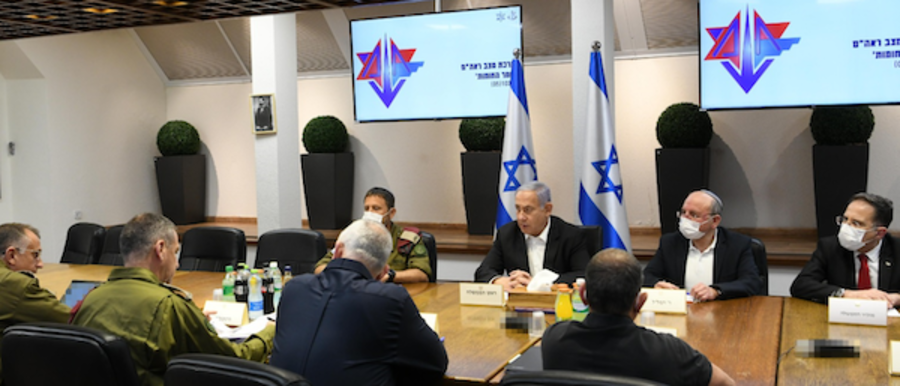 Prime Minister Netanyahu meets with Israel's defense minister, IDF Chief-of-Staff, and other national security officials in war room in Tel Aviv. (Photo: Amos Ben-Gershom, GPO)
JERUSALEM – It has been a painful night here in the Holy Land, and as the sun rises it's not clear whether the fighting will erupt into a deadly new regional war or whether a cease fire can be reached in the coming hours or days. 
Please continue to pray urgently – and mobilize others to pray – for calm and quiet to be restored for those living on both sides of the borders.
Since 6 p.m. Monday night, Palestinian terrorists in Gaza have fired more than 250 rockets, including seven at Jerusalem.
Israel has called up 5,000 reserve troops to deal with the situation.
The barrage of rockets continued throughout the night, as did the retaliatory strikes against Hamas and Islamic Jihad sites in the Gaza Strip by the Israeli Defense Forces.
Israel's Iron Dome system shot down many of the rockets, preventing thus far any Israeli deaths and minimizing injuries.
However, nearly 1 million Israeli civilians living in the southern part of the country are living in or close to their bomb shelters.
All Israeli schools are closed within 40 kilometers of the Gaza border, roads and trains in the southern tier have been shut by police and army units, and Israelis in the south have been told to "shelter in place" and not travel at all.
At least three Palestinians in Gaza were killed overnight when an errant rocket fired from Gaza at Israel landed in Gaza instead.
Other casualties in Gaza have been reported – Palestinian officials say 20 have been killed and 95 wounded – though it is not yet clear if the numbers are accurate.
RIOTS AND RAGE ON THE TEMPLE MOUNT AND BEYOND
Meanwhile, Arab rioting in the Old City of Jerusalem, on the Temple Mount (known to Muslims as the Haram al-Sharif) and throughout the West Bank has left more than 700 wounded, according to Palestinian officials.
Israel's police say at least 32 of their officers have been wounded.
After ongoing, but fairly minor, skirmishes over the past week by Israeli Arabs and Palestinians against Israeli police officers, far more serious violence erupted on Monday.
The day marked both the end of Ramadan – a month-long Muslim religious period of fasting and prayer – and "Jerusalem Day" in which Israelis celebrate the reunification of the Holy City during the Six Day War of 1967.
A number of Arab governments – including Jordan, the United Arab Emirates, Bahrain, Sudan, Morocco and Saudi Arabia – have condemned Israeli efforts to maintain calm on the Temple Mount and quell Muslim youth who have been rioting on the site sacred to Jews, Christians and Muslims, setting fires and throwing rocks at Jewish worshippers at the Western Wall and at Israeli police officers. 
NETANYAHU ORDERS IDF TO RETALIATE
Israeli Prime Minister Benjamin Netanyahu met during the wee hours of the morning with his Security Cabinet to assess the situation.
He ordered the deployment of additional IDF forces to the Gaza border, throughout Jerusalem and the West Bank, and retaliatory strikes against terror targets in the Gaza Strip.
"We are in a fight on several fronts: Jerusalem, Gaza and elsewhere in the country," Netanyahu said late Monday night. "This evening, on Jerusalem Day, the terrorist organizations in Gaza have crossed a red line and attacked us with missiles in the outskirts of Jerusalem."
"Israel will respond with great force," he vowed. "We will not tolerate attacks on our territory, on our capital, on our citizens and on our soldiers. Whoever attacks us will pay a heavy price."
The prime minister also warned the country that operations against the terrorists in Gaza would not be over quickly.
"I say to you, citizens of Israel, the current conflict could continue for some time," Netanyahu explained. "We do not seek escalation but whoever chooses to escalate will feel the weight of our arm. I cannot tell you about the assessments that I am holding with the security elements or about the actions that we are carrying out. This is an uncompromising fight that stems from a view of the overall picture. We are waging it with determination, responsibility and understanding."
"We will not fall into the traps of our enemies and we are not beholden to the keyboards of Twitter users," he said. "The test of leadership requires that the right decisions be made even when they are not understood at any given moment and their justification becomes clear later on."
"Whoever is incapable of leading and withstanding the pressure of criticism is unfit for leadership," Netanyahu added. "We will carefully choose the timing of our response and the force of the confrontation with our enemies. This is not new."
POLITICAL IMPLICATIONS?
Meanwhile, just as Israeli opposition leader Yair Lapid appeared poised to finalize coalition agreements this week to form a new government and remove Netanyahu from power, the escalating violence in Jerusalem and along the Gaza border has suddenly put those plans at risk.
Mansour Abbas – the increasingly influential Israeli Arab political leader, the head of the Ra'am party which has four seats in the Knesset – met with Netanyahu Monday afternoon.
During that meeting, Netanyahu reportedly urged Abbas not to help Lapid form a government.
For weeks, Netanyahu has been courting Abbas to help him remain prime minister.
As the violence spiked throughout the evening, Abbas then canceled a meeting with Lapid, who has also been aggressively courting Abbas and is unlikely to be able to form a government without Ra'am's support.
It was not immediately clear whether Abbas postponed the meeting because he was accepting Netanyahu's argument, or trying to make Lapid sweat in hopes of negotiating better terms for his party, or whether Abbas simply wanted to avoid the optics of an Arab politician negotiating to join an Israeli government while fellow Arabs were in open conflict with the IDF.
There is also the growing risk that, if violence continues to escalate, right-wing and center-right Knesset Members who have been considering joining a government with Lapid and the center-left, including with Arab leaders, will rethink their position and reject a deal with Lapid.
Should that happen, Israel could be forced to a fifth round of elections, which would then likely take place in the Fall.

Joel C. Rosenberg is the editor-in-chief of ALL ISRAEL NEWS and ALL ARAB NEWS and the President and CEO of Near East Media. A New York Times best-selling author, Middle East analyst, and Evangelical leader, he lives in Jerusalem with his wife and sons.
A message from All Israel News
Help us educate Christians on a daily basis about what is happening in Israel & the Middle East and why it matters.
For as little as $5, you can support ALL ISRAEL NEWS, a non-profit media organization that is supported by readers like you.
Donate to ALL ISRAEL NEWS
Current Top Stories
Comments