Religious Zionism wants to change the Law of Return. Here's why it matters
Whether Bezalel Smotrich's demand is serious and will be a part of any final coalition agreement is yet to be determined.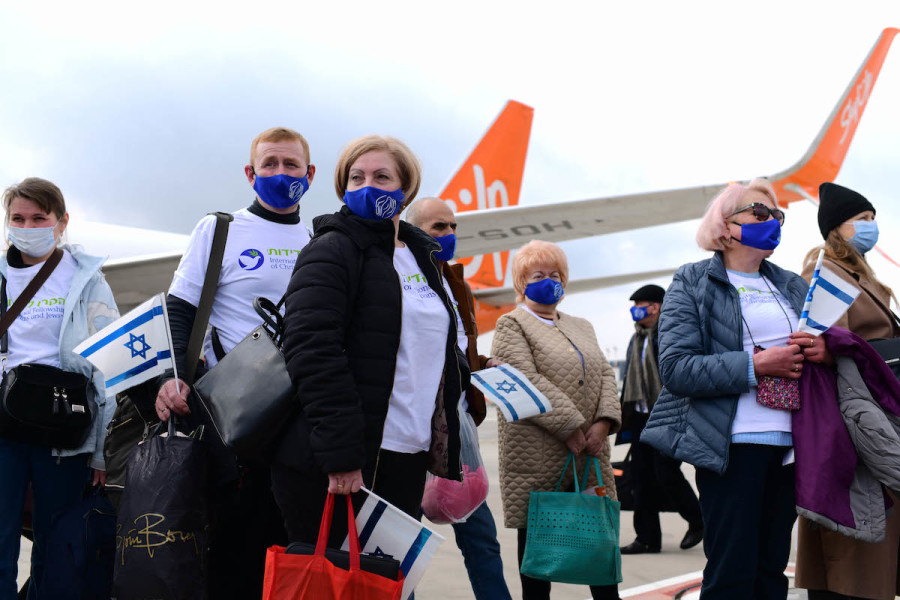 Ukrainian immigrants arrive at Ben Gurion International Airport near Tel Aviv, Israel, as part of an aliyah from Ukraine, Feb. 20, 2022. (Photo: Tomer Neuberg/Flash90)
The head of Israel's Religious Zionism Party and his ultra-Orthodox counterparts are demanding an amendment to the Law of Return in exchange for joining a right-wing coalition under former Prime Minister Benjamin Netanyahu. If accepted, the shift could change who could immigrate to Israel. 
The change to the Law of Return that Religious Zionism head Bezalel Smotrich is pushing for, and which the ultra-Orthodox have said they support, is canceling the "grandchild clause," which allows a person who is a "third-generation" Jew to immigrate to Israel and receive automatic Israeli citizenship upon arrival.
Should this be enacted, it could potentially affect the aliyah of tens of thousands of individuals of Jewish descent who are no longer members of a Jewish community nor have a Jewish parent. 
The 64-seat victory for the right-wing and religious parties led many to believe that Israel would see a new government within a week of the Nov. 1 election. But coalition negotiations have proven more complex than expected, in part because of extreme demands by the radical parties who are sitting around the table.
Last week, Netanyahu scored an agreement with Jewish Power party chairman Itamar Ben Gvir, promising the far-right legislator the role of Israel's public security minister, as well as putting his party in charge of development in the Negev and Galilee regions. 
However, negotiations with Smotrich have proven less swift.
While removing the grandchild clause as Smotrich is requesting would mainly affect immigrants from the former Soviet Union, including tens of thousands of Russians and Ukrainians fleeing their worn-torn countries, it would not stop there. It could also stand to cancel the immigration of individuals from Western countries who are not Jewish according to Jewish law.
Under the current law, it states that Jews who have converted to another religion are not eligible to immigrate to the country under the Law of Return, even if they are Jewish by birth. 
Earlier this month, when rumors started emerging about Smotrich's demand, reactions by other lawmakers were mixed. Most members of the previous coalition lashed out at Smotrich, such as former Minister of Diaspora Affairs Nachman Shai (Labor), who said such a move "indicates a fundamental lack of understanding of the relationship between Israel and the Jewish people in the Diaspora. The Law of Return is one of the cornerstones of the State of Israel, the state of the Jewish people."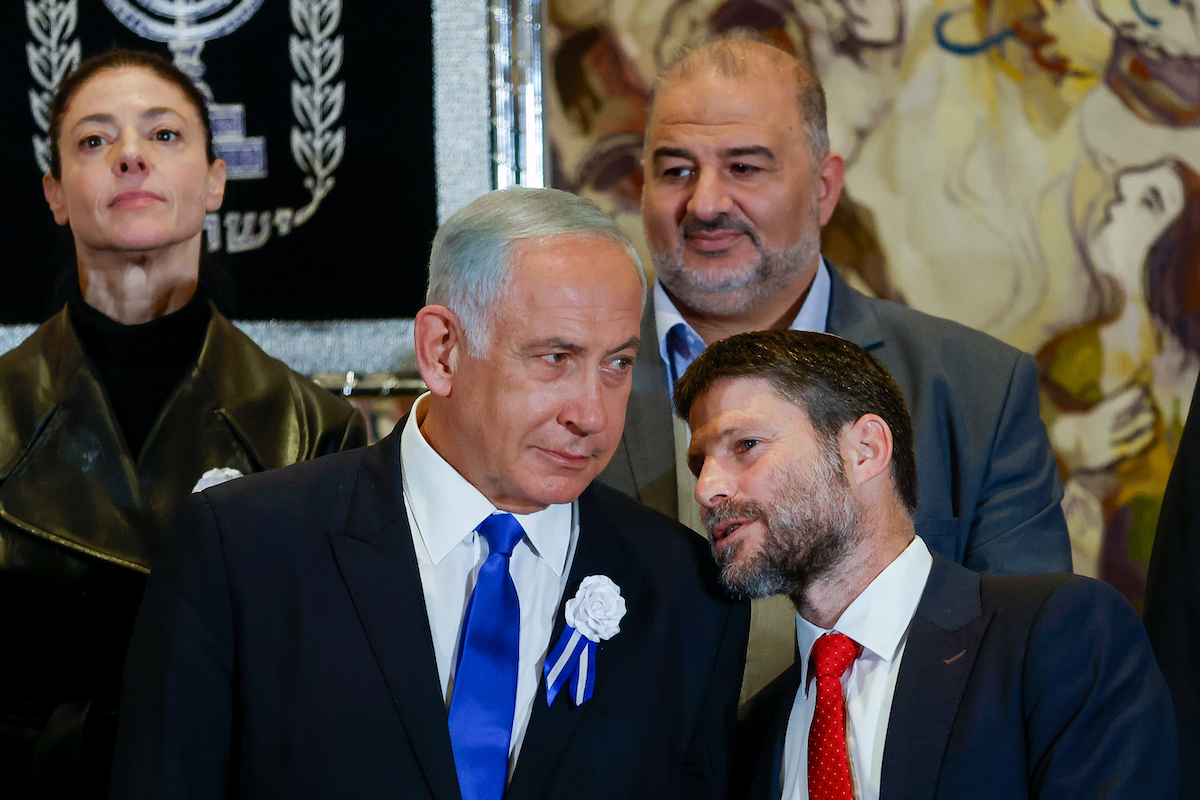 Likud leader MK Benjamin Netanyahu speaks with Religious Zionism party head MK Bezalel Smotrich at a swearing-in ceremony of the 25th Knesset, at the Israeli parliament in Jerusalem, Nov. 15, 2022. (Photo: Olivier Fitoussi/Flash90)
Another Knesset member, Reform Rabbi Gilad Kariv (Labor), called the demand a "declaration of war on Diaspora Jewry and an attack on the foundations of Zionism."
Professor Asher Maoz explained to ALL ISRAEL NEWS that the demand stems from a situation that has arisen in recent decades, whereby families who identify as followers of Jesus (Yeshua in Hebrew) received citizenship because they had a Jewish grandfather. 
According to Maoz, founding dean of the Peres Academic Law School and vice president of the International Association for the Defense of Religious Liberty, around 70% of immigrants from the former Soviet Union are not Jewish according to Jewish law. 
"The question today is who is a Jew, and for the sake of the Law of Return, it is a sociological definition: They are people of Jewish origin, though they are not Jews," Maoz explained. 
WHAT IS THE LAW OF RETURN?
There are currently two tracks to becoming an Israeli citizen.
On one track, applicants must prove that they are Jewish under what is known as "halachic" or religious law, and that neither the applicant nor their parents have converted to another religion. 
Halachic law states that a person is Jewish if their mother is born Jewish or converted to Judaism.
The second track is when applicants prove that their mother is specifically not Jewish, but that either their father and/or one of their paternal grandparents is Jewish. These people, however, are only viewed as Jewish with regards to the Law of Return and receiving citizenship, but are still not viewed as halachically Jewish and cannot marry, divorce or be buried by the Rabbinate in Israel.
In all cases, the Israeli government and Supreme Court have determined that one's religious observance is not relevant to their right of return. 
The Law of Return was passed in 1950. It was one of the first laws approved by Israel's parliament. It opens with the clause that "Every Jew has the right to immigrate to Israel." 
At that time, there was no definition of who was a Jew at all. When people came and said that they were Jewish the Ministry of the Interior asked no questions.
"The idea was that whoever was willing to come and suffer with us could come," Maoz said.
It was only in 1970 that the grandchild clause, "Clause 4a," was added because of division among the country's Orthodox rabbis, who wanted to limit immigration to those who were Jewish by Jewish law, and the country's secular majority. 
While no change has yet been made to the 1953 Rabbinical Courts Jurisdiction Law, which allows Rabbinical Courts the sole authority in matters of marriage and divorce of Jews in Israel, the Supreme Court took a different stance when it came to defining "secular" legislation, Maoz said. 
It all started, he recalled, when a young Israeli navy officer named Benjamin Shalit married a non-Jewish Scotswoman while studying in Edinburgh. They moved back to Israel together and had two children. However, when Shalit wanted to register the children as Jewish, the Ministry refused. That was because, by Jewish law, children born to a non-Jewish mother are not Jewish. 
"Shalit applied to the Supreme Court challenging the ministry's approach," Maoz explained in a paper published by the International Association of Jewish Lawyers and Jurists that he shared with AIN. "He submitted that one's ethnic affiliation was separate and apart from his religious affiliation. He argued that one could be Jewish in terms of his ethnic group without being Jewish by religion. He stated that the test for determining Jewish ethnic affiliation was identification with Jewish – Israeli culture and values."
After a lengthy debate among a panel of nine judges, the court ruled with a majority of 5:4 that the children should be registered as Jewish.
Maoz admitted that today it is more complicated to determine if someone should be allowed to enter Israel simply because he states he feels Jewish when "Israel has become one of the most attractive immigration countries."
"DECLARATION OF WAR" ON JEWISH IMMIGRATION TO ISRAEL?
Knesset Member Simcha Rothman, a member of Smotrich's party, warned that allowing too many non-Jews into the country could threaten the Jewish majority in Israel and detract from the purpose of the Law of Return, which he said was to support the immigration of any Jew who wants to live in Israel.
In an interview that will be aired soon as part of the Euro-Asia Jewish Congress conference, he told this reporter last week that "the Law of Return has a purpose: to build the Jewish state and make sure it's the homeland of the Jewish people."
He said that "when you see the numbers from Ukraine, Russia, Belarus and other former Soviet Union countries, with more than 70% of the people from there being non-Jewish and most not even identifying as Jewish, meaning they don't want to become Jews, you have to ask if the Law of Return is serving its purpose."
Specifically, according to Central Bureau of Statistics data, 70% of immigrants between the years of 2016 and 2021 were immigrants who entered Israel either via the grandchild clause or were the son/daughter, spouse of a son or spouse of a grandson who was not Jewish by Jewish law. 
In contrast, the majority of applicants for immigrant status from Western countries are considered "Jews" by the Law of Return definition, Rothman contended, including from the United States, France and South America. He said his party wants to do away with the grandchild clause so that the State of Israel can focus its budgets and its efforts on the immigration of Jews. 
Rothman abides by the rabbinic definition of who is a Jew – and who is not Jewish.
"It does not make sense when the majority of people who come with the Law of Return are now non-Jews, and the State of Israel focuses a lot of manpower and thinking on integrating those people who are non-Jews, while in the meantime, people come from the United States or France and are frustrated because Israel doesn't know how to make their absorption easier."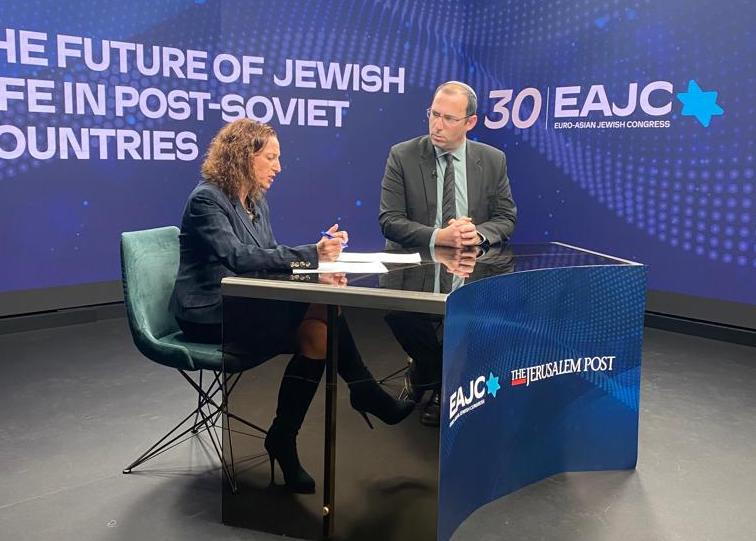 Maayan Hoffman interviews MK Simcha Rothman
Rothman believes that Israel should be focused on "growing the Jewish people" and less on "people who want to come here because Israel has a better welfare system."
He stressed that the Law of Return does not pertain to refugees and that removing or changing the clause would have nothing to do with accepting individuals from war-torn countries for short periods.
Is accepting only Jews into Israel racist?
To this question, Rothman said no. He said that the purpose of Israel is to "be the homeland for the Jews. This is not racism; this is what it means to be a nation-state.
"There is only one Jewish country," he continued. "The grandchild clause was not inherent in the Law of Return. It was added in the 1970s for a good reason, but as time passed, it became wrong."
He said he does not want to try to change the status quo regarding who is a Jew, and if someone comes from a Jewish community and says that he or she is Jewish, he believes they should still be able to immigrate. Rothman also said that individuals married to Jews or the children of first-generation Jews on either side (patrilineal or matrilineal descent) should still be allowed to enter the country and receive citizenship. 
In other words, Rothman stressed that removing the grandchild clause would not alter any other aspects of the Law of Return.
So, what is next?
Whether Smotrich's demand is serious and will be a part of any final coalition agreement, or whether it will be cast away in exchange for accepting other demands has yet to be determined. 
Israelis – and Jews around the world – will only know for certain if and when the next government is finally formed and the coalition agreements are made public.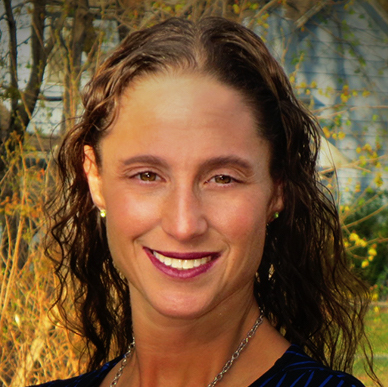 Maayan Hoffman is a veteran American-Israeli journalist and strategic communications consultant. She is Deputy CEO - Strategy & Innovation for the Jerusalem Post, where she also served as news editor, head of strategy and senior health analyst.
A message from All Israel News
Help us educate Christians on a daily basis about what is happening in Israel & the Middle East and why it matters.
For as little as $5, you can support ALL ISRAEL NEWS, a non-profit media organization that is supported by readers like you.
Donate to ALL ISRAEL NEWS
Current Top Stories
Comments