U.S. MIDTERM ELECTIONS — PREVIEW
RED TSUNAMI? With Republicans poised to re-take control of Congress, former House Speaker Gingrich predicts GOP to pick up 44 House seats and 3 to 5 in Senate
How will midterm elections impact U.S. policy towards Israel, Iran and broader Middle East issues?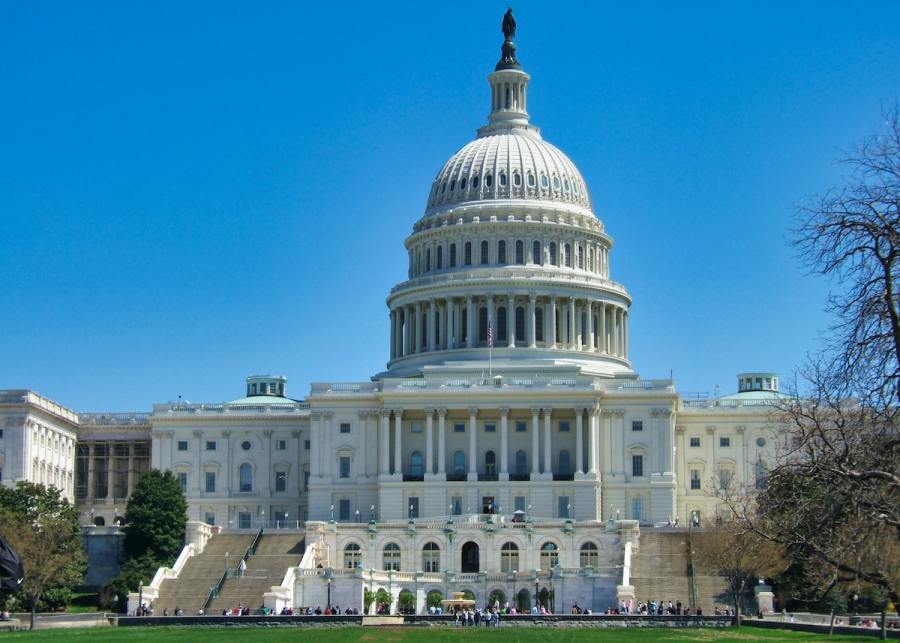 U.S. Capitol building
JERUSALEM—For months, political pundits and pollsters have been talking about a possible "red wave" in Tuesday's midterm elections in the United States.
But the latest trendlines suggest we're actually looking at a "red tsunami."
A complete blowout in which Republicans – often known as the GOP (Grand Ole Party) – could very well win enough seats to gain control of both chambers of Congress, the House and Senate.
That would be a stunning rebuke of U.S. President Joe Biden, the Democratic party, and their economic, domestic and foreign policies.
It could also radically re-shape how Washington approaches policy towards Israel, the Iran threat and other Middle East matters, including the Abraham Accords and U.S.-Saudi relations.
And it's not just Republican strategists that are predicting a disastrous night for Democrats tomorrow.
A growing number of Democrat strategists – and left-wing media outlets – are coming to the realization, as well.
On Monday morning, CNN – not exactly a right-wing operation – came to the bitter conclusion that Democrats now face a "nightmare scenario."
"Democrats close their midterm election campaign Monday facing the nightmare scenario they always feared – with Republicans staging a gleeful referendum on Joe Biden's struggling presidency and failure to tame inflation," warned Stephen Collinson, a CNN correspondent.
"Hopes that Democrats could use the Supreme Court's overturning of the right to an abortion and a flurry of legislative wins to stave off the classic midterm election rout of a party in power are now a memory," he added. "Biden faces a dark political environment because of the 40-year-high in the cost of living – and his hopes of a swift rebound next year are clouded by growing fears of a recession."
Doug Schoen, the highly respected Democratic pollster who served as a senior advisor to former U.S. President Bill Clinton, is also sounding the warning bells for his fellow party members.
"The Republican Party's midterm prospects have markedly improved over the last several weeks. But will 2022 be a red wave election year on par with GOP victories in 1994 and 2010?," he wrote on Halloween. "The warning signs are clearly flashing for the Democratic Party. Recent polling finds that support for Republicans — both generically and in individual races — has increased substantially amid heightened national concerns about the economy and crime, two issues that the GOP leads on. Meanwhile, protecting abortion rights, the crux of the Democratic agenda has become a much less salient issue."
"Based on current trends, Republicans will likely gain between 30 to 35 House seats, and come away with a one or two-seat advantage in the Senate," Schoen predicts. "This outcome would flip both chambers of Congress to GOP control."
WHO CURRENTLY CONTROLS CONGRESS?
At the moment, in this 117th session of Congress, Democrats (traditionally identified by the color blue) control 220 seats in the House of Representatives.
Republicans (identified by the color red) control 202 seats.
There are currently three vacant seats.
It takes 218 seats to gain majority control of the 435-seat House chamber.
In the Senate, Democrats control 48 seats, and have two Independent senators caucusing with them, giving them 50 seats.
Republicans also have control of 50 seats.
But under the U.S. Constitution, the vice president of the United States also serves as "President of the Senate."
Given that Kamala Harris is the V.P., she's the deciding vote in the Senate, giving Democrats operational control of the Upper Chamber.
WHAT IS SPEAKER GINGRICH PREDICTING?
With millions of Americans having already voted (in-person or by mail), nearly every American political analyst is predicting that Republicans will gain seats in both chambers.
However, former House Speaker Newt Gingrich, the Georgia Republican, is making headlines by boldly predicting that Republicans are about to take over full control of Congress again.
And Gingrich is a voice worth listening to carefully.
Back in 1994, he led what became known as the "Republican Revolution," the GOP's historic and stunning takeover of the House and Senate for the first time in four decades.
I saw him do it, given that I was working in Washington at the time, serving as "director of research" for Rush Limbaugh, the conservative commentator who was the most-listened to radio show host in the history of America.
Rush had boldly predicted the GOP take over months before it happened, but almost no one believed him.
Then Gingrich became speaker of the House and Trent Lott became Senate majority leader and the Washington political establishment was rocked to its core.
That's why my ears perked up when I heard Gingrich make his prediction on Fox News on the Friday night edition of Sean Hannity's nightly talk show.
"I think at a general level we're going be somewhere between plus-3 and plus-5 [seats] in the Senate," Gingrich told Hannity. "The one which I think is hanging in the balance is a terrific candidate, Tiffany Smiley in Washington state. Washington State is a very tough state for us. I think we're going to win all the Republican seats, which will include [Dr. Mehmet] Oz in Pennsylvania, J.D. Vance, and will include people like Marco Rubio handily, and we're going to keep the seat in North Carolina and in Wisconsin with Ron Johnson."
"Then I think we're going to pick up [Don] Bolduc, who is almost certainly going to win in New Hampshire," Gingrich continued. "As people go out and fill up their oil heating tanks for the winter, the price shock is enormous. And [current Senator Maggie] Hassan is a very, very weak senator. I think we're going to pick up the seat in Nevada where we have Adam Laxalt."
"In Georgia, look, I'm an optimist," Gingrich added. "I think Herschel Walker is going to win without a runoff. I think that Brian Kemp has done such a great job, put together such a powerful team that he's going to beat Stacey [Abrams] by a big margin. And in that process, he's going to carry Herschel above 50%."
"And then I think frankly, Blake Masters is going to win in Arizona, where you have in [Mark] Kelly somebody who pretends to be a moderate, but in fact has consistently favored more IRS agents over more border patrol, and people of Arizona know it. So I think it's going to be a great night. On the House side, we'll be somewhere between plus 20 and plus 50. I personally think it will be about 44. And Kevin McCarthy is the next Speaker."
IMPLICATIONS FOR ISRAEL?
ALL ISRAEL NEWS will be covering the American midterms elections from multiple angles over the coming days.
I'll also be doing so for THE ROSENBERG REPORT, my weekly, prime-time TV show on TBN, which airs on Thursday nights at 9 p.m. eastern.
Specifically, I'll be looking for any evidence that this week's election – combined with Benjamin "Bibi" Netanyahu's big victory last week – will change the direction of U.S. policy towards Israel and the Middle East.
For example, will Biden embrace Bibi and find ways to work closely together?
Or will Biden castigate Bibi over their many policy and political differences?
Will President Biden formally and completely abandon his feverish attempt to persuade the terrorists in Tehran to agree to an Iranian nuclear deal 2.0?
Or will he stubbornly cling to the notion that he can persuade the ayatollahs in Iran to sign on the dotted line?
Also, will Biden drop his intense hostility towards the Kingdom of Saudi Arabia, and realize that the U.S. needs a strong alliance with the Saudis?
Or will he pour more proverbial gasoline on that fire and drive the Saudis away from the West and towards the Russians and Chinese?
Big night.
High stakes.
Stay tuned to ALL ISRAEL NEWS and THE ROSENBERG REPORT for continuing coverage and expert analysis.

Joel C. Rosenberg is the editor-in-chief of ALL ISRAEL NEWS and ALL ARAB NEWS and the President and CEO of Near East Media. A New York Times best-selling author, Middle East analyst, and Evangelical leader, he lives in Jerusalem with his wife and sons.
A message from All Israel News
Help us educate Christians on a daily basis about what is happening in Israel & the Middle East and why it matters.
For as little as $5, you can support ALL ISRAEL NEWS, a non-profit media organization that is supported by readers like you.
Donate to ALL ISRAEL NEWS
Current Top Stories
Comments