Quoting Bible, Netanyahu tells world leaders, 'You have a choice between a blessing or a curse' – peace with Saudis, or war with Iran
One of the finest speeches I've heard Bibi give
Israeli Prime Minister Benjamin Netanyahu addresses the 78th Session of the UN General Assembly in New York City, September 22, 2023. (Photo: Avi Ohayon/GPO)
JERUSALEM, ISRAEL – In his first in-person address to the United Nations General Assembly in five years, Israeli Prime Minister Benjamin "Bibi" Netanyahu painted two dramatic visions of the future and urged the leaders of the world to choose.
It was one of the finest speeches I have ever heard him deliver.
And I believe it will be well received in the two capitals that Netanyahu cares about most right now.
Riyadh, the capital of Saudi Arabia, where Bibi was speaking directly to Saudi Crown Prince Mohammed bin Salman al-Saud.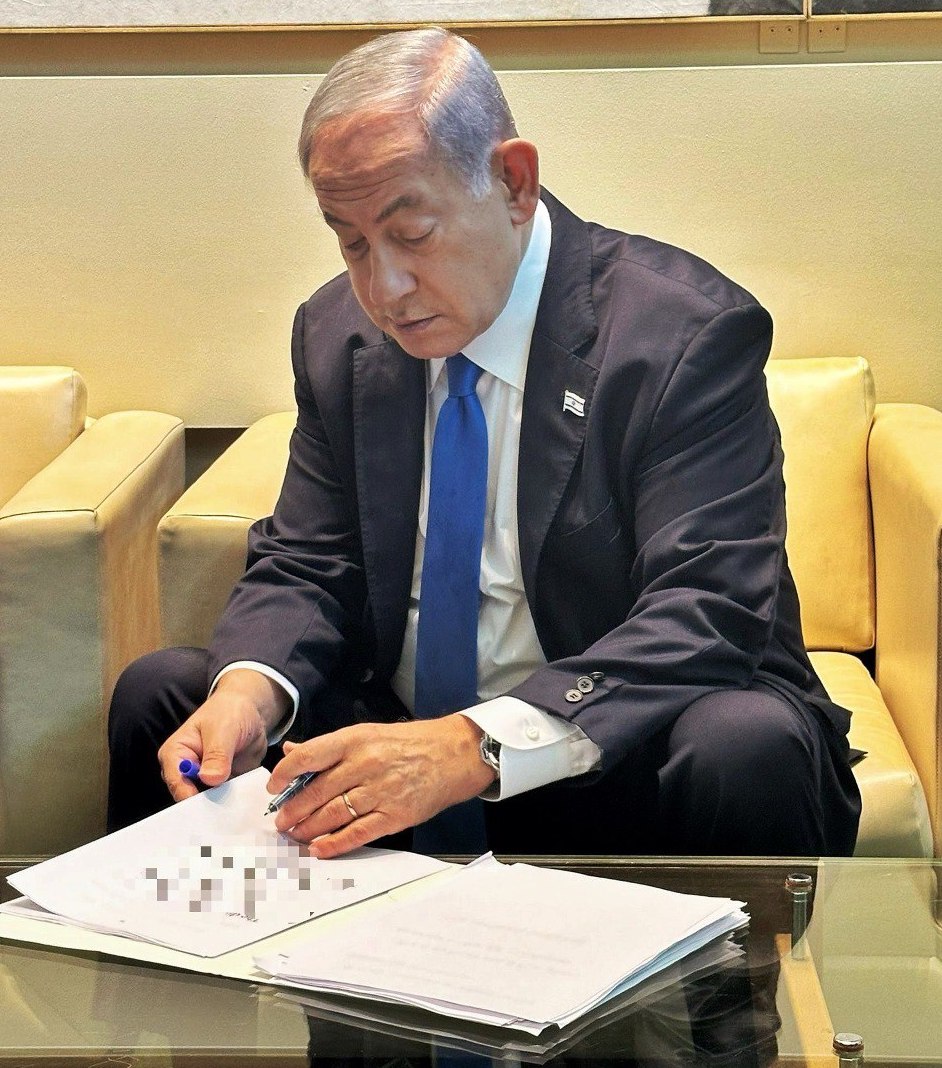 Israeli Prime Minister Benjamin Netanyahu prepares his address for the 78th Session of the UN General Assembly in New York City, Sept. 22, 2023. (Photo: Avi Ohayon/GPO)
And Washington, where Bibi is determined to heal the breach between himself and President Joe Biden.
One vision, Netanyahu said, is a world in which: 
Israel and Saudi Arabia make an historic and transformational peace treaty and many Arab and Muslim states follow suit

Iran and the Palestinians choose peace instead of terrorism and nuclear war

The world cooperates to insure that Artificial Intelligence (AI) brings dramatic new blessings of peace and prosperity to all of mankind
The other vision, Netanyahu argued, is a world in which: 
Iran and the Palestinians choose war instead of peace

The world does nothing to stop the Iranian regime from acquiring nuclear weapons and a terrible war erupts in the Middle East

Artificial Intelligence replaces humanity with machines, jobs are decimated, tyranny reigns, and AI leads the world into an unimaginable and catastrophic war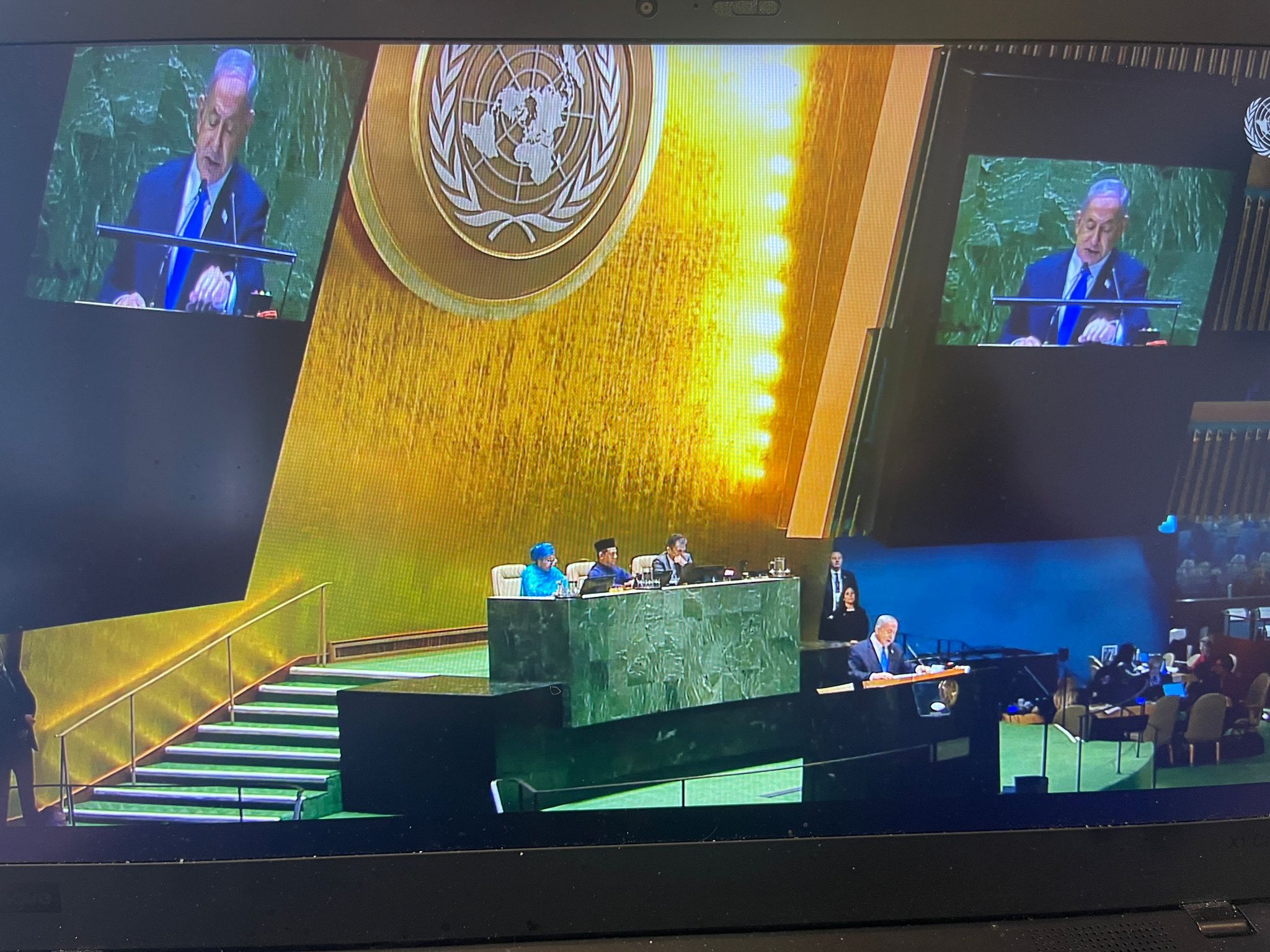 Israeli Prime Minister Benjamin Netanyahu addresses the 78th Session of the UN General Assembly in New York City, Sept. 22, 2023. (Photo: Screenshot)
Quoting the Bible both at the beginning and end of his speech – specifically passages from Deuteronomy, chapters 27 and 28 – Netanyahu set the stage for his remarks citing the story of Moses telling the Israelites on the east side of the Jordan River that when they cross to the west side, they must divide themselves and stand on two different mountains and there they should reflect on the truth that the God of Israel was offering them; two starkly different paths.
"Ladies and gentlemen, over three millennia ago, as they were about to enter the Promised Land, Moses spoke to the people of Israel," Netanyahu began his address. "He said they would find there two mountains facing one another – Mount Gerizim, the site on which a great blessing would be proclaimed, and Mount Ebal, the site of a great curse."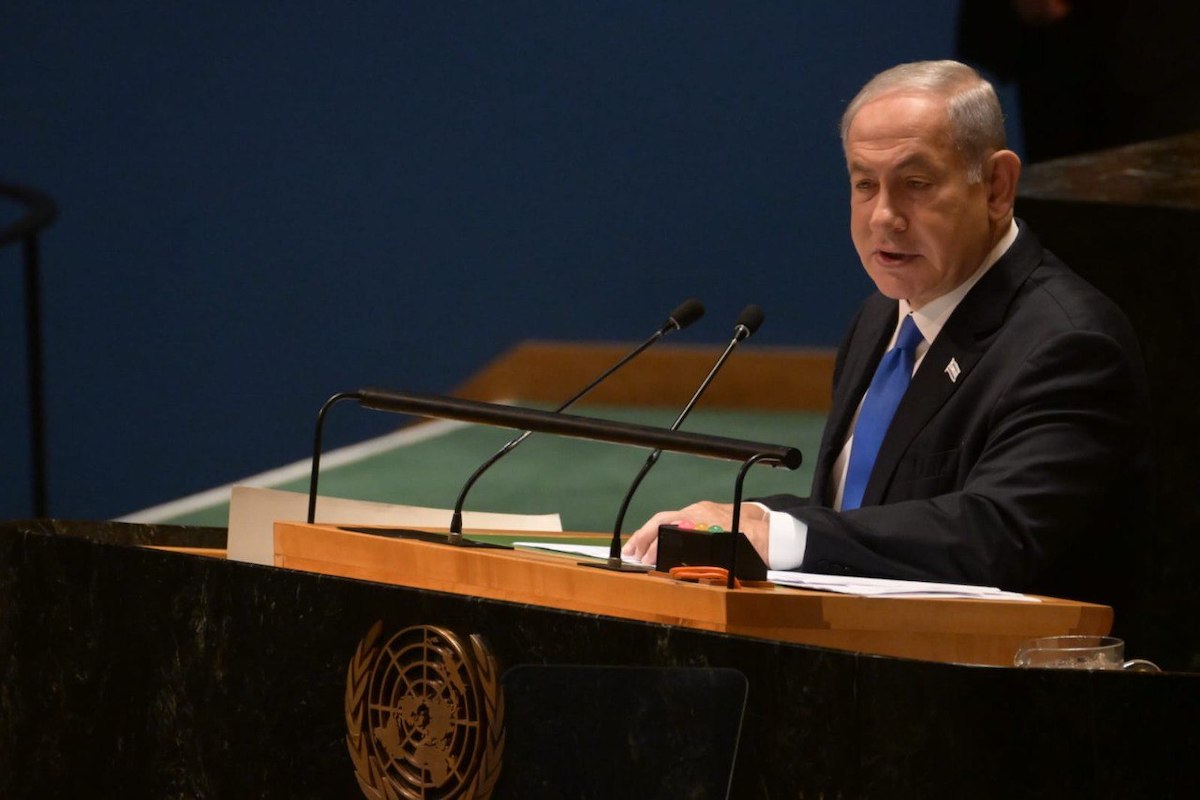 Israeli Prime Minister Benjamin Netanyahu addresses the 78th Session of the UN General Assembly in New York City, September 22, 2023. (Photo: Avi Ohayon/GPO)
"Moses said that the people's fate would be determined by the choice they made between 'the blessing and the curse.'"
"That same choice has echoed down the ages – not just for the people of Israel but for all humanity," Netanyahu told the gathered world leaders and a global audience on live television.
"We face such a choice today," he said.
"It will determine whether we enjoy the blessings of a historic piece of boundless prosperity and hope, or suffer the curse of a horrific war of terrorism and despair."
"When I last spoke at this podium five years ago, I warned about the tyrants of Tehran. They've been nothing but a curse – a curse to their own people, to our region, to the entire world."
"But at that time, I also spoke about a great blessing that I could see on the horizon," Netanyahu added.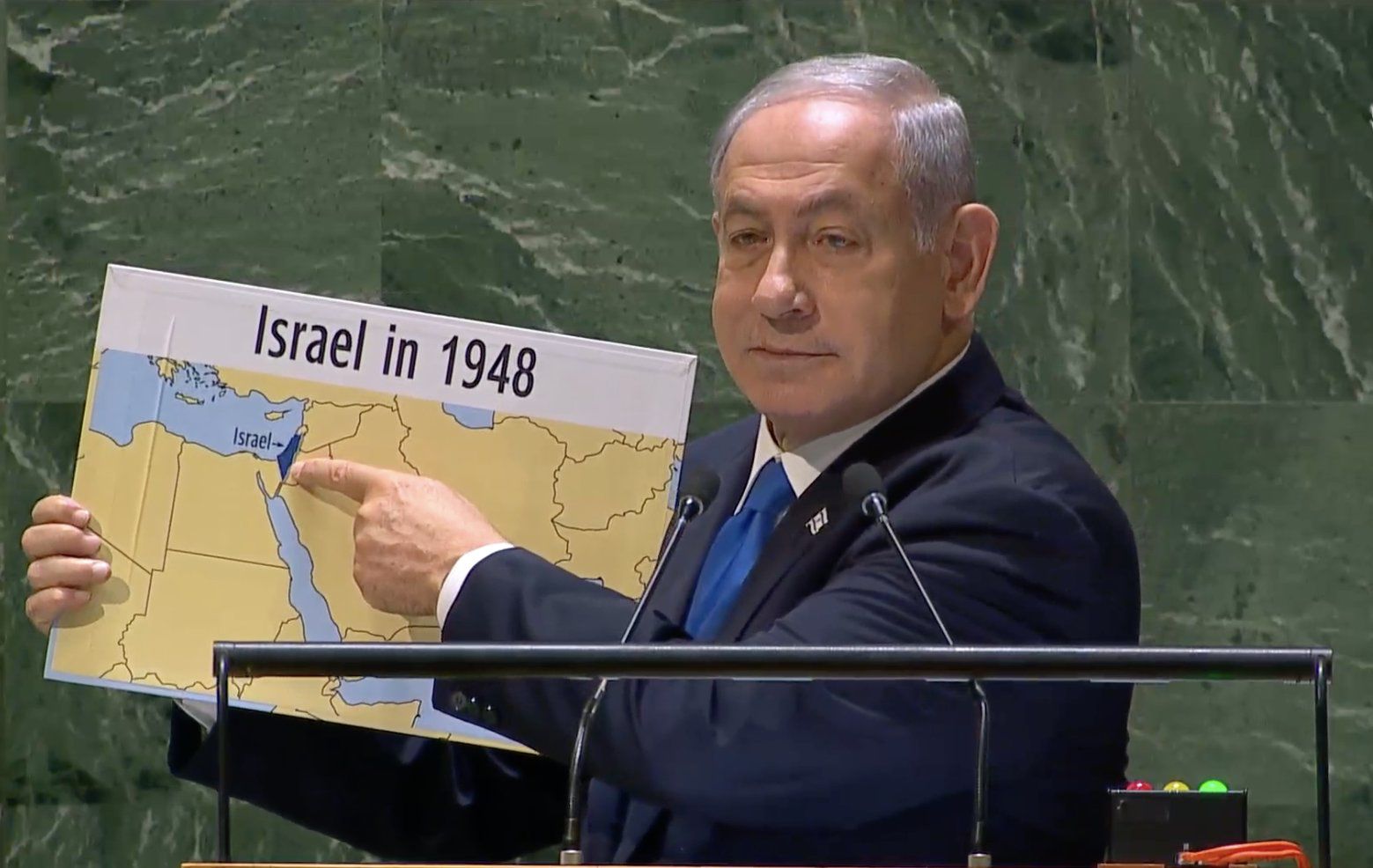 Israeli Prime Minister Benjamin Netanyahu addresses the 78th Session of the UN General Assembly in New York City, Sept. 22, 2023. (Photo: Screenshot)
After forging six Arab-Israeli peace treaties in 75 years – including four Abraham Accords agreements just in 2020 – the Israeli leader spoke of the enormous promise of peace with the Kingdom of Saudi Arabia.
"Today, as we tear down the walls of enmity, Israel can become a bridge of peace and prosperity between these continents," he said. "Peace between Israel and Saudi Arabia will truly create a new Middle East."
"We'll build a new corridor of peace and prosperity that connects Asia through the UAE, Saudi Arabia, Jordan, Israel to Europe," Netanyahu declared, adding that "as the circle of peace expands, I believe that a real path towards a genuine peace with our Palestinian neighbors can finally be achieved."
"Two days ago, I discussed this vision of peace with President Biden. We share the same optimism for what can be achieved, and I deeply appreciate his commitment to seize this historic opportunity. The United States of America is indispensable in this effort. Just as we achieved the Abraham Accords with the leadership of President Trump, I believe we can achieve peace with Saudi Arabia, with the leadership of President Biden. Working together with the leadership of Crown Prince Mohammad bin Salman, we can shape a future of great blessings for all our peoples."
But Netanyahu warned that "there is a fly in the ointment."
The radical, poisonous, terror regime in Tehran is determined to thwart all this and sow more seeds of destruction in the Middle East, he said.
That is why the world must unite to put enormous financial and diplomatic pressure to neutralize the Iranian nuclear threat and terror threat once and for all.
I could not agree more.
My colleagues and I at ALL ISRAEL NEWS – and on THE ROSENBERG REPORT – will provide more coverage and analysis in the days ahead.
But as the Sabbath is about to begin here in Israel, let me conclude with this.
Netanyahu is under attack from every possible direction.
But this week – and particularly today in this speech – he rose to the occasion.
He spoke calmly and clearly and convincingly to a world that needs to hear the ancient words of the Moses.
The ancient truths of the Bible.
We are at a crossroads.
We face a blessing or a curse.
May we choose well.
Because the stakes could not be higher.
Palestinians must not have a veto.

Joel C. Rosenberg is the editor-in-chief of ALL ISRAEL NEWS and ALL ARAB NEWS and the President and CEO of Near East Media. A New York Times best-selling author, Middle East analyst, and Evangelical leader, he lives in Jerusalem with his wife and sons.
Popular Articles
A message from All Israel News
Help us educate Christians on a daily basis about what is happening in Israel & the Middle East and why it matters.
For as little as $5, you can support ALL ISRAEL NEWS, a non-profit media organization that is supported by readers like you.
Donate to ALL ISRAEL NEWS
Latest Stories
Comments