Putin's real goal isn't Ukraine but to 'make the world scared,' break NATO, and make himself the most powerful actor on the planet, says Ukraine's defense minister
We are seeing 'manifestations of mental illness' in Moscow, right down to foaming from their mouths,' says Oleksii Reznikov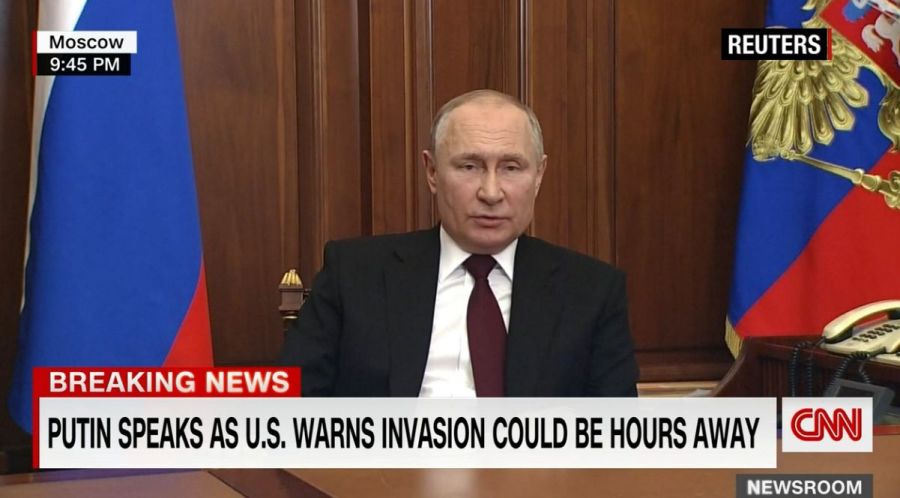 Russian President Vladimir Putin delivers a video address to the nation following the initiative of the country's lower house of parliament and security council to recognize two Russian-backed breakaway regions in eastern Ukraine as independent entities, in Moscow, Russia, Feb. 21, 2022. (Photo: Screenshot CNN)
JERUSALEM—On Tuesday night, Russian President Vladimir Putin gave a bizarre and rambling one-hour televised address.
But one thing was crystal clear: Putin has ordered his military to begin the illegal invasion and occupation of two sections of Ukraine.
Russian forces are on the move and artillery units are shelling Ukrainian towns and villages along the border.
Yet Putin's real goal isn't simply the re-conquering of Ukraine, says Ukrainian defense minister Oleksii Reznikov in an important yet little noticed interview.
Instead Putin is determined to "make the world scared," break the NATO alliance, and make himself and the Russian empire the most powerful actor on the planet, Reznikov told the RBC-Ukraine news service. 
Reznikov posted the English translation of the interview on his blog.
Reznikov was asked to assess the goals that Putin and his inner circle have, and what to make of all the Russian troop movements and disinformation campaigns underway in recent weeks.
"They want to make the world scared," he said. "Their goal is not Ukraine. The goal is to break the unity of NATO and the EU countries, the recognition of Russia as the dominant actor in world geopolitics. They also made their claims."
"They said, 'Guys, you have accepted 14 countries into NATO since 1991 — please, be so kind as to kick them out, because we believe that the Russian empire is the Baltic States, Poland, part of Finland, Slovakia, the Czech Republic, Hungary. That is, they announced their appetite in public speeches."
"Yesterday I talked to Ben Wallace, the Minister of Defense of Great Britain," Reznikov explained. "I said to him, 'You've been in politics for a long time. Tell me, could it be that NATO countries promised something to Russia that we all don't know about, and the Russians remember and resent you?' He replied that he had checked all possible sources, but nowhere was such a thing written down. Nobody knows who made them any promise. But now the Russians live in the certainty that they have been promised but deceived."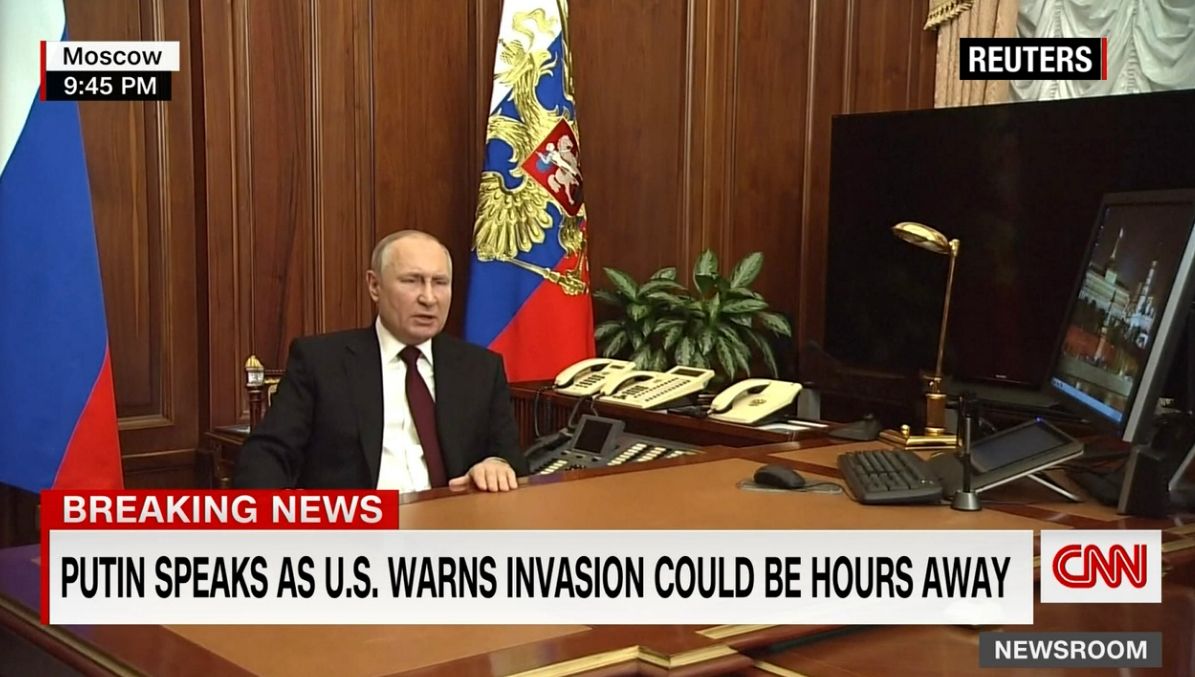 "At the same time, they quite successfully forget about concrete things — the signed interstate document on security guarantees in connection with Ukraine's accession to the Treaty on the Non-Proliferation of Nuclear Weapons — the Budapest Memorandum."
The defense minister was asked if this crisis is the making, not of the Russian people, but of "one particular Russian," namely Putin.
"No, not one particular Russian," Reznikov replied. "The president of Russia is not one person. [He has] a group of individuals [around him]. Read the publications of [his] ideologists, listen to the speeches of representatives of different departments. Their rhetoric is very much the same in many things. There are things where they act according to the political vertical, and there is a conditional freedom of manoeuvre. It's a vision, it's a philosophy, an ideology, they believe in it."
"Look at the performances of some TV presenters who have manifestations of mental illness, right down to foaming from their mouths," he added. "This is the dominant faction that runs Russia today, this is political power."

Joel C. Rosenberg is the editor-in-chief of ALL ISRAEL NEWS and ALL ARAB NEWS and the President and CEO of Near East Media. A New York Times best-selling author, Middle East analyst, and Evangelical leader, he lives in Jerusalem with his wife and sons.
A message from All Israel News
Help us educate Christians on a daily basis about what is happening in Israel & the Middle East and why it matters.
For as little as $5, you can support ALL ISRAEL NEWS, a non-profit media organization that is supported by readers like you.
Donate to ALL ISRAEL NEWS
Current Top Stories
Comments