Opinion Blog / Guest Columnist
Praying that President Biden stays out of the hospital in Jerusalem
Author contends that Biden's planned visit to Augusta Victoria in East Jerusalem undermines Israeli sovereignty in Jerusalem
General view of the Augusta Victoria Hospital in East Jerusalem, Sep. 10, 2018. (Photo: REUTERS/Ammar Awad)
Looming in the background of U.S. President Joe Biden's two-day visit in Israel, there has been some concern he might end up in a hospital. 
Not because of his age, the heat (it will be hotter in Saudi Arabia, where he will fly next) or any medical condition: Biden's planned visit to the Augusta Victoria Hospital on the northern side of the Mount of Olives has come under scrutiny.
Despite this church-hospital compound being in Israel's capital, the United States reportedly has refused to allow Israeli representatives to participate in the visit. 
Typically, when a head of state visits another nation, s/he is accompanied by senior representatives of the host country. On this occasion, a leading Israeli health ministry official asked to participate in the visit, but the U.S. declined, claiming that the visit was considered "private."
While the Augusta Victoria is a private, church-run hospital built before World War I, when the Ottoman Empire occupied Jerusalem, Biden's visit to the hospital without an Israeli representative in attendance carries overtones of legitimizing Palestinian claims to parts of the Israeli capital.
The Augusta Victoria Hospital can be found in an eastern section of Jerusalem that the Kingdom of Jordan occupied for 19 years, until Jerusalem was unified in the 1967 Six-Day War. Hardly a private visit, Biden's schedule notes he will meet with representatives of "Palestinian civil-society organizations" at the hospital. 
Biden's August Victoria visit, denied to Israeli representatives and open-armed to Palestinians, amounts to a slight by the Biden administration against Israeli sovereignty in Jerusalem. 
Biden will visit the Jerusalem hospital on Friday morning before meeting with Palestinian Authority President Mahmoud Abbas in Bethlehem. One cannot help but wonder why the Augusta Victoria visit is needed, snarling traffic between the Mount of Olives and Bethlehem, when there are Palestinian Authority hospitals and medical organizations the president could visit in Bethlehem. 
Reportedly, the president will announce $100 million in U.S. aid to the Palestinian hospital network of which Augusta Victoria is a part. 
The U.S. has asked the United Arab Emirates, Saudi Arabia and Qatar to contribute an additional $100 million each. 
If Augusta Victoria is a private visit, where does this $100 million gift come from?  Biden's own wealth? His son, Hunter's? If this donation comes from U.S. taxpayers, this is hardly a private visit. 
Reportedly, calling the stop a "private visit" was an attempt by the U.S. to not make things political. Yet, to prevent Israeli participation in the visit, despite U.S. law which recognizes Jerusalem as Israel's capital, creates the opposite effect.
Such a suggestion is, in fact, absurd. Facing U.S. midterm and Israeli national elections, nothing Biden does will not be political. The visit and the $100 million will be used to bolster Biden's and the Democratic party's credentials vis-à-vis the Palestinian Authority. It will also be used against Israeli caretaker Prime Minister Yair Lapid (and others) in their bids for the Israeli elections. Surely Biden and his team know that. 
It is expected that Biden will reiterate his commitment to the Palestinian Authority in Jerusalem to open a diplomatic office, further undermining Israeli sovereignty.
Just as Biden's visit to Augusta Victoria Hospital, sans Israeli accompaniment, is unprecedented, so too would be a third party (the U.S.) opening a diplomatic office to a political entity (the P.A.) in the sovereign capital of another (Israel).
Just as there are Palestinian Authority hospitals to visit in Bethlehem and Ramallah, and representatives of "Palestinian civil-society organizations" that could meet Biden in Bethlehem, if the U.S. wanted a diplomatic office to the P.A., it could open a consulate in Bethlehem or Ramallah, or even in Gaza. 
There's one more issue. As much as Biden's "private" visit to Augusta Victoria is a bad, if not dangerous, precedent, there is an ironic built-in paradox.
While it is subtle, I have not seen any reports of the U.S. asking the P.A. to provide security for Biden's visit to the "Palestinian" hospital in eastern Jerusalem. If any part of Jerusalem were actually, legitimately under P.A. sovereignty, that would be expected.
Nevertheless, security will be provided by some 16,000 Israeli police and an undisclosed number of military and secret service. 
Perhaps, even in the undermining of Israeli sovereignty in Jerusalem, asking the P.A. to provide security for the Augusta Victoria visit, even with no official Israeli presence, would be a step too far. 
For now. 
Or perhaps, the U.S. Administration and Secret Service know that it would be foolish, if not dangerous and unhealthy, to have armed Palestinian Arabs in control of Biden's safety. Were the P.A. to provide security, that might actually lend the need for an actual private visit to the hospital. 
For Biden's personal well-being, Israeli security is preferred, if not expected. But for his "personal" visit to Augusta Victoria, no Israelis will be allowed. I am praying he stays out of the hospital. 
The Genesis 123 Foundation will host a webinar, "Unpacking Biden's Middle East Trip" on Sunday July 17 at 3 p.m. EST.  Registration is limited and available here. 
ALL ISRAEL NEWS is committed to fair and balanced coverage and analysis, and honored to publish a wide-range of opinions. That said, views expressed by guest columnists may not necessarily reflect the views of our staff.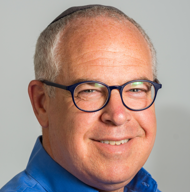 Jonathan Feldstein was born and educated in the U.S. and immigrated to Israel in 2004. He is married and the father of six. Throughout his life and career, he has become a respected bridge between Jews and Christians and serves as president of the Genesis 123 Foundation. He writes regularly on major Christian websites about Israel and shares experiences of living as an Orthodox Jew in Israel. He is host of the popular Inspiration from Zion podcast. He can be reached at firstpersonisrael@gmail.com.
Popular Articles
A message from All Israel News
Help us educate Christians on a daily basis about what is happening in Israel & the Middle East and why it matters.
For as little as $5, you can support ALL ISRAEL NEWS, a non-profit media organization that is supported by readers like you.
Donate to ALL ISRAEL NEWS
Latest Stories
Comments