Pompeo blasts Chinese government for engaging in 'genocide' against Uyghur Muslims, says Beijing's persecution reminds him of Germany in 1930s
During conference call with thousands of US pastors and rabbis to mark International Religious Freedom Day, former secretary of state praises Abraham Accords and "fantastic leaders" in Israel and Arab world
Former U.S. Secretary of State Mike Pompeo (Photo: Mike Pompeo's Twitter feed)
JERUSALEM—With Jews, Christians, and Muslims facing growing persecution around the world, it is vital for faith leaders to work together to defend and expand religious freedom at home and abroad.
That was the message Mike Pompeo, the former U.S. Secretary of State and CIA director, shared on a conference call with thousands of Evangelical pastors, Catholic priests, Jewish rabbis and other religious leaders on Wednesday.
The call was organized by the National Faith Advisory Board, led by Paula White-Cain, who served as an informal but trusted White House faith advisor to President Donald Trump during the previous administration.
As reported at the time by ALL ISRAEL NEWS, Trump kicked off a new "National Faith Initiative" last month with a conference call of some 25,000 religious leaders.
Held on International Religious Freedom Day, Pompeo was the special guest on the board's second call.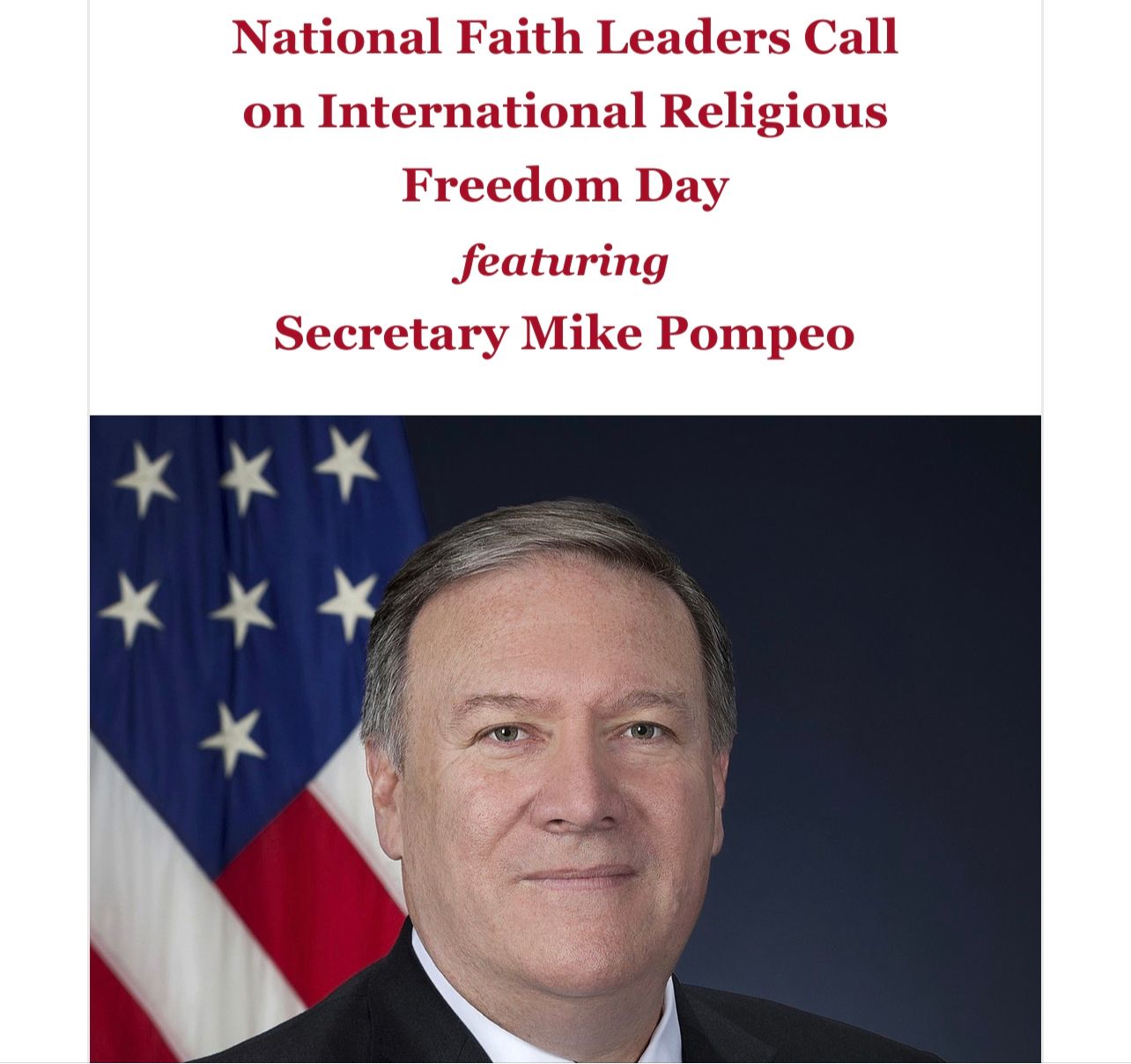 He thanked the clergy members and other faith leaders for their encouragement and prayers for him and his family, and for the administration that he served in.
Pompeo said he and his team were active in "challenging the Catholic Church to be a moral witness in China, which I regret, they haven't done sufficiently," promoting religious freedom in Nigeria, and supporting persecuted Christians in northern Iraq, to name just a few areas of his activity.
The issue of religious freedom, he said, "was always at the top of our agenda, and that was really important because other leaders around the world could see that this was something we were going to hold them to account for."
"And I think that made a difference in how they treated not only their own people, but how they interacted with citizens around the world."
Pompeo noted that he and his colleagues in the administration gave special attention to the Middle East.
"You all remember when we introduced our great Middle East peace plan, which was rudely greeted as 'dead on arrival,' it 'wasn't going to work,' this 'deal of the century,'" he said.
"We were essentially mocked for our vision for how we might create the space for religious leaders from every faith," much less "create peace and prosperity."
"But we worked – President [Donald] Trump gave us all the room we needed – to…push back against the human rights violations inside of the Islamic Republic of Iran [and] to support our friend and ally Israel, not only moving the U.S. Embassy to Jerusalem, which was a bold decision by President Trump, but we also recognized the Golan Heights," Pompeo explained.
"We made clear that Jerusalem is the eternal, undivided home of the Jewish people," he said.
"We were unambiguous about this, and this created the space for us to build what became the Abraham Accords, with four nations declaring once and for all something they should have done 60 years ago, [declaring] once and for all that they did not want to wipe Israel off the face of the earth [but] they wanted to be a partner and a friend to the people of Israel."
"We were really, really blessed to have good leaders in the Emirates and Bahrain and Sudan and Morocco, and fantastic leaders in Prime Minister [Benjamin] Netanyahu and President Trump," Pompeo said.
These leaders "came together to build out what I believe will be a lasting structure which will permit Muslims from across the region to recognize that the Jewish people are rightfully in the nation of Israel, and no longer antagonize them, but work alongside them to build up peace and prosperity for each of their own peoples."
Pompeo reserved his strongest language for his discussion about the work that he and his colleagues in the Trump-Pence administration did to confront the leadership of China and the Chinese Communist Party itself.
"You all know Communism. You all know that these are atheists, in addition to being Marxists. These are people who have no desire to protect anyone's human rights. They don't recognize the central understanding that we are created in the image of God."
"And they [in Beijing] are persecuting in ways that remind me very much of what was happening in the 1930s in Germany," Pompeo said.
The Chinese communists are "persecuting millions of individuals, mostly Uyghur Muslims."
"We were able to ultimately come to the conclusion that the activities they were taking there was genocide," Pompeo stated without apology.
"The State Department has only done that a handful of times. But the magnitude and the scale of the persecution of these people simply because of their faith is of staggering importance not only to those individuals and their families, but to the world."
"We were bold and we were clear about the fact that genocide has taken place and that genocide activities continue today."
Pompeo, who is increasingly being discussed as a possible 2024 presidential candidate if Trump does not run, also took questions on the call, and talked about growing challenges to religious freedom and liberty inside the U.S.
He was warmly thanked by various faith leaders on the call for his deep Christian faith and relentless commitment to advancing American values and religious liberty.
"It was great to hear clarity and goodness from the secretary, one of our great American leaders, concerning religious freedom at home and abroad," Pastor Travis Johnson from Mobile, Alabama, tweeted after the call, which was invitation-only but not off-the-record.
Earlier this week, Pompeo spoke at a "Night To Honor Israel" event with Pastor John Hagee, founder of Christians United For Israel, which has some 9 million members.
He also addressed the Christian School Administrations Conference, as well as an event in Colorado Springs organized by Dr. James Dobson, a prominent Evangelical leader.

Joel C. Rosenberg is the editor-in-chief of ALL ISRAEL NEWS and ALL ARAB NEWS and the President and CEO of Near East Media. A New York Times best-selling author, Middle East analyst, and Evangelical leader, he lives in Jerusalem with his wife and sons.
A message from All Israel News
Help us educate Christians on a daily basis about what is happening in Israel & the Middle East and why it matters.
For as little as $5, you can support ALL ISRAEL NEWS, a non-profit media organization that is supported by readers like you.
Donate to ALL ISRAEL NEWS
Current Top Stories
Comments