Pence to ALL ISRAEL NEWS: President threw out old play book in brokering 2 Arab-Israeli peace deals
Pence calls Abraham Accords ceremony "deeply moving" to him as a Christian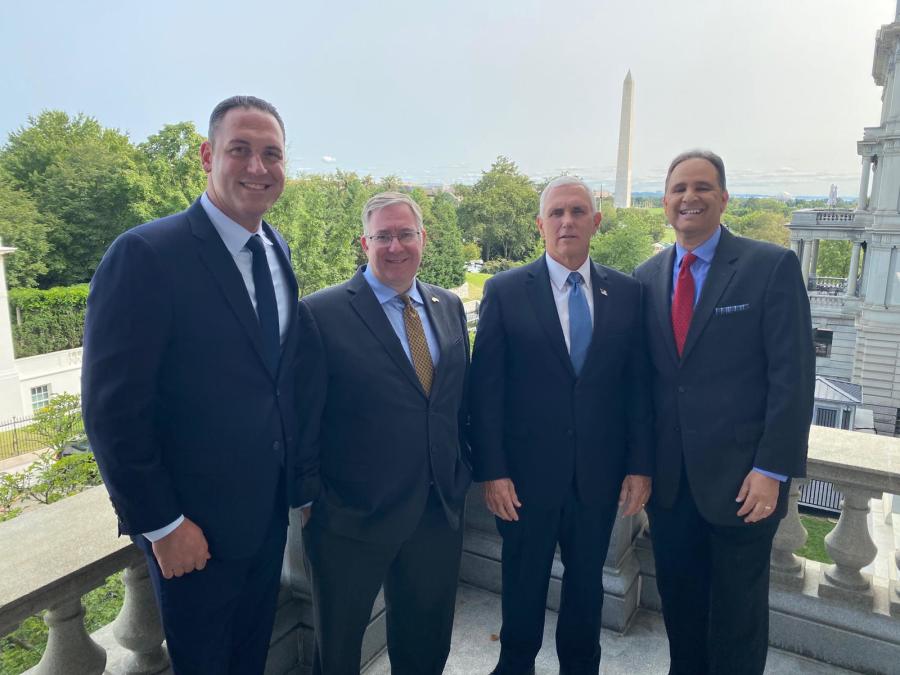 Credits: All Israel News
WASHINGTON — Jewish people have a Hebrew expression we use on Passover known as, "dayenu."
It means "this alone would be enough."
That's the word that kept echoing in my heart yesterday. Just knowing that the Lord has just dramatically answered the prayers of millions of believers around the world for peace would have been a dayenu.
Just getting invited to the White House to witness two Gulf Arab states sign peace treaties with Israel would have been a double dayenu.
Getting to meet with and interview Vice President Mike Pence about the historic breakthrough....well, you get the idea.
Several hours after the ceremony, two Evangelical journalist friends and I met with Pence for 30 minutes in his ceremonial office in the Old Executive Office Building, which is part of the White House complex.
David Brody is the chief Washington correspondent and analyst for CBN News. Erick Stakelbeck is a Middle East reporter and host of a weekly program on the TBN network.
Credits: All Israel News
Pence came directly from a private luncheon that President Donald Trump hosted for Israeli Prime Minister Netanyahu, United Arab Emirates Foreign Minister Abdullah bin Zayed and Bahraini Foreign Minister Abdullatif Al Zayani.
While we waited, we each had to undergo a COVID-19 test. It was the first time for me. Both of my nostrils were swabbed three times by a member of the White House Medical Unit. Then the Q-tip was inserted into a high speed medical analyzer. Only when it was confirmed that none of us have the virus did the VP enter the room.
Pence told me that the signing ceremony for the peace treaties and the "Abraham Accords" was "deeply moving" to him, both as a national leader as well as an Evangelical Christian.
He called Israel "our most cherished ally" and said that the president had decided from the very beginning of his administration that he was going to do everything he could to strengthen the U.S.-Israel alliance and try to advance peace.
Pence acknowledged that there are many critics who have said that this administration has no idea how to make peace and would probably make the situation in the Middle East worst.
But the Abraham Accords are evidence, he said, that significant progress is being made. And he told me that "there are more Arab nations that are preparing to make peace with Israel," underscoring the president's point earlier in the day that "five or six more countries" are actively considering when and how to make peace with Israel.
The vice president made a point to note the strong bipartisan support for Israel in the U.S. over the past seven decades. He specifically noted that it was a Democrat, President Harry Truman, who formally recognized Israel just minutes after the announcement of the declaration of the State of Israel on May 14, 1948.
President Trump, he said, was continuing in that bipartisan tradition of strengthening and protecting Israel and promoting peace.
That said, Pence made it clear that the reason Trump is succeeding where his predecessors have failed in making peace over the past 25 years is because Trump had chosen to throw out the old playbook.
"The president made a decision from the moment he came into office that he wasn't going to do things the same old way," Pence told me. "He wasn't going to keep rewarding Palestinian refusals to negotiate. He wasn't going to keep giving them financial support for that."
After initially trying to build trust with Palestinian Authority (P.A.) President Mahmoud Abbas, but being repeatedly rebuffed, Trump cut U.S. aid to the P.A. He moved the U.S. Embassy to Jerusalem. He recognized Israeli sovereignty over the Golan Heights. And he laid out a "Vision For Peace" that called for a demilitarized Palestinian state that must implement a wide range of serious reforms and that cannot threaten Israel.
Pence noted that the president's first trip overseas was to Saudi Arabia where he not only spoke with, but met with the leaders of 50 Muslim countries. Only after that did the president go to Jerusalem to meet with the leadership there. These moves made clear, Pence said, that advancing Middle East peace was a top priority for the administration right from the beginning.
After we spent time talking, Pence filmed a formal 10-minute interview with CBN's David Brody. That video will be shown on Saturday, Sept. 19, at a special dinner event that Brody and I are speaking at in Rapid City, South Dakota.
The event, whose theme is, "Where Is America Headed?" is being organized by some 30 Evangelical churches and ministries in Rapid City.
With Brody, Pence shared the importance of his own Evangelical faith, the reasons for his deep love for Israel, and why he has been praying for the peace of Jerusalem all his life.
Once the Brody interview is aired on CBN News, ALL ISRAEL NEWS will link to it.

Joel C. Rosenberg is the editor-in-chief of ALL ISRAEL NEWS and ALL ARAB NEWS and the President and CEO of Near East Media. A New York Times best-selling author, Middle East analyst, and Evangelical leader, he lives in Jerusalem with his wife and sons.
A message from All Israel News
Help us educate Christians on a daily basis about what is happening in Israel & the Middle East and why it matters.
For as little as $5, you can support ALL ISRAEL NEWS, a non-profit media organization that is supported by readers like you.
Donate to ALL ISRAEL NEWS
Current Top Stories
Comments