Pat Robertson, pioneer & titan of Christian media, lover of Israel, goes home to heaven at 93
Netanyahu loved Pat, saying, 'Israel has no better friend than you'
Joel Rosenberg with Terry Meeuwsen and Pat Robertson on The 700 Club (Photo: ALL ISRAEL NEWS)
JERUSALEM, ISRAEL – I'm so sad and yet so honored to report that my friend, Pat Robertson – a pioneer and titan of Christian media and conservative politics and a great friend and lover of Israel – has finished his race and gone home to heaven to be with the Lord.
He was 93 years old, having been born on March 22, 1930.
I have personally known Pat for 20 years and considered him a friend and a mentor when it comes to being a courageous and completely unconventional media and ministry entrepreneur.
Every year in March since 2003, Pat would have me on his flagship program, "The 700 Club" – watched by at least one million people every weekday morning – to discuss whatever new novel or non-fiction book I had just written.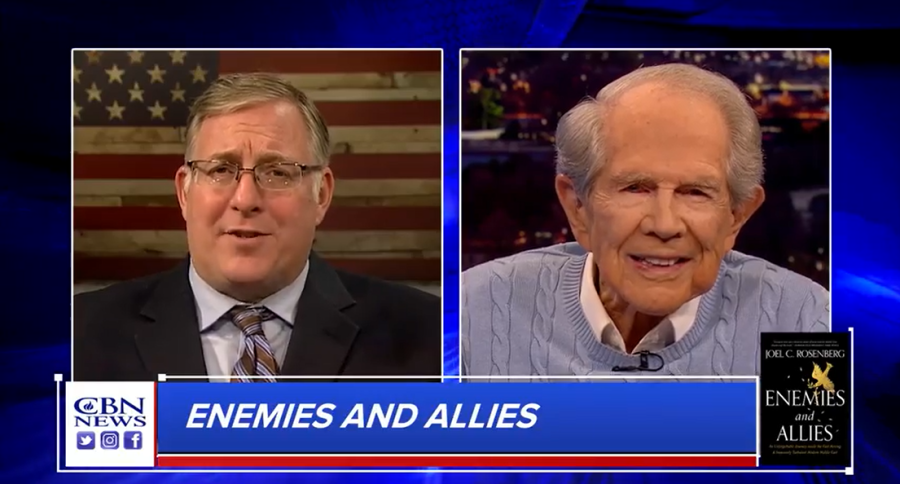 Pat Robertson interviewing Joel C. Rosenberg (Photo:Screenshot)
I loved going to the headquarters of the Christian Broadcasting Network (CBN) each year to do the interview in person, calling it "my annual pilgrimage."
Without fail, Pat had always read the book in full – few other hosts actually read a book before they do an interview with the author.
And Pat was always – and I mean always – eager to have a real and substantive and in-depth conversation about the topics and themes in my book that would often last 11, 12, 13 minutes or more, not the standard (and at times superficial) TV hit of just 2 or 3 minutes.
He especially loved to talk about Bible prophecy – including Ezekiel 38 and 39 and the "War of Gog and Magog" – as well as anything related to Israel, Iran and trendlines in the Middle East.
Was he controversial?
Absolutely.
Could he be feisty and provocative, at times?
Sure.
Yes, there were times when he said things I disagreed with.
But I genuinely loved Pat.
I admired his courage to speak his mind and unashamedly defend the Gospel of Jesus Christ and his love for the Bible as the inspired and infallible Word of God.
I also loved that Pat was unapologetic in believing that the rebirth of the State of Israel in 1948 was the fulfillment of Bible prophecy.
No Christian leader has been more pro-Israel – or done more to mobilize Christians to love and bless Israel – in the modern era than Pat Robertson.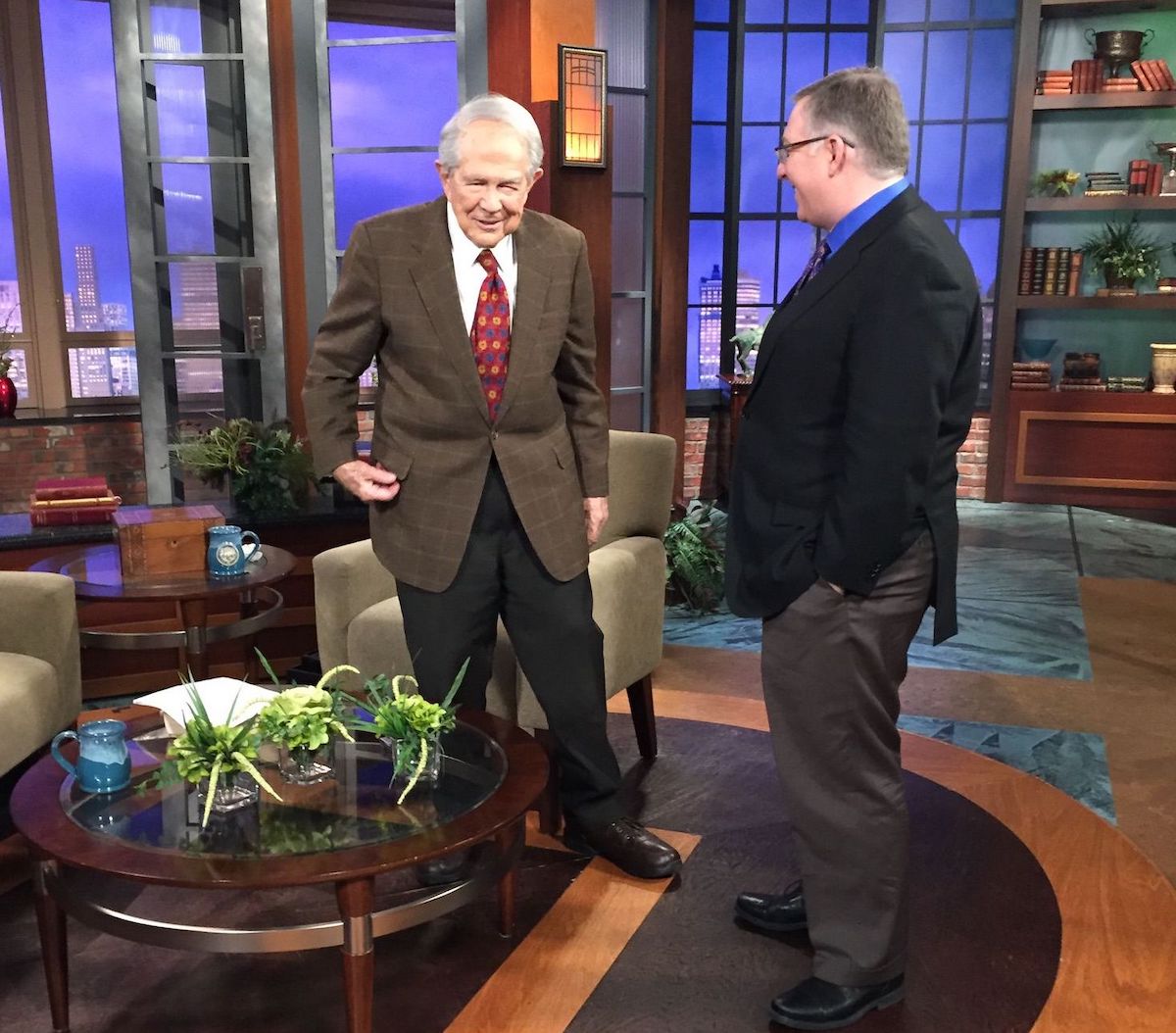 Joel Rosenberg with Pat Robertson on the set of The 700 Club (Photo: ALL ISRAEL NEWS)
A MEDIA MOGUL AND INTREPID ENTREPRENEUR
Starting with a single TV station in southern Virginia in 1960, Robertson built a Christian media empire – the Christian Broadcasting Network – from scratch.
He founded an amazing Christian humanitarian relief organization, Operation Blessing.
He founded one of the leading Christian universities and graduate schools – Regent University – in the world.
He ran for president of the United States in 1988, and though he didn't win, he inspired and ignited millions and millions of Evangelical and Pentecostal Christians to advance their faith and values in local, state and national government.
That's why I call him an amazing media mogul and an intrepid entrepreneur.
He didn't just start and lead one great ministry.
He started one great and flourishing and transformational ministry after another.
A GREAT FRIEND OF ISRAEL
Pat loved Israel with a deep and abiding passion – as much as any Christian leader I've ever known – and became a close friend and counselor to numerous Israeli leaders. 
None, however, was closer to Pat than Benjamin Netanyahu.
"I would like to wish Pat Robinson a Happy 93rd birthday," Netanyahu said in March, as we reported here on ALL ISRAEL NEWS. "You've been a tremendous friend and I have to say, you have many friends and many admirers around the world for the life of purpose that you have led."
"But I want to say categorically that Israel has had no better friend than you," Netanyahu continued. "You have led many Christian believers around the world to understand the miracle of the Jewish return to the ancient Jewish homeland, the resurrection of Israel, the reuniting of Jerusalem. I know all that stirs your heart as much as it does mine. And I want to also say that you've been a great personal friend. So for all of that and much more, thank you Pat. Happy Birthday."
Netanyahu even appeared on "The 700 Club" last fall when he published his memoirs.
CBN News, one of many ministries that Robertson founded, broke this news on Thursday, noting that "Pat Robertson, longtime TV host, religious broadcaster, educator, humanitarian, and one-time presidential candidate has passed away. He was 93. Perhaps best known for offering prayer and political commentary at the helm of The 700 Club, the flagship program of his media ministry, Robertson's rise to prominence is rooted in what he called a vision from God to create The Christian Broadcasting Network."
In the days ahead, ALL ISRAEL NEWS will provide more coverage and analysis of Pat's life and legacy.
For now, please pray for his son, Gordon, who currently runs CBN.
Please pray for the entire Robertson family, and all those who work for CBN, Regent and all the other ministries that Pat started from scratch.

Joel C. Rosenberg is the editor-in-chief of ALL ISRAEL NEWS and ALL ARAB NEWS and the President and CEO of Near East Media. A New York Times best-selling author, Middle East analyst, and Evangelical leader, he lives in Jerusalem with his wife and sons.
Popular Articles
A message from All Israel News
Help us educate Christians on a daily basis about what is happening in Israel & the Middle East and why it matters.
For as little as $5, you can support ALL ISRAEL NEWS, a non-profit media organization that is supported by readers like you.
Donate to ALL ISRAEL NEWS
Latest Stories
Comments