On the brink: Jews and Arabs more concerned with civil war than with rockets
Neighbor against neighbor, brother against brother in the streets of the Holy Land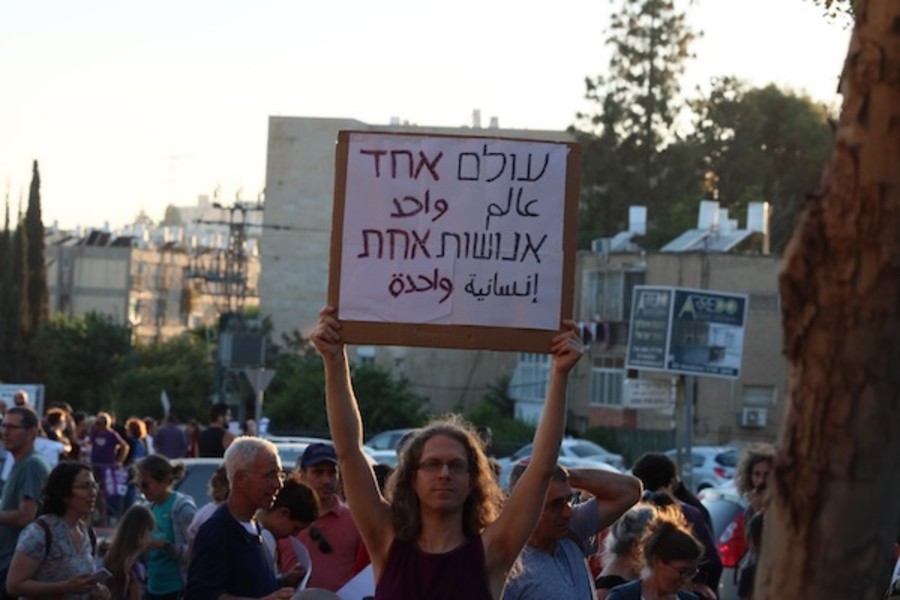 A man holding a sign in Hebrew and Arabic "One world, one humanity" (Photo: Sharona Weiss)
JERUSALEM—When Johaina Dakwar Salim took her son to the mall for his birthday this week, the 10-year-old pulled his mother close and lowered his voice as they approached the entrance.
"He said to me, 'Mom, let's whisper so no one hears us speaking Arabic, okay?' That's when I realized – we've lost our sanity here," she told ALL ISRAEL NEWS.
Israeli cities are burning – not from the rockets being fired from Gaza but from gangs of either Jewish or Arab citizens who are attacking one another in the streets of their own neighborhoods.
In some of the most horrific incidents this week, two Arab-Israeli children in Jaffa were badly burned when someone tossed a molotov cocktail into their living room on Friday night.
A few days before, an Arab man in Bat Yam was dragged from his car by a mob of Jews and beaten nearly to death. A Jewish man in Akko was hospitalized after getting stoned. And a 19-year-old Israeli soldier in Jaffa was assaulted and is fighting for his life right now.
The civil unrest began in the mixed city of Lod, when Arab residents rampaged through their own neighborhood in solidarity with clashes at al-Aqsa Mosque in Jerusalem. They burned down two synagogues, attacked Jews in their homes, torched cars and dumpsters and shattered storefronts. A curfew was put into effect and police reinforcements were sent into the city.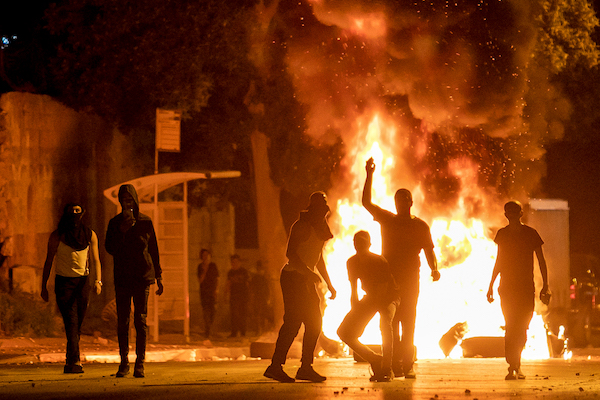 Police officers clash with protesters in Ramla during a protest over tension in Jerusalem, May 10, 2021. (Photo: Yossi Aloni/Flash90)
The following night, Jewish residents – bolstered by Israeli Jews from outside the city – fought back.
Both Arab and Jewish residents are perpetrators – and victims. Two Arabs were among the first victims of Hamas-launched rockets from Gaza and one Muslim was shot and killed during a violent confrontation with Jewish residents.
"There is no greater threat than these riots," Prime Minister Benjamin Netanyahu said.
The police did not have the situation under control in Lod before similar riots erupted in other cities including Akko, Haifa and Jaffa. Jewish extremists made an organized effort to get to these flashpoints and Arabs traveled from as far as Jerusalem to Lod to join in the clashes.
It has been hard to keep up with news pouring in through mainstream media and also on social media. Not every incident makes it into the news, and not every incident on social media can be verified.
But the situation has everyone on edge.
"When you can't speak your own language, when you are nervous to chat at a café, it controls your life," Dakwar Salim said. "How can you have a normal life if you don't even feel safe to speak your own language?"
This type of violence is hard for many Israelis – Jews and Arabs alike – to wrap their heads around and is actually more concerning to them than the rocket attacks from Gaza. It also has taken on a different nuance than the attacks of past intifadas. It is affecting the foundation of society here, literally ripping apart neighborhoods and friendships.
"In the past there has been rage, but it was always centered around wars or attacks from outside – an enemy," Maya Frankforter, a Jerusalem resident, told us. "But never has it been people ganging up to beat up other people. It's not a demonstration – it's worse: This is people going into neighborhoods."
We spoke with Frankforter and Dakwar Salim at a rally of Arabs and Jews who gathered to stand together against the violence and civil unrest that has been unfolding over the past week. This particular rallying point in southern Jerusalem, where about 400 people gathered, was one of hundreds of last-minute demonstrations of this sort around Israel.
"People clearly needed this," Frankforter said. "The main reason so many people showed up, I think, is because the violence we see is overwhelming. And people really want to feel they have a say against it. So many people came in just a few hours."
Thousands gathered at these different intersections around the country on Thursday. The day before, Jews joined Arabs for Eid il-Fitr at a junction near Haifa on Wednesday to also show solidarity in a separate gathering. "We refuse to be enemies," said one of the organizers.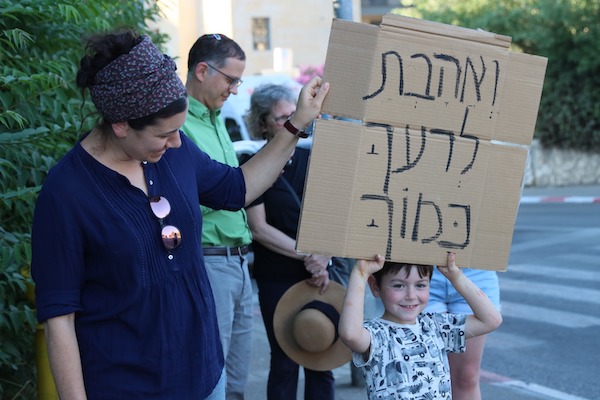 A child holding a sign that reads in Hebrew "Love your neighbor as yourself." (Photo: Sharona Weiss)
Yehuda Ronen said he heard about Thursday's rally the same afternoon in a community WhatsApp group and while he didn't know anyone who organized the rally, he felt it was important to be a part of countering the hate fomenting around the country.
"It's the minimum I can do against the violence that we see," he said holding a sign that said "this is everyone's home," in both Hebrew and Arabic. "We need to do more, but this is the least that I can do."
Another woman brought her two teenage children, Orthodox Jews, to reinforce lessons of tolerance and love in her children.
Dakwar Salim is the principal of the Hand in Hand School in Jerusalem, a bilingual (Arabic and Hebrew) public school which integrates Jews and Arabs in an environment of coexistence. In the last few days, she has fielded calls from parents and others concerned that what is happening in the country could be affecting the school.
"There's an expectation that it will be tense at the school because it is mixed. But every time I look outside my window I see the kids playing marbles, they're playing soccer, they're reading together," she said. "Children are able to overcome these things. They come to school and it's their safe place. That's a good feeling. With all the stress, to be able to come to meet their friends and not think about what's happening on the outside, but to come into the school and feel safe, that's a wonderful feeling."
"Yes, we are different, Arabs and Jews. We have different languages and cultures, religion too," she said. "But what do most people want in life? People want to wake up in the morning, they want to go to work, to come home after and take a walk and spend time with their family. We all want the same thing."
But when her son said he was afraid to speak Arabic, Dakwar Salim said she realized the situation has gone too far.
"And when you get a person out of his car and beat him almost to death, that's when we need to look at this clearly and ask, why is this happening? The war between Israel and Hamas, that's about politics. But, between citizens, why?"
"We must return to our humanity – a person is a person. We need to return to basic values like respect for one another," she said. "Look, we won't solve the complications, but – standing here right now is a little bit of returning to sanity."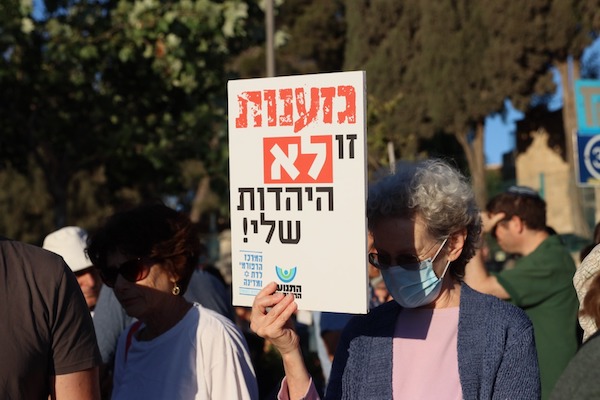 A women at the rally holding a sign in Hebrew "Racism is not my Judaism" (Photo: Sharona Weiss)
For his part, on Friday, President Reuven Rivlin appealed to Muslim, Christian and Jewish religious leaders in the northern coastal city of Akko to restore calm there.
"All of us, public leaders at all levels, and particularly spiritual leaders, are responsible for what happens in our community," Rivlin said. "Responsible for returning order, for ensuring that the law is obeyed. We must stop the cycle of violence. That is what is needed right now."
President Rivlin brought together Muslim, Christian and Jewish religious leaders and educators in Akko for an emergency meeting to call for calm and stopping violence on the streets, May 14, 2021 (Photo: Mark Neyman/GPO)
At the meeting, Salim Najmi – a Muslim leader in the city – also pleaded for peace.
"We cannot forget that we believe in the same God, all of us are children of Abraham," Najmi said.   
Akko Mayor Shimon Lankri noted the special character of the city where Jews, Muslims and Christians live together.
"Something dreadful has happened here – nationalism, criminality, economic terrorism," he said. "We could not have predicted that something like that would happen here, and I am sure that we can overcome it far more quickly than in other places."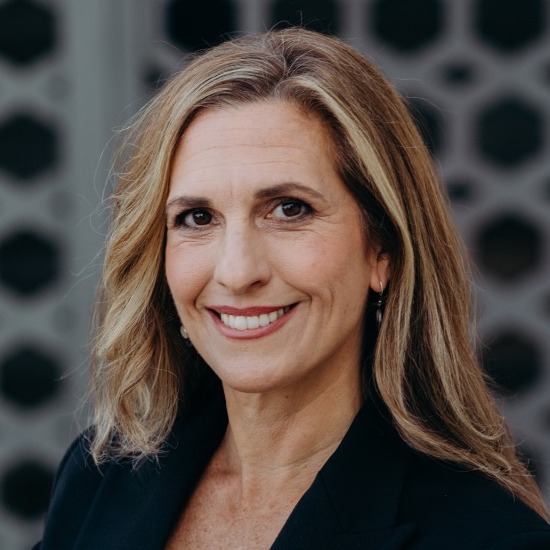 Nicole Jansezian was the news editor and senior correspondent for ALL ISRAEL NEWS.
A message from All Israel News
Help us educate Christians on a daily basis about what is happening in Israel & the Middle East and why it matters.
For as little as $5, you can support ALL ISRAEL NEWS, a non-profit media organization that is supported by readers like you.
Donate to ALL ISRAEL NEWS
Current Top Stories
Comments