On day one, new Foreign Minister Yair Lapid sends powerful, positive message that Israel deeply values pro-Israel Christians
Lapid meets with top Christian leaders and discusses Evangelicals in first meeting at Foreign Ministry, while dozens of additional Christian leaders send letters of support to new Israeli government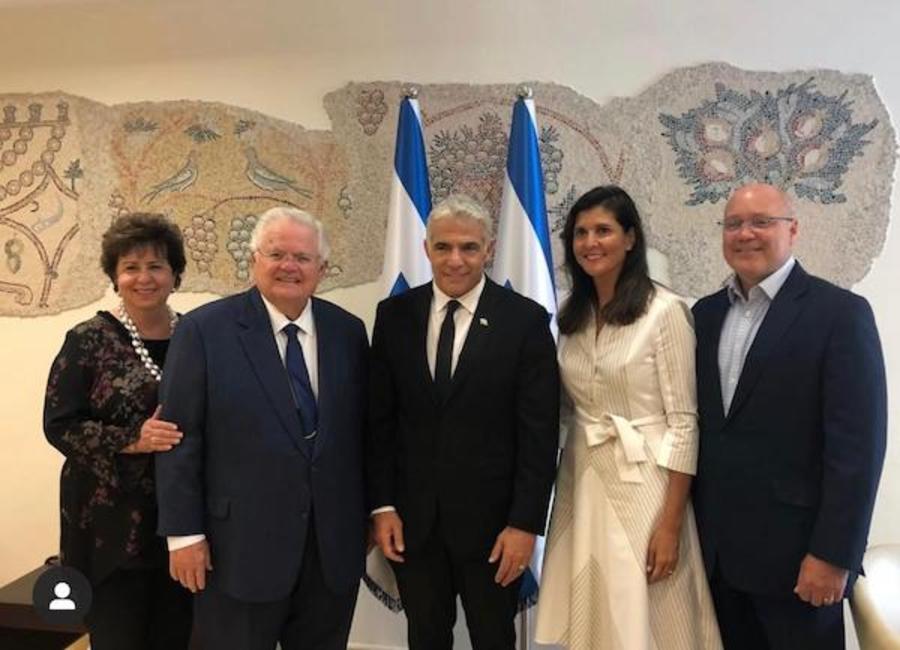 (Photo: Yair Lapid's Twitter feed)
JERUSALEM—Less than 24 hours after the new Israeli government was sworn into office, one of its highest-ranking officials sent a powerful and positive message to pro-Israel Christians around the world that their support and friendship is welcome and immensely appreciated.
Yair Lapid, the new foreign minister and alternate prime minister – indeed, the architect of the new "change government" – took the lead on Monday with three noteworthy steps designed to make clear that one thing Israel is not changing is its strategic and deeply valued alliance with the world's 600 million Evangelical Christians. 
First, Lapid met privately with Ambassador Nikki Haley and Pastor John Hagee, two of the most prominent and influential Evangelicals in the U.S.
The two arrived in the land on Thursday, have been touring biblical sites, meeting with Israeli families, businesspeople and soldiers and praying at the Western Wall.
Hagee is the founder of Christians United For Israel, the largest pro-Israel Christian Zionist organization in the U.S., with some 10 million members.
Second, rather than keeping the meeting private, Lapid tweeted out a photo and warm words of gratitude for the solidarity mission to the Jewish state being led by Haley and Hagee.
"I met today with Pastor John Hagee and Nikki Haley and thanked them for their unwavering support for the State of Israel," Lapid wrote to his 272,000 followers. "The relationship between our countries is based on a deep bond and vital shared interests."
Third, Lapid spoke about the importance of the Evangelical community in his first meeting with employees at Israel's Ministry of Foreign Affairs.
"The fact that we are supported by Evangelical groups and other groups in America is important and heartwarming," Lapid told the assembled crowd of diplomats and support staff. 
ENCOURAGING SIGNALS FROM NEW GOVERNMENT IN AN INTENSELY BUSY WEEK
Moments after Lapid sent out his tweet, I retweeted his remarks and photo and commented, "I'm very encouraged that Foreign Minister Yair Lapid was able to make time to meet with Nikki Haley and Pastor John Hagee, founder of CUFI – this is a positive sign that even in an intensely busy week the new Israeli government is making relations with Evangelicals a priority."
Both Haley and Hagee sent out their own tweets.
"Great meeting with Foreign Minister Lapid," Haley wrote. "Hoping he successfully builds on the enormous diplomatic progress Israel has made in recent years throughout the region and the world."
Through his CUFI account, Hagee tweeted: "We were honored to meet with Israeli Foreign Minister Yair Lapid to discuss the U.S.-Israel relationship and the bright future that lies ahead for both nations."
New Prime Minister Naftali Bennett had been expected to meet with both Haley and Hagee, according to Israeli government sources who spoke to ALL ISRAEL NEWS late last week.
So far, however, Bennett has not met with them.
NETANYAHU ALSO MEETS WITH EVANGELICAL LEADERS
That said, Netanyahu – now leader of the opposition – carved out time to meet with Haley and Hagee.
The meeting took place in the official residence on Balfour Street, though Netanyahu and his wife, Sara, will soon be vacating that facility.
"Time with Prime Minister Netanyahu is always invaluable," Haley wrote to her 682,000 followers, including a picture with Netanyahu. "His contributions to Israeli security and prosperity are historic. We have not heard the last from him."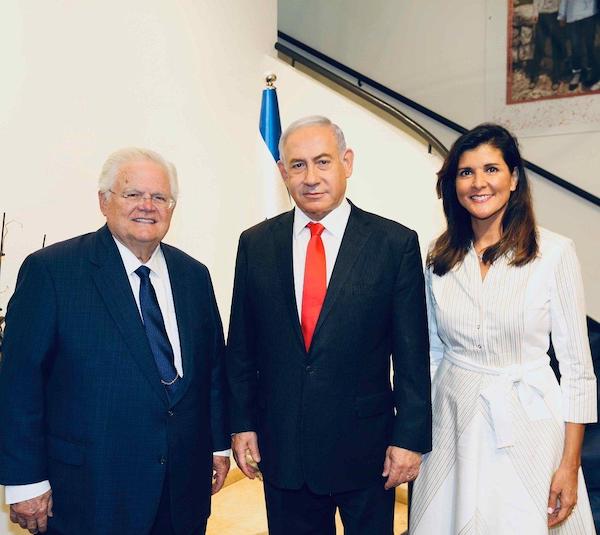 (Photo: Nikki Haley's Twitter feed)
Curiously, while Hagee tweeted photos and comments about his Lapid meeting both on his own account and his CUFI account, as of 2 p.m. Israel time on Tuesday he had not tweeted anything regarding Netanyahu, despite their close alliance over the years.
Former Vice President Mike Pence issued his own praise of Netanyahu on Monday.
"Congratulations @Netanyahu on your extraordinary tenure as the most successful Prime Minister in the history of the Jewish state," Pence wrote to his 5.9 million followers on Twitter, including a past photo of the two men. "Millions of Americans are grateful for your leadership in Israel and your dedication to strengthening the cherished alliance between our two nations."
DOZENS OF ADDITIONAL CHRISTIAN LEADERS SEND LETTERS SUPPORTING NEW ISRAELI GOVERNMENT
Meanwhile, ALL ISRAEL NEWS can exclusively report that more than two dozen additional major Christian leaders in Israel and the U.S. have sent letters and statements to the new government expressing strong and unwavering support, even while expressing appreciation for the work and successes of former Prime Minister Benjamin Netanyahu.
The new list includes:
Gordon Robertson, president of the Christian Broadcasting Network

Michael Little, former president of the Christian Broadcasting Network and a founding board member of ALL ISRAEL NEWS

Rev. Samuel Rodriguez, president of the National Hispanic Christian Leadership Conference, and a member of the ALL ISRAEL NEWS Advisory Board

Troy Miller, CEO of National Religious Broadcasters

Susan Michael, USA director of the International Christian Embassy Jerusalem

Gary Bauer, president of American Values

Robert Stearns, president of Eagle Wings

And others
Here is the text of their letter:       
We the undersigned Evangelical Christian leaders in the United States want to reaffirm our unwavering support for the nation and people of Israel. We want to further affirm that this steadfast support for Israel shared throughout our constituencies is not dependent on the government chosen by the people of Israel. We respect Israel as a democratic state, which has the sovereign right to elect its own leaders. We further recognize it is not our place to interfere in Israeli politics but rather to stand in friendship and solidarity with the people of Israel and their elected government.
To be clear, our support for Israel is not based on shifting political considerations but on God's eternal covenant promises made with Abraham and his descendants, as is recorded in the Bible. We see in the restored nation of Israel today the faithful character of God to keep these ancient covenant promises, which He reaffirmed through the Hebrew prophets, even vowing to plant the Jewish people back in their ancestral homeland never to be uprooted again (Amos 9:14-15).
Of course, our constituencies greatly respect the many good years of stable and effective leadership provided by Prime Minister Benjamin Netanyahu, who recognized the unique historic contributions of Christian Zionism and reached out in special ways towards the Evangelical community. We also pray for continued and deepened relations with the new government of the State of Israel as well.
Our respective movements also might not agree with every single decision made by Israel, however over recent decades we have proven that our abiding support for Israel does not change even though the government does. We consider it a privilege and moral duty to stand in friendship with Israel, to fight antisemitism around the world, and to contribute towards peaceful relations between Jews and Arabs in the Land, and between Israel and its Arab neighbors.
May God bless and keep Israel!
In a separate but related development, the president of Bridges For Peace, a Christian Zionist organization based in Jerusalem and focused on doing humanitarian relief work among Israel's poor and needy, sent its own statement affirming support of the new government, while praising Netanyahu's service and leadership.
Here is the full text:
To Prime Minister Naftali Bennett and Foreign Minister Yair Lapid –
Congratulations on forming a government. I want to assure you both that Bridges for Peace will pray for you both daily, for wisdom, strength, courage, and the ability to bring unity to a hurting nation.
As a Christian leader who has lived in Israel for more than 30 years, I have seen the leadership of many Prime Ministers (Shamir, Rabin, Peres, Netanyahu, Barak, Sharon, Olmert, Netanyahu again and now Bennett). I have lived through two intifadas, Oslo, disengagement from Gaza, leaving Lebanon, scud missiles from Saddam Hussein, suicide bombers, the second Lebanon war, and conflicts with Gaza. 
While Christian supporters of Israel did not wholly agree with all the decisions which were made by these leaders, they never stopped supporting Israel and the Jewish people.  Bible-believing Christians support Israel unconditionally because we love the God of Israel; we read the Bible and see Israel throughout. It is not possible for us to love God and not love the Jewish people.
We will remain firm friends – we identify with the words of the gentile Moabitess, Ruth as she spoke to Jewish Naomi, "your God will be our God."
So, I confidently say Israel you are not alone.
We want to express deep appreciation and thanks to Benjamin Netanyahu for his service to the country. 
We say a warm, welcome to Naftali Bennett and Yair Lapid.
We, your friends, will never stop praying for the peace of Jerusalem.
We will support Israeli projects, we will stand up for you around the world. We will stand against anti-Semitism. We will come back to visit this amazing land. Together like Ruth and Naomi we will step into the future trusting in the God of Israel. 
Yours sincerely,
Rev. Rebecca J. Brimmer
International President and CEO
Bridges for Peace
These messages of strong support come on the heels of statements provided exclusively to ALL ISRAEL NEWS on Sunday from some of the most famous and influential pro-Israel Christians in the world, including:
Gov. Mike Huckabee

Rev. Johnnie Moore

Rep. Michele Bachmann

Pastor Skip Heitzig

Jürgen Bühler

Kay Arthur

Michael Little

Tony Perkins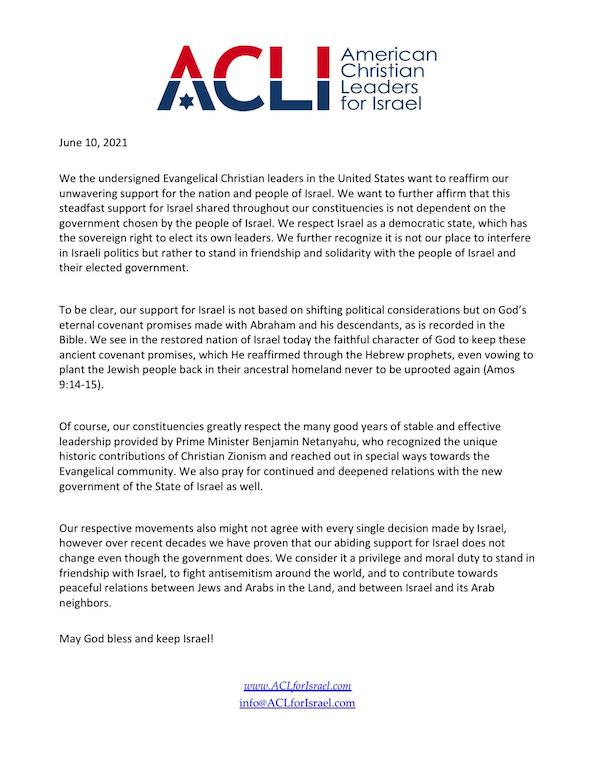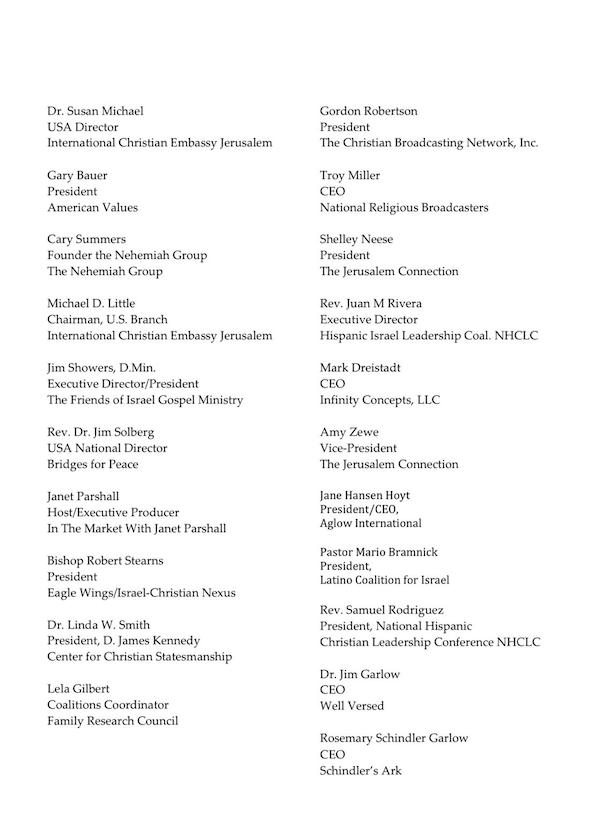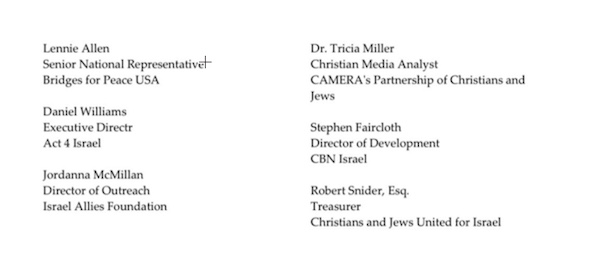 Joel C. Rosenberg is the editor-in-chief of ALL ISRAEL NEWS and ALL ARAB NEWS and the President and CEO of Near East Media. A New York Times best-selling author, Middle East analyst, and Evangelical leader, he lives in Jerusalem with his wife and sons.
A message from All Israel News
Help us educate Christians on a daily basis about what is happening in Israel & the Middle East and why it matters.
For as little as $5, you can support ALL ISRAEL NEWS, a non-profit media organization that is supported by readers like you.
Donate to ALL ISRAEL NEWS
Current Top Stories
Comments