Normally the busiest week of the year, Sukkot was absent of foreign - and domestic - tourists
As Sukkot draws to an end, those in the tourism industry are looking back now at nearly eight full months of loss, and no end in sight and "no reason for optimism."
A priest walking next to closed shops in Jerusalem's Old City during a nationwide lockdown. (Photo: Nati Shohat/Flash90)
October is traditionally a peak tourism month in Israel and the week of Sukkot, the Feast of Tabernacles, is usually the busiest week of the year with thousands of Jews and Christians pouring into the nation to celebrate the fall holidays.
"The way things were shaping up, we probably would've had at least 450,000 people who would've been in Israel this October," Elisa Moed, CEO of Travelujah, told All Israel News. 
Instead, all of the high holidays this year, since Sept. 18, were observed under a national lockdown that not only kept foreigners out of the country but also Israelis confined to their neighborhoods — scuttling any shot of even domestic tourism. National parks, museums, restaurants along with hotels and tourist sites, are all closed under a severe second national lockdown.
As Sukkot drew to an end on Saturday, those in the tourism industry are looking back now at nearly eight full months of loss. This is such a stark contrast from a solid decade of growth in annual tourism which set a new record each year. All markets were going strong, Moed said, and the best was yet to come.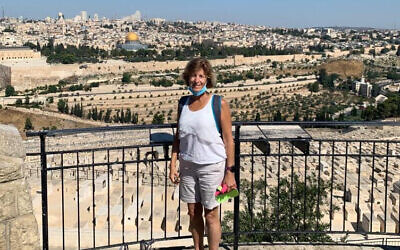 Elisa Moed, CEO of Travelujah (Photo: Travelujah)
"We started this year very strong and we would've probably ended the year at 5.2 million visitors" — another record number, Moed said. "And then COVID came around and it all just stopped. Just stopped. Not gradually. It was like, in one day, everything was cancelled."
The national lockdown will last until at least Oct. 18. This doesn't bode well for the nation's borders, which will likely be the last to open, well before children return to school and restaurants are allowed to open again. 
Consultant and tourism expert Uri Steinberg previously told All Israel not to expect borders to open before 2021. Now he warns that, with the added damage of the Sukkot lockdown, "very soon we will see businesses going under."
"So many of the hotels, the restaurants and many other businesses were waiting for this peak season to make up for what has happened to them during 2020," Steinberg said. "A lot of them, I'm afraid, will not recover ."
Adding to the economic harm of the past eight months is the uncertainty of when the skies will reopen to tourists.
"There is no reason for optimism for anyone who is in this business" Steinberg said.
Jerusalem's Inbal Hotel normally brings in approximately 10 percent of its annual revenue during the holiday and rely on this time, the The MediaLine reported.
"This week is a very substantial time for us and the most important holiday for Jerusalem's five-star hotels," Inbal general manager Rony Timsit said. "Not only that; we achieve most of our revenues in the second half of the year. Plainly, this year, it will not occur."
Before COVID, the main problem facing the industry, Moed said was "a lot of demand and not enough rooms," Moed said. 
"There was a lack of quality hotel rooms to meet the needs of tourists," she said. "Obviously the market has changed and that situation is no longer an issue. It will likely take four years or so until the market returns to pre-COVID levels."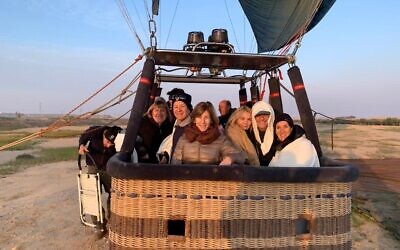 A pre-COVID tour with Travelujah (Photo: Travelujah)
Moed noted the trickle down effects have filtered throughout the whole supply chain affecting so many facets of the Israeli economy, even people she works with from Bedouins who held cooking workshops, Druze families who provided hospitality, jeep drivers, restaurant owners and, of course, tour guides.
"It is not just the hotels. A lot of small businesses that provide tourism services, very much in the periphery — in the North and the South: done, closed, gone."
Eran Ketter, an advisor and keynote speaker in tourism, had a more dire assessment of the damage this has wrought on the economy.
"Israel is sentencing the industry to hunger and poverty, and it's unclear why a person is able to fly to Greece but not stay in a guest house for a weekend up north," he told The Jerusalem Post. "I have friends who were tour guides. One of them installs solar panels now and the other drives a tractor."
A new tour guide, Darya Short has earned no income since March. After being a stay-at-home mom for almost two decades, Short took the Tourism Ministry's grueling two-year course and received her qualification as a tour guide in August 2019. She officially started guiding the following month and, by March, she was averaging two groups a month and was booked through 2022. 
She should be working right now.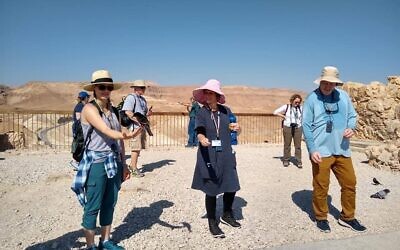 Darya Short (c), leading a group of tourists pre-COVID (Photo courtesy)
"I had one group scheduled to end in the middle of the Feast and another group scheduled to start after the Feast," Short told All Israel. Short specifically planned the groups like this so her family could host guests in their sukkah on this, the last weekend of the holiday.
"Instead, I have not been able to work since March … and now there is an additional lockdown so my husband and I have done our best to keep the instructions for the Feast in our little sukkah on our rooftop balcony with no guests."
Meanwhile she has been staying current in her field, learning a new language and keeping in touch with her colleagues. 
"There will be a light at the end of the tunnel soon, but the truth is that none of us know," she admitted. "We are literally living at the mercy of the decisions of the governments worldwide."
Temporary Rebound
The industry rebounded a bit during the summer when Israelis were confined to Israel until a few countries opened up to Israel in late August. There was cause for hope.
"You couldn't get a room. Israelis were going to the north, the south, renting homes or zimmers (guest houses)," Moed said. "In some ways that was a wonderful thing that Israelis, who normally go abroad, traveled and saw things in their own country they normally wouldn't visit."
Other attractions also got booked up. Israel's boutique wineries — normally only open on Friday and some also on Saturday — were booked for months in advance.
"Israelis were making the best of it, they were going to hit up the wineries, stay in hotels," Moed said. "I made a reservation in September for a wine tasting in November."
Things were going well and businesses were looking forward to the local traffic the holidays would provide. But then the second lockdown quashed those hopes. 
Despite all the challenges the industy is facing, Moed is an optimist and is confident that the industry will bounce back, if for no other reason than: "Israel is an amazing destination. We have so much to offer."
Presciently, Moed started up Holy Land virtual tours as early as Passover and Easter and has created a community of people from around the world who tune in weekly.
"Even though people can't come now they want to come back to Israel," Moed said. "We just must maintain what we have and vocalize the excitement of Israel to keep people connected to Israel. That is my mission."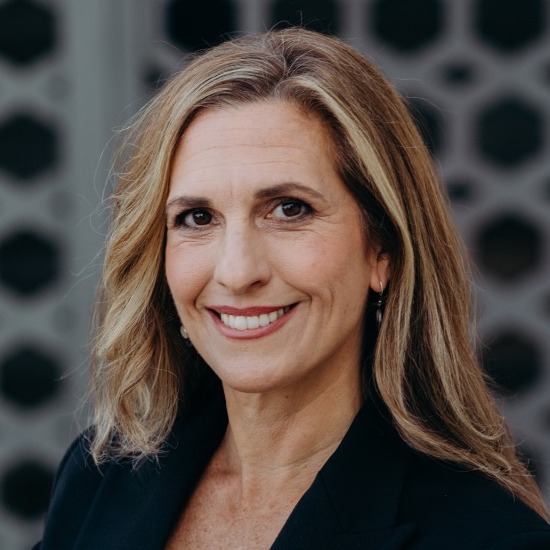 Nicole Jansezian was the news editor and senior correspondent for ALL ISRAEL NEWS.
Popular Articles
A message from All Israel News
Help us educate Christians on a daily basis about what is happening in Israel & the Middle East and why it matters.
For as little as $5, you can support ALL ISRAEL NEWS, a non-profit media organization that is supported by readers like you.
Donate to ALL ISRAEL NEWS
Latest Stories
Comments