Netanyahu in serious political trouble at home, even as he scores biggest foreign policy success with UAE peace deal
Here is what to watch this week.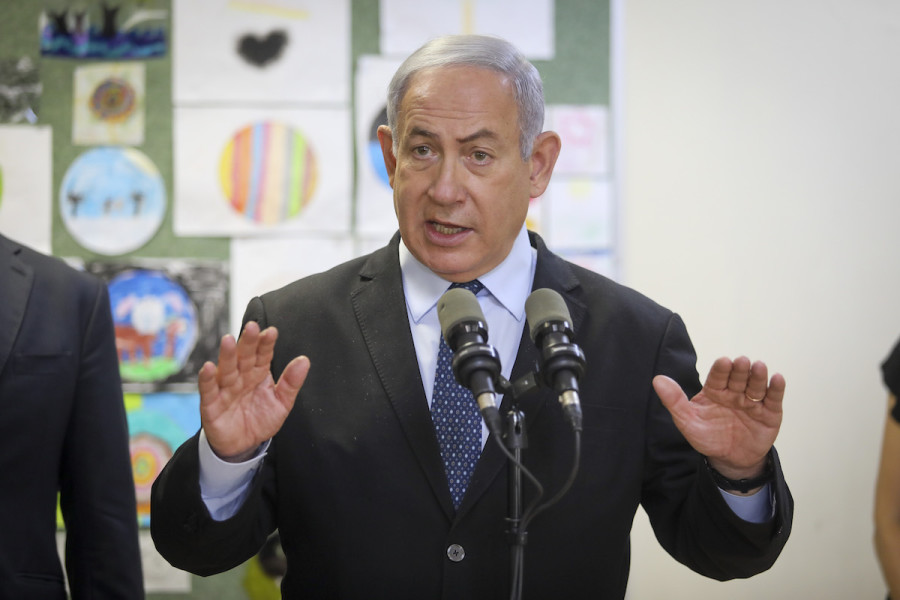 Prime Minister Benjamin Netanyahu, pictured here visiting a Jerusalem school last month, is in the fight of his political life. (Photo credit: Flash90, Marc Israel Sellem/POOL)
JERUSALEM – Keep your eye on the Israeli prime minister this week.
Benjamin Netanyahu is in the process of finalizing the greatest achievement of his political life. But he is also in the midst of the greatest domestic crisis of his political life.
First, the good news.
An Israeli cabinet minister told ALL ISRAEL NEWS on Sunday that Netanyahu will fly to Washington in the coming days to sign a historic, groundbreaking peace treaty with the United Arab Emirates at the White House, probably on Sept. 15 or 16.
Last week, a delegation of senior Israeli officials flew to Abu Dhabi, the capital of the UAE, to begin writing the fine print of the peace deal.
On Sept. 22, a delegation of senior UAE officials will come to Israel to continue working out the details of setting up embassies, appointing ambassadors and creating business, financial and tourist cooperation.
Now, the bad news.
The COVID-19 crisis is out of control in Israel – more than 135,000 have been infected since the beginning of the pandemic, including almost 30,000 active cases.
Daily infection rates are hitting new highs – more than 3,400 new coronavirus infections were diagnosed in the last 24 hours.
More than 1,000 Israelis have died from the virus.
And a political rebellion against Netanyahu is building.
His poll numbers are plunging – the latest poll shows his Likud party losing five seats in the next election (dropping from 36 to 31).
Ultra-Orthodox Members of Knesset and mayors – key political allies of Netanyahu – are furious with Netanyahu over the decision to put their communities (and others) under nightly curfews because of their spiking COVID rates. They are threatening to blow up the government coalition if Netanyahu doesn't back down. Netanyahu in recent days had delayed the decision under this political pressure.
Avigdor Liberman – Netanyahu's former chief of staff who now cannot stand the PM, runs his own political party and sees himself as the man to replace Netanyahu – is publicly calling on Israelis to stop listening to the government's COVID-containment plans. "The rules are illegal, don't follow them, but rather use common sense," Liberman is telling his followers.
Naftali Bennett is another one of Netanyahu's former chiefs of staff. He also cannot stand the PM, runs his own political party, is blasting Netanyahu's handling of COVID and is seeing his Yamina party surge. The latest poll finds that if the elections were held now, Yamina would win 21 seats, up from just six seats they hold today.
And on top of all that the country has officially slipped into a recession, unemployment has risen to 21 percent and our tourism industry is suffering terribly due to policies implemented to slow the pandemic's spread.
Please pray for Netanyahu, and all Israeli leaders, to have wisdom to successfully contain and crush the coronavirus.
Pray, too, that they can all get along to work towards the good of the nation.
Most of all, please pray for comfort for all of the families and friends who have lost loved ones in recent months, and for the quick and complete healing of those who are suffering from COVID right now.

Joel C. Rosenberg is the editor-in-chief of ALL ISRAEL NEWS and ALL ARAB NEWS and the President and CEO of Near East Media. A New York Times best-selling author, Middle East analyst, and Evangelical leader, he lives in Jerusalem with his wife and sons.
A message from All Israel News
Help us educate Christians on a daily basis about what is happening in Israel & the Middle East and why it matters.
For as little as $5, you can support ALL ISRAEL NEWS, a non-profit media organization that is supported by readers like you.
Donate to ALL ISRAEL NEWS
Current Top Stories
Comments