Netanyahu announces pause on controversial judicial overhaul to 'avert a civil war through discussion'
Israeli premier vows to reach out to Gantz, with the support of his right-wing political allies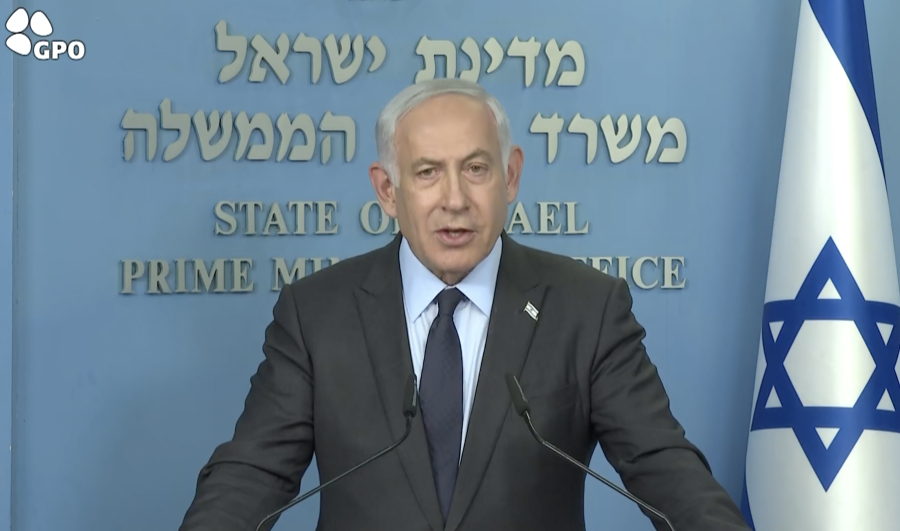 Israeli Prime Minister Benjamin Netanyahu addresses the nation, Mar. 27, 2023 (Photo: Screenshot)
After 13 weeks of mass protests, Israeli Prime Minister Benjamin Netanyahu announced on Monday that he will halt the controversial judicial reform legislation that has stirred up turmoil in the country. 
Netanyahu reiterated his pledge to do everything within his power to achieve a solution to the crisis. 
"We are not facing enemies, but brothers," Netanyahu noted. "I say it here and now: We must not allow for a war between brothers. We are on a dangerous collision course of Israeli society, in the midst of a crisis that endangers the basic unity between us, and such a crisis calls for all of us to act responsibly."  
Netanyahu said that he read a letter from National Unity party leader Benny Gantz, in which he promised to engage in talks on all issues related to judiciary reform. The premier vowed to explore Gantz's initiative, with the support of his right-wing political allies. 
"When there is an opportunity to avert a civil war through discussion, as a prime minister, I am taking a break for dialogue. I am giving it a genuine opportunity for genuine dialogue to reach a wide agreement," Netanyahu continued. 
In his speech, the Israeli premier invoked "The Judgment of Solomon" story from the Book of Kings as a metaphor for the current tension in Israeli society.
King Solomon was asked to rule between two women, both claiming to be the mother of a baby. Solomon revealed their true affiliation by suggesting cutting the baby in two, with each woman to receive half. The real mother was the one who fiercely objected and insisted on keeping the baby alive. 
"Today, both sides of the national dispute claim to love the baby, to love our country," Netanyahu said. "I am aware of the huge building tensions between the two sides, two sides of our nation. I hear the many people who wish to dissolve this tension."
Netanyahu added that there is one thing that he refuses to accept; "a small extremist minority that is ready to tear our country apart." He stated that this minority is using tactics of violence, threats and extortion as it "inflames a civil war" and encourages disobedience in the military, which he referred to as a "terrible crime."  
"The State of Israel cannot exist without the IDF, and the IDF cannot exist with disobedience," Netanyahu stressed, referencing the phenomenon of IDF reservists threatening not to show up for training or deployment in opposition to the reforms. He urged commanders of the Israel Defense Forces and security establishment to vehemently condemn the phenomenon and take action again it.   
Returning to his biblical metaphor, Netanyahu stressed that the majority of Israeli people on both sides, "do not wish to cut the baby and tear the nation apart."
The Israeli prime minister has been under increasing pressure in recent days, not only from the opposition and anti-government protesters, but also from members of his own coalition. Netanyahu is trying to navigate politically between government members who have threatened to resign if he scraps the judiciary overhaul and others who have called on him to stop the legislation or hold talks with the opposition. 
After firing Defense Minister Yoav Gallant on Sunday, Netanyahu met with National Security Minister Itamar Ben Gvir on Monday in an attempt to avert another obstacle to the stability of his government. Ben Gvir agreed not to leave the government over Netanyahu's decision to postpone the judiciary reform until the summer, in exchange for a budget that would be allocated to a National Guard that he will oversee. 
"The reform will pass. The National Guard will be established. The budget I requested for the National Security Ministry will be passed in its entirety. Nobody will scare us and nobody will be able to change what the people have decided," Ben Gvir stated on social media. 
As dramatic political events unfolded, anti-government protesters took to the streets of Jerusalem and gathered outside the Knesset, as well as in Tel Aviv and other towns across the country. Israel's largest labor union, Histadrut, initiated a general strike and the workers' union at Ben-Gurion International Airport announced an immediate halt to all departures from the busy airport. 
For the first time in recent weeks, about 10,000 supporters of the judicial reform also demonstrated in Jerusalem. They held signs reading "B class citizens" – a slogan that has become prevalent on social media. It reflects the frustration of many right-wing Israeli voters that their choice in the November elections – which led to the forming of a right-wing government – has not borne fruit.   
Israeli President Isaac Herzog issued a statement saying: "Stopping the legislation is the right thing. This is the time to begin a sincere, serious and responsible dialogue that will urgently calm the waters and lower the flames. I call on everyone to act responsibly. Protests and demonstrations, on whichever side – yes. Violence – absolutely not! If one side wins, the state will lose. We must remain one people and one state – Jewish and democratic."
White House spokesperson John Kirby, when asked to comment on the events in Israel on Monday, said the Biden administration is "watching this as closely as we can." 
"We've been very clear privately, of course, with Israeli leaders as well as publicly about our concerns … over developments here in the last 48 hours and, again, strongly urge Israeli leaders to compromise," Kirby said.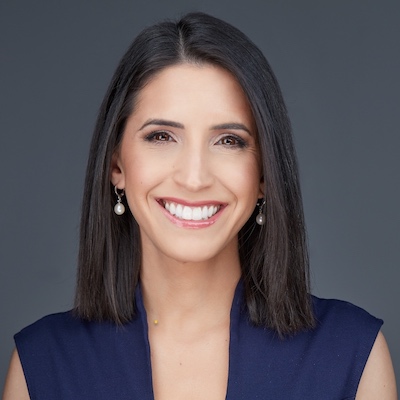 Tal Heinrich is a senior correspondent for both ALL ISRAEL NEWS and ALL ARAB NEWS. She is currently based in New York City. Tal also provides reports and analysis for Israeli Hebrew media Channel 14 News.
A message from All Israel News
Help us educate Christians on a daily basis about what is happening in Israel & the Middle East and why it matters.
For as little as $5, you can support ALL ISRAEL NEWS, a non-profit media organization that is supported by readers like you.
Donate to ALL ISRAEL NEWS
Current Top Stories
Comments