National Religious Broadcasters join the fight to combat anti-Semitism – especially where it lurks in Christian circles
"We must speak loudly and we must be clear and we must speak every single time" against Christian anti-Semitism, Rev. Johnnie Moore asserts
Rev. Johnnie Moore speaking at NRB conference 2022 in Nashville (Photo: Johnnie Moore's Twitter feed)
NASHVILLE —I closed my eyes briefly before my morning coffee kicked in at the National Religious Broadcasters (NRB) convention in Nashville to honor Israel last week. As I listened to the keynote speaker, Rev. Johnnie Moore, I had the momentary feeling as if I were listening to an Israeli leader at home.
While not Jewish or Israeli himself, Rev. Moore – founder of The KAIROS Company and president of the Congress of Christian Leaders – could not have been more aligned and in sync with the Jewish state, making me feel at home, despite the fact I was several thousand miles from home.
Earlier in the week, the NRB formally adopted the IHRA definition of anti-Semitism, an important milestone on many levels. Recognizing that the rise of anti-Semitic incidents in the U.S. and around the world has no place in an ethical, moral society, the IHRA definition gives a formal yardstick by which to identify and measure anti-Semitic activities, as well as impose consequences where needed. It's important for law enforcement, and it's important for people of conscience, especially Christians. 
By adopting it, Christians are able to display another level of solidarity with Israel and the Jewish people and address the sad, yet very real, history of anti-Semitism in the church. 
Rev. Moore spoke with clarity, laying out a multi-point plan and mandate for Christians to stand with Israel and against anti-Semitism. 
"We must know our history," he implored, "the good and the bad. We have to tell the stories, generation after generation of the brave Christians that stood up against this horrific hate." 
"We must also (tell the stories) of famous Christian Zionists." 
Moore recalled that Christian Zionism is a term coined by the founder of modern Zionism, Theodor Herzl, who convened hundreds of Jewish leaders in the first Zionist Congress, the "historic meeting that served as the symbolic parliament that would lay the groundwork for a nation Zionist movement around the world." 
Moore said that Herzl invited non-Jewish guests to that Congress, including ten prominent Christian leaders and explained that the term Christian Zionist is "one of the great miracles in human history. This renewed friendship between the Jewish and Christian people." 
"But we need to tell the other part of the story," the reverend continued. "We must tell our children to our shame about the complicity of the church with the Nazis. We must teach our children that history's greatest horror took place in Christian Europe. We must tell (them) about the Wannsee Conference, Jan. 20, 1942, when 15 (Nazi leaders) gathered outside of Berlin and in 90 minutes, all 15 voted unanimously to unleash the final solution on the Jewish people. Each of those 15 participants were professing Christians. All but four were Protestants."
Moore charged Christians to get to know the Jewish people, noting that he grew up in South Carolina, "loving Israel as a Baptist," but never having met a Jewish person until he was an adult.
"It's not ideal to love Israel and have no Jewish friends. (Now) I love to learn the Hebrew Bible with a rabbi friend of mine. He is a proud Jew, me as a proud, a proud Christian, because it was, the Hebrew Bible before it was the Old Testament. It's written in Hebrew, not English. There are all kinds of amazing things to learn from one another." 
However, Moore noted that because of the past history of Christian anti-Semitism, "if the hand is met with suspicion, it may be for good reason."
"We should integrate our life with Israel. You know, very, very often we travel to Israel, but we miss Israel along the way. We experience the Holy Land. We go to the Christian sites. But Israel should be a part of our Christian life. We should spend more time in Israel. Rather than vacationing in Europe (or) the Bahamas, why not go to Israel? Spend time on the Mediterranean Sea. Take your kids to Jerusalem or to the Galilee."
Addressing the specifics of anti-Semitism specifically, Moore implored, "When people say (anti-Semitic) things, we (must) raise our voice, whether it is a member of Congress walking through the hallowed halls of Congress or someone who inadvertently says something. If it's Christian anti-Semitism, especially, we must speak loudly and we must be clear and we must speak every single time." 
Speaking out requires paying attention and being educated. Knowing the history, understanding the nuances and being as brave and bold as Rev. Moore, provides Christians with the weapons to fight anti-Semitism most effectively. That way, when Christians hear or read news about Israel – which often crosses over the line of anti-Semitism – "you know how to connect with Israel and to pray for Israel." And through this, one can stand against anti-Semitism, and with and for Israel and the Jewish people. 
Relationships also matter.
"Don't have a surface-level relationship. Make it deep and then help organizations doing great things," Moore said. 
He also encouraged people to buy Israeli products as another proactive wayto support Israel. He reminded the mostly-Christian audience of the words of the Apostle James.
"Faith without works is dead. All of these sentiments, all of the celebration, all of these wonderful things that we do every time, but when it's all said and done, we have to pray like everything depends upon God. Pray for Israel every single day, but work like everything depends upon us, and you never know how a small action changes the destiny."
As for this Orthodox Israeli Jew, I felt very much at home and there's little more to say other than "Amen."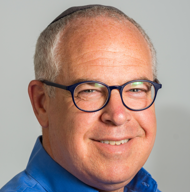 Jonathan Feldstein was born and educated in the U.S. and immigrated to Israel in 2004. He is married and the father of six. Throughout his life and career, he has become a respected bridge between Jews and Christians and serves as president of the Genesis 123 Foundation. He writes regularly on major Christian websites about Israel and shares experiences of living as an Orthodox Jew in Israel. He is host of the popular Inspiration from Zion podcast. He can be reached at firstpersonisrael@gmail.com.
A message from All Israel News
Help us educate Christians on a daily basis about what is happening in Israel & the Middle East and why it matters.
For as little as $5, you can support ALL ISRAEL NEWS, a non-profit media organization that is supported by readers like you.
Donate to ALL ISRAEL NEWS
Current Top Stories
Comments