Multiple US news outlets declare Biden winner of presidential campaign
Trump vows to fight, says Biden's "media allies" rushing to declare victory but many states still in dispute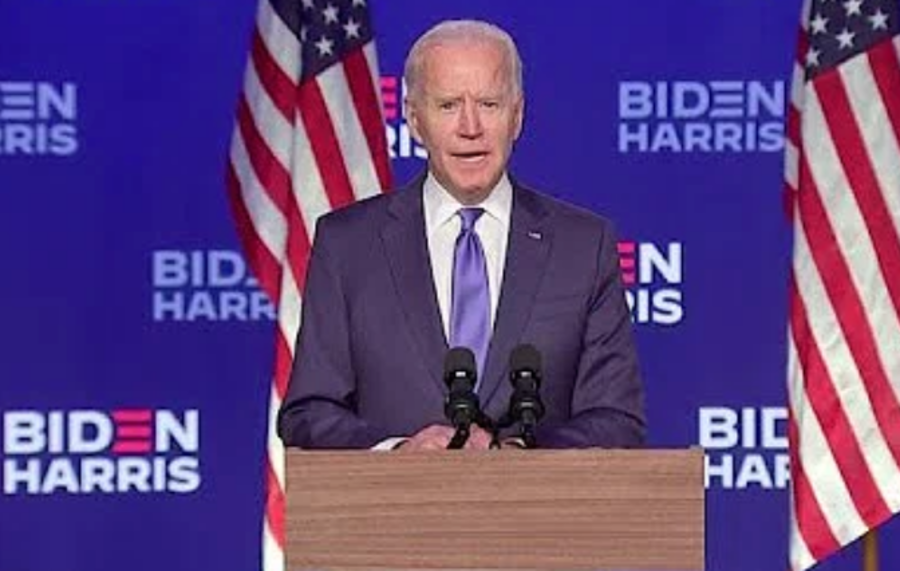 Despite legal challenges and calls for recounts in multiple states by the Trump campaign, multiple American news outlets began declaring Joe Biden as the winner of the presidential campaign early Saturday evening, Israel time.
"Democrat Joe Biden defeated President Donald Trump to become the 46th president of the United States on Saturday, positioning himself to lead a nation gripped by historic pandemic and a confluence of economic and social turmoil," reported the Associated Press.
"His victory came after more than three days of uncertainty as election officials sorted through a surge of mail-in votes that delayed the processing of some ballots," wrote the AP. "Biden crossed 270 Electoral College votes with a win in Pennsylvania."
Fox News reported that "Democratic presidential nominee Joe Biden has defeated incumbent President Donald Trump, denying him a second term in the White House, Fox News projects, a victory for the former vice president after a bitter campaign and dramatic, prolonged vote count in battleground states sparking lawsuits from the Trump campaign."
"It came as the Fox News Decision Desk projected Saturday that Biden will win the state of Nevada and the commonwealth of Pennsylvania," Fox added.
President Trump has not conceded the race.
"The American People are entitled to an honest election," he said in a written statement. "That means counting all legal ballots, and not counting any illegal ballots."
About one hour before US media outlets began simultaneously declaring Biden the winner, Trump Tweeted, "I WON THIS ELECTION, BY A LOT."
"Israeli head of opposition @yairlapid is the first Israeli politician to issue a statement congratulating Joe Biden for being elected President," reported Israel diplomatic correspondent Barak Ravid.
Biden just Tweeted, "America, I'm honored that you have chosen me to lead our great country. The work ahead of us will be hard, but I promise you this: I will be a President for all Americans — whether you voted for me or not. I will keep the faith that you have placed in me."
Israeli and Arab media quickly began to report the story.
At 7pm Israel time, the Trump campaign issued a statement saying that Biden is "rushing to falsely pose as the winner" and accused Biden's "media allies" of "trying so hard to help him."
The Trump team is pushing back hard at media onslaught. Says "Biden has not been certified as the winner of any states, let alone any of the highly contested states."
Jonathan Turley, the centrist constitutional scholar, Tweets, "Biden is now called as the winner in Pennsylvania and Nevada. We are now moving from counting votes to keeping votes. More than ever the Trump campaign must produce evidence rather than allegations to seek recounts."
At 6:58pm Israel time, Former Israeli Ambassador to the US Michael Oren Tweeted, "Mazal tov to President-elect Joe Biden. I had the privilege of working with him for nearly five years and know he's a good man, a true friend of Israel, and a champion of the U.S.-Israel alliance. I wish him and VP-elect Harris (whom I hosted in Israel) every possible success."
Wall Street Journal headline: "Kamala Harris becomes the first woman ever elected vice president. She was the first Black woman and the first of Indian descent nominated on a major party's ticket."
No reaction yet from Israeli Prime Minister Benjamin Netanyahu, or from Sunni Arab leaders throughout the Middle East.
Prominent US conservative leader Kay Cole James, president of The Heritage Foundation in Washington, has just Tweeted, "Anyone rushing to the finish—including the media and those with a vested interest in one outcome—are doing a disservice to the country. Like Vice President Biden has said, democracy 'sometimes requires a little patience.'"
Israeli opposition leader Yair Lapid Tweeted, "Congratulations to my friend President-Elect @JoeBiden and Vice President-Elect @KamalaHarris. The relationship between our countries is based on deeply held values and critical shared interests which I know will be at the heart of your administration."
Photo credit: Twitter feed of MK Yair Lapid | Opposition leader Yair Lapid with Joe Biden
Photo credit: Twitter feed of MK Yair Lapid | Lapid with Harris
The first Cabinet Minister in the Netanyahu government moments ago Tweeted his congratulations to Biden. Israel's Justice Minister Avi Nissenkorn wrote, "Congratulations to US President-elect Joe Biden. Congratulations to Kamala Harris, the first woman to serve as Vice President and congratulations to the American people on the proper democratic process."
"I am confident that the close and strong bond between the United States and Israel will be maintained and strengthened under the Biden administration."

Joel C. Rosenberg is the editor-in-chief of ALL ISRAEL NEWS and ALL ARAB NEWS and the President and CEO of Near East Media. A New York Times best-selling author, Middle East analyst, and Evangelical leader, he lives in Jerusalem with his wife and sons.
A message from All Israel News
Help us educate Christians on a daily basis about what is happening in Israel & the Middle East and why it matters.
For as little as $5, you can support ALL ISRAEL NEWS, a non-profit media organization that is supported by readers like you.
Donate to ALL ISRAEL NEWS
Current Top Stories
Comments