ALL ISRAEL NEWS BOOK CLUB
Mike Pompeo's riveting, spy thriller-esque memoir – 'Never Give an Inch' – is the ALL ISRAEL NEWS Book Club recommendation for February
This week on THE ROSENBERG REPORT, watch my exclusive interview with the former CIA director and 70th secretary of state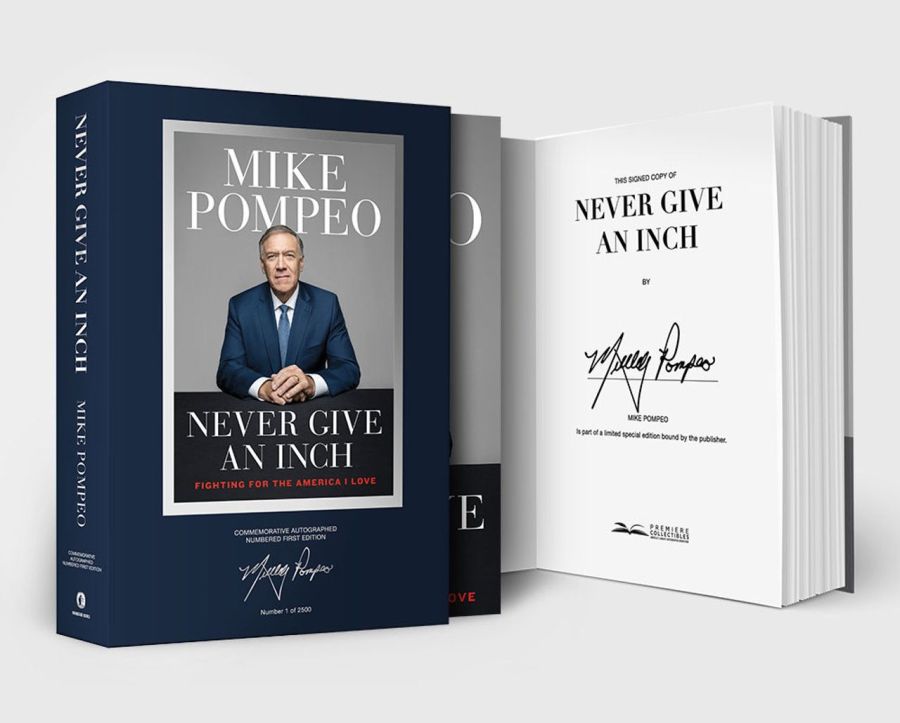 JERUSALEM, ISRAEL – I first met Mike Pompeo in June 2016, when he was serving his third term as a congressman from Kansas.
One of his staff members had contacted me and asked if I would like to meet her boss the next time I was in Washington, D.C. She said Pompeo had been reading my books and was interested in my views on the dramatic changes underway in the Middle East.
As it happened, I had just arrived in the U.S. from my home in Israel to speak at a series of conferences and events. I readily accepted the invitation and we set the meeting for Friday, June 10.
Pompeo struck me as a down-to-earth, no-nonsense straight shooter who had seen his share of difficult times, and he intrigued me for several reasons.
He was a U.S. Army veteran who served on the House Intelligence Committee.
He was also a devout Christian who had once taught fifth-grade Sunday school and whose faith shaped his worldview.
[Don't miss Part One of Joel's exclusive interview with former Secretary of State Mike Pompeo. THE ROSENBERG REPORT on TBN airs tonight, Thursday, February 2nd, at 9pm eastern, and again on Saturday at 9:30pm eastern. Click here to learn more at www.RosenbergReport.TV]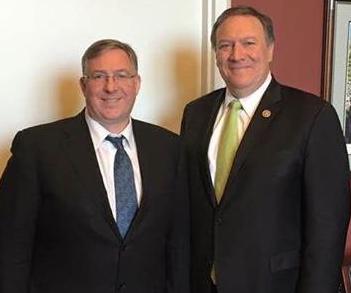 Joel C. Rosenberg and Mike Pompeo in 2016 (Photo: ALL ISRAEL NEWS)
THIS IS A MAN WHO GETS JUST HOW DANGEROUS IRAN, ISIS AND RADICAL ISLAMISM REALLY IS
Pompeo was also one of the more outspoken members of Congress in opposition to the nuclear deal that then-U.S. President Barack Obama had negotiated with Iran, calling it "a historic mistake" and "a surrender."
Particularly impressive to me was that Pompeo and Sen. Tom Cotton of Arkansas had discovered and exposed the stunning fact that the Obama team had allowed Iran to negotiate secret side deals with the International Atomic Energy Agency (IAEA) without revealing the existence or the substance of these deals to Congress or the American people.
When we met for coffee in his Capitol Hill office, we did not spend much time discussing our personal lives.
Mostly we focused on Iran and the campaign of genocide being waged by the Islamic State of Iraq and Syria (ISIS).
I brought Pompeo two of my most recent novels as gifts—The Third Target, published in January 2015, and The First Hostage, published in December 2015. They were the first two installments of a trilogy I was writing about ISIS, portraying the group not simply as a terrorist threat but as a genocidal threat fueled by the group's apocalyptic eschatology, a subject too few in Washington were focused on at the time.
In The Third Target, ISIS jihadists capture a cache of chemical weapons in Syria and begin a series of attacks throughout the region. Feverishly seeking to expand the territorial reach of their Islamic kingdom known as a caliphate, they also try to assassinate the king of Jordan, blow up his palace, take over his kingdom and fly their black flags over Amman.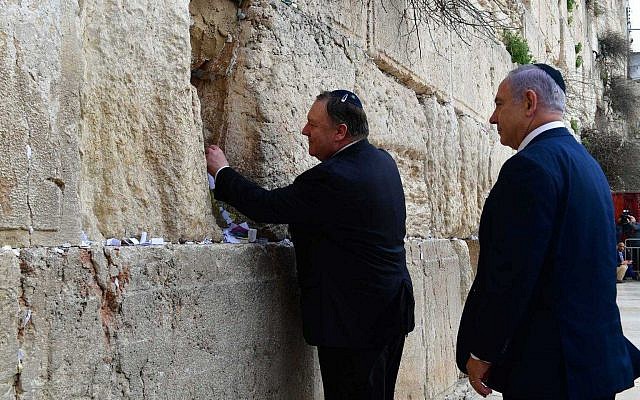 Israeli Prime Minister Benjamin Netanyahu and US Secretary of State Mike Pompeo at the Western Wall in Jerusalem's Old City, Mar. 21, 2019. (Photo: Kobi Gideon/GPO)
During our conversation, I explained to Congressman Pompeo that while I was researching and writing the book in 2013 and early 2014, President Obama was publicly dismissing ISIS as a "jayvee team" that posed no serious threat to the U.S. or our allies.
However, as early as the summer of 2014 – still months before my novel was released – it was becoming apparent that genocidal conditions were emerging, and the jihadists were willing to annihilate all who stood in their way as they tried to establish their Islamic State. As I was then saying publicly, this was as dark a time as any I had ever seen in the modern Middle East. ISIS had captured half of Iraq and was forcing Christians there to convert or die. More than 170,000 people had been murdered in Syria, and millions of Syrians had fled their homes to escape the violence.
By the time The Third Target was released, the ghastly atrocities committed by ISIS were worsening exponentially. I used my book tour – including an address to the National Religious Broadcasters convention – to explain and speak out against the apocalyptic theology driving the leaders of ISIS, calling on the Obama administration to formally declare the actions of ISIS as genocide and urging the White House to take far more decisive military action to end the slaughter of Christians, Yazidis and Muslims.
Obama didn't get it.
But Mike Pompeo did.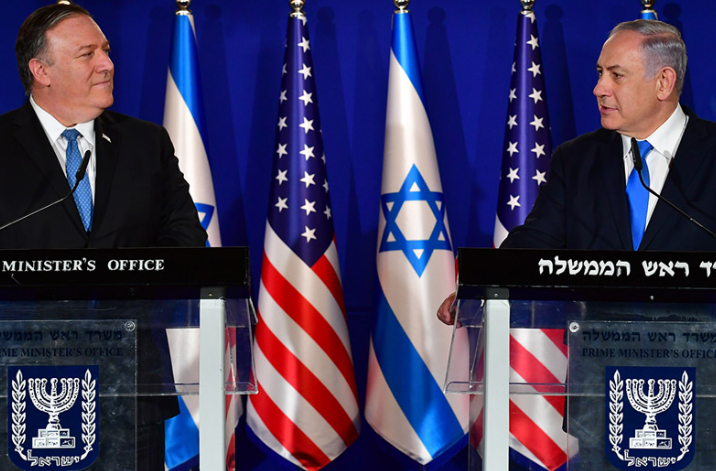 Secretary of State Mike Pompeo at a news conference in Jerusalem on Monday with Israeli Prime Minister Benjamin Netanyahu. (Photo: GPO/Kobi Gideon)
POMPEO WAS SOUNDING THE ALARM ON THREATS TO THE U.S., ISRAEL AND OUR ARAB ALLIES LONG BEFORE OTHERS
I had heard the congressman sound the warning bells against ISIS, and I was grateful to now have the opportunity to discuss it with him.
In September 2015, for example, Pompeo had co-sponsored a congressional resolution, "expressing the sense of Congress that those who commit or support atrocities against Christians and other ethnic and religious minorities, including Yezidis, Turkmen, Sabea-Mandeans, Kaka'e, and Kurds, and who target them specifically for ethnic or religious reasons, are committing, and are hereby declared to be committing, 'war crimes,' 'crimes against humanity' and 'genocide.'"
When Obama failed to take decisive action, Pompeo wrote to then-U.S. Secretary of State John Kerry, urging the administration to do more to protect Christians and other religious minorities.
"Since launching its caliphate, ISIS has executed, enslaved, abducted, displaced, and forcibly converted thousands of Christians," Pompeo wrote. "In areas that ISIS controls, Christians face three stark choices: pay the ruinous jizya tax, convert to Islam, or be murdered. Worse still, even Christians who pay this tax are eventually stripped of their property and killed."
Still, Obama and his team vacillated.
Representative Jeff Fortenberry of Nebraska (the resolution's lead author), Pompeo and their colleagues in the House decided it was time to turn up the heat.
On March 14, 2016, they brought their resolution to the House floor, where it passed unanimously, 393 to 0.
Democrats abandoned the president en masse and joined their Republican colleagues in demanding action from the administration.
Finally, on March 17, Kerry held a news conference in which he acknowledged that ISIS "is genocidal by self-proclamation, by ideology, and by actions in what it says, what it believes, and what it does."
Now, of course, the question was, How serious would the administration be about crushing ISIS and stopping the genocide once and for all?
Tragically, Obama still refused to order decisive military action.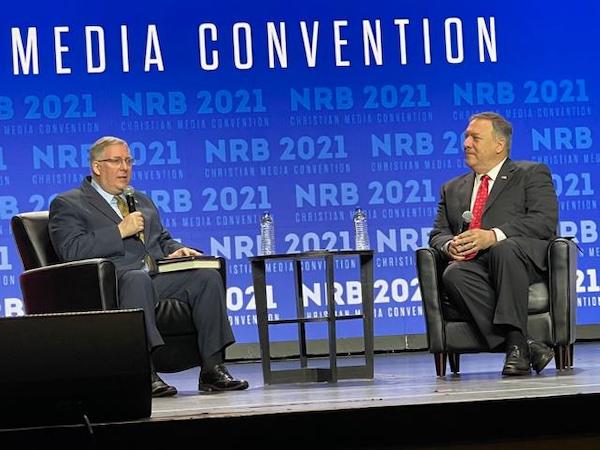 Joel C. Rosenberg and Mike Pompeo at the NRB Conference (Photo: ALL ISRAEL NEWS)
POMPEO IS CLEAR-EYED ABOUT THE NEED TO SEE AND STOP EVIL BEFORE IT STRIKES
As Pompeo and I discussed the situation, I said, "Congressman, one of the central themes in my novels is this: To misunderstand the nature and threat of evil is to risk being blindsided by it.
"Americans were blindsided by the Imperial Japanese on December 7, 1941. Neither we nor our leaders truly understood the evil intentions or capabilities of the Japanese military until they hit us at Pearl Harbor.
"Americans were blindsided again on September 11, 2001. The 9/11 Commission Report makes it clear that the success of the attacks by al Qaeda weren't so much the failure of intelligence—looking back, all the signs were there—but a failure of imagination. Our leaders simply couldn't imagine that anyone would hijack jet planes and turn them into ballistic missiles by flying them into buildings. Now we have leaders who have been blindsided again. Everything in ISIS doctrine and theology tells us this is a group determined to use genocide to bring about the End of Days, establish their caliphate, and welcome the coming of the so-called savior, the Mahdi. But Obama, Biden, Kerry, and their team can't or won't see it."
Pompeo replied that the only hope to confront and crush such evil was to elect a serious, experienced Republican commander-i- chief who was prepared to handle himself on the world stage from day 1 in office.
I agreed, but at that moment it seemed impossible. Donald Trump, with no previous political experience, had already been declared the presumptive winner of the Republican nomination, awaiting only confirmation at the national convention in July.
Neither Pompeo nor I had backed Trump during the primaries. Indeed, we had both been sharply critical of him and had supported other Republican contenders. At that time, I considered myself a "Never Trumper."
"I'm curious," Pompeo said as our conversation drew to a close, "how did you get the idea of writing novels about ISIS, when they weren't even a household word?"
I explained that the idea had come from talking to two former directors of the Central Intelligence Agency – James Woolsey, a Democrat who had served under President Bill Clinton, and Porter Goss, a Republican who had served under President George W. Bush.
Both had become friends, and when I'd asked them what kept them up at night – who the new "bad guys" were in the Middle East that I ought to be writing about – each had, in separate conversations, told me that al-Qaeda in Iraq was morphing into something particularly dangerous.
That intrigued me, so I did some research and ended up writing the books, based on their advice.
Little could I have imagined as I gave those two novels to Pompeo – sitting in his office in the Cannon House Office Building on that Friday in June 2016 – that I was talking to the next director of the CIA, a future secretary of state, and a man who would play a critical role in helping Trump withdraw from the Iran nuclear deal, create a strategy of "maximum pressure" against the regime in Tehran, destroy the Islamic State, crush the caliphate, liberate its enslaved victims, revitalize our tattered alliances with Israel and the Sunni Arab states and broker the most significant Arab-Israeli peace treaties in more than a quarter of century.
Life truly is stranger than fiction.
After Pompeo became secretary of state, he and I connected every few months to talk about trend lines in the Middle East.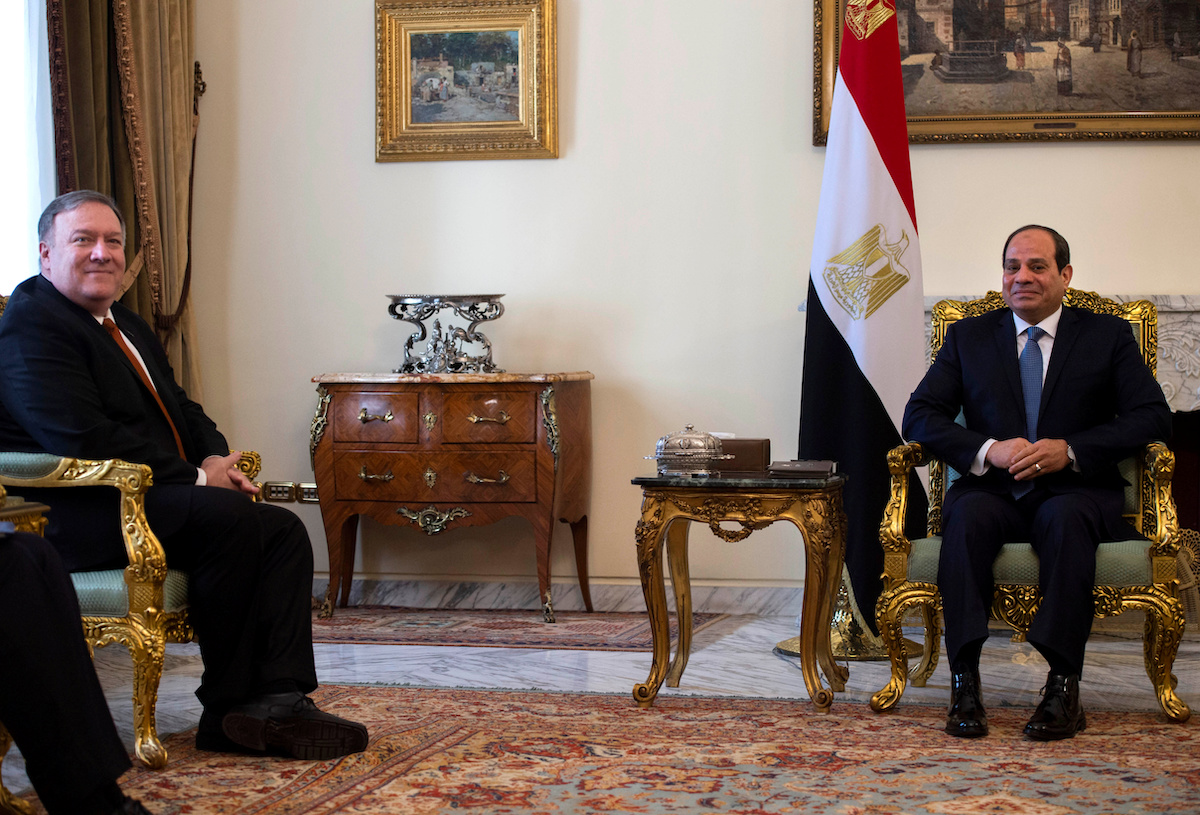 U.S. Secretary of State Mike Pompeo meets with Egyptian President Abdel Fattah el-Sisi in Cairo, Egypt, Jan. 10, 2019. (Photo: Andrew Caballero-Reynolds/Pool via REUTERS)
Usually we talked by phone or corresponded through a back channel. 
Occasionally we met in person, whether at his seventh-floor office at the State Department, at the White House, at the opening session of the UN General Assembly in Manhattan, at a conference in Des Moines, or in Cairo at the opening of the largest cathedral ever built in the Middle East.
And over time, my respect for Pompeo deepened considerably.
When I wrote my most recent non-fiction book – Enemies and Allies: An Unforgettable Journey inside the Fast-Moving & Immensely Turbulent Modern Middle East – my conversations with Pompeo and his unique and intriguing insights played a major role.
Indeed, as we launched that book on the weekend of Sept. 11, 2021 – as the nation was marking the 20th anniversary of the al-Qaeda attacks on the United States and looking for answers about what the future holds in the Middle East and North Africa – I interviewed Pompeo at an "Epicenter Briefing" for donors to our Evangelical non-profit ministry, The Joshua Fund, an event we held at the Museum of the Bible in Washington, D.C.
As always, Pompeo was refreshingly candid about how he sees the state of the world, the threats we still face, and how his faith in Jesus Christ guided him during two of the most difficult jobs in the world.
POMPEO HAS FINALLY WRITTEN HIS FIRST BOOK – AND IT READS LIKE A SPY THRILLER
Now – finally – Pompeo has written his first book.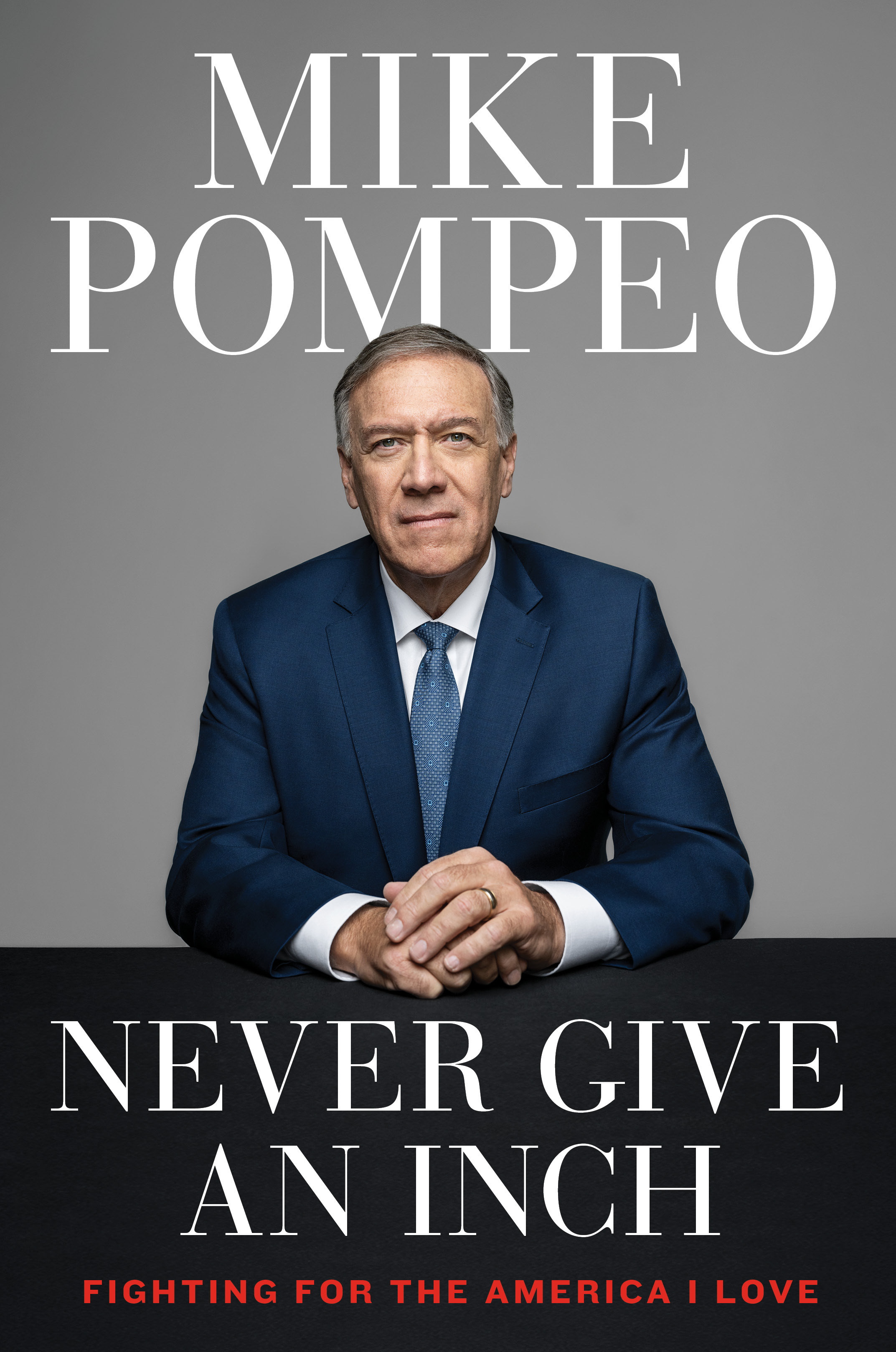 It's called, Never Give an Inch: Fighting for the America I Love, and just released last week.
I absolutely loved it, reading it cover to cover in less than 48 hours.
It's vintage Pompeo.
He's just as unflinchingly honest, candid, and direct in print as he is in person. 
This is a man who loves America.
And loves Israel.
And loves Jesus Christ.
And isn't afraid to tell us why.
Having met many of the most dangerous leaders on the planet – China's Xi Jinping, Russia's Vladimir Putin, North Korea's Kim Jong Un – he's also willing to tell us exactly who they are, why they're so dangerous, and what much of the foreign policy establishment totally doesn't understand about the grave threats they face.
This is not a man who spent four years simply observing and analyzing these and other such thugs.
This is a man who worked hard every day to protect America and her allies from them.
Pompeo's first book is first rate.
It reads like a riveting spy thriller, but it's all true.
Pompeo takes us behind the scenes in secret meetings and covert operations and previously classified missions to take out the world's worst terrorists.
It's absolutely spell-binding, and I cannot recommend it highly enough.

Joel C. Rosenberg is the editor-in-chief of ALL ISRAEL NEWS and ALL ARAB NEWS and the President and CEO of Near East Media. A New York Times best-selling author, Middle East analyst, and Evangelical leader, he lives in Jerusalem with his wife and sons.
A message from All Israel News
Help us educate Christians on a daily basis about what is happening in Israel & the Middle East and why it matters.
For as little as $5, you can support ALL ISRAEL NEWS, a non-profit media organization that is supported by readers like you.
Donate to ALL ISRAEL NEWS
Current Top Stories
Comments