Meet one of Israel's greatest exports – and no, its not a unicorn
During state visit to Israel, first lady of Ecuador tours massive, inclusive disabilities center in Jerusalem which is sharing its secrets with the world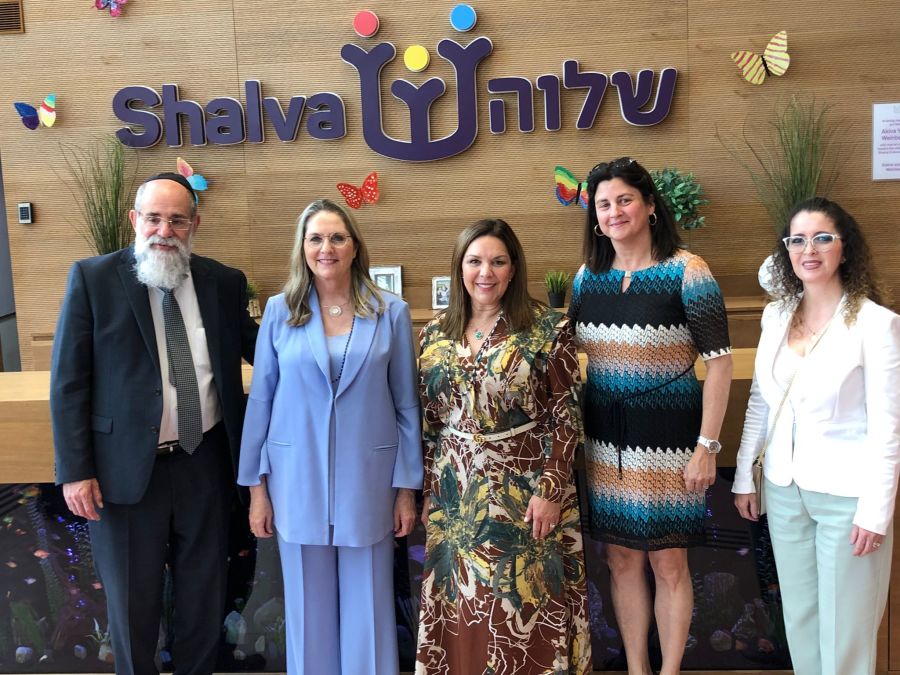 Shalva Founder Kalman Samuels, Israel's First Lady Michal Herzog, Ecuador's First Lady María de Lourdes Alcívar, Shalva Chief Development Officer Gaby Hirsch and an Ecuadorian delegation member (Photo: All Israel News)
JERUSALEM—A top center for children with disabilities in Israel welcomes 1,000 children through its doors in Jerusalem on a daily basis for a variety of different therapeutic and inclusive programs.
But Shalva, the Israel Association for the Care and Inclusion of Persons with Disabilities, is not content with its limited geographic reach.
Known for its innovation and high-tech companies, including some 48 new Israeli unicorns – companies valued over $1 billion – in 2021, compared to 16 in 2020, the Start-Up Nation is also exporting its hard-earned genius in the field of disabilities.
Shalva has been welcoming international leaders – many of whom are seeking to replicate this model of care and inclusion in their own nations. After a visit to Shalva on Wednesday, the first lady of Ecuador said she wanted to do just that.
"This place is a gift, a place full of peace, the color of joy, that fills many hearts. It is so clear – and I would love to have it also in Ecuador," said First Lady María de Lourdes Alcívar.
"The work they do here is wonderful because the best thing we can do for our children – for all of our society – is to foster unity, to always be inclusive," she said after her tour.
Ecuador actually has a minister of inclusion in its government, a fact noted by Shalva founder Kalman Samuels, who hosted Alcívar on Wednesday with Michal Herzog, Israel's first lady.
THE SHALVA PHILOSOPHY OF REVERSE INCLUSION
The first ladies ended their tour in the Shalva lobby and watched one of Israel's greatest exports unfold: Dozens of children with disabilities – from babies to teens – filtered through the building at the same time as the Israeli public and tourists.
In addition to classrooms for learning and therapy, the massive and well-designed facility also features a restaurant, auditorium, basketball court, synagogue and conference halls, all of which are available to the public.
Samuels, who founded Shalva along with his wife Malki, said this was intentional – Shalva implements a philosophy of reverse inclusion.
"This is our place and if you want to come and visit, you are welcome – we have a great cafe and other things," Samuels told ALL ISRAEL NEWS after the tour with the first ladies. "This is reverse inclusion. We bring 'typical people' into our activities."
This concept has not gone unnoticed. One of the results of the Abraham Accords was cooperation between the United Arab Emirates and Shalva to find best practices for people of determination, which is how the UAE refers to those with disabilities.
HUMBLE BEGINNINGS
Shalva is a living example of the scripture which states those who have been faithful over small things will be given responsibility over much.
The Samuels started Shalva (which means peace of mind in Hebrew) in 1990 as a small outreach with just a few children in a Jerusalem apartment. Since then, the organization has expanded several times at the behest of the Israeli government. Now in a new location with a massive 200,000-square-foot building, Shalva's numerous programs can accommodate 2,000 different children with special needs each week.
Visitors – from foreign dignitaries to Evangelical Christians and Jewish groups from abroad – number about 20,000 a year.
"It is wonderful to receive so many leaders from around the world who come to see Shalva," Chief Development Officer Gaby Hirsch told ALL ISRAEL NEWS. "We are excited to explore the opportunities for us to share knowledge and areas for collaboration which will enable us to build more inclusive societies."
During the COVID pandemic many of Shalva's programs went virtual and that makes them easier to export as well. One is the Shalva Institute for Education, Training and Research – a forum in which Shalva shares its expertise in the field of disability care with "virtually-based continuing education courses, lecture series, conferences and personalized professional guidance packages." The program is accredited by the Israeli Ministry of Education.
"In the course of COVID we learned how to work, as everybody else did, online, and we realized the power of Zoom," Samuels explained. "We don't necessarily need to travel, but we can set up the Shalva Institute to basically share the playbook of Shalva and everything we do."
"And there's tremendous interest. We'll be going to Ethiopia soon, the UAE, countries all over are very, very interested and we're only too happy to facilitate that," Samuels said.
Maybe Ecuador will be next.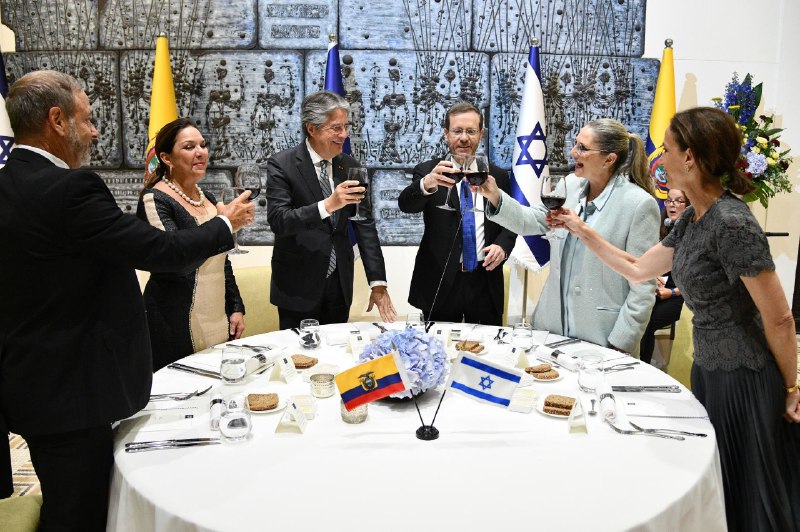 President Isaac Herzog and First Lady Michal Herzog host a state dinner tonight in honor of Ecuador's President Guillermo Lasso and First Lady María de Lourdes Alcívar (Photo: Haim Zach/GPO)
This week, President Guillermo Lasso became the first Ecuadoran president to pay an official visit to the Jewish state and opened an innovation office in Jerusalem which is expected to increase cooperation between the two nations.
Working with Shalva could be part of that.
The organization, supported mainly by Jewish donors overseas and even some Evangelical organizations such as the Christian Broadcasting Network) CBN, is endorsed by many in the Israeli government.
"Every visit to Shalva is an emotional experience," First Lady Michal Herzog said at the end of the tour. "To see the children, how they interact and enjoy themselves and are happy fills our hearts with pride and happiness."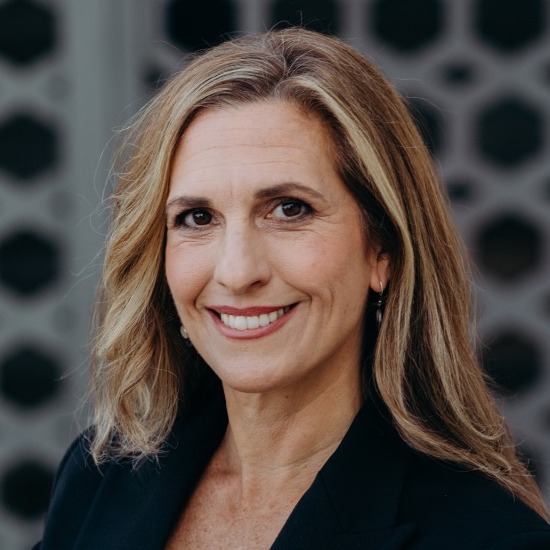 Nicole Jansezian is the news editor for both ALL ISRAEL NEWS and ALL ARAB NEWS and senior correspondent for ALL ISRAEL NEWS
A message from All Israel News
Help us educate Christians on a daily basis about what is happening in Israel & the Middle East and why it matters.
For as little as $5, you can support ALL ISRAEL NEWS, a non-profit media organization that is supported by readers like you.
Donate to ALL ISRAEL NEWS
Current Top Stories
Comments