KitePride founders create opportunities, value for victims of sex-trafficking, prostitution
"Victims don't need pity – they need jobs." For over a decade, one couple has worked together to free people from forced labor and prostitution.
Women at KitePride (Photo courtesy)
A Swiss couple is running a small fashion-brand factory, KitePride, in Tel Aviv which employs dozens of people who have been rescued from sex-trafficking. 
Matthias and Tabea Oppliger, and their Israeli non-profit, Hope Center, are working with the Israeli government to equip and help victims of sex trafficking and former prostitutes to find jobs. Their goal is to train 100 people for three years and then to integrate them into steady jobs in Israel.
The Oppligers' work with marginalized people began in 2011, but in 2012, they started to fall in love with Israel. In 2014, they moved to Tel Aviv permanently with their three children. 
"I came to Israel for a five-day visit with a few friends," Matthias said in an interview with the Israeli newspaper Yediot Ahronot in July. "I can't explain it, but just from looking at Tel Aviv from above, I felt a strong sense of home. I texted my wife Tabea, 'I think we will move here.' She thought I had gone crazy. After I came home to Zurich, I couldn't get Israel out of my mind. Something had changed." 
A few months later, Tabea visited Israel with Matthias and felt they belonged here.
"I was sitting in front of the lobby of the hotel, and noticed a woman on the street. I immediately saw that she was a prostitute," she said. "Her pimp walked behind her. I recognized their behavior: She didn't want to go with this man." 
Tabea said the woman "turned and looked at me, right into my eyes." 
"She came up to me, and this man said, 'You have to go to work.' I shouted to them, 'She doesn't want to go to work.' I beckoned to her, introduced myself, and asked if she wanted to sit down and talk to me," she said. "Somehow, he allowed her to come and talk to me for a few minutes. I felt I recognized her. She spoke French, and she told me she had lived in Germany and Zurich in the past." 
Tracing their histories, Tabea said the woman recognized her: "I had given massage therapy to prostitutes in Zurich, and she recognized me from there."
After that experience, the Oppligers made the decision to move their family to Israel and expand their work into Tel Aviv.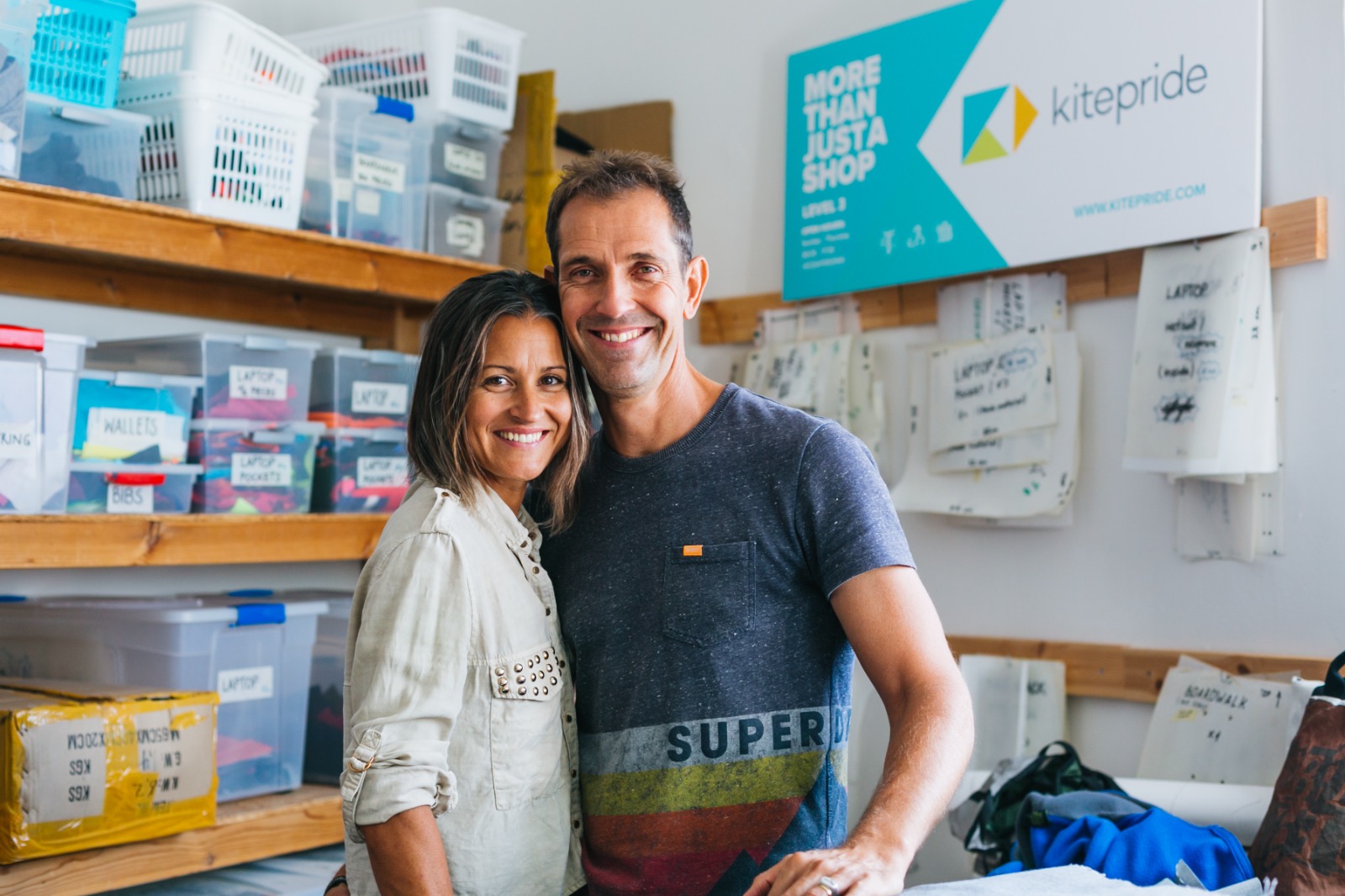 Matthias and Tabea Oppliger (Photo courtesy)
The couple were both born in Papua New Guinea to Swiss parents and had known each other from childhood. They married in Switzerland, and Matthias studied Mechanical Engineering. He worked with the police force as a detective in crime investigation for 13 years in Zurich, where he was exposed to the issues of prostitution and human trafficking.
Tabea worked as a travel agent for almost a decade before becoming a fitness instructor and a massage therapist; but in her tireless fight for justice and freedom, and her involvement in helping people who are stuck in the sex trade, she founded the Swiss organization GlowbalAct in 2011, which serves as an organization that covers their work in Israel.
Tabea started to offer free massage therapy to hurting sex workers in the brothels of Zurich. 
In an interview she gave to Israeli Channel 11 in 2020, she said, "All I did in the beginning was just to add value to them. Because every time these people are touched, they're basically robbed of their dignity. But, as a therapist, I can come and I can give them something." 
"And it was at one point, when I just kept going in every week, and I was massaging these people, suddenly one of the girls shot up from the table, and she said, 'Stop immediately, I can feel my body, and the pain is too big.' And at that moment, whenever I succeeded in connecting body, soul and mind, they would all tell me, 'I want a way out,'" she said.
"Eventually, we realized that a lot of the women and men who wanted to exit the sex industry were telling us, 'We don't need pity, we need jobs.' And we concluded that there was no one in the workforce willing and able to create jobs for this specific population," Matthias said to ALL ISRAEL NEWS. "This led to the vision of starting a social business and creating solutions for a population that is very neglected in society."
The Oppligers arrived in Israel and established KitePride and the Hope Center, which is now developing education and job-placement programs with the Israeli government.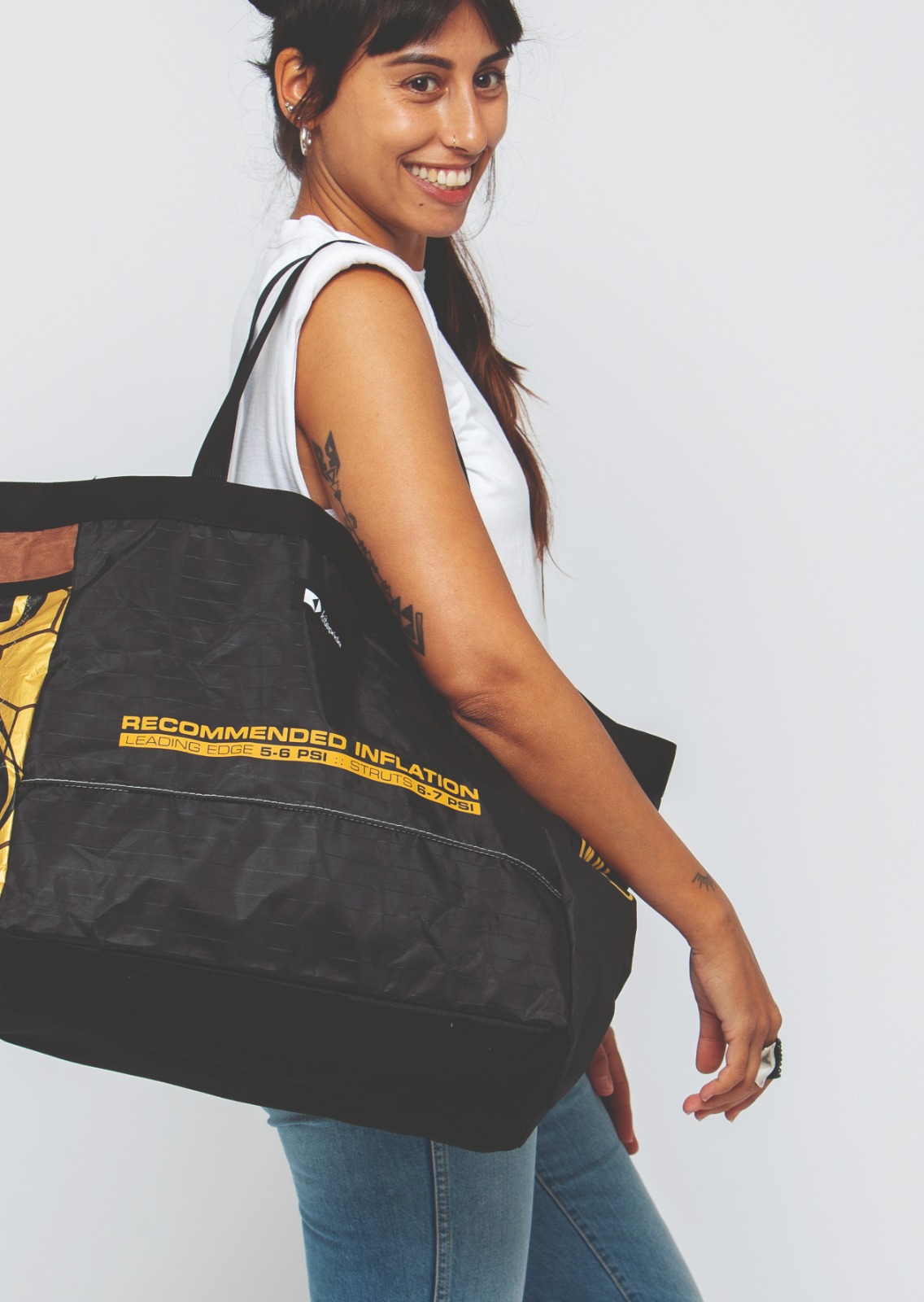 A bag made by KitePride (Photo courtesy)
A 2016 study shows that out of the 14,000 men, women and children who work as prostitutes in Israel, about 76% would want to exit immediately if they had help in finding alternative employment. In December 2018, the Knesset passed a law outlawing the consumption of prostitution, which went into effect in July 2020.
"In November 2020, the Israeli government contacted our local non-profit, Hope Center and requested a partnership," Matthias told ALL ISRAEL NEWS. "They asked us to develop new programs supporting survivors of forced prostitution. We had very few weeks to hire professional staff but, since then, we initiated a new program, so now we are training and schooling people who have left the sex industry in Israel and helping them find jobs. That is really our mission."
"KitePride is our fashion brand. We collect used kite-surfing kites, sails and parachutes, thousands of square meters of material, and we repurpose them to make bags, backpacks and accessories, and this is one source of creating jobs in Tel Aviv through our own label. But it's not enough," Matthias said.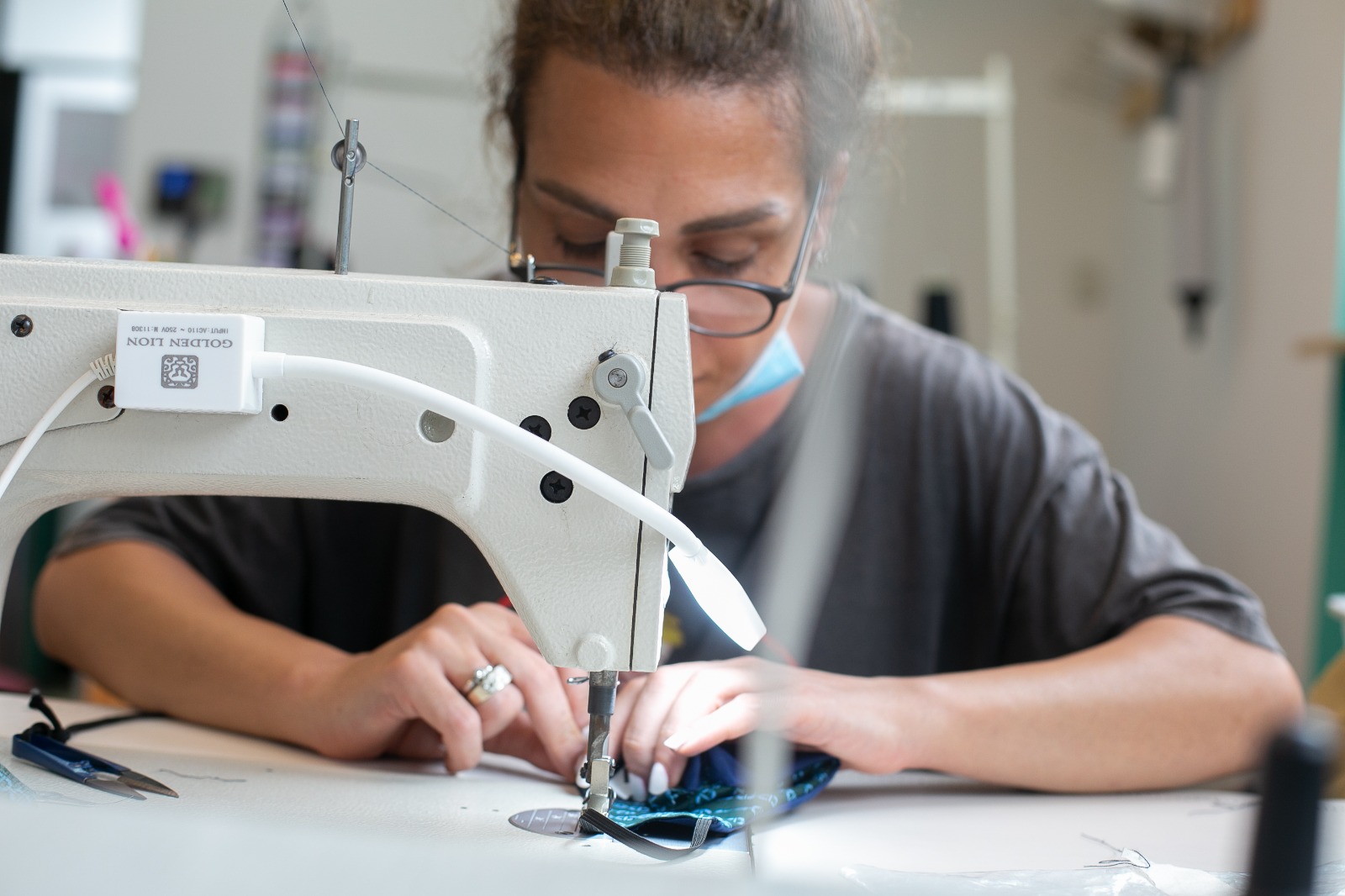 A woman working at KitePride (Photo courtesy)
Besides its 34 employees who have left the sex industry, Hope Center employs professional social workers and people with a background in psychology to help their staff navigate all areas needed. 
In the 2020 interview with Channel 11, Tabea said, "I love the fact that we are making bags from old and broken kites that people throw away, and we make something beautiful. And it's like the life of our people that we employ. They were discarded and treated like commodities, like products, and we give them a second chance, a new life."
The Oppligers hope KitePride will inspire the Israeli employment market, but it's just a drop in the bucket compared to the existing needs. Hope Center has set a goal to scale the initiative and help more people through a training school and job-training program. 
Hope Center offers a basic course in general education, writing resumes, preparing for job interviews, anger management, project management, how to dress for a workday, conduct in crisis, setting goals and more.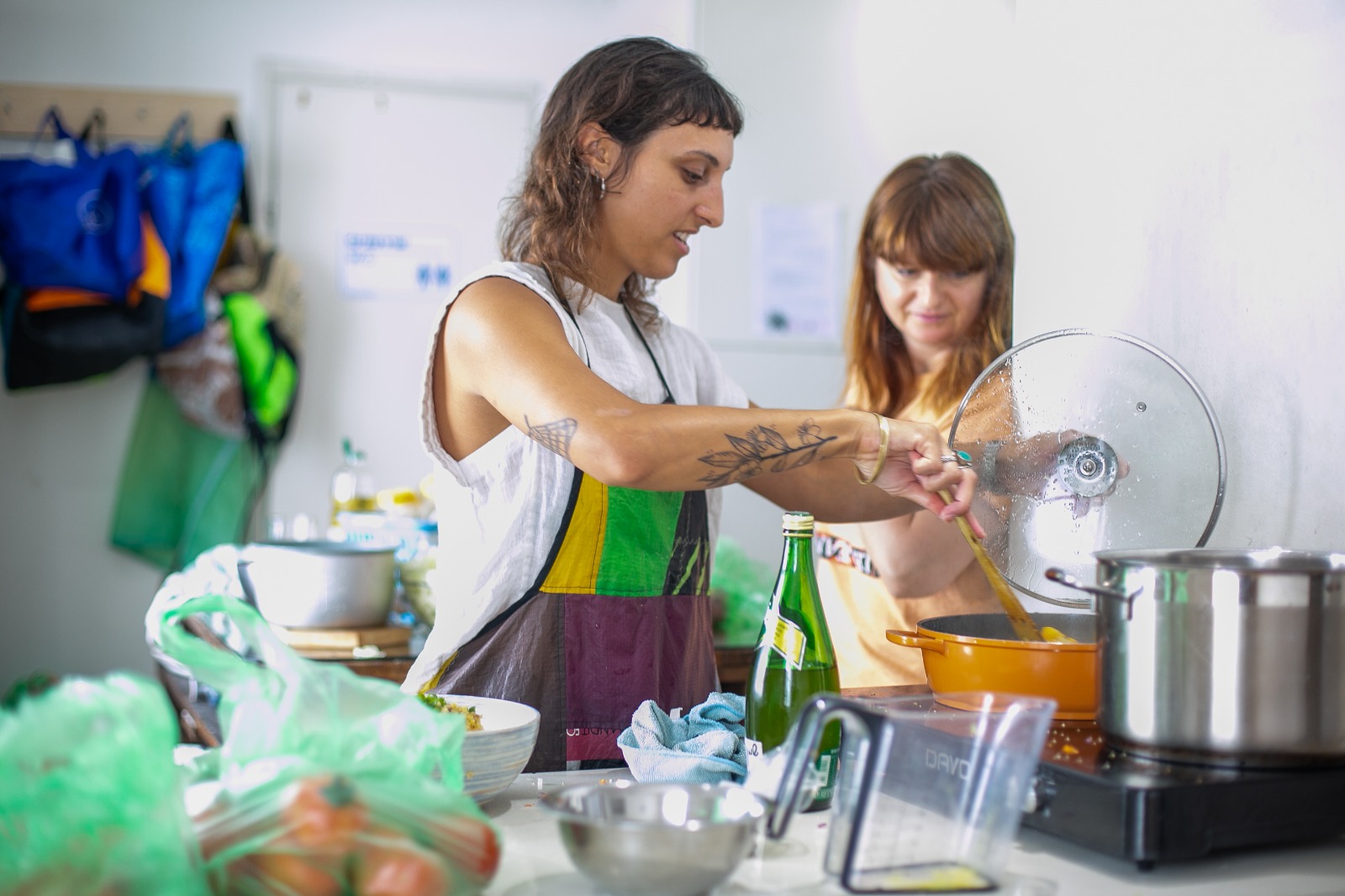 Women working at KitePride (Photo courtesy)
Hope Center works in coordination with the municipality, social services, national insurance, and health clinics to connect their participants to the specific help they need. 
"You can imagine us as the platform they step onto. Where we specialize in taking them to the next level and help them through their challenges," Matthias said.
When Channel 11 asked some KitePride employees about their workplace in 2020, one responded, "First of all – the framework: Getting up in the morning and knowing you have a place to go, a place that respects us as we are without judging us. Someone who values your soul. It's a good feeling."
"We are driven by love for people," Matthias said. "Human trafficking is outrageous. It's a crime; it's treating a human being as a commodity, as an object, and that is contrary to everything. It's something we cannot tolerate. And we trust that anyone who agrees with us will step up and join us in this mission." 
"It has been amazing to see how many Israelis have come onboard all across the country. Not only through donations, but in other ways, too. Israeli media came and did coverage of what we do, so our story came on the news which is free publicity," he said. "There are hi-tech companies who purchase our laptop bags instead of getting them from China, because our products have value and purpose."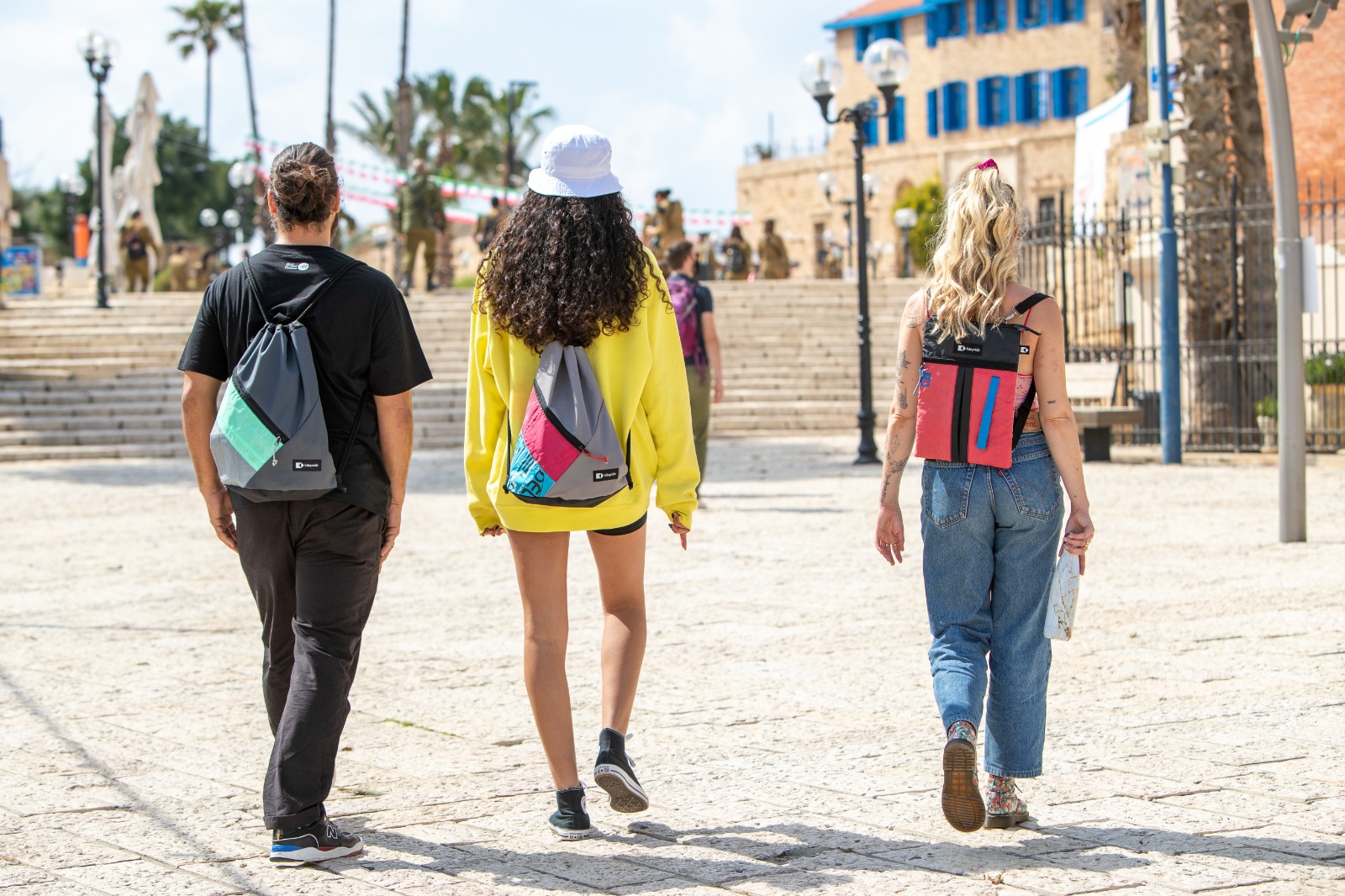 Bags made by KitePride (Photo courtesy)
The Oppligers said they need prayer and financial support for their outreach.
"Their trauma is always very high, and they often have a long journey of getting free from the addiction that is behind them. Even if they get free from alcohol and drugs, the trauma is still there and present," they said. "Pray that they will find true freedom and true healing. And also for us to have the strength and the finances to see this thing through, because Israel has become very expensive and we need to raise money. We've wanted to give up many times, but we kept going."
Even with some government funding, the bureaucracy involved makes continued development complicated; the Oppligers need to fundraise at least 50% of their needs on their own. In mid-November, the couple's organization will launch an online crowdfunding campaign in Hebrew and English to fundraise locally for 2023. If you wish to take part and help in this blessed initiative, you can donate through GlowbalAct.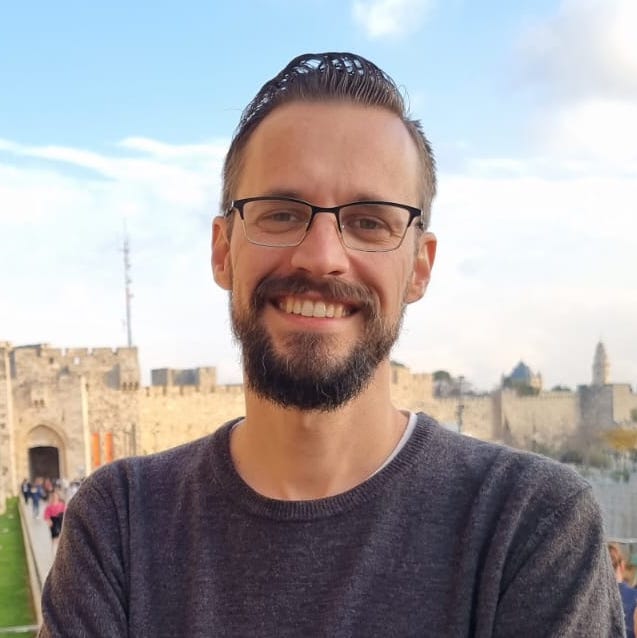 Tuvia is a Jewish history nerd who lives in Jerusalem and believes in Jesus. He writes articles and stories about Jewish and Christian history. His website is www.tuviapollack.com
Popular Articles
A message from All Israel News
Help us educate Christians on a daily basis about what is happening in Israel & the Middle East and why it matters.
For as little as $5, you can support ALL ISRAEL NEWS, a non-profit media organization that is supported by readers like you.
Donate to ALL ISRAEL NEWS
Latest Stories
Comments