Opinion Blog / Guest Columnist
Israel's borders have reopened and many Christians – including African American church leaders – are lining up for their first trip to the Holy Land
One pastor says: 'Throughout my journey teaching about the context of Jesus, there was one thing I lacked: I had never visited Israel'
Dr. Dana Carson, founder and senior pastor of the Reflections of Christ's Kingdom World Outreach International in Houston, Texas (Photo courtesy)
This is the first in a series of articles on African-American pilgrimages to the Holy Land by Dr. Ruth Pauline Plummer.
After two long years of the pandemic and strict limitations regarding who can enter the country, international tourists have finally begun to return to Israel.
For Christians, and especially leaders, a trip to Israel – considered the place of Christianity's birth – is like none other. It helps us connect with our faith. Christians should make at least one trip to Israel in their lifetime because being here helps us visualize and reimagine the events in the Bible and gives us a deeper understanding God's word. We are also able to experience the land, the people and God in a deeper way.
Coming to Israel should be on the bucket list of every Christian leader. And there is an urgency that now is the time!
I love to hear stories of Christian leaders who come for the first time and share their experiences in Israel, our new home. Recently, I was overjoyed when my spiritual father, Dr. Dana Carson, informed me and my husband, Church of God in Christ Bishop Glenn Plummer, that he was coming to Israel because it was always something he wanted to do. He and Lady Rachelle – along with his good friend and scholar Dr. Brad Young plus 35 leaders from his church – visited Israel.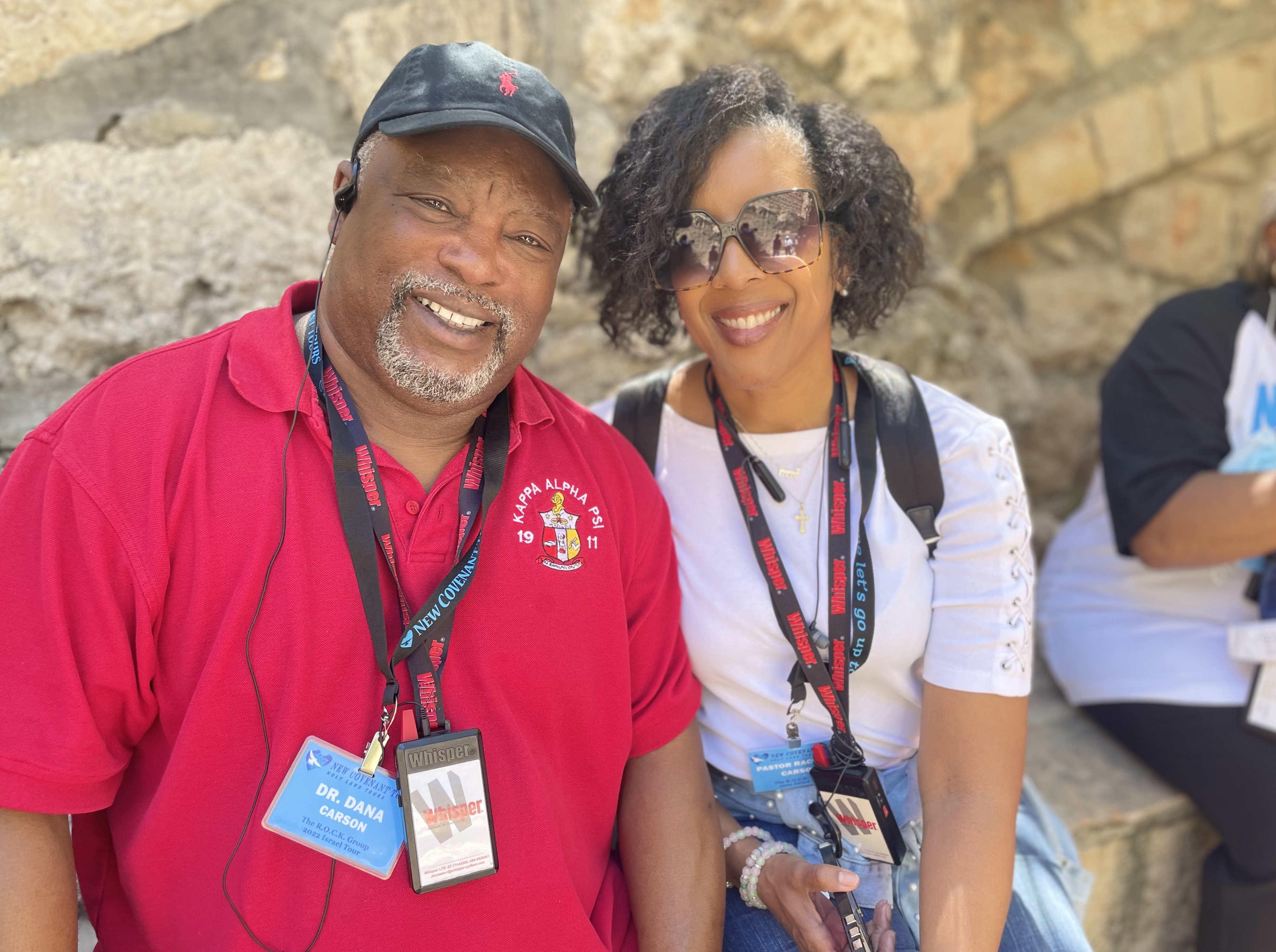 Dr. Dana Carson and his wife Rachelle on a tour in Israel (Photo courtesy)
It meant so much to me for him since he was instrumental in developing my spiritual journey and helping me become the leader I am today. It was important to me that he see for himself our work in Israel. It was like a family visit on the other side of the world – and it warmed my heart to share a little southern hospitality.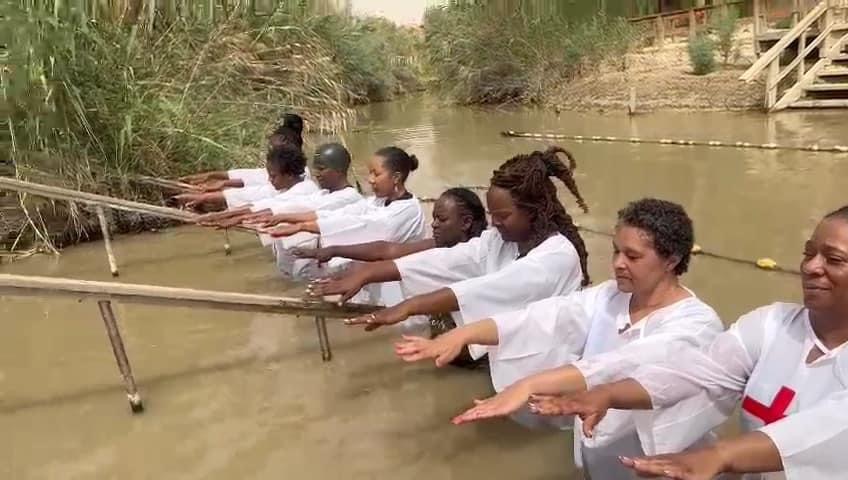 Tour participants from Reflections of Christ's Kingdom World Outreach International at the Jordan River (Photo courtesy)
Carson is one of the nation's foremost theologians and down-to-earth pastors whose radical message and raw delivery are known all over the world. He is the Founder and Senior Pastor of the Reflections of Christ's Kingdom World Outreach International (The R.O.C.K.) in Houston, Texas – a Bible-centered, Spirit-filled, community-building, Kingdom-minded ministry founded in 2003. With more than 36 years of full-time and pastoral ministry experience, Carson is responsible for churches on multiple continents.
He is also a scholar. Carson, a Ph.D., holds three earned doctorates: One in Theological Studies, specializing in church growth from Boston University; Organizational Leadership from Regent University and Christian Psychology from Logos University.
Carson is a prolific author of hundreds of books, most emphasizing the Kingdom of God within the Second Temple context of Jesus. His studies have landed him multiple doctoral and other graduate degrees that have helped him understand the Kingdom culture of Jesus.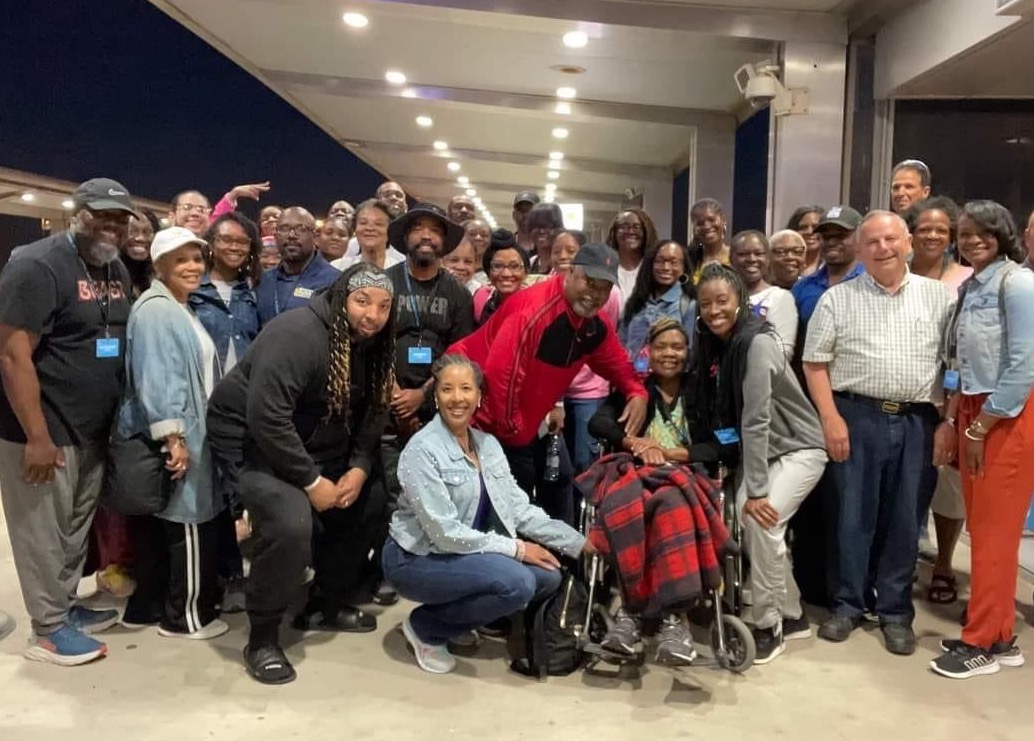 Dr. Dana Carson and Reflections of Christ's Kingdom World Outreach International coming to Israel (Photo courtesy)
"However," he said, "throughout my journey leading churches and teaching about the context of Jesus, there was one thing that I lacked. After 37 years of executive-level ministry, I had never visited Israel, the Holy Land."
Here is the rest of his story:
I had the privilege, as an African American, in May 2022, to lead a group of 35 African Americans, including three of the churches that I currently serve, The ROCKWOI, which is an acronym for The Reflections of Christ's Kingdom World Outreach International. Our trip to Israel was amazing, one filled with many discoveries, illumination, and even correction. We got a better understanding of the deep religious history of the Jewish people. We explored archaeological excavations that helped us better understand the people of the Bible, Israel, and the clash of civilizations. 

Our trip revealed how resilient God's original covenant people have been throughout their experience of Assyrian, Babylonian, and Persian exile and while under the Greco-Roman rule. But what was most moving about the adaptability of Israel was its existential sustainability in light of the Jewish diaspora, the Holocaust, and the establishment of Israel as a nation in 1948. We were humbled and in awe to actually walk among a people who have the favor of God upon them, even though there is always the imminent threat of war. They are a small nation surrounded by potentially hostile nations that have repeatedly tried to destroy them but cannot.   

Often in the U.S., we argue apologetically for the validity of the Bible utilizing prophetic manifestations and archaeological discoveries, such as the Dead Sea Scrolls and the ancient ruins of former civilizations. However, as I walked upon the Holy Land, one of the key witnesses to the reliability of the scriptures was the existence of the Jewish people. When we examine history and examine the Canaanites, Jebusites, Perizzites, the Hittites, and others, one must pause and ask – "What happened to these civilizations who fought against Israel?" It is evident that Israel has supernatural protection that has allowed them to survive these civilizations in antiquity, the horrific Holocaust in the 20th century, and prevail in every battle since then. 

The resilience and continued existence of the natural seeds of Abraham, Isaac, and Jacob should cause every Gentile (non-Jewish believer) to have even more confidence in the New Testament prophecies found in the apocalyptic literature of the Old and New Testaments. The book of Revelation talks about the Battle of Armageddon. Thus, it was fascinating to visit the mountain of Megiddo (Tel Megiddo), the place where the final battle between good and evil will be fought. We climbed the hill where Israel will have to fight a bloody battle against several countries, and they, as a people, will prevail. While I could write an entire book of our experiences, discoveries, and fascinations that we gathered in Israel, I must wrap it up.  

The last highlight of the trip, but definitively not the least in importance, was the tour that allowed us to walk in the footsteps of Jesus, visit Nazareth of Galilee, visit the Temple and the Temple Mount, pray in the Garden of Gethsemane, and be baptized in the Jordan River. These were mind-blowing spiritual experiences for the entire group. It was chilling to visit the two sites believed to be His tomb and to visit Golgotha. The trip and the tours were expansive and too much to write about in one article. 

But the personal highlight was visiting the home of the Bishop of Israel, Glenn Plummer, and the First Lady of Israel, Ruth Pauline Plummer, of the Church of God in Christ. Having eaten the wonderful cuisine of Israel, we were a little hungry for the familiar. And the First Lady and the Bishop prepared us an exquisite down-home African-American soul food dinner. That's right – we ate a soul food dinner in Israel.

We look forward to bringing many other groups to experience the Holy Land. And we thank the Jewish people for standing on their identity and fighting for their freedom. Hopefully, we will see you again soon!      
ALL ISRAEL NEWS is committed to fair and balanced coverage and analysis, and honored to publish a wide-range of opinions. That said, views expressed by guest columnists may not necessarily reflect the views of our staff.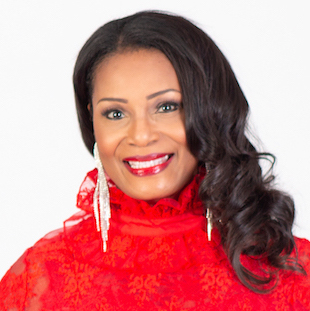 Dr. Ruth Pauline Plummer serves as president and CEO of Covenant Daughters Television Network and Covenant Daughters International Ministries. She also serves as the 1st Lady of Israel for the Church of God in Christ. She is a member of the ALL ISRAEL Advisory Board.
Popular Articles
A message from All Israel News
Help us educate Christians on a daily basis about what is happening in Israel & the Middle East and why it matters.
For as little as $5, you can support ALL ISRAEL NEWS, a non-profit media organization that is supported by readers like you.
Donate to ALL ISRAEL NEWS
Latest Stories
Comments