Israeli start-up gets European approval for its quick COVID-19 test – a handheld device 'poised to help kickstart international travel' 
Flagship device eliminates need for complex lab equipment and gives fast, accurate results in 20 seconds  – and could be rolled out in a few months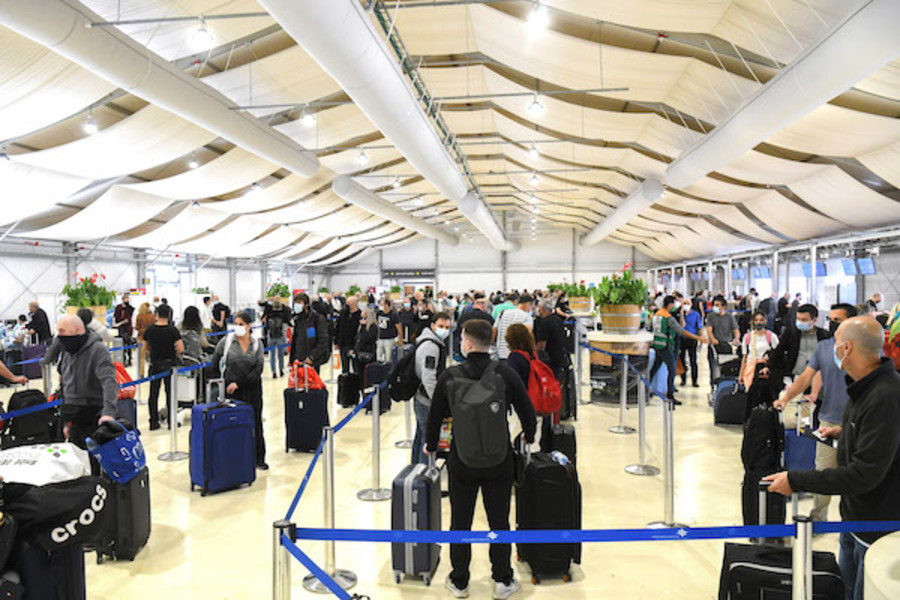 Illustrative - Medical technicians test passengers for COVID-19 at the Ben-Gurion International Airport near Tel Aviv on Mar. 8, 2021. (Photo: Flash90)
An Israeli company announced on Wednesday it had received approval from European officials for its SpectraLIT device – a rapid COVID-19 test which is being hailed for providing relatively accurate results in 20 seconds. 
The technology provides a portable and affordable solution to potentially help boost international travel in spite of the pandemic. The rapid testing device will hopefully be implemented in the coming months, the company said.
In response to the coronavirus pandemic, the Israeli start-up Newsight Imaging established a joint-venture company – Virusight Diagnostic – in cooperation with Sheba Medical Center's ARC Innovation Project. Together, they are responsible for developing the revolutionary COVID-19 test, based on Newsight's existing spectral technology. 
The handheld SpectraLIT device consists of a gargle test from a mouthwash sample which is collected in a tube. The machine shines light through the saliva samples and gives immediate results using the spectral signature, eliminating the need for complex lab equipment. Airport staff who administer the test will be able to give passengers the results after just 20 seconds of analysis.
Eli Assoolin, CEO of Newsight Imaging and Virusight Diagnostic, said SpectraLIT's artificial intelligence technology provides a platform for many potential cases of pathogen diagnoses and is able "to change the way the world deals with pandemics."
Assoolin, the development team leader, expects the rapid COVID-19 test to be rolled out at airports worldwide in the coming months.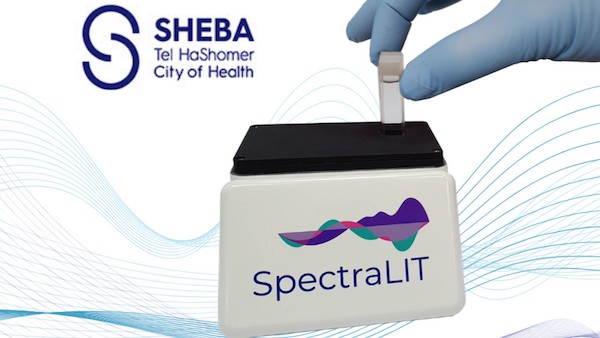 A one-second saliva test for Covid-19 developed by Israeli company Newsight. (Photo courtesy)
"We are engaged in an intensive effort to achieve more worldwide regulation approvals and to re-validate our solution in over 36 pilot programs around the globe, on all five continents," he said.
Eyal Zimlichman, a senior doctor at Sheba Medical Center who helped develop the technology said that despite the global rollout of vaccines, "COVID-19 still needs rapid diagnostic solutions to take steps back to normality – including international travel – and this [device] represents an important milestone."
Zimlichman said that SpectraLIT routinely achieves 70% to 80% accurate results because of its "smart" AI algorithm, allowing it to distinguish between specific viruses. He also said the accuracy of the system is likely to improve over time because the AI tech allows the machine to get smarter. 
He further explained that the test allows for cheap and reliable testing with minimal equipment. Unlike traditional swab tests which rely on chemicals and lab processes to detect coronavirus RNA, the small SpectraLIT device shines light through a sample onto a special chip. Part of the light is absorbed, while the remaining light is captured by sensors that reflect a spectral signature – the determining indicator to detect whether someone is carrying the COVID-19 virus.
While handheld antigen tests are becoming more widely available, some authorities are hesitant to rely on them due to concerns about accuracy. Despite SpectraLIT European certification this week, its FDA-approval status for use in the U.S. and outside of Europe is still unknown.
Jeff Shuren of the FDA believes such tests are "less sensitive and less specific than typical molecular tests run in a lab," but also stated that the FDA "strongly supports innovation in test development and we have worked tirelessly with test developers to support the shared goal of getting more accurate and reliable tests to Americans who need them."
Virusight delayed implementation in airports – originally planned for late 2020 – following the outbreak of several COVID-19 variants, but Assoolin said the software is now adjusted to cover all strains and also can be easily recalibrated to detect new variants.
"We think our solution is going to be the de facto solution for air travel," he said.
Pending approval for worldwide use, the SpectraLIT device may lead some to speculate that Israel's mandatory "green passport" – currently required for international travel – will no longer be a necessity. Israel has been using the "Green Pass" in public spaces to reopen the economy, allowing access for vaccinated citizens and those who have recovered from COVID-19 to travel around the country.
Last month, Israel's Channel 12 news reported that senior officials in Israel's health and transportation ministries said despite the Israel's high vaccination rate – 90% of eligible citizens age 16 and up have already received their first dose – tourists will not be allowed back to Israel until at least May, and possibly not until July. Israel's Tourism Minister Orit Farkash-Hacohen said tourists may be allowed only if they've been vaccinated.
There has been growing concern that a "green passport" that certifies digital proof of vaccination may be required for international travel. In early March, Dr. Michael Ryan of the World Health Organization said there are "real practical and ethical considerations" for countries that consider making vaccine certification as a condition for travel.
But rapid testing could solve that issue.
Joel Rosenberg, editor-in-chief of ALL ISRAEL NEWS, has frequently said that Israel should set up rapid testing at Ben-Gurion Airport as is done in the United Arab Emirates and Bahrain. He has also mentioned domestic testing, writing that "the government has been saying that people can either be vaccinated or 'get tested' every few days. But we see little evidence that the government is setting up hundreds or thousands of rapid-testing centers all over the country."
Hopefully, after further certification of the SpectraLIT technology, Israel will finally provide the means for better and quicker international travel without discrimination.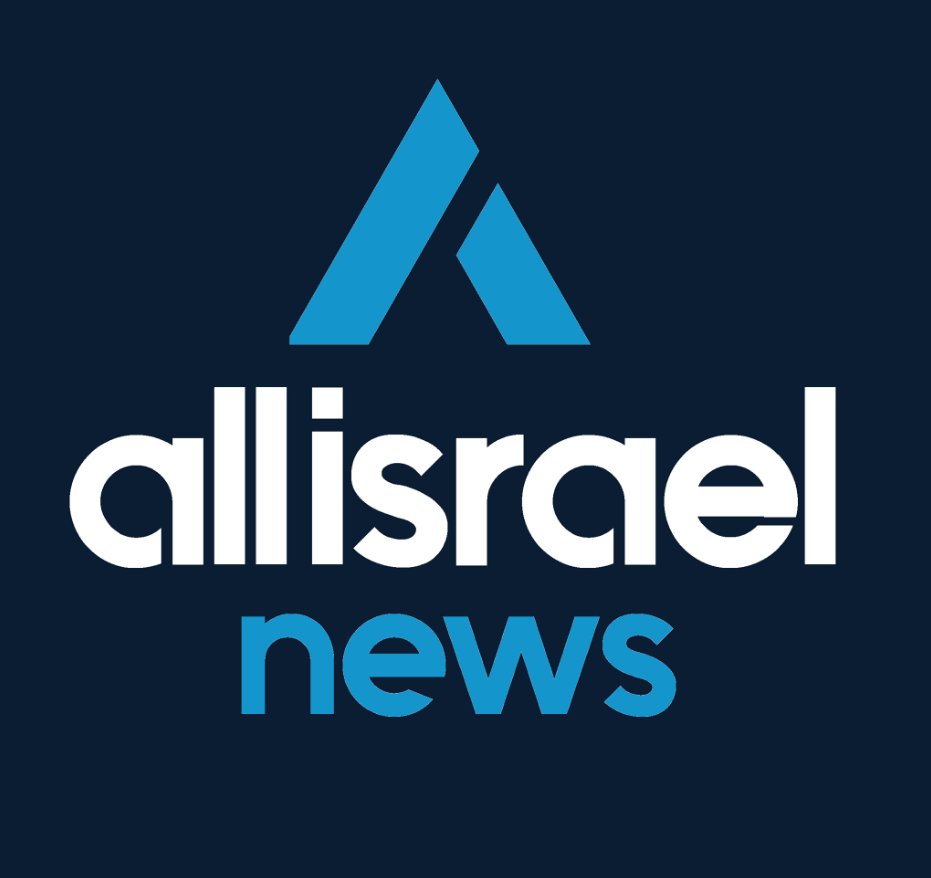 The All Israel News Staff is a team of journalists in Israel.
A message from All Israel News
Help us educate Christians on a daily basis about what is happening in Israel & the Middle East and why it matters.
For as little as $5, you can support ALL ISRAEL NEWS, a non-profit media organization that is supported by readers like you.
Donate to ALL ISRAEL NEWS
Current Top Stories
Comments