Israeli President Rivlin wins prestigious Scholar-Stateman honor
Last year's winner was Jordan's King Abdullah II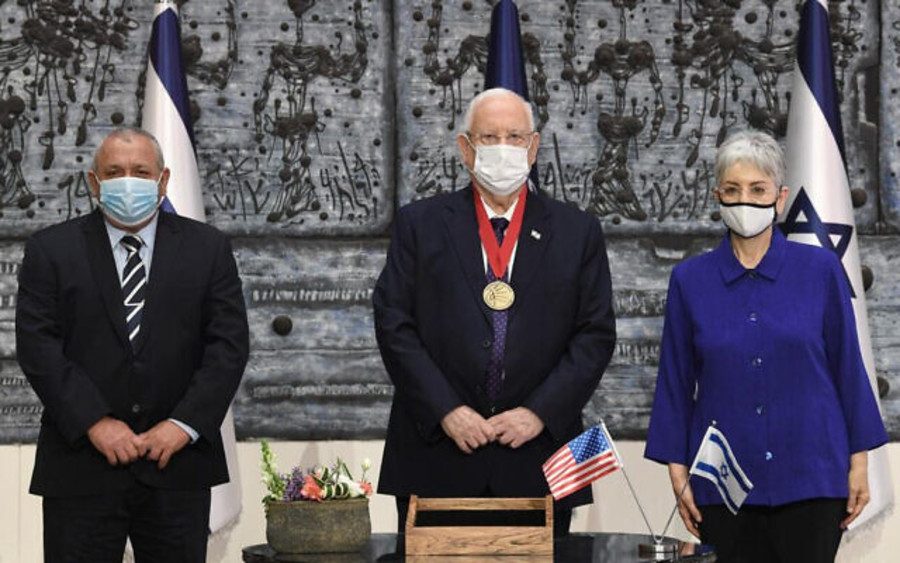 President Reuven Rivlin (c) being presented the Washington Institute Scholar-Statesman Medal by representatives of the Institute in Israel, Mrs. Robin Neustein, of the Board of Trustees of the Washington Institute, and former IDF Chief of Staff Gadi Eisenkot (Photo: Mark Neyman/GPO)
JERUSALEM – Israel's President Reuven Rivlin joined an impressive list of global leaders in receiving this year's prestigious Scholar-Statesman Medal from the Washington Institute for Near East Policy.
The award is presented to those who "exemplify the idea that sound scholarship and a discerning knowledge of history are essential to wise and effective policy and the advancement of peace and security in the Middle East."
The event was webcast worldwide and included a video from last year's winner, Jordan's King Abdullah II, congratulating Rivlin.
The Washington Institute is an American pro-Israel think tank based in Washington, D.C. and focused on U.S. policy in the Middle East and North Africa.
Rivlin received the medal at an in-person event at the President's Residence on Nov. 19. Presenting the award were representatives of the Institute, Robin Neustein, and former IDF Chief of Staff Gadi Eisenkot.
"You are a man of ideas, and a man of the people; a scholar whose knowledge of where your people have come from guides you in asserting a path for their future; a statesman whose honesty and integrity are above reproach," Eisenkot told Rivlin. "At a time of anger, division, and intolerance, you are a powerful voice of tolerance, unity and hope."
The Institute's Executive Director Robert Satloff honored Rivlin for his "commitment to integrity, commitment to tolerance, to unity, and to hope."
Satloff had a live conversation with Rivlin via Zoom in front of a wide audience as part of the ceremony where they discussed several issues facing Israel and the region, especially in light of the recent peace treaties made between Israel and the United Arab Emirates, Bahrain and Sudan.
Rivlin said the Israeli Arab population will be the true agents of peace in the region, creating a bridge between Israel and the Gulf Arab region.
"It is to the advantage and to the interest of both of us to cooperate," Rivlin said. "I am doing a lot in order to bring the Israeli Arabs to be the real bridge between the populations. I really believe that the Israeli Arabs will go to Abu Dhabi, and they will be asked where they are from, and they will say 'We are Israelis, and we are Arab.' Then we will have found the right way to create real confidence between everyone in the region."
Peace treaties and related documents between nations are not enough, Rivlin said.
"As long as we don't have peace between the people, it is really something that cannot bring us to real peace, to real understanding."
"We have to find a way in order to understand that we are not doomed to live together – we are destined to live together," Rivlin said.
"We have peace with the Egyptians for more than 40 years, we have peace with the Jordanians for the last 27 years – we have peace with the king, with the president, with the administrations, sometimes we have peace with the armies when we need to uphold the security of the whole region," he said.
But he emphasized the importance of building relationships between ordinary people on both sides.
Rivlin also spoke about the importance of working together with Palestinians on many issues, most pressing now being the coronavirus.
"I spoke to the president of the Palestinian people, President (Mahmoud) Abbas, and told him, you see when corona, or when somebody out there decides that he can endanger all of us, there are no borders," Rivlin said. "Unfortunately, the problem of the region is the confidence that we have in each other. Without confidence, we cannot get to any kind of agreements and understanding, to bring to an end the tragedy that we are living in and sign a real peace."
Building confidence will be paramount to a final deal, he said.
"We can talk about 'two states for two people', 'one state for all the people', federation, confederation – but first of all we have to build confidence," Rivlin said.
Rivlin congratulated President-elect Joe Biden and emphasized his appreciation for bipartisan support for Israel in the United States.
"We are not Republicans and we are not Democrats – we know we have a friend in the American people – [it is] bipartisan," he said. "We know that the friendship between the Americans and the Israelis goes beyond [politics]."
Jordan's King Abdullah II, last year's recipient of the award, sent a video greeting congratulating President Rivlin.
"At a time when not only our region, but our world is plagued by illness and strife, it is courage, leadership and partnerships that are needed now more than ever to overcome differences and to bring us all closer to healthier, safer and more peaceful shores," the King said.
"Jordan has always believed in peace for the Palestinians and the Israelis as the only way forward for the region. We will never give up on this hope for our neighbors or for our neighborhood, and it is in this faith and using this occasion and form of dialogue that I pledge once again to continue to do everything possible to achieve the just and lasting peace that fulfills the aspirations of all sides on the basis of a two-state solution."
In addition to King Abdullah, previous recipients include former U.S. President Bill Clinton, former U.K. Prime Minister Tony Blair and former U.S. Secretaries of State Henry Kissinger and Condoleezza Rice.

Joel C. Rosenberg is the editor-in-chief of ALL ISRAEL NEWS and ALL ARAB NEWS and the President and CEO of Near East Media. A New York Times best-selling author, Middle East analyst, and Evangelical leader, he lives in Jerusalem with his wife and sons.
A message from All Israel News
Help us educate Christians on a daily basis about what is happening in Israel & the Middle East and why it matters.
For as little as $5, you can support ALL ISRAEL NEWS, a non-profit media organization that is supported by readers like you.
Donate to ALL ISRAEL NEWS
Current Top Stories
Comments