Israeli delegation flies to Bahrain to sign peace accord; Israel's economy reopens; Netanyahu to address Christian media
ALL ISRAEL NEWS founder Joel C. Rosenberg will speak at Israel's Christian Media Summit. Full event will be webcast live on AIN Facebook page.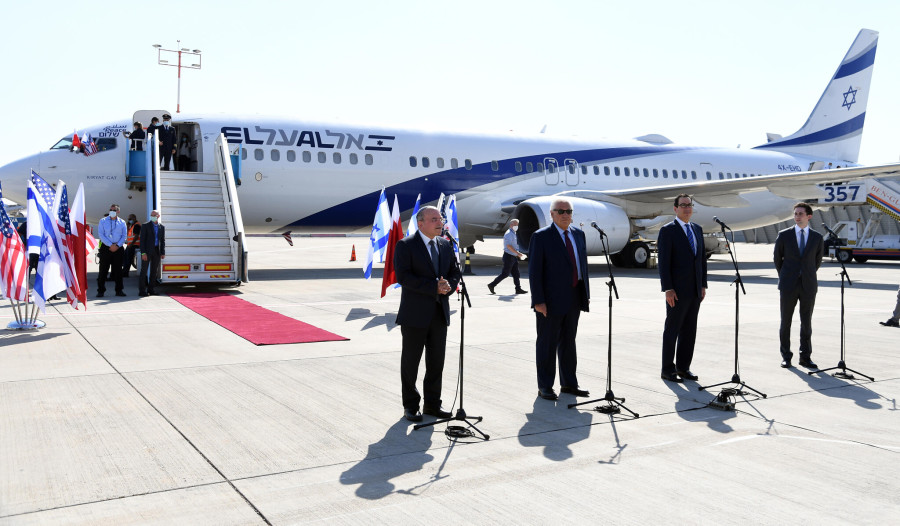 Israeli National Security Adviser Meir Ben-Shabbat (L) and US officials make statements at Ben Gurion Airport ahead of the first direct Israel-Bahrain passenger flight. October 18, 2020 (Haim Tzach/GPO)
JERUSALEM – Big news day, and big news week, in the epicenter.
Here are the stories we are tracking at ALL ISRAEL NEWS:
1. ISRAEL-BAHRAIN PEACE ACCORD: Today, an Israeli delegation flies to the Kingdom of Bahrain. The two countries will sign the formal agreement normalizing peace between the two countries and providing far more detail to how relations will now work. You can read more about it here.
2. AMERICAN PEACE DELEGATION: U.S. Treasury Secretary Steven Mnuchin is in Bahrain today, in the capital city of Manama, with a delegation of U.S. officials to witness and support the Israeli-Bahraini peace accord signing.
3. ISRAEL BEGINS TO REOPEN ECONOMY
After a full national lockdown for the past month, Israel will move to "stage one" of an economic re-opening today. The daily rate of new infections is dropping dramatically.
On Saturday, there were only 395 new cases, compared to 4,000 to 5,000 new cases per day over recent weeks. Sadly, the total number of cases since the pandemic began has topped 302,000 and the number of deaths has climbed to 2,190.
"As of Sunday, Israelis can once again travel more than one kilometer from home and visit others' homes so long as caps on gatherings are adhered to (10 indoors, 20 outdoors)," reported the Times of Israel. "Preschools and daycares can reopen; restaurants are allowed to serve takeout; businesses that don't receive customers can open; people can visit beaches and national parks; and the Western Wall plaza and Temple Mount compound will reopen for worship under certain restrictions."
"We will exit [the lockdown] carefully this time, in line with the plan set out by the experts at the health ministry," Prime Minister Benjamin Netanyahu said Saturday evening.
4. LIVE WEBCAST SUNDAY: ISRAELI PM NETANYAHU, PRESIDENT RIVLIN, U.S. AMBASSADOR FRIEDMAN, ALL ISRAEL NEWS FOUNDER TO HEADLINE "CHRISTIAN MEDIA SUMMIT"
The Israeli Government Press Office today will host its 4th annual conference for Christian journalists, producers and media executives.
Typically, the event is held in-person over the course of three to four days. Due to the pandemic, this year's summit will be a one-night event.
You can watch the webcast for free on the ALL ISRAEL NEWS Facebook page, beginning at 6 p.m. Israel time (11 a.m. Eastern, 10 a.m. Central, 9 a.m. Mountain, and 8 a.m. Pacific time).
Speakers (in-person or via video) will include (in order)
Nitzan Chen, director of Israel's Government Press Office
Israeli President Reuven Rivlin
Israeli Prime Minister Benjamin Netanyahu
Mike Evans, founder of the Friends of Zion Museum
U.S. Ambassador to Israel David Friedman
Panel discussion on how Israeli is dealing with the COVID pandemic, national security threats, and new opportunities for Arab-Israeli peace:

        - CBN News bureau chief Chris Mitchell

        - ALL ISRAEL NEWS founder Joel C. Rosenberg
        - Jerusalem Post news editor Maayan Hoffman
        - IDF Brigadier General (ret.) Amir Avivi

IDF Spokesman Jonathan Conricus
International Christian Embassy Jerusalem (ICEJ) executive director Jurgen Buhler
Proclaiming Justice To The Nations president Laurie Cardoza Moore
And others
5. ISRAEL'S BUDGET TO BE PRESENTED THIS WEEK:
Finance Minister Israel Katz
announced
Saturday that he will present the country's formal 2020 budget to the parliament this coming week. Thus far, Israel has been operating on an extension of last year's budget due to the dysfunctions of three elections over the last 18 months. By law the budget must be passed by Dec. 23. If it is not, new elections will automatically be triggered. The 2021 budget must by law be passed by March 31. The Jerusalem Post is reporting that Defense Minister Benny Gantz wants the 2021 budget presented by the end of this calendar year.

Joel C. Rosenberg is the editor-in-chief of ALL ISRAEL NEWS and ALL ARAB NEWS and the President and CEO of Near East Media. A New York Times best-selling author, Middle East analyst, and Evangelical leader, he lives in Jerusalem with his wife and sons.
A message from All Israel News
Help us educate Christians on a daily basis about what is happening in Israel & the Middle East and why it matters.
For as little as $5, you can support ALL ISRAEL NEWS, a non-profit media organization that is supported by readers like you.
Donate to ALL ISRAEL NEWS
Current Top Stories
Comments